Commentary
The Talented Mr. Roto: Who's for real? Who's not?
It's a question that gets asked all the time: "Are they for real?"
It's been asked about the behavior of Octomom and Julia Allison, about the Raiders when they bypassed Michael Crabtree and about Jennifer Love Hewitt.
It also gets asked all the time about baseball players these days. We are basically at the end of the first month of the season, and players who are off to unexpected starts (both hot and cold) have owners wondering, "Are they for real?" The sample sizes are small, but they're larger than the time I have until my deadline, so we're gonna see if we can't shed some light.
Stats current through Wednesday, April 29.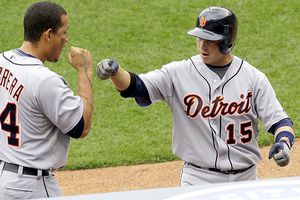 AP Photo/Charlie RiedelBrandon Inge is already just four homers shy of his 2008 total.
Brandon Inge, Tigers
(.319, 7 HR, 18 RBI): Yes, actually. Now, he's on pace for almost 60 home runs and that's not going to happen, but he did hit 27 home runs in 2006, so it's not like he doesn't have any power. Inge made a conscious effort to go back to his swing from that season; his fly balls are up this year; and not having to worry about catching a game has helped his hitting as well. (During his career, he's a much better third baseman than backstop). Inge's getting 25 to 30 homers with a .260 average is not out of the question.
Yadier Molina, Cardinals (.333, 2 HR, 12 RBI): Another yes. Three straight years of his batting average's going up, a big decrease in strikeouts from '06 to '07 despite more at bats and he's got that Molina bloodline that drives the ladies wild.
Geovany Soto, Cubs (.111, 0 HR): Come on, man. His BABIP is crazy low. He's the Talented Mr. Soto! I'm not giving up that joke and you're not giving up on him. Let's just move on and try to trade for him if his owner is impatient.
Chris Iannetta, Rockies (.174, 3 HR, 5 RBI): Never been an average guy and even with his struggles, he's still hitting home runs. In fact, he just jacked one in the background while I was writing this. If that's not karma or, um, just a random coincidence, then I don't know what is.
Taylor Teagarden, Rangers (.158, 0 HR): More or less, yeah. That breeze you feel is Teagarden's striking out (10 times in 19 at-bats). Or maybe it's all the other Rangers' circling the bases. Or all the Rangers' slapping Teagarden high five, telling him not to worry about it because everyone else is hitting.
Adam LaRoche, Pirates (.262, 5 HR, 14 RBI): He has always had the power and now he's actually taking a walk. Maybe his brother has absorbed all the terribleness out of him. It would be a brotherly thing to do.
Mark Teixeira, Yankees (.197, 3 HR, 10 RBI): No, not real. Here are Mark's career batting averages by month: April .250; May .288; June .279; July .282; August .314; September/October .309.
Hank Blalock, Rangers (.271, 5 HR, 13 RBI): Uh, no. On pace for 618 at-bats, which he hasn't done since 2005, and 44 home runs, which he hasn't done ever. He's hitting a lot more fly balls than his career numbers suggest he should.
Robinson Cano, Yankees (.371, 5 HR, 16 RBI): You know I believe. OK, not the average, but a big preseason sleeper for me and, well, the new ballpark doesn't hurt, ya dig?
Marco Scutaro, Blue Jays (.274, 4 HR, 14 RBI): No. Cannot escape the fact he's Marco Scutaro.
Aaron Hill, Blue Jays (.376, 5 HR, 20 RBI): The average? No. The power? Very much so.
Asdrubal Cabrera, Indians (.323, 15 runs, 1 HR, 9 RBI, 3 SB): I recently told Nate Ravitz on our podcast that Cabrera would finish the year higher on our Player Rater than J.J. Hardy. Nate thought I was nuts. We put it on The Board.
Alexei Ramirez, White Sox (.214, 1 HR, 9 RBI, 5 SB): You know I think Alexei is sexy, and I'm not worried about his slow start. He's starting to come around; he has only 15 hits on the season, but 11 of them have come in the past 12 games, and he's stealing bases at a better pace than he was last year. Last chance to buy low is in the next two weeks.
Jason Bartlett, Rays (.368, 13 runs, 3 HR, 7 RBI, 5 SB): Um, well, he is fast. So sure, I'll give you the speed, but a career .280 hitter who has never hit more than five home runs in his career screams sell high if you can find a believer.
Stephen Drew, Diamondbacks (.205, 1 HR, 5 RBI, on the DL): Look, there's no way both Drews can be so bad, if you're playing the odds. I'm betting Stephen bounces back after his injury. I'm also not worried about Troy Tulowitzki, who started slow last year, too.
Mike Aviles, Royals (.205, 1 HR, 7 RBI): Kinda, yeah. He's not this bad (same often said about me), but he doesn't walk at all and the high average last year was a bit of a fluke. The power will come around, but don't expect the average to be anything more than, er, average.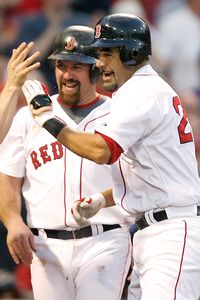 Jim Rogash/Getty ImagesMike Lowell (right) is third in the majors in RBIs in the early going.
Mike Lowell, Red Sox
(.317, 4 HR, 23 RBI): Yeah, baby. Look, he's healthy and the past three years his batting average with runners in scoring position is .310. His average during the last three years, period, is .297. So he hits better with runners on. Concentrates more and all that. He's currently hitting .396 with RISP so that will come down, but as long as you expect guys to get on in front of Lowell -- and I do -- the RBIs will continue, as will a good average and decent power.
Michael Young, Rangers (.289, 6 HR, 13 RBI): Has never hit more than 24 home runs in a season. Has hit more than 20 only twice in a nine-plus-year career, the last time being 2005. He is currently on pace for 49. You do the math.
Carlos Guillen, Tigers (.230, 0 HR, 1 SB): Batting average, slugging and OPS down for three straight before this year. Sometimes, when the end comes, it comes quick and it is not pretty.
Adrian Beltre, Mariners (.207, 0 HR, 10 RBI): Not real. Beltre will finish with 25 or so home runs, an average in the .270 area and double-digit steals. You know, just like he has done for the past three years.
Raul Ibanez, Phillies (.359, 7 HR, 17 RBI): I spent all of preseason talking about how much I loved him. The power and average will slow down some, but this is not a fluke.
Nick Swisher, Yankees (.307, 7 HR, 19 RBI): The power? Yes. The average? Not even close.
Dexter Fowler, Rockies (.290, 12 runs, 2 HR, 7 RBI, 9 SB): I could tell you or I could just link to my colleague and friend Jason Grey's excellent piece on him. As you might expect, I'm taking the lazy way out. Read here.
Vladimir Guerrero, Angels (.250, 1 HR, 3 RBI, on the DL): Sadly, yeah. Look, he started slow last year as well, so there's some hope, but a declining skill set, an increase in age and the fact that he no longer runs makes him a much bigger name than actual fantasy star.
Carlos Gomez, Twins (.195, 2 SB): I know it doesn't seem like it and it's a small sample size, but he's actually walking a little bit more (he has three in 16 games versus only 25 in 153 last year). He's not gonna hit for a high average, but he will hit better than this and he'll do what you drafted him for: steal, steal, steal. Remember, he's only 23 and it's fun to say "Go-Go-Gomez!" as he goes from first to second. Good buy-low.
Scott Baker, Twins (0-3, 9.82 ERA, 1.70 WHIP): Not real. Struck out seven and walked one in his most recent outing. Remember, he was injured during the spring and he's missing Joe Mauer. Don't discount that effect on him or Francisco Liriano.
Daisuke Matsuzaka, Red Sox (0-1, 12.79, 3.00 WHIP, on the DL): Real. OK, not nearly this bad but he'll kill your WHIP, won't go long into games and he's certainly not going to win as many games as he did last year. Remember, even during his great 2008 season, he still led the AL in walks. By the way, when do we get to change his name to Dice-BB?
Kyle Lohse, Cardinals (3-0. 1.97 ERA, 1.03 WHIP): Yes, for real. He won't end the year with an ERA under 2.00, but it will be under 3.50. Keep in mind that, since being under Dave Duncan, he is 18-6 with a 3.53 ERA.
Ryan Dempster, Cubs (1-1, 5.40 ERA, 1.43 WHIP): I just dropped him in my 10-team mixed league, so what do you think?
Matthew Berry -- The Talented Mr. Roto -- is on Twitter as TheRealTMR. He's not nearly as popular as Ashton Kutcher. He is a five-time award winner from the Fantasy Sports Writers Association, including a Writer of the Year award. He is also the creator of RotoPass.com, a Web site that combines a bunch of well-known fantasy sites, including ESPN Insider, for one low price. Use promo code ESPN for 10 percent off. Cyberstalk the TMR | Be his Cyberfriend
Fantasy
• Senior Fantasy analyst for ESPN
• Member, FSWA and FSTA Halls of Fame
• Best-selling author of "Fantasy Life"

SPONSORED HEADLINES
FANTASY TOP HEADLINES
MOST SENT STORIES ON ESPN.COM