Commentary
Those dirty little secrets
Barajas, Iwamura, Feliz, Nick Johnson much better than you might think

I'm lucky.
Many reasons for that, of course. My health, my family, my friends, my job and, of course, the fact that I don't have David Ortiz on any team this year.
But mostly I am lucky that I live in a newly tolerant world. A world where "don't ask, don't tell" is a thing of the past, where I can be open about my desires, a world where I can meet and embrace people around the world who share my lifestyle.
The revelation this week that famed author and poet Jack Kerouac was in the closet about his fantasy baseball obsession made me smile. Not because I envied the struggles he and similar folks of his generation had to endure for fear of being shunned in public, nor because I could finally admit that secretly, I write beat poetry.
I smiled because now you can be "out" as a fantasy player and no longer be judged. Sure, there will always be the Carrie Prejeans or Skip Baylesses of the world who will be narrow-minded and cast aspersions against our lot.
But their cries are becoming more and more alone as the world continues to become fantasy-friendly. Did you know former New York Gov. Mario Cuomo plays fantasy? So does Ashton Kutcher, he of the crazy hot wife and almost 2 million followers on Twitter. Michael J. Fox is one of us, as are all the current members of the band Alice in Chains. When President Obama spoke of change, I can only assume he meant the country finally fully embracing fantasy sports, since he plays. Trent Dilfer, Jalen Rose, Chris Mortensen, Sage Steele, Jon Barry, Mark Schlereth, Mike Tirico, Steve Phillips, Buster Olney, Brian Kenny, Jay Harris and Jemele Hill are among the ESPN folks who might surprise you as to being addicted to fantasy.
Even pro players are coming out of the closet, as Maurice Jones-Drew and Chris Cooley are among the pro football players who also play fantasy football. Every major league baseball team has a fantasy football league. As Matt Holliday told me when we did the ESPN fantasy baseball commercial together, the reason the Rockies players were so thrilled to get Josh Fogg back a few years ago was that he always set up and ran the fantasy football league.
So while I'm thrilled that Jack Kerouac's family no longer has to keep his shameful secret in the dark anymore, I'm sad this literary genius had to live part of his life a lie. That people had no idea about a major part of his life.
And as is sometimes the case when I have a column due, it actually got me to thinking. Who else has a secret? Is it something you wouldn't expect?
As always, ownership percentages in ESPN 10-team mixed leagues are listed in parentheses and stats are correct through Wednesday, May 20.
Cristian Guzman (44 percent) is now hitting .377 on the year. At the end of April, he had hit at least .294 in every month except one since May 2007. He played only two months in '07, but still, that's nine of 10 months he's hit close to or higher than .300.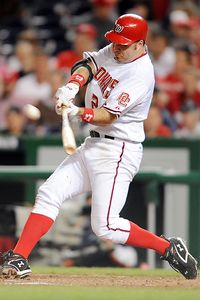 James Lang/US PresswireNick Johnson is healthy for the first time in ages and is finally producing.
His teammate,
Nick Johnson
(21 percent) has 26 runs scored on the year. That's one less than
Curtis Granderson
and
Shane Victorino
, as many as
Miguel Cabrera
,
B.J. Upton
and
Hanley Ramirez
, and more than
Derek Jeter
, among others. He's hitting .333 on the year and still healthy.
There are only two catchers with more RBI this year than Rod Barajas (17 percent). He is hitting .313.
Not that you need a reason to love, but as long as we are talking surprising stats, Albert Pujols has six steals, same as Hanley Ramirez and Grady Sizemore.
Speaking of steals, Emmanuel Burriss (8 percent) has 10 on the year, same as Brian Roberts. He is hitting .319 in May.
Known for hitting for average, Akinori Iwamura (19 percent) has eight steals on the year and is on pace for more than 30. Everybody on the Rays is running. Hell, their backup catcher has two steals!
Another one that is just sort of interesting: Among first basemen, only Albert Pujols, Prince Fielder and Carlos Pena have more RBIs than Aubrey Huff. A lot of people don't realize how good the Orioles' offense is. There's a reason I loved a lot of them in the preseason.
Here are the numbers to date of two second basemen:
Player A: 30 runs, 1 HR, 20 RBIs, 6 SB, .312
Player B: 31 runs, 1 HR, 13 RBIs, 4 SB, .314
Player B is Dustin Pedroia. Player A is Asdrubal Cabrera.
Speaking of second basemen, Skip Schumaker has 19 runs scored, is hitting .299 and is owned in 6.5 percent of leagues. Placido Polanco has 17 runs scored, is hitting .265 and is owned in 81.5 percent of leagues. This is less of an endorsement of Skip and more of an indication that you can drop Placido because you can find him elsewhere if need be.
Casey Blake (31 percent) has nine home runs and two first names. Only four third basemen have more home runs this year.
And one more from the hot corner, where Pedro Feliz (7 percent) is top eight among third basemen in average and RBIs.
He's starting to play every day, and Gary Sheffield (6 percent) is hitting .317 in the month of May.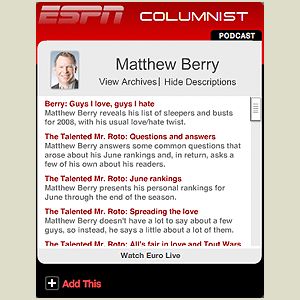 ESPN.comESPN Widgets are portable applications you can place almost anywhere! Click on the image to add the Matthew Berry widget to your Web space.
Ben Zobrist
(15 percent) has seven home runs on the year and qualifies in a lot of places, depending on your league. Seven is the same amount as
Nate McLouth
and more than
Carlos Beltran
or
Nick Markakis
.
Scott Hairston (7 percent) has five home runs, 18 RBIs and five steals. He is hitting .343. And it reminds me. Jerry Hairston Jr. (8 percent) has been on fire recently. In his last 14 games, he has four steals, three home runs and eight RBIs while hitting .328.

Eric Byrnes (36 percent) has four home runs, six RBIs and is on pace for basically a 20/30 season, which he has done before. Yes, he is hitting .216 on the season, so batting average-averse beware, but he is a career .261 hitter, so you figure he'll get it to a livable .250 area.

Bronson Arroyo (20 percent) is 4-1 with a 3.06 ERA in the five games he has pitched on the road this year.

Randy Wolf (44 percent) is top nine in the NL in ERA and WHIP and top 20 in MLB in strikeouts.

The following middle relievers have four wins on the year, same as CC Sabathia, Josh Beckett and Rich Harden, among others: Jason Frasor, Cla Meredith and Ramon Ramirez. It's more about the cheapness of wins than anything, but there are a number of middle reliever types that can help, and these are three of them. I'm also a big fan of Juan Cruz, Matt Thornton, Scott Linebrink, Darren O'Day, Ramon Troncoso and Mark DiFelice.

Edwin Jackson (59 percent) now has 41 strikeouts to just 11 walks and a 2.42 ERA over 52 innings pitched.

Over his past four games, Manny Parra (25 percent) is 3-0 with a 3.00 ERA and 24 strikeouts in 24 innings pitched. He is still walking too many guys (14 over the time frame) but there's something really good there and I'm a fan.

Since getting lit up by Kansas City (a phrase I never thought I'd write), Brian Tallet (2 percent) has a 2.77 ERA over his past four starts and 19 strikeouts in 26 innings. He's also walked 12, so not out of the woods yet, but worth keeping an eye on.

And finally, over his last six starts, Josh Outman (1 percent) has a 2.22 ERA and 23 strikeouts in 24 1/3 innings with just seven walks. Even more impressive is that four of those six starts were on the road.

Matthew Berry -- The Talented Mr. Roto -- has been playing fantasy since he was 14, but only came out the closet when he was 21. He is a five-time award winner from the Fantasy Sports Writers Association, including a Writer of the Year award. He is also the creator of RotoPass.com, a Web site that combines a bunch of well-known fantasy sites, including ESPN Insider, for one low price. Use promo code ESPN for 10 percent off. Cyberstalk the TMR | Be his cyberfriend
Fantasy
• Senior Fantasy analyst for ESPN
• Member, FSWA and FSTA Halls of Fame
• Best-selling author of "Fantasy Life"

MOST SENT STORIES ON ESPN.COM