Commentary
It's hitch-or-ditch time

If Lemony Snicket had a series of unfortunate events, what are we to make of my life? A series of unlikely events? Improbable events? Accidental, impossible, insane, ridiculous, lucky … or if some of the folks in Conversation are to be believed, "unfortunate" events for those who play fantasy would be correct as well.
The next nutty event in a life already filled with them will happen Saturday, when I marry James Hammer and his fiancée, Rachel Luna, in a private ceremony.
You heard me. "Legal" and "binding" often are used in regards to me, but for the first time, it's in a positive sense. Turns out you can become a "deputy for a day" in the state of California and legally marry people. And, as they said on our Fantasy Focus podcast, James and Rachel want me to do it. TMR, where M stands for matrimony.
So I've been thinking about weddings a lot recently. It's a big day, obviously. And I really want to do well for these two crazy kids (emphasis, of course, on the word "crazy"). A wedding day is a symbol of commitment. It is, as the CW Television Network will have you believe, the time to hitch or ditch.
James and Rachel have decided to commit. And in fantasy baseball, you have the same decision. June 1 long has been my "gut-check" date. At that point in the season, you are two months in. That's enough of a sample size to see what you have (or don't have) on your team, and there's enough time left to make up serious ground if you need to.
You should have a pretty good idea by now whether you need steals or have a surplus in strikeouts, whether you are a little light in the power categories or overflowing with saves. You must decide now what you need, what you don't need and how you want to approach it all. You can start trading guys or stay patient with them. It's time for you to … wait for it … hitch or ditch certain players.
Thus, here are a bunch of players owned in pretty much every league who have had a surprising first two months, either falling way short of expectations or blowing them out of the water. You need to decide whether to stay committed to these guys or ditch them. And before you decide, here's my take on 'em:
Francisco Liriano, SP, Twins: Maybe it's because I own him in two leagues. Maybe it's because of his dominance in the second half of 2008. Maybe it's because I realize pitching isn't easy. (I ought to know, since I am throwing out the first pitch at the A's game Friday. Suffice to say, I am nervous and don't want to pull a Mike Golic or, worse, a Baba Booey and blow it.) Whatever the reason, I am sticking with Liriano. He currently has a strikeouts per nine innnings rate of 7.67 and a strikeouts-to-walks ratio of 50-to-28 in 58.2 innings, which means better days should be ahead.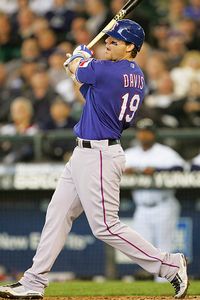 Paul Jasienski/Getty ImagesSo far, Chris Davis has been like the modern-day Dave Kingman: low average, a ton of homers.
Chris Davis, 1B, Rangers:
I'm sticking with him. Look, you didn't draft him for his batting average anyway, and he is hitting for power with 12 home runs. He still is on pace for almost 40 home runs. Yes, he's below the Mendoza line, but his underlying numbers are mostly in line with his numbers from 2008, when he hit .285. Keep in mind he was a career .302 hitter in the minors.
David Ortiz, DH, Red Sox: I don't know how many ways I can say this: He's done. I've said it before (including in the preseason), and I'm saying it now. Fork, meet Big Papi. Every stat you care about was trending downward for three straight years before the season, so this shouldn't be a shock. Take 20 cents on the dollar for him if you can.
Matt Holliday, OF, A's: A lot of people are very frustrated with my ESPN commercial co-star, as he now is known to absolutely no one except me. But they shouldn't be. Stick with Holliday, who turned things around in May, producing more home runs, RBIs and steals in May '09 than he did May '08. He's hitting .296 since May 1. He started slow, but stick with him now.
Joe Mauer, C, Twins: I admitted last week I was dead wrong about him, but keep in mind two things: He's still injury prone, and he's currently on pace for 55 home runs. He hit 13 home runs in 2006, and that's his single-season high. And he never hit more than five in a season in the minors. He currently has 12. At age 26, is it possible he finally has developed power? Sure. Is he also the ultimate sell-high guy? You betcha. They say that in Minnesota, right? You betcha?
Daisuke Matsuzaka, SP, Red Sox: I've never been a Dice-K, or as I call him, Dice-Walk, guy. He has yet to get through six innings in any start this season, he puts way too many people on base and all the things that lucked out in his favor last year are going against him this year. His strikeout rate still is solid, which is about the only positive thing I can find to say about someone who has needed at least 96 pitches to get through five innings in his past two starts. Ditch.
Lance Berkman, 1B, Astros: I'm sticking with the "Big Puma," if only because I like saying that nickname. Say it out loud. Go on. Try it. Big Puma! Fun, isn't it? It's also because Berkman is a career .300 hitter who struggled early on but had a good May, with five homers, 19 RBIs and a .286 average. If you were expecting the 18 steals he had in 2008, I'd ditch that thought; he has attempted only two steals this season and was caught both times. But he is fifth in the NL in walks and already has double-digit homers, and since May 1, his slugging percentage is basically in line with what he did last year.
Magglio Ordonez, OF, Tigers: I was ready to ditch a week ago since it seemed something had happened to his power. He's hitting more ground balls than at any other point in the past six years. But then crafty manager Jim Leyland started playing Mags at DH. And not worrying about playing defense seems to have helped Mags. It's a small sample size, but in 69 plate appearances as a DH, he is hitting .355. I'm sticking with this career .298 hitter who now is flourishing at DH.
Alex Rodriguez, 3B, Yankees: I'm ditching him, and here's why: I believe you now can get full first-round value for A-Roid in a trade, and he won't earn it. Flashy debut aside, he's hitting .250 this season. He is hitting home runs at a better rate than last year and is walking more, so what's the problem? Well, he is not stealing and is projected to finish with 38 home runs. If he finishes with fewer than 10 steals and fewer than 40 home runs, he's like a lot of guys. And yet you can get value for him like he isn't.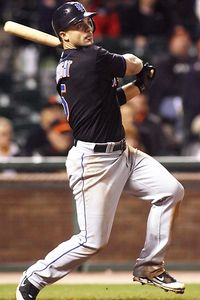 Cary Edmondson/US PresswireYou don't own David Wright just 'cause of his ability to hit home runs, ya know.
David Wright's power:
As long as we are talking third basemen in New York, people are freaking out about the fact that Wright has only three home runs this season. Yet his ground ball-to-fly ball ratio is the same as in 2007, when he hit 30 homers. The new ballpark is not helping, but I'm sticking with him because even with slightly less power, he is too valuable everywhere else. But I'm dropping my homer projections for him to the 20- to 25-homer range, instead of 30.
Jimmy Rollins, SS, Phillies: Over the past three seasons, Rollins has hit 23 points better after the All-Star break than before it. Stick with J-Ro (that's right, I call him J-Ro).
Geovany Soto, C, Cubs: I'm concerned, but I'm sticking with him. A May in which he hit .278 and had three doubles gives me hope that he is slowly heading in the right direction, and while he is hitting a few more ground balls than I would like, it's not enough that I am ready to ditch just yet.
B.J. Upton, OF, Rays: He's going to hit .250 with not a lot of power, which means you should ditch if you were expecting the power or high average he posted in 2007 to return.
Rafael Furcal, SS, Dodgers: Here's another shortstop who has hit much better after the All-Star break than before it (19 points, in this case) over the past three seasons. I'm sticking with Furcal; he needs to start hitting balls on the ground more, and I believe he will.
Matthew Berry -- The Talented Mr. Roto -- is going to aim the pitch high and long and hope for the best. He is a five-time award winner from the Fantasy Sports Writers' Association, including a Writer of the Year award. He is also the creator of RotoPass.com, a Web site that combines a bunch of well-known fantasy sites, including ESPN Insider, for one low price. Use promo code ESPN for 10 percent off. Cyberstalk the TMR | Be his Cyberfriend
Fantasy
• Senior Fantasy analyst for ESPN
• Member, FSWA and FSTA Halls of Fame
• Best-selling author of "Fantasy Life"

SPONSORED HEADLINES
FANTASY TOP HEADLINES
MOST SENT STORIES ON ESPN.COM