Commentary
The Talented Mr. Roto: Just Saying
For over 15 years now, I have been a die-hard Lakers fan (season tickets since before Phil became the coach) and a professional writer. As a result, I watch a lot of NBA basketball, specifically the Lakers, and I also pay a lot of attention to words and images and how they are constructed together.

I'm guessing it's because they are the official partners of the NBA, in many cases, but if you watch a lot of the NBA playoffs, as I have, you see the same commercials over and over and over again. Which of course makes me think about them. Excessively.
My favorite of all those commercials is the Heineken one called "The Entrance," in which a guy makes the greatest entrance to a party that the world has ever seen. I love the song, "Golden Age" by The Asteroids Galaxy Tour, especially the slightly odd-but-it-works, baby-girl, foreign accent of the lead singer.
As I continually watch the guy do magic tricks, kung fu and play the flute smoother than I do anything, I am reminded of other Heineken commercials, such as the one in which the guys scream like little girls at a walk-in fridge full of beer and last year's "It's Love" commercial with folks from all different backgrounds, all perfectly cast, roaming the Earth sharing beer. A crazy bearded mountain man in flannel walking through a perfectly sunny Indian celebration to deliver a beer? Awesome. Even the Biz Markie one where the gang sings along in the cab on a ride home was terrific the first 40 billion times I saw it.
So kudos to whoever does the Heineken ads. I researched it forever (i.e. I spent 10 seconds on Google but it didn't spit the answer out at me) but I love them all and have the same thought every time: "I wish I liked beer as much as I like their commercials." Just saying …
I wish whoever does those commercials also did the ads for McDonald's. Because their current commercial with the girl who calls her boyfriend all sorts of cutesy nicknames drives me nutty. I have no issue with McDonald's -- had many a McNugget in my day -- but I have many issues with their ad.
We see that, over the course of their relationship, she calls her boyfriend many names: Mr. Snuggles, Puggle-Wuggle, Winkie ... super annoying. I've heard many pet names for romantic partners, but it's usually just one, not a different one every time. Sorry. Not a different lame one every time. But OK, they're a couple, they've been together a while, she calls him names. Got it.
Anyway, they are sitting at McDonald's and she calls him Mr. Snuggles. For some reason, he completely panics.
Dude, you've taken her to a romantic meal at a McDonald's, where, as you eagerly point out, you guys are eating from the dollar menu. This is not a chick with demanding tastes. I think you're good no matter what you say.
As his panic-stricken mind wanders for a response, he notices his sweet tea and calls her "Sweet Tea … Pie" then smiles in a proud-but-shouldn't-be way, like 6-year-olds do when their bodies makes a noise. Really, dude? It took a beverage from a fast food joint and a surge of brain focus to come up with ... "Sweetie Pie?"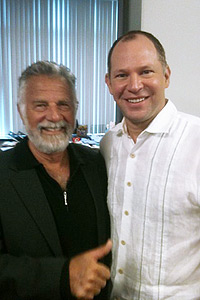 Courtesy of Matthew BerryNow, this man knows how to do a commercial. Stay thirsty, my friends.
Do you go through this every time she calls you a name? If you were dating a girl that gave you dumb nicknames every single time and giving one back was important to this girl and you decided, despite this annoying character flaw, that you really liked her and wanted to play along, wouldn't you do a search for "cute nicknames"? Or just go to www.cutenamestocallyourgirlfriend.com, which actually lists them alphabetically? Or are you so stupid you don't know how to use the Internet?
So he says, "Sweetie Pie," and our undemanding girl smiles and says, "Aww, Chipmunk." Thrilled with himself, our hero thinks out loud, "Nicely done, Chipmunk." You know what? It wasn't nicely done. It was terrible. You should have said, "Way to keep your cojones in her purse, Chipmunk." Or, "You're an immense wuss, Chipmunk." Or, "I hate my life, Chipmunk." "Glad my buddies aren't here to see this exchange because they'd shoot me on sight and not a jury in America would convict them, Chipmunk." Any and all would have been acceptable.
I know I'm being harsh on this ad because I'm sure there are people that like it. I know the folks at Burger King do, as it takes the attention off their mind-numbingly dumb "customizable nugget" ad. Have you seen that one? It's a takeoff on touch-screen products such as the iPhone, in which a women "flips" through different sauces for her nugget, taps the screen to come up with different options and talks about how it's the latest thing.
Yeah.
Look, I'm a fan of the food -- eaten even more BK fingers than McNuggets in my life -- but it's a chicken tender. It's not hip, it's not new, it's a small piece of meat that is fried. The only thing lamer than that attempt at making it seem current would be if it started doing a fist pump.
Burger King should have never tried to top Sir Mix-A-Sponge. In fact, let that be a lesson to all you kids out there: No matter what the subject, never try to top Sir Mix-A-Lot. He's the man. The rest of us are mortals.
When we see those commercials, we get about 30 seconds to make a snap judgment. Not a lot of time to decide if we like the product, don't like the product, if we want to know more or ignore, if it's something we'd like to spend our precious time/money/influence on.
In a way, it's similar to where we are now in the baseball season. We're a few weeks into the season now, with over 135 games still to be played for most teams. In the context of a 162-game, six-month baseball season, we have seen the equivalent of a 30-second commercial for various players.
Small sample sizes are never ideal, but at the moment they are all we have to go on, so it's time for another edition of the often imitated but never duplicated "Just Saying …"
I'm just saying …
… That over the past 15 days Jered Weaver has been the No. 1 pitcher on our Player Rater. No shock. But you know who No. 2 is? Randy Wolf (owned in 54 percent of ESPN 10-team mixed leagues). Wolf has a 2.64 ERA, a 1.17 WHIP and a 29-to-9 strikeout-to-walk rate in 30 2/3 innings.
… That if you throw out Wolf's first start at Cincinnati, he is 3-1 with a 1.01 ERA, a WHIP of 0.92 and 24 strikeouts in 26 2/3 innings. His next start is at Houston.
… That for the season, Wolf is No. 20 on our Player Rater among starting pitchers. Or four spots lower than Gavin Floyd (36.7 percent), who is currently on pace to top 220 strikeouts.
… That as long as we are talking about starting pitchers, Jair Jurrjens is off to a hot start. He's also faced the Mets, Dodgers (at pitcher-friendly Dodger Stadium) and San Diego. Let's not hand him the Cy Young just yet. I'm taking a wait-and-see before I'm all-in on him. Just saying …
… That as long we are talking about opponents, the Angels are currently batting .219 as a team at home this year. That's third-lowest in the majors, as the Pirates and Padres are worse at home. Not as excited for Daisuke Matsuzaka (16.1 percent) now, are you?
… That Dice-BB's next start is at home against Seattle, so I do expect the good times to keep on rolling. Just not fully buying and would think about selling high after the Mariners start.
… That I keep seeing the Blake Griffin commercial in which he dunks over a Kia, and you know what? I'll say it. Not that impressed. He jumps over the hood, not the roof. He takes off a few feet inside the foul line. ... I've seen other guys jump higher and farther. Points for novelty, but I'm sorry. Don't get the hype.
… That Jeff Francoeur (99.6 percent), the third-most-added outfielder in our game, is a career .280 hitter in April. For May through October, he is a career .264 hitter. I've seen how this movie ends, with me holding Jeff's hand as we drive off a cliff and into the Grand Canyon -- and oblivion -- while a million fantasy owners in cop cars look on. No thanks.
… That I liked how Jordan Zimmermann told the Washington Post that Wilson Ramos (0.7 percent) is "great behind the plate." He is hitting .378 on the year, has only Ivan Rodriguez competing with him for playing time, has some pop and is going to keep playing, especially if his pitchers like throwing to him.
… That another good name to know for two-catcher leagues is Jonathan Lucroy (3 percent), batting north of .350 in 11 games and now starting for the Brewers.
… That, while we talked about Todd Helton (12.7 percent) on Wednesday's podcast and Eric Karabell wrote a blog about him (in short -- we're all buying in to varying degrees), he is 17th on our Player Rater among first basemen. That's behind Matt LaPorta (4.1 percent) and Brett Wallace (8.3 percent). If I needed power at first base, I'd roster LaPorta, and if I wanted someone who has more upside, I'd take a chance on Wallace.
… That none of the first basemen above are as hot as Justin Smoak (17 percent), with a home run in each of his past three games. He's now up to .302 and he'd be my first choice at first of any of those guys.
… That if I needed a corner guy, I'd grab Wilson Betemit (27 percent), who is hitting .364 and has hit his way into an everyday gig with the Royals.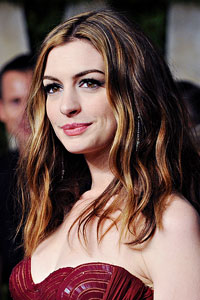 Jon Kopaloff/Getty Images"The phone girl, Matthew? Really? Where did we go wrong?"
… That the girl in all the T-Mobile commercials is named Carly Foulkes. Nothing snarky to say here, except Anne who?
… That you may feel free to drop Francisco Liriano. Something's not right there. Sigh.
… That Jeremy Lundblad of ESPN Stats & Information points out the following stats (through April 25) about some slow starters, including Brett Gardner. His .140 batting average ranks last among 187 qualifying hitters. He's 0-for-21 with 10 strikeouts in at-bats ending in an off-speed pitch. Better days are ahead for Gardner, but I believe you can find speed in the outfield this year, so no issue with dropping him if necessary. Just saying ...
… That his teammate, Nick Swisher, is 4-for-43 (.093) against right-handed pitchers, a year after hitting a career-best .285 with 25 HR against them.
… That last season Adam Dunn hit .314 with 24 HR on at-bats ending in a fastball. This season? He's hitting .067 with two hits in 30 at-bats.
… That Alex Rios is hitless in his last 20 at-bats and has seen his batting average drop to .160. Last season, on pitches down the middle, Rios hit .392. This season? 1-for-12 (.083).
… That I don't like the T-Mobile commercial where the guy raps. It takes screen time away from Carly, his rap is terrible ("A text from my buddy and he's buggin' in Boston. He's telling me they're going to the finals and he's all-in."), she has to pretend to dance along to it like it's some hot beat, she doesn't even know his name ("To introduce the new Sidekick, here's my friend ...") and, again, less Carly.
… That we discussed Bud Norris (4.4 percent) on the podcast the other day. Nate believes Bud has finally figured it out, but I'm still skeptical. He's faced the Cardinals (without Pujols,), Mets, Padres, Marlins and Phillies so far. All (except the Cards) are in the upper-half of the league in terms of strikeouts against right-handed pitching.
… That Darwin Barney (41 percent) is top 11 among second basemen on our Player Rater and is hitting .329.
… That speaking of second basemen, I'm no Michael Cuddyer (56 percent) fan, but he now qualifies there. He's a career .269 hitter who, even with his super slow start, is on pace to hit 15 home runs. Last year, only nine second basemen hit that many. With power in the infield being relatively scarce, he's a lot more interesting now than he was a week ago.
… That as long as we're talking middle-infield types for deeper leagues, how about Alexi Amarista, just called up by the Angels? A career .325 hitter in the minors, he was hitting .455 in Triple A (albeit the hitter-friendly Pacific Coast League) when he was recalled. He's a speed and average guy.
… That, in the interest of giving equal time for deep NL-only middle infielders, Daniel Murphy is now batting .315, and the Mets second-base job is wide-open.
… That if you want me to believe a guy gets crazy excited for a "winning" Taco Bell taco, fine. I'll play along. But you can't have it both ways. Because I got news for you. Girls don't dress up like that to attend parties where they serve ... tacos. At 3 a.m., when they are drunk and coming home from said party, will they grab some Taco Bell? Absolutely. That's what it's there for. Not for during the party. Just saying ...
… That those who doubt Lance Berkman is legit consider this article about how he spent his offseason and this small fact: He's a career .296 hitter but a career .275 hitter in March and April. So if he's hitting like this now ...
… That Luke Scott (30 percent), a notoriously streaky hitter, seems to be heating up. Same with Juan Rivera, who has two home runs and five RBIs in his past three.
… That Josh Beckett just gave up four earned runs in six innings to the Orioles. That is why he's below the Wandy Line, commenters from my last article. Just saying ...
… That Phil Humber of the White Sox has allowed two earned runs or fewer in three of his past four starts. He's a deep AL-only league play at this point, but his off-speed stuff is ridiculous. Check this out, also from Jeremy Lundblad.
Lowest Opp BA on Off-Speed Pitches
2011 Season (min. 125 pitches)
Josh Beckett .000 (0-for-31)
Philip Humber .061 (2-for-33)
Josh Johnson .063 (3-for-48)
Jorge De La Rosa .103 (4-for-39)
Josh Tomlin .111 (4-for-36)
… That I can't make up my mind on Lady Gaga. That song "Born This Way" is so Madonna rip off-y that it's ridiculous, I have no idea what she actually looks like and yet ... I kinda dig her music. Hate myself for it, but it's very catchy.
… That I might not be happier about any player's good fortune, ever, than Big Fat Bartolo Colon's. Just saying ...
Matthew Berry -- The Talented Mr. Roto -- thinks there's never been a better commercial than this one. Berry is the creator of RotoPass.com, a website that combines a bunch of well-known fantasy sites, including ESPN Insider, for one low price. Use promo code ESPN for 10 percent off. He is a charter member of the Fantasy Sports Writers Association Hall of Fame. Cyberstalk the TMR | Be his cyberfriend
Fantasy
• Senior Fantasy analyst for ESPN
• Member, FSWA and FSTA Halls of Fame
• Best-selling author of "Fantasy Life"