Production without hits
Batting average not as much of liability in points leagues if walks are in play
Updated:
August 20, 2012, 2:26 PM ET
By
AJ Mass
| ESPN.com
When it comes to music, it's all about the hits. Sure, personal taste enters into the mix, but few people would argue that The Beatles and their 20 No. 1 songs (according to Billboard) don't belong in the conversation as one of the best groups of all time.

But just because a group doesn't have a laundry list of hits doesn't mean that group lacks broad appeal. Take for example The Grateful Dead, who built up one of the biggest followings of any band in the history of the United States, all the while going through a two-decade-long drought in terms of "chartability."
Even when they did finally merit a radio introduction by Casey Kasem with 1987's "Touch of Grey," that was likely due more to the "It's Your Move"-inspired skeleton marionettes in their music video than the song itself. People who didn't already like Jerry Garcia & Co. were still naysayers.
Dan Uggla is the points-league equivalent of the Grateful Dead. Sure, his batting average is going to hell in a bucket. But this isn't rotisserie. You can still enjoy the ride. Uggla may be the 21st-ranked second baseman on the ESPN Player Rater, but at least you know it's the .210 batting average that is to blame.
In points leagues, Uggla has a lot more value due to the fact he leads the National League in walks with 75. In fairness, he also ranks second in strikeouts with 137, one behind Danny Espinosa, but even so, he has a lot more value due to the fact he can still earn you a lot of points without the benefit of any hits.
Players with a much higher on-base percentage when compared to their batting average are always undervalued and underappreciated by owners who aren't die-hard veterans of points-league formats. However, looking at a player's recent OBP-BA calculation is one of the best ways to discover points-league hidden gems.
Here's a list of players who, over the past 30 days, have had the biggest disparity in these two statistical numbers. The list includes studs like Andrew McCutchen, and you don't need this stat to know he's good. But, injuries aside, if you do happen to see any of these names magically appear on your league's waiver wire, you should not hesitate to grab them.
Before we go, some other players who have had success this year "getting by" without the benefit of a hit might be found on the next list headed by our good friend Dan Uggla. No player in all of baseball has had more games this season in which he scored a run despite going 0-for-2 or worse.
Here is the lineup of the 2012 Grateful Dead players who have had enormous success in multiple games this season without the benefit of a hit.
Now that I've got my list out, I've said my piece, so I'll get out.
Pointing up
Nick Markakis, OF, Baltimore Orioles: Not only is he hitting .321 since Aug. 5, but eight of his 17 hits have been for extra bases, including his second triple of the season. With only eight strikeouts in his past 169 plate appearances, there are few negatives to be found in this right fielder, who has been a points-league beast since returning from the disabled list in July.
Jonathon Niese, SP, New York Mets: Not only is he 3-1 with a 1.91 ERA in his past four starts, but he's got a 4.4 K/BB rate to go along with a .214 BAA. The Mets have said they were going to a six-man rotation, which certainly would limit Niese's starts going forward, but if they eventually shut down Johan Santana for the season, Niese's two-start weeks should once again be in effect.
Marco Scutaro, 2B/SS/3B, San Francisco Giants: Sure, the seven-RBI game against the St. Louis Cardinals inflates his recent point totals enormously, but even without that one enormous game, Scutaro has been a solid value. Since leaving Colorado, he's batting .318 and has more walks (six) than strikeouts (five) over 97 plate appearances. The change of scenery has not hurt him one bit.
[+] Enlarge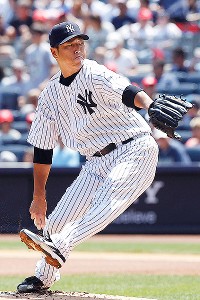 William Perlman/The Star-Ledger/US PresswireHiroki Kuroda has been one of the hottest pitchers in the past couple of months.
Hiroki Kuroda, SP, New York Yankees: A 60-point scoring period is sure to boost any player's overall ranking, but what really impresses us with Kuroda is the fact he's performing well against strong lineups. Two games with Boston and one each with Detroit and Texas in his past five starts have yielded no negative numbers. With a 1.98 ERA and .213 BAA since July 13, Kuroda is on the climb in a big way.
David DeJesus, OF, Chicago Cubs: Owned in less than 5 percent of leagues, DeJesus is a waiver-wire gem begging to be mined. Since Aug. 1, he's got an OBP-BA differential of .097 and an OPS of .900. The only game he hasn't started since Aug. 7 was the back end of a doubleheader, so the quality at-bats should continue to mount.
Patrick Corbin, SP, Arizona Diamondbacks: A huge leap in ownership to 22 percent is not surprising to us, as Corbin has now won three of his four starts since rejoining the Arizona rotation at the start of the month. Opposing hitters have managed to hit just .048 against his curveball over this stretch, a huge reason his stock is rising steadily.
Pointing down
Josh Beckett, SP, Boston Red Sox: In his past three starts, Beckett has "earned" negative-15 points. You have to go all the way back to July 15, the date of his only win since May 26, in order to get him back into positive production. Seven home runs allowed over his past three starts and a .302 BAA? No, thank you. We shall not be having another.
Dan Haren, SP, Los Angeles Angels: Over the first two months of the season, despite a losing record, Haren was very effective thanks to a 4.71 K/BB. Since returning to action on July 22, however, that ratio has plummeted to 1.67 and he's retired a batter in the seventh inning just once in his past 11 starts. Now he's going to get skipped in the rotation, and while he's promised it's a one-time occurrence, recent performance doesn't lower the worry rate any.
Neil Walker, 2B, Pittsburgh Pirates: Even before the dislocated finger sidelined him for a few days, the writing was on the wall here. Take away a 5-for-5 game against the San Diego Padres and he was hitting just .156 since Aug. 6. He did pinch hit during the Pirates' marathon affair versus the Cardinals, but of course, all that does is minimize the chance of a trip to the disabled list in spite of the fact he may not start again for another few days.
Denard Span, OF, Minnesota Twins: Another guy fantasy owners wish they could put on their disabled list, but can't, is Span. He hasn't played since Aug. 12 and when asked if he could even participate in batting practice on Sunday, he told reporters, "No chance." Limbo for a guy hitting just .200 this month before the injury? It's frustrating to say the least, especially with Chris Parmelee raking at Triple-A.
Jonathan Broxton, RP, Cincinnati Reds: We knew his value would go down post-trade simply because he was moving into a setup role from the closer spot. What we didn't anticipate was the shoulder soreness that limits his workload and the awfulness of his performance when he does take the mound. Saves we knew would be scarce, but a .364 BAA and a 7.20 ERA? Punch out, Maverick!
Ian Desmond, SS, Washington Nationals: Did he come back too soon from his torn oblique? He went 0-for-11 against the Mets over the weekend, and while you do want to give the shortstop the benefit of the doubt and chalk it all up to needing to get his timing back, you have to wonder. Another few games like this and perhaps Davey Johnson will show some concern, as well.
TOP 100 OVERALL PLAYERS
Note: AJ Mass' top 100 overall players are ranked based on statistics that have already been accrued in ESPN standard points formats and should be used as a supplement to the ESPN Player Rater.
Rnk

Player, Team

Prev
Rnk

1
Miguel Cabrera, 1B/3B, DET
1
2
Mike Trout, OF, LAA
5
3
Edwin Encarnacion, 3B/1B, TOR
2
4
Andrew McCutchen, OF, PIT
3
5
Albert Pujols, 1B, LAA
13
6
Ryan Braun, OF, MIL
12
7
Aroldis Chapman, RP, CIN
8
8
Prince Fielder, 1B, DET
11
9
Josh Hamilton, OF, TEX
14
10
Justin Verlander, SP, DET
7
11
David Wright, 3B, NYM
10
12
David Price, SP, TB
17
13
Felix Hernandez, SP, SEA
25
14
Melky Cabrera, OF, SF
6
15
Carlos Gonzalez, OF, COL
19
16
Robinson Cano, 2B, NYY
4
17
R.A. Dickey, SP, NYM
9
18
Fernando Rodney, RP, TB
18
19
Cole Hamels, SP, PHI
34
20
Matt Holliday, OF, STL
15
21
Alex Rios, OF, CHW
21
22
Carlos Beltran, OF, STL
24
23
Matt Cain, SP, SF
27
24
Josh Willingham, OF, MIN
30
25
Ian Kinsler, 2B, TEX
23
26
Aramis Ramirez, 3B, MIL
29
27
David Ortiz, DH, BOS
22
28
Clayton Kershaw, SP, LAD
31
29
Jose Reyes, SS, MIA
33
30
Craig Kimbrel, RP, ATL
26
31
Buster Posey, C/1B, SF
35
32
Chris Sale, SP, CHW
20
33
Johnny Cueto, SP, CIN
38
34
Madison Bumgarner, SP, SF
41
35
Adam Jones, OF, BAL
28
36
Billy Butler, 1B, KC
43
37
Stephen Strasburg, SP, WAS
37
38
Adrian Gonzalez, 1B/OF, BOS
44
39
Aaron Hill, 2B, ARI
58
40
Mark Teixeira, 1B, NYY
36
41
Jered Weaver, SP, LAA
16
42
Joe Mauer, C/1B, MIN
39
43
Martin Prado, 3B/OF, ATL
48
44
Jose Bautista, 3B/OF, TOR
32
45
Adrian Beltre, 3B, TEX
42
46
Kenley Jansen, RP, LAD
46
47
Joel Hanrahan, RP, PIT
40
48
Ben Zobrist, 2B/OF, TB
53
49
Gio Gonzalez, SP, WAS
50
50
Hanley Ramirez, SS/3B, LAD
71
51
Michael Bourn, OF, ATL
52
52
Ryan Zimmerman, 3B, WAS
49
53
Joey Votto, 1B, CIN
45
54
Jay Bruce, OF, CIN
83
55
Kyle Lohse, SP, STL
60
56
Jake Peavy, SP, CHW
56
57
Derek Jeter, SS, NYY
75
58
CC Sabathia, SP, NYY
51
59
Yadier Molina, C, STL
62
60
Brandon Phillips, 2B, CIN
47
61
Austin Jackson, OF, DET
61
62
Elvis Andrus, SS, TEX
54
63
Curtis Granderson, OF, NYY
63
64
Hiroki Kuroda, SP, NYY
N/R
65
A.J. Burnett, SP, PIT
68
66
Shane Victorino, OF, LAD
77
67
Chase Headley, OF, SD
66
68
A.J. Pierzynski, C, CHW
64
69
Paul Konerko, 1B, CHW
74
70
Jimmy Rollins, SS, PHI
70
71
Jose Altuve, 2B, HOU
81
72
Rafael Soriano, RP, NYY
88
73
Michael Brantley, OF, CLE
78
74
Jordan Zimmermann, SP, WAS
65
75
Mat Latos, SP, CIN
92
76
Mark Trumbo, 1B/OF, LAA
55
77
Freddie Freeman, 1B, ATL
59
78
Chris Capuano, SP, LAD
84
79
Starlin Castro, SS, CHC
N/R
80
Dustin Pedroia, 2B, BOS
85
81
Jason Motte, RP, STL
72
82
Jason Kubel, OF, ARI
69
83
Jason Heyward, OF, ATL
90
84
Jim Johnson, RP, BAL
N/R
85
Hunter Pence, OF, SF
86
86
Alex Gordon, OF, KC
73
87
Josh Reddick, OF, OAK
67
88
Allen Craig, OF/1B, STL
98
89
Paul Goldschmidt, 1B, ARI
99
90
Adam LaRoche, 1B, WAS
80
91
Nelson Cruz, OF, TEX
94
92
Carlos Ruiz, C, PHI
79
93
Shin-Soo Choo, OF, CLE
87
94
Marco Scutaro, SS/2B/3B, SF
N/R
95
Jason Vargas, SP, SEA
91
96
Jason Kipnis, 2B, CLE
76
97
Jonathon Niese, SP, NYM
N/R
98
James McDonald, SP, PIT
N/R
99
Ryan Vogelsong, SP, SF
57
100
Nick Markakis, OF, BAL
N/R
AJ Mass is a fantasy football, baseball and college basketball analyst for ESPN.com.
SPONSORED HEADLINES
FANTASY TOP HEADLINES
MOST SENT STORIES ON ESPN.COM