Commentary
Injury spin: Now who's going to score for Miami?
Nobody can blame the Miami Heat for shutting down Dwyane Wade with 21 games left in the team's brutal season. The guy is the franchise, his knee has been bothering him all season and there's little for coach Pat Riley's team to play for. Then again, fantasy owners who drafted Wade, or worse yet dealt for the guy recently, should have known better.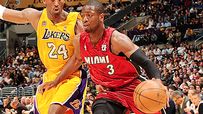 Andrew D. Bernstein/NBAE via Getty ImagesDwyane Wade finishes the 2007-08 season with solid averages of 24.6 points and 6.9 assists per game.
Not that we saw Wade's season being truncated
this
early, but I'd call it a mild surprise the guard lasted as long as he did. There's a reason why I avoided Wade like The Plague in the first round of my October drafts, and it was because of the durability factor. Hey, I'm not questioning the guy's talent. He has loads of it. He also had loads of offseason surgeries, to his shoulder and knee, and that was about two surgeries too many for me to deal with in the top 10. Missing games this season was inevitable.
Monday's announcement that Wade will undergo a specialized treatment called OssaTron, a high-powered form of shockwave therapy, hits fantasy owners hard because this guy is No. 44 on ESPN's Player Rater for the season and even in the top 30 over the past month. In ESPN leagues, the trade deadline has already passed and unless you're in a four-team league, I wish you luck replacing 24.6 points and 6.9 assists off free agency. Really, it's a credit to Wade that he lasted 51 games. However, we're compelled to point out the number 51 also matches his games played for the previous season. Is it a trend? Hopefully not, but with the information we have today, I'll be avoiding him in the first round for 2008-09 as well and let someone else deal with this.
Stephania Bell on Dwyane Wade

Wade, with the support of the Miami Heat, has decided to shut down a lost cause of a season in order to rescue his still-ailing left knee. Wade, whose 2006 season was initially compromised when he suffered a dislocated left shoulder, underwent surgery on both his shoulder and his knee last May. The shoulder surgery, intended to reinforce the joint to provide stability, has served its purpose, and Wade's shoulder has fared well. The knee situation, however, has proven to be more complex.
Last year Wade was dealing with a chronic case of patellar tendinitis, inflammation of the tendon that anchors the large quadriceps muscle on the front of the thigh to the shin (tibia). The tendon is strongly bound to the patella, or kneecap, hence the name. Commonly known as jumper's knee because of its frequent occurrence in athletes involved in sports such as basketball and volleyball, this condition is often difficult to manage during a season. The biggest challenge for the athlete is adequate rest, which is the primary treatment, while avoiding key aggravating activities, such as jumping and running. If the condition becomes severe enough, the pain can escalate to the point where it is present even while resting, and the tendon tissue can become thickened and scarred, making it less flexible and increasingly painful. At its worst, as was the case with Wade, surgery is an option designed to debride (clean up) the thickened tendon to remove scar and stimulate new tissue healing.
Chronic tendinitis can vary in its response to surgery, however, and there are no guarantees for 100-percent success. After surgery the tendon is subjected to gradually progressive loading to return to activity, but sometimes the activity itself proves to be too much for the tissue to handle and the problem persists. Combine that scenario with the fact that Wade is known for an aggressive driving-to-the-basket style, and the result becomes lingering symptoms significant enough to force him to pull back completely.
Although the key treatment at this point will be rest, the Associated Press is reporting that Wade will undergo OssaTron treatment as well. Primarily used to treat plantar fasciitis (inflammation of the arch of the foot) and lateral epicondylitis (tennis elbow), the Ossatron delivers Extracorporeal Shockwave Therapy (ESWT), or acoustic pressure waves via an electrohydraulic system, in an attempt to stimulate tissue repair and ultimately decrease pain and disability. Sound painful? It is! This is a one-time treatment protocol, however, and once it is done, the athlete is to rest the injured part for several weeks, followed by a gradual return to activity. There are some positive results recently described in the medical literature, but the studies are limited. The Miami Herald cites anecdotal evidence of success, indicating that two other Heat players (Alonzo Mourning, Chris Quinn) have undergone such treatment and reported positive results, making it a procedure worth trying for Wade.
Wade is hoping to make it back for the summer Olympics, although that goal is secondary to his simple desire to return the knee to normal and protect his career. He is, after all, just 26 years old, and despite the injuries that have plagued him in his five years in the league, Wade has plenty of game left.
Miami's goal, officially, is to have this procedure heal Wade's left knee to the point that he doesn't have short seasons again. Obviously this would help his fantasy value if we can trust him. Unofficially, it also helps the Heat to lose more games and lock up the NBA's worst record, which was likely to happen regardless of the timing of this announcement. The Heat have a 2½-game "lead" in the race with Minnesota for the best chance to win the lottery and choose first in the next NBA draft. Congrats, here's your capper!
Of course, someone must replace Wade's numbers, though this team is ranked 29th out of 30 teams in points per game. Newcomer Shawn Marion has actually, and surprisingly, been a bit of a bust since coming over in the Shaquille O'Neal trade. In 13 games with Miami, Marion is averaging 14.5 points, 10.2 rebounds and has seen his steals, blocks and field goal and free-throw percentages all drop with the moribund club. There's opportunity now for him to score more, but then again, in what league is he available? Don't sell the farm if you're still allowed to trade for him, as well. I don't think Marion is necessarily the biggest fantasy beneficiary here.
Wade played Saturday night at Atlanta and played well, but the night before, he was absent for a 35-point home loss to Golden State. Marcus Banks, a point guard by trade and, like Marion, a bit disappointing since coming from Phoenix, started at shooting guard and scored 20 points on 17 shots and added four assists. He couldn't consistently push Jason Williams from the starting lineup, but he played pretty well next to him. Chris Quinn, yet another point guard at 6-2, got 34 minutes off the bench and nailed four 3-pointers on his way to 20 points. The next night, with Wade playing, Quinn didn't score. The Heat had only seven players available Friday night.
The Heat play Monday against the Clippers and it's unknown how many players will be available. Banks, who probably stands to gain the most from Wade's absence, pulled his right hamstring against the Hawks and might not play. Udonis Haslem is also questionable for Monday with a sprained ankle. The Heat don't have enough viable players and the games are going to get really ugly. Yes, things can get worse for a team that has lost 31 of 34 contests since before Christmas. Make sure you have all your fantasy options active when they are facing the Heat!
Regardless, someone has to play. Look for Daequan Cook, more of a pure shooting guard, to get significant minutes. I wouldn't call him a great fantasy option yet, but he can hit 3-pointers, if you need that sort of thing. Ricky Davis, one of the most added players in ESPN leagues over the past week but still owned in merely half of leagues, will have the chance to score 20 points a night, and he makes for a good addition. If a healthy Banks is the biggest winner, Davis is a close second. Alexander Johnson should see double the 12.7 minutes he has averaged for the season, but he doesn't warrant a pickup at this point. Mark Blount kind of does what he does, and that shouldn't change.
If you have Wade, my advice would be to check out the categories you really need at this point of the season. In head-to-head formats, the playoffs loom. In roto leagues, there's one month left. Do you need to replace the points the most, or the assists? I'm guessing it's the assists, and among the players out there owned in less than half of ESPN leagues who can help you are Nate Robinson, Anthony Carter, Steve Blake and Brevin Knight.
Do your best. It's all you (and the Heat) can do right now.
Eric Karabell is a fantasy sports expert for ESPN.com Fantasy.
ESPN.com Senior Writer
ESPN contributor on TV, radio, podcasts, blogs, Magazine
Charter member of FSWA Hall of Fame
Author of "The Best Philadelphia Sports Arguments"
SPONSORED HEADLINES
FANTASY TOP HEADLINES
MOST SENT STORIES ON ESPN.COM