Commentary
Forecaster: Hibbert seeks consistency
Updated:
December 27, 2009, 3:14 PM ET
By
Neil Tardy
| Special to ESPN.com
A discussion of young centers who've emerged this season can go in any number of directions. Brook Lopez was a good deal for those who drafted him in the third or fourth round, but Marc Gasol and Joakim Noah were absolute steals in Round 10 or later. And were it not for his season-ending knee injury, Greg Oden would be in this conversation, as well. Oden was playing the best ball of his career at the time he went down.
One other young big whom I thought would be a bargain at the center position is Roy Hibbert. For the most part, though, the 7-foot-2 Hibbert simply hasn't measured up.
Yes, there have been moments for the second-year pro. Hibbert put up 20 points versus Lopez and the New Jersey Nets on Dec. 11. A few days later, he scored 20 more while registering six blocks against Tim Duncan and the San Antonio Spurs. However, Hibbert has reached double digits only four times in his past 19 games. In December, he's averaging 9.2 points and just 4.8 rebounds.
As is the case with many youngsters, Hibbert's problems start on the defensive end. Although he's managed to avoid disqualification this season, fouls have been a big issue. In 14 of his first 25 games, Hibbert has picked up four or five fouls. And when he has managed to stay on the court, he's been schooled by the more experienced Andrew Bogut and been overwhelmed by the more athletic Al Horford (25 points and 19 boards on Saturday). It was so bad against the Atlanta Hawks that Indiana Pacers coach Jim O'Brien benched Hibbert, among other starters, to open the third quarter.
Still, I'm not giving up on Hibbert. Not this week, anyway. And once you get a look at the Pacers' upcoming schedule, you just might want to make a speculative play yourself. More in a bit.
Team

Mon
12/28

Tue
12/29

Wed
12/30

Thu
12/31

Fri
1/1

Sat
1/2

Sun
1/3

Games
T / H

Hawks
OFF
CLE
O: 5
D: 5
@CLE
O: 4
D: 5
OFF
NY
O: 7
D: 6
OFF
OFF
3 / 2
O: 5
D: 5
Celtics
@GS
O: 9
D: 9
OFF
@PHO
O: 7
D: 7
OFF
OFF
TOR
O: 6
D: 6
OFF
3 / 1
O: 8
D: 7
Bobcats
MIL
O: 3
D: 6
OFF
@TOR
O: 3
D: 5
OFF
OFF
@MIA
O: 2
D: 5
@CLE
O: 1
D: 4
4 / 1
O: 2
D: 5
Bulls
OFF
IND
O: 2
D: 7
OFF
@DET
O: 2
D: 6
OFF
ORL
O: 1
D: 4
OFF
3 / 2
O: 2
D: 6
Cavaliers
OFF
@ATL
O: 6
D: 5
ATL
O: 5
D: 5
OFF
OFF
@NJ
O: 7
D: 8
CHA
O: 5
D: 7
4 / 2
O: 6
D: 6
Mavericks
OFF
OFF
OFF
@HOU
O: 5
D: 7
OFF
@SAC
O: 6
D: 6
@LAL
O: 3
D: 6
3 / 0
O: 5
D: 6
Nuggets
@SAC
O: 7
D: 6
OFF
OFF
OFF
OFF
@UTA
O: 5
D: 6
PHI
O: 8
D: 5
3 / 1
O: 6
D: 6
Pistons
OFF
NY
O: 2
D: 5
OFF
CHI
O: 1
D: 5
OFF
OFF
OFF
2 / 2
O: 2
D: 5
Warriors
BOS
O: 4
D: 4
@LAL
O: 4
D: 4
OFF
OFF
OFF
@POR
O: 4
D: 3
OFF
3 / 1
O: 4
D: 4
Rockets
OFF
NOR
O: 5
D: 5
OFF
DAL
O: 3
D: 4
OFF
@NOR
O: 5
D: 5
OFF
3 / 2
O: 4
D: 4
Pacers
OFF
@CHI
O: 4
D: 6
MEM
O: 4
D: 5
OFF
OFF
MIN
O: 5
D: 6
@NY
O: 4
D: 5
4 / 2
O: 4
D: 6
Clippers
OFF
OFF
@POR
O: 3
D: 5
PHI
O: 4
D: 6
OFF
OFF
OFF
2 / 1
O: 4
D: 5
Lakers
@PHO
O: 6
D: 6
GS
O: 8
D: 9
OFF
OFF
SAC
O: 6
D: 6
OFF
DAL
O: 4
D: 6
4 / 3
O: 6
D: 7
Grizzlies
WAS
O: 6
D: 6
OFF
@IND
O: 6
D: 8
OFF
OFF
@PHO
O: 7
D: 6
OFF
3 / 1
O: 6
D: 7
Heat
OFF
OFF
@NOR
O: 6
D: 5
@SA
O: 5
D: 4
OFF
CHA
O: 3
D: 6
OFF
3 / 1
O: 4
D: 5
Bucks
@CHA
O: 2
D: 5
OFF
@ORL
O: 2
D: 2
OFF
OFF
OKC
O: 4
D: 4
OFF
3 / 1
O: 3
D: 4
Timberwolves
OFF
@SA
O: 4
D: 4
UTA
O: 2
D: 5
OFF
ORL
O: 2
D: 3
@IND
O: 4
D: 6
OFF
4 / 2
O: 3
D: 4
Nets
OKC
O: 1
D: 4
OFF
NY
O: 2
D: 4
OFF
OFF
CLE
O: 1
D: 3
OFF
3 / 3
O: 1
D: 4
Hornets
OFF
@HOU
O: 4
D: 5
MIA
O: 3
D: 4
OFF
OFF
HOU
O: 4
D: 5
OFF
3 / 2
O: 4
D: 5
Knicks
OFF
@DET
O: 5
D: 4
@NJ
O: 7
D: 6
OFF
@ATL
O: 5
D: 4
OFF
IND
O: 5
D: 6
4 / 1
O: 5
D: 5
Thunder
@NJ
O: 5
D: 8
@WAS
O: 4
D: 6
OFF
UTA
O: 4
D: 6
OFF
@MIL
O: 4
D: 7
OFF
4 / 1
O: 4
D: 7
Magic
OFF
OFF
MIL
O: 5
D: 6
OFF
@MIN
O: 7
D: 6
@CHI
O: 5
D: 6
OFF
3 / 1
O: 6
D: 6
76ers
@POR
O: 3
D: 4
OFF
@SAC
O: 6
D: 6
@LAC
O: 4
D: 5
OFF
OFF
@DEN
O: 5
D: 7
4 / 0
O: 5
D: 6
Suns
LAL
O: 6
D: 3
OFF
BOS
O: 6
D: 4
OFF
OFF
MEM
O: 9
D: 4
OFF
3 / 3
O: 7
D: 4
Trail Blazers
PHI
O: 6
D: 4
OFF
LAC
O: 5
D: 4
OFF
OFF
GS
O: 8
D: 7
OFF
3 / 3
O: 6
D: 5
Kings
DEN
O: 6
D: 5
OFF
PHI
O: 7
D: 4
OFF
@LAL
O: 4
D: 4
DAL
O: 5
D: 4
OFF
4 / 3
O: 5
D: 4
Spurs
OFF
MIN
O: 8
D: 6
OFF
MIA
O: 6
D: 5
OFF
@WAS
O: 6
D: 5
@TOR
O: 6
D: 5
4 / 2
O: 7
D: 5
Raptors
OFF
OFF
CHA
O: 4
D: 6
OFF
OFF
@BOS
O: 4
D: 4
SA
O: 5
D: 3
3 / 2
O: 4
D: 4
Jazz
OFF
OFF
@MIN
O: 6
D: 5
@OKC
O: 4
D: 5
OFF
DEN
O: 6
D: 6
OFF
3 / 1
O: 5
D: 5
Wizards
@MEM
O: 5
D: 5
OKC
O: 4
D: 5
OFF
OFF
OFF
SA
O: 4
D: 4
OFF
3 / 2
O: 5
D: 5
"O" (offense) and "D" (defense) matchup ratings are based upon a scale from 1 (poor matchup) to 10 (excellent matchup), and are calculated using a formula that evaluates the team's year-to-date and past 10 games' statistics, their performance in home/road games depending on where the game is to be played, as well as their opponents' numbers in those categories. The
Games T / H
column lists the team's total number of games played as well as home games (T / H), and lists the cumulative rating from 1-10 of that week's matchups.
Week 10 at a Glance
Nice week ahead for the Boston Celtics -- and not just because they're spending the first part of it in the sunny Southwest. The Golden State Warriors, Phoenix Suns and Toronto Raptors happen to be the NBA's three worst scoring defenses. Even though Tony Allen is starting with Paul Pierce out (and Allen isn't a bad fill-in for leagues with at least 12 teams), Rasheed Wallace should receive the biggest boost in fantasy value in the interim. Wallace figures do well on the boards, especially with the Warriors being outrebounded by almost 10 per game. And while he's under 30 percent from downtown this season, Raptors and Suns opponents are second and fifth, respectively, in 3-pointers. Sheed is actually available in more than 25 percent of ESPN.com leagues, which surprises me. So pick up Wallace and/or get him active for Week 10. (Of course, the usual disclaimer still applies.)
Speaking of triples, the virtually unowned Roger Mason might work for you in a deep-league head-to-head matchup. Yes, this is a stretch, but with Matt Bonner sidelined, the San Antonio Spurs need a spark from the outside, and in Week 10 they face four of the league's worst nine teams versus the 3: the Minnesota Timberwolves, Miami Heat, Washington Wizards and Toronto Raptors. Incidentally, San Antonio is one of 10 NBA teams with four games in Week 10. Two teams -- the Los Angeles Clippers and Detroit Pistons -- play twice.
The Forecast: It's Their Week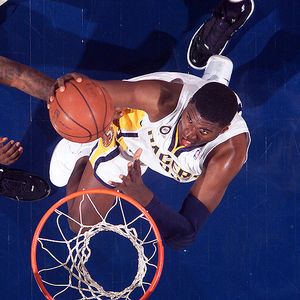 Ron Hoskins/NBAE/Getty ImagesRoy Hibbert has yet to be the breakthrough center some had expected of him to begin the season.
Roy Hibbert, C, Indiana Pacers (@CHI, MEM, MIN, @NY): Short and sweet: Bulls, Timberwolves and Grizzlies opponents are 4-5-6 in blocks. And while Knicks opponents are only 24th in rejections, they're also third in rebound differential. The other significant number here is Hibbert's 85-plus percent availability in ESPN.com leagues.
Beno Udrih, PG/SG, Sacramento Kings (DEN, PHI, @LAL, DAL): Udrih is shooting 52.7 percent this season. I guess the real eye-opener is that he's 43.4 percent from downtown. Last season, Udrih made just 31.0 percent of his 3-pointers. So, Tyreke Evans makes his teammates better? I guess so. Anyway, the deal is that Paul Westphal put Udrih back in the starting lineup versus the Los Angeles Lakers on Dec. 26, and he promptly delivered 23 points, six assists, two steals and three 3s while, naturally, doing better than break even from the field (10-of-19). All things considered, Udrih (who's available in about 65 percent of leagues) is a solid add, and this is a decent set of games. Lakers opponents are last in shooting, but Sixers opponents swish the most 3s and dish the seventh-most assists.
The Forecast: They're Weak
Stephen Curry, PG/SG, Golden State Warriors (BOS, @LAL, @POR): I know it's tough making a case against a guy who's averaging 14.9 points, 2.9 steals and 2.4 3-pointers over his past seven games, but it's worth noting that Boston Celtics, Los Angeles Lakers and Portland Trail Blazers opponents are in the bottom eight in shooting percentage and in the bottom six in 3s. Blazers opponents are also 29th in steals. Yeah, you're going to stick with Curry, and you probably should. Just don't expect the numbers he's been giving you of late.
Kirk Hinrich, PG/SG, Chicago Bulls (IND, @DET, ORL): Hinrich started at shooting guard over the struggling John Salmons, and posted 14 points, seven assists, six rebounds and three treys in the Dec. 26 victory over the New Orleans Hornets. The predictable blemish on this performance was Hinrich's 5-of-13 shooting. The vet is just 36.3 percent from the field this season. Assuming Hinrich sticks as a starter, his accuracy should improve a bit. But don't expect much in Week 10, with Indiana Pacers and Orlando Magic opponents ranking 24th and 26th, respectively, in shooting percentage.
Jarrett Jack, PG/SG, Toronto Raptors (CHA, @BOS, SA): Jack is one of those players you'd like to add, because as a starter, he's averaging 12.6 points, 6.0 assists, 1.2 steals and 52.6 percent shooting. However, you hesitate, figuring that Jose Calderon will return soon and Jack will go back to the bench. But while there's little news about Calderon's status, there's this to consider: Jack's defensive-mindedness just might be what the Raptors need and could concern Calderon owners. As for prospective Jack owners, hold off at least another week. Celtics opponents are dead last in assists, and Bobcats and Spurs opponents are only 22nd and 24th in that category.
Yi Jianlian, SF/PF, New Jersey Nets (OKC, NY, CLE): Yi scored 22 and 17 points in his first two games back from injury, and fantasy owners are taking notice. Yi could well be the most promising free agent available in your league, so, yes, add him. However, he's a less than promising play for Week 10, even with the Knicks on the schedule. Cavs opponents are 29th in field goal percentage and 24th in 3s, while Thunder opponents are 21st in shooting.
Neil Tardy is a fantasy basketball analyst for ESPN.com.
Fantasy Basketball
Neil Tardy is a fantasy basketball analyst for ESPN.com
SPONSORED HEADLINES
FANTASY TOP HEADLINES
MOST SENT STORIES ON ESPN.COM