Commentary
Belinelli, Gooden stand out
Mavericks might capitalize upon injury-plagued Cavs
Updated:
November 22, 2009, 1:24 PM ET
By
Neil Tardy
| Special to ESPN.com
Sometimes smart owners -- that would be me, your humble fantasy analyst -- do dumb things. In a 14-team draft, I was smart enough to spend my final pick on Chris Douglas-Roberts. However, in the interest of disclosure, I'm here to inform you that I was also dumb enough to drop him two games into the season. Since then, only H1N1 has slowed him down. Even though he missed those four games, check out CDR's numbers in the seven games since I dropped him: 20.4 points, 6.3 rebounds and 1.3 steals. He's also getting to the line a ton, which is totally cool for a guy who's 43-of-47 from the stripe.
Where Douglas-Roberts is concerned, it's too late for me, but there's still hope for you. Even though he's the most-added player in ESPN.com leagues, CDR's availability, as of this writing, is still a shade over 55 percent. Get him while you can. I can't see this bargain lasting 'til Black Friday.
I can, however, see some challenges ahead for CDR, given his Week 5 schedule. More on that in a bit.
Team

Mon
11/23

Tue
11/24

Wed
11/25

Thu
11/26

Fri
11/27

Sat
11/28

Sun
11/29

Games
T / H

Hawks
OFF
OFF
OFF
ORL
O: 8
D: 6
@PHI
O: 9
D: 6
OFF
@DET
O: 7
D: 5
3 / 1
O: 8
D: 6
Celtics
OFF
OFF
PHI
O: 10
D: 6
OFF
TOR
O: 10
D: 7
OFF
@MIA
O: 8
D: 6
3 / 2
O: 9
D: 6
Bobcats
OFF
OFF
TOR
O: 6
D: 6
OFF
CLE
O: 3
D: 5
@WAS
O: 6
D: 7
OFF
3 / 2
O: 5
D: 6
Bulls
@POR
O: 5
D: 5
OFF
OFF
@UTA
O: 8
D: 7
OFF
OFF
OFF
2 / 0
O: 6
D: 6
Cavaliers
OFF
OFF
@DET
O: 7
D: 6
OFF
@CHA
O: 7
D: 8
DAL
O: 8
D: 6
OFF
3 / 1
O: 7
D: 7
Mavericks
OFF
GS
O: 10
D: 9
@HOU
O: 8
D: 8
OFF
@IND
O: 8
D: 8
@CLE
O: 6
D: 6
OFF
4 / 1
O: 9
D: 8
Nuggets
OFF
NJ
O: 10
D: 8
@MIN
O: 10
D: 9
OFF
NY
O: 10
D: 8
OFF
MIN
O: 10
D: 9
4 / 3
O: 10
D: 8
Pistons
OFF
OFF
CLE
O: 4
D: 4
OFF
LAC
O: 7
D: 7
OFF
ATL
O: 6
D: 5
3 / 3
O: 6
D: 5
Warriors
OFF
@DAL
O: 9
D: 6
@SA
O: 9
D: 6
OFF
OFF
LAL
O: 10
D: 6
OFF
3 / 1
O: 10
D: 6
Rockets
OFF
OFF
DAL
O: 8
D: 6
OFF
SA
O: 8
D: 6
OFF
@OKC
O: 8
D: 7
3 / 2
O: 8
D: 6
Pacers
OFF
@TOR
O: 10
D: 7
LAC
O: 9
D: 8
OFF
DAL
O: 8
D: 6
OFF
OFF
3 / 2
O: 9
D: 7
Clippers
MIN
O: 8
D: 8
OFF
@IND
O: 8
D: 7
OFF
@DET
O: 6
D: 6
OFF
MEM
O: 8
D: 7
4 / 2
O: 8
D: 7
Lakers
OFF
NY
O: 10
D: 9
OFF
OFF
OFF
@GS
O: 10
D: 9
NJ
O: 9
D: 8
3 / 2
O: 10
D: 9
Grizzlies
SAC
O: 9
D: 7
OFF
@PHO
O: 10
D: 7
OFF
@POR
O: 5
D: 4
OFF
@LAC
O: 8
D: 8
4 / 1
O: 8
D: 7
Heat
OFF
OFF
@ORL
O: 6
D: 6
OFF
WAS
O: 9
D: 7
OFF
BOS
O: 6
D: 6
3 / 2
O: 7
D: 6
Bucks
@SA
O: 6
D: 5
OFF
@NOR
O: 7
D: 5
OFF
@OKC
O: 7
D: 7
ORL
O: 7
D: 5
OFF
4 / 1
O: 7
D: 6
Timberwolves
@LAC
O: 8
D: 6
OFF
DEN
O: 6
D: 6
OFF
PHO
O: 8
D: 6
OFF
@DEN
O: 7
D: 6
4 / 2
O: 7
D: 6
Nets
OFF
@DEN
O: 6
D: 6
@POR
O: 5
D: 3
OFF
@SAC
O: 9
D: 6
OFF
@LAL
O: 6
D: 5
4 / 0
O: 6
D: 5
Hornets
OFF
OFF
MIL
O: 7
D: 5
OFF
OFF
OFF
@SAC
O: 10
D: 6
2 / 1
O: 8
D: 6
Knicks
OFF
@LAL
O: 9
D: 4
@SAC
O: 10
D: 5
OFF
@DEN
O: 9
D: 5
OFF
ORL
O: 7
D: 3
4 / 1
O: 9
D: 5
Thunder
OFF
@UTA
O: 8
D: 7
OFF
OFF
MIL
O: 6
D: 7
OFF
HOU
O: 6
D: 8
3 / 2
O: 7
D: 7
Magic
OFF
OFF
MIA
O: 8
D: 6
@ATL
O: 9
D: 5
OFF
@MIL
O: 8
D: 6
@NY
O: 10
D: 7
4 / 1
O: 9
D: 6
76ers
OFF
@WAS
O: 8
D: 7
@BOS
O: 5
D: 6
OFF
ATL
O: 7
D: 6
OFF
@SA
O: 7
D: 6
4 / 1
O: 7
D: 7
Suns
OFF
OFF
MEM
O: 10
D: 6
OFF
@MIN
O: 10
D: 8
OFF
@TOR
O: 10
D: 6
3 / 1
O: 10
D: 7
Trail Blazers
CHI
O: 8
D: 8
OFF
NJ
O: 8
D: 8
OFF
MEM
O: 9
D: 7
@UTA
O: 9
D: 8
OFF
4 / 3
O: 8
D: 8
Kings
@MEM
O: 10
D: 6
OFF
NY
O: 10
D: 7
OFF
NJ
O: 8
D: 6
OFF
NOR
O: 9
D: 5
4 / 3
O: 9
D: 6
Spurs
MIL
O: 8
D: 5
OFF
GS
O: 10
D: 7
OFF
@HOU
O: 7
D: 6
OFF
PHI
O: 9
D: 4
4 / 3
O: 9
D: 5
Raptors
OFF
IND
O: 9
D: 6
@CHA
O: 8
D: 6
OFF
@BOS
O: 7
D: 4
OFF
PHO
O: 10
D: 6
4 / 2
O: 9
D: 6
Jazz
OFF
OKC
O: 9
D: 7
OFF
CHI
O: 8
D: 7
OFF
POR
O: 7
D: 5
OFF
3 / 3
O: 8
D: 6
Wizards
OFF
PHI
O: 7
D: 5
OFF
OFF
@MIA
O: 5
D: 5
CHA
O: 5
D: 7
OFF
3 / 2
O: 6
D: 6
"O" (offense) and "D" (defense) matchup ratings are based upon a scale from 1 (poor matchup) to 10 (excellent matchup), and are calculated using a formula that evaluates the team's year-to-date and past 10 games' statistics, their performance in home/road games depending on where the game is to be played, as well as their opponents' numbers in those categories. The
Games T / H
column lists the team's total number of games played as well as home games (T / H), and lists the cumulative rating from 1-10 of that week's matchups.
Week 5 at a glance
Joakim Noah has yanked down at least 11 rebounds in eight straight games. He has swatted away at least two shots in eight of the Chicago Bulls' first 11 games. So, you're stuck with him. Why stuck, rather than euphoric (and relentlessly reminding your fellow owners that you snared this stat monster in, like, the 10th round)? That's because in Week 5, the Bulls play just twice, and it's not even a good schedule. Noah and his mates visit the Portland Trail Blazers and Utah Jazz, who are third and seventh, respectively, in rebound differential. Not that this should keep him from accumulating, say, 20-plus boards in the week ahead. Noah is the one Bull weekly leaguers need to keep active. And Jazz opponents do get the fifth-most rejections.
The New Orleans Hornets are the other NBA team with two games in Week 5. In fact, the Hornets play just seven times over the next three weeks. Buck up, Chris Paul owners. It could be worse.
Eric Gordon owners will want to Google their guy this weekend. He could return as soon as Monday, when the Los Angeles Clippers host the Minnesota Timberwolves. The Clippers, along with 14 other teams, play four times in Week 5. The most appealing four-game set belongs to the Denver Nuggets. Despite the team's success, Chauncey Billups is shooting less than 40 percent so far, and he's just 4-of-24 from 3-point range in his past six. But home tilts with the New Jersey Nets and New York Knicks, plus a home-and-home with the Minnesota Timberwolves, could do wonders for the team.
The Forecast: It's their week
[+] Enlarge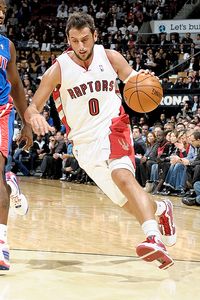 Ron Turenne/NBAE/Getty ImagesMarco Belinelli has averaged just shy of 28 minutes in his past four games, during which time he has averaged 15.3 points per contest.

Marco Belinelli, SG, Toronto Raptors (IND, @CHA, @BOS, PHO): Remember when Belinelli was a fantasy sleeper? Actually, that time might be now. The more I look at him and his situation in Toronto, the more I like the nearly universally available Belinelli in leagues of at least 12 teams. Prior to their just-completed four-game swing, the Raptors were getting nothing from their bench. But in 28 minutes a night, Belinelli averaged 15.3 points and 2.8 threes while shooting exactly 50 percent on the trip. With only rookie project DeMar DeRozan ahead of him, Belinelli should keep playing provided he keeps producing. It's not the sweetest schedule, but it should do. Phoenix Suns opponents are fifth in 3s and eighth in shooting percentage, while Charlotte Bobcats opponents are 11th in 3s. It continues to confound me, though, to see Indiana Pacers opponents fifth-worst in both shooting (43.3 percent) and treys (just 5.1 a night).
Drew Gooden, PF/C, Dallas Mavericks (GS, @HOU, @IND, @CLE): Given the lack of information surrounding Erick Dampier and his illness, it's hard to know what to make of Gooden. But if you have a roster opening, you might as well ride this hot hand. In his first three starts, Gooden averaged 16.7 points, 12.0 boards and 1.3 blocks. I shouldn't have to tell you that any schedule that includes the Golden State Warriors skews favorable. Plus, assuming Dampier stays sidelined and Shaquille O'Neal's bum shoulder lingers, that Cleveland Cavaliers matchup is a plus as well. During their first three games sans Shaq, the Cavs are a minus-27 on the glass.
Dahntay Jones, SG, Indiana Pacers (@TOR, LAC, DAL): Six seasons and three teams, and Jones never touched eight points a game or 22 minutes a night. Now look at him. In six starts since Troy Murphy went down, the 28-year-old Jones is averaging 19.0 points, 5.3 boards, 1.5 blocks and 1.2 steals while shooting 50.0 percent. Jones went into the Pacers' starting lineup when Troy Murphy went down. Will it last? You might get an idea this weekend, when Murphy could return. As long as he maintains his minutes, you'll want to keep adding Jones (he's available in about 70 percent of leagues). This schedule seems neutral, though Raptors opponents are shooting nearly 48 percent, fifth-best in the league.
Mike Miller, SG/SF, Washington Wizards (PHI, @MIA, CHA): It seems Miller -- who can still be had in about 40 percent of leagues -- is settling in with the Wizards. After a shoulder injury cost him three games, Miller went 7-of-11 in back-to-back outings versus the Detroit Pistons and Cavs. The Philadelphia 76ers make this three-game set a nice draw. Sixers opponents are second in 3s and sixth in shooting.
Ramon Sessions, PG, Minnesota Timberwolves (@LAC, DEN, PHO, @DEN): Owners have been dropping the underutilized Sessions since Day 1 this season, but in a deeper league, at least, I'd buck the trend. In his past five games, Sessions is averaging 11.4 points and 4.6 assists. That's not great, of course, but Jonny Flynn's minutes are slipping again, and Sessions is apparently getting more comfortable with Kurt Rambis' triangle offense. There are some helpers to be had with this schedule, as Clippers, Nuggets and Suns opponents are in or near the top third in assists.
The Forecast: They're weak
Stephen Curry, PG/SG, Golden State Warriors (@DAL, @SA, LAL): With Stephen Jackson gone and Monta Ellis rumored to be leaving, Curry, who's available in more than 50 percent of leagues, is another strong free-agent add. However, you probably don't need any numbers to see the problem with this schedule. Of course, you'll get numbers anyway: Los Angeles Lakers and Dallas Mavericks opponents are second- and fourth-worst, respectively, in field-goal percentage.
Chris Douglas-Roberts, SG/SF, New Jersey Nets (@DEN, @POR, @SAC, @LAL): Sure, get CDR. And if you have him, play him. Just expect a few more missed shots this week, because Blazers and Lakers opponents are last and next-to-last in shooting.
James Harden, SG, Oklahoma City Thunder (@UTA, MIL, HOU): After failing to reach double figures in his first 11 games, the rookie broke through with 24 points and six triples against the Magic on Nov. 18. Honestly, Harden strikes me as this season's Eric Gordon. It took Gordon a few weeks into 2008-09 to blossom, and I can see Harden taking a similar path. He has the talent and, because the Thunder need his perimeter scoring, he has the opportunity. Stash Harden, who's available in 95 percent of leagues, wherever you can. As for Week 5, call this schedule neutral. Jazz opponents are eighth in 3s, but Bucks opponents are 23rd in shooting.
Neil Tardy is a fantasy basketball analyst for ESPN.com.
Fantasy Basketball
Neil Tardy is a fantasy basketball analyst for ESPN.com
SPONSORED HEADLINES
FANTASY TOP HEADLINES
MOST SENT STORIES ON ESPN.COM