Commentary
With injury comes opportunity
Updated:
November 27, 2009, 4:58 PM ET
By
Neil Tardy
| Special to ESPN.com
Recently there's been some upheaval at the point guard position. Jameer Nelson underwent left knee surgery on Nov. 18, and he could be sidelined 'til late December. At least with Jammy, we have an idea of what to expect. Chris Paul is still sidelined because of a left ankle sprain, and there's no timetable for his return.
As often happens, these injuries have created opportunities for fantasy owners. However, as occasionally happens, the schedule is getting in the way of our short-term gains. Welcome to NBA Week 6, where players are hurting and fantasy owners are left to shake it off.
Team

Mon
11/30

Tue
12/1

Wed
12/2

Thu
12/3

Fri
12/4

Sat
12/5

Sun
12/6

Games
T / H

Hawks
OFF
OFF
TOR
O: 10
D: 4
OFF
NY
O: 10
D: 5
@DAL
O: 9
D: 3
OFF
3 / 2
O: 10
D: 4
Celtics
OFF
@CHA
O: 8
D: 4
OFF
@SA
O: 8
D: 3
@OKC
O: 10
D: 4
OFF
OFF
3 / 0
O: 9
D: 4
Bobcats
OFF
BOS
O: 5
D: 3
OFF
OFF
@NJ
O: 7
D: 4
PHI
O: 7
D: 3
OFF
3 / 2
O: 6
D: 3
Bulls
@MIL
O: 8
D: 3
OFF
DET
O: 7
D: 2
OFF
@CLE
O: 6
D: 3
TOR
O: 10
D: 3
OFF
4 / 2
O: 8
D: 3
Cavaliers
OFF
OFF
PHO
O: 10
D: 4
OFF
CHI
O: 9
D: 5
OFF
@MIL
O: 9
D: 4
3 / 2
O: 10
D: 4
Mavericks
PHI
O: 10
D: 4
OFF
@NJ
O: 9
D: 4
OFF
@MEM
O: 10
D: 4
ATL
O: 10
D: 3
OFF
4 / 2
O: 10
D: 4
Nuggets
OFF
GS
O: 10
D: 6
OFF
MIA
O: 10
D: 4
OFF
@SA
O: 9
D: 3
OFF
3 / 2
O: 10
D: 4
Pistons
OFF
OFF
@CHI
O: 8
D: 4
OFF
MIL
O: 7
D: 3
OFF
WAS
O: 8
D: 3
3 / 2
O: 7
D: 3
Warriors
IND
O: 10
D: 4
@DEN
O: 10
D: 4
OFF
HOU
O: 10
D: 3
OFF
ORL
O: 10
D: 2
OFF
4 / 3
O: 10
D: 3
Rockets
OFF
OFF
@LAC
O: 10
D: 4
@GS
O: 10
D: 5
OFF
@POR
O: 8
D: 1
OFF
3 / 0
O: 10
D: 3
Pacers
@GS
O: 10
D: 5
OFF
@SAC
O: 10
D: 5
OFF
@UTA
O: 10
D: 4
@LAC
O: 10
D: 5
OFF
4 / 0
O: 10
D: 5
Clippers
OFF
OFF
HOU
O: 7
D: 3
OFF
OFF
IND
O: 8
D: 4
OFF
2 / 2
O: 8
D: 3
Lakers
OFF
NOR
O: 10
D: 3
OFF
OFF
MIA
O: 9
D: 4
OFF
PHO
O: 10
D: 5
3 / 3
O: 10
D: 4
Grizzlies
@UTA
O: 9
D: 4
OFF
@MIN
O: 10
D: 4
OFF
DAL
O: 8
D: 3
OFF
OFF
3 / 1
O: 9
D: 4
Heat
OFF
@POR
O: 7
D: 2
OFF
@DEN
O: 8
D: 4
@LAL
O: 8
D: 3
OFF
@SAC
O: 10
D: 4
4 / 0
O: 8
D: 4
Bucks
CHI
O: 9
D: 3
OFF
@WAS
O: 9
D: 3
OFF
@DET
O: 7
D: 2
OFF
CLE
O: 7
D: 2
4 / 2
O: 8
D: 2
Timberwolves
OFF
OFF
MEM
O: 8
D: 2
OFF
@NOR
O: 8
D: 1
UTA
O: 7
D: 2
OFF
3 / 2
O: 8
D: 2
Nets
OFF
OFF
DAL
O: 7
D: 2
OFF
CHA
O: 5
D: 3
OFF
@NY
O: 10
D: 4
3 / 2
O: 7
D: 3
Hornets
OFF
@LAL
O: 8
D: 2
OFF
OFF
MIN
O: 10
D: 4
OFF
OFF
2 / 1
O: 9
D: 3
Knicks
OFF
PHO
O: 10
D: 1
@ORL
O: 8
D: 1
OFF
@ATL
O: 9
D: 1
OFF
NJ
O: 10
D: 1
4 / 2
O: 10
D: 1
Thunder
OFF
OFF
PHI
O: 8
D: 4
OFF
BOS
O: 6
D: 3
OFF
OFF
2 / 2
O: 7
D: 3
Magic
OFF
OFF
NY
O: 10
D: 5
OFF
OFF
@GS
O: 10
D: 5
OFF
2 / 1
O: 10
D: 5
76ers
@DAL
O: 8
D: 3
OFF
@OKC
O: 9
D: 4
OFF
OFF
@CHA
O: 7
D: 4
OFF
3 / 0
O: 8
D: 4
Suns
OFF
@NY
O: 10
D: 5
@CLE
O: 10
D: 2
OFF
OFF
SAC
O: 10
D: 4
@LAL
O: 10
D: 3
4 / 1
O: 10
D: 3
Trail Blazers
OFF
MIA
O: 9
D: 4
OFF
OFF
OFF
HOU
O: 9
D: 4
OFF
2 / 2
O: 9
D: 4
Kings
OFF
OFF
IND
O: 10
D: 3
OFF
OFF
@PHO
O: 10
D: 3
MIA
O: 9
D: 2
3 / 2
O: 10
D: 3
Spurs
OFF
OFF
OFF
BOS
O: 8
D: 2
OFF
DEN
O: 10
D: 3
OFF
2 / 2
O: 9
D: 3
Raptors
OFF
WAS
O: 10
D: 3
@ATL
O: 9
D: 2
OFF
@WAS
O: 10
D: 3
@CHI
O: 10
D: 3
OFF
4 / 1
O: 10
D: 3
Jazz
MEM
O: 10
D: 4
OFF
OFF
OFF
IND
O: 10
D: 4
@MIN
O: 10
D: 5
OFF
3 / 2
O: 10
D: 4
Wizards
OFF
@TOR
O: 9
D: 3
MIL
O: 7
D: 3
OFF
TOR
O: 9
D: 3
OFF
@DET
O: 6
D: 2
4 / 2
O: 8
D: 3
"O" (offense) and "D" (defense) matchup ratings are based upon a scale from 1 (poor matchup) to 10 (excellent matchup), and are calculated using a formula that evaluates the team's year-to-date and past 10 games' statistics, their performance in home/road games depending on where the game is to be played, as well as their opponents' numbers in those categories. The
Games T / H
column lists the team's total number of games played as well as home games (T / H), and lists the cumulative rating from 1-10 of that week's matchups.
Week 6 at a glance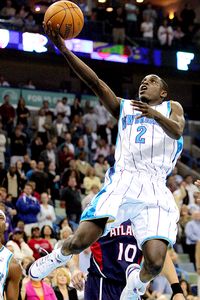 Derick E. Hingle/US PresswireDarren Collison can help you ... just maybe not right now.
So what's the problem? What's to keep an enterprising owner from making a move for, say, Darren Collison (currently one of the top adds in ESPN.com leagues)? Well, nothing is stopping you; it's just that the Week 6 schedule will slow you down a little. A whopping six NBA teams play two games in Week 6. That includes Collison's New Orleans Hornets and the Orlando Magic, who have their own solid fill-in point guard in veteran Jason Williams. Also playing just a pair of games are the Los Angeles Clippers, Oklahoma City Thunder, Portland Trail Blazers and San Antonio Spurs.
Other than Week 9, which includes Christmas, and Week 16, which leads into the All-Star weekend, this is the lightest schedule of the 2009-10 season. (Credit for this bit of information, incidentally, goes to our handy Weekly Schedule Chart.)
As for Collison, he's worth adding -- and even with the recent interest, the rookie remains available in more than 90 percent of leagues -- but probably not worth activating yet. So it goes in Week 6.
The Forecast: It's their week
Ersan Ilyasova, SF, Milwaukee Bucks (CHI, @WAS, @DET, CLE): Given this four-game set and the Bucks' injury problems, the 22-year-old Turk is the kind of player who could provide across-the-board numbers this week. In his first five games since moving into the starting lineup, Ilyasova is averaging 13.0 points, 6.8 rebounds, 1.4 3-pointers and 1.2 steals. A couple of areas of caution, however: Ilyasova's minutes could take a hit with the return of Luc Richard Mbah a Moute, whose left foot sprain has lingered much longer than expected. Also consider that Ilyasova takes quite a few 3-pointers -- 4.4 a game as a starter -- but is shooting only 31.8 percent from long distance (again, as a starter). While Wizards opponents are a league-best 39.8 percent from downtown, Bulls, Pistons and Cavs opponents are all in the bottom third in this category.
Corey Brewer, SG/SF, Minnesota Timberwolves (MEM, @NOR, UTA): Just six players currently average more than 2.0 steals per game. Five of them -- Monta Ellis, Rajon Rondo, Dwyane Wade, Kobe Bryant and Trevor Ariza -- are almost universally rostered. Then there's Brewer, who, despite his 2.1 takeaways, is available in 90 percent of leagues and climbing. Brewer's miserable percentages -- 38.6 from the field and 61.4 from the line -- are, of course, the reason owners are dumping him. But after nine straight games of sub-45 percent shooting, Brewer went 10-of-18 versus the Nuggets on Nov. 25 and posted his first career double-double, 22 points and 13 rebounds. And, naturally, he had two steals. I'm no fan of Brewer, but 2.0 steals is hard to come by. Plus, this is a good time to give him a chance. Grizzlies opponents shoot a league-high 49.9 percent while getting the seventh-most steals. Hornets and Jazz opponents are 10th and 12th, respectively, in shooting percentage, although Hornets opponents are dead last in steals.
Nate Robinson, PG/SG, New York Knicks (PHO, @ORL, @ATL, NJ): Krypto-Nate is one of my favorite players, but I'm loathe to bring him up here. This is about analysis, and streak shooters such as Robinson are nearly impossible to analyze. Two of Robinson's worst games so far have been against the 76ers (3-of-11) and Warriors (3-of-9), both among the five worst teams in terms of opponents' shooting percentage. But then, out of nowhere, Robinson went 7-of-11 against the Celtics on Nov. 22, and he has been a force since. Now, this is a good schedule from a few angles. For instance, Nets opponents are second in steals, while Suns opponents are eighth. But the best I can honestly tell you is that Nate is hot, so get him if he's available (he's available in more than 30 percent of leagues) and hope it lasts. Just know that, given his inconsistency, Robinson could easily torch the Nets and Magic (bottom third in 3s allowed) and tank against the Suns (eighth-most 3s allowed).
Tim Thomas, PF, Dallas Mavericks (PHI, @NJ, @MEM, ATL): A sneaky play for deep leaguers here. A 23-point performance in a Nov. 25 blowout victory over the Rockets is precious little to go on, so you'll want to see who plays for the injury-depleted Mavs this weekend. Still, Thomas could do some damage over the short term. The Grizzlies, in addition to being the worst team in terms of opponents' field goal percentage, allow the seventh-most 3s. Sixers opponents, meanwhile, are fourth in 3s and fifth in shooting. What's funny about this set of games is that the winless Nets are actually the toughest of these teams versus the trey.
Nick Young, SG, Washington Wizards (@TOR, MIL, TOR, @DET): I thought Mike Miller's calf injury might get Randy Foye back in the rotation. Instead, Young got the start on Nov. 24 and went for 20 points and a pair of 3s versus the Sixers. Despite his fantasy limitations, Young has shown he can score when given the chance, and with this schedule, he looks like a good fill-in. At least the part of the schedule that says "Toronto" looks good. Raptors opponents get the third-most 3s while shooting an eighth-best 46.8 percent.
The Forecast: They're weak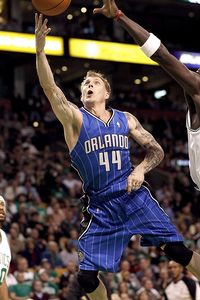 Greg M. Cooper/US PresswireJason Williams is getting plenty of work with Jameer Nelson out.
Jason Williams, PG, Orlando Magic (NY, @GS): I know he's always been a subpar shooter, but I really think J-Will will put up nice numbers over the next three or four weeks. He'll have big-time scorers to dish to, and he'll get his open looks from beyond the arc. And I'll give him a pass on that abysmal Thanksgiving night performance. It was a back-to-back, and it's been some time since Williams has attempted to log that many minutes. Remember, he sat out last season. It's probably a good thing that Anthony Johnson will be able to pick up for him on occasion. And fortunately, the Magic have just two back-to-backs in December. What I said of Collison applies to Williams. Buy and hold.
Darren Collison, PG, New Orleans Hornets (@LAL, MIN): For the record, as a starter, Collison is averaging 14.7 points and 6.7 assists. His percentages, however, are a mixed bag. He's only 40.5 percent from the field, and has topped 42 percent in just two of his six starts. But the kid will take it to the hole, so that sparkling 92.1 percent foul shooting percentage has some weight to it. I suppose in a deep league, Collison could push 15 assists in these two games and do you some good in a head-to-head league. For most owners, Collison should be a buy-and-hold proposition.
Jrue Holiday, PG, Philadelphia 76ers (@DAL, @OKC, @CHA): Did I mention upheaval and point guards? This is really unfortunate. Just as Lou Williams was starting to put up big numbers in his first season as a starter, he gets shelved for up to eight weeks because of a broken jaw. Holiday, who the Sixers drafted 17th overall this summer, got his first start on Nov. 25. While the rookie dished out six assists in 34 minutes against the Celtics, he was also just 4-of-13 from the field with four turnovers. I think Collison and Williams are clearly better adds, but it will be interesting to see if the Sixers make a move or stick with Holiday. This schedule isn't friendly to a point guard, as Mavs, Thunder and Bobcats opponents are all 20th or worse in assists.
Neil Tardy is a fantasy basketball analyst for ESPN.com.
Fantasy Basketball
Neil Tardy is a fantasy basketball analyst for ESPN.com