Commentary
Believe in Duhon's resurgence
Updated:
December 18, 2009, 5:46 PM ET
By
Neil Tardy
| Special to ESPN.com
Each week the Forecaster examines matchups to help you make those tough lineup calls. But in addition to looking at who your players are facing, it's sometimes instructive to simply consider where your players are playing.
Put more succinctly, awareness of home/away splits can help you in fantasy hoops. This is a topic I haven't discussed, but it's one I will give more attention going forward. Home court matters. Naturally. The majority of NBA teams win more at home than they do on the road, and every team seeks home court in the playoffs. And where there's greater success, there are generally better numbers. Many NBA players -- particularly the younger guys -- perform better in home games. Maybe it's the familiarity of the shooting background. Maybe it's the convenience of sleeping in one's own bed. Home court does matter.
All that said, I certainly don't want to give the impression that home court should be a huge factor when setting your lineups. It's just another consideration, another piece of information that can help you select your 10th man in a weekly lineup or a third forward to use on a busy Friday night in a daily league.
When can home court factor into your lineup decisions? Let's look at two players. The first is Chris Duhon. Coming off three successive strong performances, Duhon is currently one of the most-added players in ESPN.com leagues (though his availability is still around 65 percent). Now check out Duhon's home/road splits. He's been atrocious in Madison Square Garden. In home games, he's shooting 26.8 percent while averaging just 6.7 points and 1.0 3-pointers. On the road, Duhon is a much more respectable 41.2 percent, good for 11.4 points and 2.1 3s.
Now, I suppose Duhon could be in some sort of tiff with Spike Lee and that explains his abysmal home numbers. However, I'll write this off as a small-sample aberration since, a season ago, Duhon shot 44.0 percent at home and 40.2 percent on the road.
Some splits that I do take seriously belong to Channing Frye. The first-year Suns center has been astonishingly productive in home games. He's shooting 57.0 percent overall, and an unfathomable 60.7 percent from downtown. That accuracy is netting Frye 3.8 treys in home games. On the road, it's a different story. Though Frye is still giving you 1.9 3s, he's shooting only 40.6 percent overall and averaging just 10.4 points.
What could be behind the huge disparity in Frye's numbers? I imagine it's the familiarity factor. I have to think Frye is comfortable shooting at US Airways Center. Beyond that, keep in mind that Frye has a new team and a new role this season. In 2009-10, Frye already has more 3-point attempts than he registered in his first four seasons combined. While he's showing he can be productive from the outside, he's not a natural. So it makes sense that familiar surroundings help him.
Sure, as the season progresses, the difference in Frye's splits should decline -- they almost have to. But in his case, I think there's something to be said for home cooking. Incidentally, Frye is actually one of the most-dropped players in ESPN.com leagues at the moment. His availability now exceeds 30 percent, and I'd grab him tout de suite if I could. Keep in mind that the Suns have played the most away games of any team so far. The schedule is about to turn very favorable for Mr. Frye.
Team

Mon
12/21

Tue
12/22

Wed
12/23

Thu
12/24

Fri
12/25

Sat
12/26

Sun
12/27

Games
T / H

Hawks
OFF
@MIN
O: 7
D: 8
@DEN
O: 6
D: 7
OFF
OFF
@IND
O: 6
D: 7
OFF
3 / 0
O: 6
D: 8
Celtics
OFF
IND
O: 7
D: 7
OFF
OFF
@ORL
O: 7
D: 4
OFF
@LAC
O: 6
D: 5
3 / 1
O: 6
D: 5
Bobcats
OFF
DET
O: 3
D: 4
OFF
OFF
OFF
@OKC
O: 2
D: 5
OFF
2 / 1
O: 2
D: 5
Bulls
SAC
O: 2
D: 6
@NY
O: 4
D: 6
OFF
OFF
OFF
NOR
O: 2
D: 6
OFF
3 / 2
O: 3
D: 6
Cavaliers
@PHO
O: 7
D: 7
OFF
@SAC
O: 7
D: 6
OFF
@LAL
O: 5
D: 5
OFF
HOU
O: 6
D: 7
4 / 1
O: 6
D: 6
Mavericks
OFF
POR
O: 4
D: 4
OFF
OFF
OFF
MEM
O: 6
D: 7
@DEN
O: 6
D: 7
3 / 2
O: 5
D: 6
Nuggets
OFF
OFF
ATL
O: 7
D: 5
OFF
@POR
O: 5
D: 4
OFF
DAL
O: 6
D: 6
3 / 2
O: 6
D: 5
Pistons
OFF
@CHA
O: 3
D: 6
TOR
O: 5
D: 5
OFF
OFF
OFF
@TOR
O: 6
D: 5
3 / 1
O: 5
D: 6
Warriors
OFF
@MEM
O: 7
D: 5
@NOR
O: 7
D: 4
OFF
OFF
PHO
O: 7
D: 5
OFF
3 / 1
O: 7
D: 5
Rockets
OFF
LAC
O: 4
D: 4
@ORL
O: 5
D: 3
OFF
OFF
@NJ
O: 6
D: 7
@CLE
O: 3
D: 3
4 / 1
O: 5
D: 4
Pacers
MIL
O: 4
D: 6
@BOS
O: 3
D: 5
OFF
OFF
OFF
ATL
O: 3
D: 4
@MIA
O: 5
D: 5
4 / 2
O: 4
D: 5
Clippers
@SA
O: 4
D: 6
@HOU
O: 4
D: 7
OFF
OFF
@PHO
O: 6
D: 7
OFF
OFF
3 / 0
O: 5
D: 7
Lakers
OFF
OKC
O: 6
D: 6
OFF
OFF
CLE
O: 5
D: 4
@SAC
O: 7
D: 6
OFF
3 / 2
O: 6
D: 5
Grizzlies
OFF
GS
O: 7
D: 8
OFF
OFF
OFF
@DAL
O: 5
D: 6
OFF
2 / 1
O: 6
D: 7
Heat
OFF
OFF
UTA
O: 4
D: 4
OFF
@NY
O: 7
D: 5
OFF
IND
O: 4
D: 6
3 / 2
O: 5
D: 5
Bucks
@IND
O: 4
D: 5
OFF
WAS
O: 6
D: 3
OFF
OFF
SA
O: 5
D: 4
OFF
3 / 2
O: 5
D: 4
Timberwolves
OFF
ATL
O: 2
D: 4
@NJ
O: 6
D: 7
OFF
OFF
WAS
O: 3
D: 4
OFF
3 / 2
O: 4
D: 5
Nets
OFF
OFF
MIN
O: 3
D: 6
OFF
OFF
HOU
O: 2
D: 5
OFF
2 / 2
O: 2
D: 6
Hornets
OFF
OFF
GS
O: 7
D: 6
OFF
OFF
@CHI
O: 5
D: 5
OFF
2 / 1
O: 6
D: 6
Knicks
OFF
CHI
O: 5
D: 5
OFF
OFF
MIA
O: 6
D: 4
OFF
SA
O: 5
D: 4
3 / 3
O: 5
D: 4
Thunder
OFF
@LAL
O: 2
D: 6
@PHO
O: 5
D: 7
OFF
OFF
CHA
O: 4
D: 8
OFF
3 / 1
O: 4
D: 7
Magic
UTA
O: 7
D: 4
OFF
HOU
O: 6
D: 6
OFF
BOS
O: 5
D: 5
OFF
OFF
3 / 3
O: 6
D: 5
76ers
OFF
@WAS
O: 5
D: 6
OFF
OFF
OFF
@UTA
O: 5
D: 6
OFF
2 / 0
O: 5
D: 6
Suns
CLE
O: 6
D: 2
OFF
OKC
O: 7
D: 4
OFF
LAC
O: 6
D: 3
@GS
O: 9
D: 5
OFF
4 / 3
O: 7
D: 4
Trail Blazers
OFF
@DAL
O: 3
D: 4
@SA
O: 3
D: 4
OFF
DEN
O: 4
D: 6
OFF
OFF
3 / 1
O: 3
D: 5
Kings
@CHI
O: 6
D: 5
OFF
CLE
O: 5
D: 3
OFF
OFF
LAL
O: 5
D: 4
OFF
3 / 2
O: 6
D: 4
Spurs
LAC
O: 6
D: 5
OFF
POR
O: 6
D: 4
OFF
OFF
@MIL
O: 6
D: 6
@NY
O: 7
D: 6
4 / 2
O: 6
D: 5
Raptors
OFF
OFF
@DET
O: 6
D: 3
OFF
OFF
OFF
DET
O: 4
D: 3
2 / 1
O: 5
D: 3
Jazz
@ORL
O: 6
D: 3
OFF
@MIA
O: 6
D: 4
OFF
OFF
PHI
O: 8
D: 4
OFF
3 / 1
O: 6
D: 4
Wizards
OFF
PHI
O: 6
D: 5
@MIL
O: 4
D: 6
OFF
OFF
@MIN
O: 5
D: 7
OFF
3 / 1
O: 5
D: 6
"O" (offense) and "D" (defense) matchup ratings are based upon a scale from 1 (poor matchup) to 10 (excellent matchup), and are calculated using a formula that evaluates the team's year-to-date and past 10 games' statistics, their performance in home/road games depending on where the game is to be played, as well as their opponents' numbers in those categories. The
Games T / H
column lists the team's total number of games played as well as home games (T / H), and lists the cumulative rating from 1-10 of that week's matchups.
Week 9 at a Glance
One more week of two-game slates. With Christmas Eve an off day leaguewide, Week 9 features six teams that play just twice: the Charlotte Bobcats, Memphis Grizzlies, New Jersey Nets, New Orleans Hornets, Philadelphia 76ers and Toronto Raptors. And only six teams have four games: the Cleveland Cavaliers, Houston Rockets, Indiana Pacers, Los Angeles Clippers, Phoenix Suns and San Antonio Spurs.
However, while it's a good week to ditch your Sixers not named Andre Iguodala, don't sleep on this team entirely. Lou Williams is back practicing and could be nearing a return to the lineup. Williams ownership had fallen to 60 percent while he was out, and he remains free in nearly 35 percent of ESPN.com leagues. He won't be a free agent long, though. Grab this holiday gift if you can. Also note that Jameer Nelson, Tyrus Thomas and Leandro Barbosa could all be playing again inside of two weeks. Nelson and Thomas aren't available in many leagues, but it's worth checking.
The Forecast: It's Their Week
Chris Duhon, PG, New York Knicks (CHI, MIA, SA): Duhon seems to be past his terrible start, having averaged 19.3 points, 7.3 assists and 4.7 3s versus the Hornets, Bobcats and Bulls. (And yes, those three games were on the road.) Of course he's not a good enough offensive player to maintain this pace, but the three games ahead shape up as a decent set, especially considering that Bulls opponents have amassed 45 treys in their past five.
Channing Frye, PF/C, Phoenix Suns (CLE, OKC, LAC, @GS): Not only is Frye averaging nearly four 3s a night at home, he's had just two home games of fewer than three treys. For that reason, I'm calling this schedule a win, but it's not without its tests. Cavs, Thunder and Clippers opponents are all below average in sinking 3s. Even Warriors opponents are only middling in this regard.
Joel Przybilla, C, Portland Trail Blazers (@DAL, @SA, DEN): Przybilla's ownership has predictably spiked since Greg Oden went down, though he remains available in 90 percent of leagues. Przybilla is worth a look in any league of more than 10 teams, especially the way he's going at the moment (10.3 rebounds and 2.8 blocks in his past four). While Mavs opponents are only 26th in rejections, Nuggets opponents are third and Spurs opponents are 10th.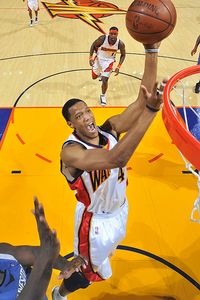 Rocky Widner/NBAE/Getty ImagesIf you've hung onto Anthony Randolph this long, don't let him go now.
Anthony Randolph, SF/PF, Golden State Warriors (@MEM, @NOR, PHO)
:
Vladimir Radmanovic
is clearly not working out, so the short-handed Warriors may finally be forced to give Randolph some consistent minutes -- that is, if they don't trade the youngster, as has been rumored. Of course you never know with this team, but stick with Randolph if you have for this long. He should board in Week 9, given that Hornets and Suns opponents are fourth and sixth in rebound differential.

Dorell Wright, SF, Miami Heat (UTA, @NY, IND): You'd have to be in a league of at least 12 teams (preferably more) to even consider Wright, but the 24-year-old is getting significant minutes off the bench at the moment. Wright has played at least 26 minutes in five straight games, and he's scored in double figures in four of them. He isn't especially productive in 3s or hustle stats, but figuring that Knicks opponents are third in shooting while Jazz opponents are 10th, you can call this a favorable schedule.
The Forecast: They're Weak
Omri Casspi, SF/PF, Sacramento Kings (@CHI, CLE LAL): Casspi made his first career start on Dec. 16, contributing 22 points in a win against the Wizards (though the rookie was only 6-of-16 from the floor). Casspi's hold on a starting gig seems tenuous, but we'll have to see how long Spencer Hawes remains in coach Paul Westphal's doghouse. For now, consider Casspi worth watching in deeper leagues. And if he is on your team, you might want to watch while he rides your virtual pine in Week 9, given that Lakers and Cavs opponents are last and next-to-last in shooting percentage and only 25th and 22nd, respectively, in 3s.
Maurice Evans, SG/SF, Atlanta Hawks (@MIN, @DEN, @IND): The Hawks have suddenly turned to Evans, and the veteran has rewarded them by averaging 17.0 points and 3.5 3s over his past four. Evans could be a good spot-start in deeper leagues, but probably not here. Though Timberwolves opponents are sixth in 3s, Pacers opponents are only 24th while Nuggets opponents are 20th.
Peja Stojakovic, SF, New Orleans Hornets (GS, @CHI): Stojakovic's ownership is creeping toward 30 percent, which is understandable given his familiarity to fantasy owners and his run of 3.6 3s over his past 10 games. Remember, though, that Peja is still shooting less than 40 percent this season, and beyond the points and treys, he gives you nothing other than a few boards. My distaste for the vet aside, Stojakovic could actually work in a weekly H2H league, even with the Hornets playing twice. The Bulls have been that bad recently. Plus, even though Warriors opponents don't get a ton of 3s, they are shooting a league-high 49.2 percent overall.
Neil Tardy is a fantasy basketball analyst for ESPN.com.
Fantasy Basketball
Neil Tardy is a fantasy basketball analyst for ESPN.com
SPONSORED HEADLINES
FANTASY TOP HEADLINES
MOST SENT STORIES ON ESPN.COM