Commentary
Fantasy Forecaster: Week 1
Updated:
October 26, 2009, 7:42 PM ET
By
Neil Tardy
| Special to ESPN.com
The NBA season opens Tuesday. Among other things, that means you have at least one more day of unshakable belief that you've drafted -- and/or perhaps acquired through auction -- one or more future fantasy league championship teams. I mean, if you don't like your teams now, before the real games begin, what's the point?
Of course, I love the teams I've assembled, but then, I'm a fantasy analyst writing for a sports media empire. I make all the right moves on draft day. Then I just sit back and watch my teams climb the standings. Of course I do.
Still, heading into the 2009-10 NBA season, intrigued as I am to see whether the Lakers are still the team to beat and whether the teams chasing the defending champs have made the right offseason moves, and curious as I am to see what Blake Griffin and a whole bunch of rookie point guards can do, and excited as I am to see whether I was right to continually draft Brook Lopez early and DeJuan Blair late, out of all that -- out of everything -- there's one thing I can't stop wondering.
Is it too early to go get a free agent, and a temp one at that?
Welcome to the Fantasy Forecaster, your weekly breakdown of the NBA schedule and what the games ahead mean to fantasy hoops owners. If you've read the Forecaster in previous seasons, first of all, thanks, and second, please indulge me while I go over the ground rules.
The purpose of the Forecaster is to provide you with news and analysis to help you make tough lineup decisions. So you won't find much discussion here of LeBron James, Dwyane Wade or Danny Granger ... or even Russell Westbrook, Caron Butler or Charlie Villanueva. Those kinds of players should be in your lineup every week as long as they're healthy.
The players we'll focus on here are the players at the end of your roster, say, the guys who went from about the 75th pick on in your draft. They're the players who make your team but don't regularly make your starting lineup. They're the fantasy free agents who catch your eye. They're players who, at the right moment, can make a difference on your team.
So we'll go over fantasy options and real NBA teams. In the case of the latter, we'll discuss NBA team defenses, and the things they do well and those they do poorly. For instance, I expect to say some variation of this a lot: The Washington Wizards are abysmal against the 3-pointer. It's been that way for a while now, regardless of how the team is faring otherwise. The past two seasons, no one surrendered more 3s than the Wizards. And in 2006-07, the Wizards were second worst at 3-point defense. We'll find ways to exploit that.
One other thing about the Forecaster: If you're wondering whether NBA players ever have huge nights against Gregg Popovich's tough San Antonio Spurs or whether they tank against Mike D'Antoni's defensively indifferent New York Knicks, the answer is yes, naturally. Sometimes the schedule will tell you that Player A has a great matchup, and reality will smack you over the head for noticing. Overall, though, I believe this information is valuable. How and when to use it -- that's for you as a fantasy owner to figure out.
As for that temp free agent I mentioned, he is Ryan Anderson. While Rashard Lewis serves a 10-game suspension to start this season, the 6-foot-10 Anderson is expected to start for the Magic. It's a tough call, but I like Anderson, who's currently unrostered in 98 percent of ESPN.com leagues. The schedule likes him as well. More on Anderson in a bit.
Week 1 at a glance
While most NBA teams (22 of them) play three games in the opening week of the season, four teams have four games: the Boston Celtics, Cleveland Cavaliers, Los Angeles Clippers and Portland Trail Blazers. So fantasy foundations like LeBron James and Brandon Roy should pile up some numbers for you in the early going. That extra game also provides incentive to try options like Anthony Parker and Al Thornton. Given Delonte West's off-court issues, Parker (rostered in 8 percent of leagues) could see extended action this week, and the Cavs have favorable matchups against the Raptors (Parker's former team) and Timberwolves. The Clippers were so frustrated by the lack of activity from Thornton (rostered in 70 percent of leagues) on the boards last season that he wasn't promised a spot in this season's starting lineup. But Thornton apparently responded to this challenge with a productive preseason.
On the subject of frustration, the Golden State Warriors, Indiana Pacers, Milwaukee Bucks and Utah Jazz all play just twice in Week 1, so mainstays like Deron Williams and Granger won't carry you out of the gate. For this week, I wouldn't mess around with the likes of Stephen Curry and Roy Hibbert, and I'm indifferent to Michael Redd and Carlos Boozer. But Anthony Randolph, with his potential to pile up boards and hustle stats? He tempts me.
A quick note about the Forecaster chart: For the first few weeks, we will be relying heavily on last season's numbers until we have approximately three weeks of data from this season to rely on. The longer the season goes, the more valuable and accurate the numbers will be, but don't worry. If the numbers aren't telling you the whole story, I'll make sure to let you know.
Team

Mon
10/26

Tue
10/27

Wed
10/28

Thu
10/29

Fri
10/30

Sat
10/31

Sun
11/1

Games
T / H

Hawks
OFF
OFF
IND
O: 7
D: 7
OFF
WAS
O: 7
D: 6
OFF
@LAL
O: 6
D: 5
3 / 2
O: 6
D: 6
Celtics
OFF
@CLE
O: 3
D: 5
CHA
O: 5
D: 7
OFF
CHI
O: 5
D: 6
OFF
NOR
O: 5
D: 5
4 / 3
O: 5
D: 6
Bobcats
OFF
OFF
@BOS
O: 2
D: 4
OFF
NY
O: 4
D: 6
@CLE
O: 2
D: 4
OFF
3 / 1
O: 3
D: 5
Bulls
OFF
OFF
OFF
SA
O: 4
D: 5
@BOS
O: 3
D: 5
OFF
@MIA
O: 4
D: 5
3 / 1
O: 4
D: 5
Cavaliers
OFF
BOS
O: 3
D: 5
@TOR
O: 6
D: 6
OFF
@MIN
O: 7
D: 6
CHA
O: 5
D: 7
OFF
4 / 2
O: 5
D: 6
Mavericks
OFF
WAS
O: 7
D: 6
OFF
OFF
@LAL
O: 5
D: 5
@LAC
O: 6
D: 6
OFF
3 / 1
O: 6
D: 6
Nuggets
OFF
OFF
UTA
O: 7
D: 7
@POR
O: 6
D: 5
OFF
OFF
MEM
O: 7
D: 7
3 / 2
O: 6
D: 6
Pistons
OFF
OFF
@MEM
O: 5
D: 5
OFF
OKC
O: 4
D: 5
@MIL
O: 4
D: 4
OFF
3 / 1
O: 5
D: 5
Warriors
OFF
OFF
HOU
O: 6
D: 6
OFF
@PHO
O: 8
D: 6
OFF
OFF
2 / 1
O: 7
D: 6
Rockets
OFF
@POR
O: 5
D: 4
@GS
O: 7
D: 7
OFF
OFF
POR
O: 4
D: 4
OFF
3 / 1
O: 6
D: 5
Pacers
OFF
OFF
@ATL
O: 6
D: 6
OFF
MIA
O: 5
D: 6
OFF
OFF
2 / 1
O: 6
D: 6
Clippers
OFF
@LAL
O: 5
D: 5
PHO
O: 6
D: 6
OFF
@UTA
O: 5
D: 6
DAL
O: 5
D: 5
OFF
4 / 2
O: 5
D: 5
Lakers
OFF
LAC
O: 7
D: 8
OFF
OFF
DAL
O: 6
D: 6
OFF
ATL
O: 6
D: 6
3 / 3
O: 6
D: 6
Grizzlies
OFF
OFF
DET
O: 4
D: 5
OFF
TOR
O: 5
D: 6
OFF
@DEN
O: 4
D: 7
3 / 2
O: 4
D: 6
Heat
OFF
OFF
NY
O: 5
D: 6
OFF
@IND
O: 5
D: 6
OFF
CHI
O: 4
D: 6
3 / 2
O: 5
D: 6
Bucks
OFF
OFF
OFF
OFF
@PHI
O: 3
D: 5
DET
O: 4
D: 4
OFF
2 / 1
O: 4
D: 4
Timberwolves
OFF
OFF
NJ
O: 4
D: 5
OFF
CLE
O: 2
D: 3
OFF
@PHO
O: 6
D: 5
3 / 2
O: 4
D: 4
Nets
OFF
OFF
@MIN
O: 6
D: 5
OFF
ORL
O: 2
D: 4
@WAS
O: 6
D: 5
OFF
3 / 1
O: 5
D: 5
Hornets
OFF
OFF
@SA
O: 3
D: 3
OFF
SAC
O: 6
D: 5
OFF
@BOS
O: 2
D: 3
3 / 1
O: 4
D: 4
Knicks
OFF
OFF
@MIA
O: 4
D: 4
OFF
@CHA
O: 5
D: 5
PHI
O: 4
D: 4
OFF
3 / 1
O: 5
D: 4
Thunder
OFF
OFF
SAC
O: 5
D: 6
OFF
@DET
O: 3
D: 5
OFF
POR
O: 3
D: 4
3 / 2
O: 4
D: 5
Magic
OFF
OFF
PHI
O: 5
D: 6
OFF
@NJ
O: 7
D: 6
OFF
@TOR
O: 7
D: 6
3 / 1
O: 6
D: 6
76ers
OFF
OFF
@ORL
O: 3
D: 4
OFF
MIL
O: 4
D: 6
@NY
O: 5
D: 7
OFF
3 / 1
O: 4
D: 6
Suns
OFF
OFF
@LAC
O: 8
D: 7
OFF
GS
O: 10
D: 7
OFF
MIN
O: 9
D: 6
3 / 2
O: 9
D: 7
Trail Blazers
OFF
HOU
O: 4
D: 6
OFF
DEN
O: 5
D: 7
OFF
@HOU
O: 4
D: 6
@OKC
O: 5
D: 6
4 / 2
O: 4
D: 6
Kings
OFF
OFF
@OKC
O: 6
D: 4
OFF
@NOR
O: 4
D: 3
@SA
O: 4
D: 3
OFF
3 / 0
O: 5
D: 4
Spurs
OFF
OFF
NOR
O: 5
D: 4
@CHI
O: 5
D: 5
OFF
SAC
O: 7
D: 5
OFF
3 / 2
O: 6
D: 5
Raptors
OFF
OFF
CLE
O: 3
D: 4
OFF
@MEM
O: 5
D: 5
OFF
ORL
O: 3
D: 4
3 / 2
O: 4
D: 4
Jazz
OFF
OFF
@DEN
O: 6
D: 8
OFF
LAC
O: 7
D: 7
OFF
OFF
2 / 1
O: 6
D: 8
Wizards
OFF
@DAL
O: 4
D: 4
OFF
OFF
@ATL
O: 4
D: 4
NJ
O: 4
D: 5
OFF
3 / 1
O: 4
D: 4
O (offense) and D (defense) matchup ratings are based on a scale from 1 (poor matchup) to 10 (excellent matchup), and are calculated using a formula that evaluates the team's year-to-date and past 10 games' statistics, its performance in home/road games depending on where the game is to be played, as well as its opponents' numbers in those categories. The
Games T/H
column lists the team's total number of games played as well as home games (T/H) and lists the cumulative rating from 1 to 10 of that week's matchups.
The Forecast: It's Their Week
Ryan Anderson, PF, Magic: Anderson really is a tough call. Unless you drafted your team in early October, went away for three weeks and found Francisco Garcia on your roster, you probably don't have a player you want to drop right now. Plus, the Magic have another nice newcomer in Brandon Bass, and while Anderson is expected to start, in some matchups, Bass could see more minutes. Still, Anderson had a strong preseason, and his ability to knock down treys certainly makes him a good replacement for Lewis. On top of that, the schedule suggests he'll do well over these first 10 games, which, conveniently, fill the first three weeks of the season. The Raptors and Nets were among the five worst teams in 3-point defense in 2008-09, and after this week, the Magic play the Suns, Thunder and Nets again. They also have two with the Pistons, a team that might decline defensively. Don't force Anderson onto your roster, but he's a good get if you have room.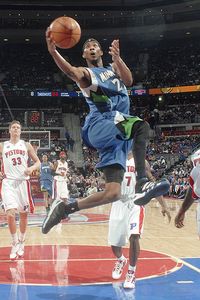 Allen Einstein/NBAE/Getty ImagesCorey Brewer average 6.2 points in 20.5 minutes per game last season.
Corey Brewer, SG/SF, Timberwolves: After missing most of last season, Brewer is an interesting deep-league find. He might not start, but he should see plenty of minutes. Brewer might never be much offensively, but with enough minutes, the swingman could be a nice source of points, rebounds and steals. Yes, the Cavs are on this schedule, but the Nets and Suns should make up for it.
Chris Duhon, PG, Knicks: Duhon wore down last season, but prior to the break, he averaged 8.0 assists and 1.8 3s. This isn't an extremely favorable schedule, but Heat opponents were above average at making 3s, while 76ers opponents were above average in dishing assists last season.
Channing Frye, PF/C, Suns: Another deep-league option, Frye will have a good chance to test his new-found long-distance range against the Warriors and Timberwolves. While the Wolves weren't terrible at defending the 3 last season, I think that with their injuries and with rookie Jonny Flynn at the point, they'll be miserable at all things defense through the first few weeks.
Courtney Lee, SG, Nets: We know Lee can sink the 3, and he'll draw the Wolves and Wizards this week.
The Forecast: They're Weak
Tyreke Evans, PG, Kings: Evans currently is the most-added player in ESPN.com leagues, but you might want to hold off on activating him for Week 1. Spurs and Hornets opponents both were in the bottom five in points allowed in 2008-09, with Spurs opponents being dead last in assists.
Shane Battier, SF, Rockets: Battier made seven 3s in a preseason game against the Raptors, but again, note the opponent. The Rockets do face the Warriors, but that game is sandwiched between a pair versus the Blazers. Blazers opponents scored the fourth fewest points and made the sixth fewest 3s last season.
Randy Foye, PG/SG, Wizards: Foye is the fifth most added player on ESPN.com; he now is rostered in more than 26 percent of leagues. I must admit that this baffles me. Maybe you all are waiting for Gilbert Arenas to get hurt again, or maybe you're looking at that huge hole the Wizards seem to have at shooting guard. Right now, though, Foye isn't a starter. I'll call this schedule neutral, although the Nets certainly have their vulnerabilities defensively.
Joakim Noah, PF/C, Bulls: For some reason, I just looked at Noah's 2008-09 game log. He was unbelievable in that Celtics series this past April, averaging 10.1 points, 13.2 boards and 2.1 blocks. Noah's progress will be interesting to follow this season, but he starts off with brutal matchups against the Spurs and Celtics. Oh wait -- I guess he's shown he can do well against the C's, hasn't he? Of course, Kevin Garnett and Rasheed Wallace await this week. Plus, the schedule notes that the Spurs' and Celtics opponents' were 29th and 28th, respectively, in scoring last season. Celtics opponents also were second worst in rebound differential.
Neil Tardy is a fantasy basketball analyst for ESPN.com.
Fantasy Basketball
Neil Tardy is a fantasy basketball analyst for ESPN.com
MOST SENT STORIES ON ESPN.COM