Commentary
Forecaster: Golden sched for Warriors
Four teams play only two games, but Warriors look golden
Updated:
November 6, 2009, 3:08 PM ET
By
Neil Tardy
| Special to ESPN.com
I'll get more into this in the coming weeks, but I want to give you a quick heads-up about the Fantasy Forecaster's new rating system. The schedule grid now includes offensive (O) and defensive (D) ratings for each team's contest in the week ahead. These ratings aren't random; they're based on an array of statistical data. But the system is designed for simplicity -- the highest numbers (8s, 9s and 10s) -- project the most favorable matchups. Another benefit of the rating system is that, while the Forecaster tends to be oriented toward owners in weekly lineup leagues, the schedule grid is very handy for those in daily lineup leagues.
Again, more to come once this season's data becomes significant enough to supplant last season's, which still affects our ratings right now. That means a little bit more vigilance, but that's what I'm here for. Now, on to Week 3.
Team

Mon
11/9

Tue
11/10

Wed
11/11

Thu
11/12

Fri
11/13

Sat
11/14

Sun
11/15

Games
T / H

Hawks
OFF
OFF
@NY
O: 10
D: 7
OFF
@BOS
O: 4
D: 5
NOR
O: 7
D: 4
OFF
3 / 1
O: 7
D: 5
Celtics
OFF
OFF
UTA
O: 8
D: 8
OFF
ATL
O: 8
D: 6
@IND
O: 9
D: 8
OFF
3 / 2
O: 8
D: 7
Bobcats
OFF
ORL
O: 2
D: 5
@DET
O: 1
D: 5
OFF
OFF
POR
O: 2
D: 4
OFF
3 / 2
O: 1
D: 5
Bulls
OFF
DEN
O: 5
D: 7
@TOR
O: 6
D: 6
OFF
OFF
PHI
O: 6
D: 6
OFF
3 / 2
O: 6
D: 6
Cavaliers
OFF
OFF
@ORL
O: 5
D: 5
@MIA
O: 5
D: 6
OFF
UTA
O: 7
D: 7
OFF
3 / 1
O: 6
D: 6
Mavericks
OFF
HOU
O: 5
D: 8
@SA
O: 4
D: 6
OFF
@MIN
O: 6
D: 8
OFF
@DET
O: 3
D: 6
4 / 1
O: 5
D: 7
Nuggets
OFF
@CHI
O: 8
D: 7
@MIL
O: 7
D: 7
OFF
LAL
O: 8
D: 7
OFF
OFF
3 / 1
O: 8
D: 7
Pistons
OFF
OFF
CHA
O: 2
D: 5
OFF
OFF
@WAS
O: 5
D: 4
DAL
O: 2
D: 3
3 / 2
O: 3
D: 4
Warriors
MIN
O: 8
D: 6
OFF
@IND
O: 8
D: 7
OFF
@NY
O: 10
D: 6
@MIL
O: 6
D: 6
OFF
4 / 1
O: 8
D: 6
Rockets
OFF
@DAL
O: 5
D: 4
MEM
O: 8
D: 6
OFF
@SAC
O: 9
D: 7
OFF
@LAL
O: 6
D: 6
4 / 1
O: 7
D: 6
Pacers
OFF
OFF
GS
O: 9
D: 8
OFF
OFF
BOS
O: 3
D: 5
OFF
2 / 2
O: 6
D: 6
Clippers
NOR
O: 5
D: 4
OFF
OKC
O: 4
D: 6
OFF
TOR
O: 6
D: 6
OFF
@OKC
O: 5
D: 6
4 / 3
O: 5
D: 6
Lakers
OFF
OFF
OFF
PHO
O: 9
D: 7
@DEN
O: 7
D: 7
OFF
HOU
O: 7
D: 8
3 / 2
O: 8
D: 7
Grizzlies
OFF
POR
O: 5
D: 4
@HOU
O: 5
D: 7
OFF
OFF
MIN
O: 7
D: 7
OFF
3 / 2
O: 6
D: 6
Heat
OFF
WAS
O: 7
D: 6
OFF
CLE
O: 4
D: 5
OFF
NJ
O: 7
D: 6
OFF
3 / 3
O: 6
D: 5
Bucks
OFF
OFF
DEN
O: 5
D: 6
OFF
OFF
GS
O: 8
D: 7
OFF
2 / 2
O: 6
D: 6
Timberwolves
@GS
O: 8
D: 7
OFF
POR
O: 3
D: 3
OFF
DAL
O: 3
D: 4
@MEM
O: 7
D: 5
OFF
4 / 2
O: 6
D: 5
Nets
OFF
OFF
PHI
O: 6
D: 4
OFF
@ORL
O: 4
D: 4
@MIA
O: 4
D: 5
OFF
3 / 1
O: 4
D: 4
Hornets
@LAC
O: 7
D: 6
OFF
@PHO
O: 7
D: 5
OFF
POR
O: 4
D: 3
@ATL
O: 6
D: 4
OFF
4 / 1
O: 6
D: 4
Knicks
UTA
O: 8
D: 5
OFF
ATL
O: 7
D: 3
OFF
GS
O: 10
D: 6
OFF
OFF
3 / 3
O: 9
D: 5
Thunder
OFF
@SAC
O: 7
D: 8
@LAC
O: 6
D: 7
OFF
OFF
@SA
O: 3
D: 5
LAC
O: 5
D: 7
4 / 1
O: 5
D: 7
Magic
OFF
@CHA
O: 6
D: 7
CLE
O: 5
D: 5
OFF
NJ
O: 7
D: 6
OFF
OFF
3 / 2
O: 6
D: 6
76ers
PHO
O: 7
D: 6
OFF
@NJ
O: 7
D: 7
OFF
UTA
O: 7
D: 8
@CHI
O: 6
D: 7
OFF
4 / 2
O: 7
D: 7
Suns
@PHI
O: 10
D: 6
OFF
NOR
O: 10
D: 4
@LAL
O: 9
D: 6
OFF
OFF
TOR
O: 10
D: 6
4 / 2
O: 10
D: 6
Trail Blazers
OFF
@MEM
O: 7
D: 7
@MIN
O: 6
D: 8
OFF
@NOR
O: 6
D: 5
@CHA
O: 4
D: 8
OFF
4 / 0
O: 6
D: 7
Kings
OFF
OKC
O: 6
D: 5
OFF
OFF
HOU
O: 5
D: 5
OFF
OFF
2 / 2
O: 6
D: 5
Spurs
TOR
O: 8
D: 4
OFF
DAL
O: 6
D: 3
OFF
OFF
OKC
O: 7
D: 5
OFF
3 / 3
O: 7
D: 4
Raptors
@SA
O: 5
D: 4
OFF
CHI
O: 7
D: 5
OFF
@LAC
O: 7
D: 6
OFF
@PHO
O: 8
D: 4
4 / 1
O: 7
D: 5
Jazz
@NY
O: 9
D: 7
OFF
@BOS
O: 3
D: 5
OFF
@PHI
O: 7
D: 5
@CLE
O: 4
D: 5
OFF
4 / 0
O: 6
D: 5
Wizards
OFF
@MIA
O: 5
D: 5
OFF
OFF
OFF
DET
O: 3
D: 4
OFF
2 / 1
O: 4
D: 4
"O" (offense) and "D" (defense) matchup ratings are based upon a scale from 1 (poor matchup) to 10 (excellent matchup), and are calculated using a formula that evaluates the team's year-to-date and past 10 games' statistics, its performance in home/road games depending on where the game is to be played, and the opponent's numbers in those categories. The
Games T / H
column lists the team's total number of games played as well as home games (T / H), and lists the cumulative rating (from 1-10) of that week's matchups.
Week 3 at a Glance
Twelve NBA teams have four games, so you shouldn't lack for options when it comes to filling out weekly league lineups. However, four teams play only two games; the Milwaukee Bucks, Indiana Pacers, Sacramento Kings and Washington Wizards. If you own, say, Danny Granger or Brandon Jennings, you may recall that the Bucks and Pacers also had two games in Week 1. These teams play just seven times in the first three weeks. And yes, the young Mr. Jennings is looking like a must-start no matter the schedule.
The Golden State Warriors' schedule, on the other hand, is a gift to fantasy owners. They host the Minnesota Timberwolves before heading east to play the Pacers, New York Knicks and Bucks. The Wolves and Pacers are both giving up more than 100 points so far, but that's nothing compared to Mike D'Antoni's crew. The Knicks are surrendering 114.0 points a night while allowing opponents to shoot 49.9 percent. The Bucks, who are back to playing a slower pace under Scott Skiles, have excellent defensive stats, for the most part. However, Bucks' opponents are near the top in the hustle categories.
Anyway, suffer through Don Nelson's whims at least one more week and get your Warriors active. Nellie is apparently ready to use Anthony Randolph as a backup center, and both Andris Biedrins and Ronny Turiaf are banged up, so don't give up on Randolph just yet. This could also be a good time to grab streak-shooting Anthony Morrow out of free agency. After a quiet start, Morrow tossed in 24 points, including four 3-pointers, against the Grizzlies on Nov. 4.
If Morrow is unavailable in your deep league, dig deep for this prospect: Timberwolves 7-footer Oleksiy Pecherov. After barely leaving the bench in two seasons with the Wizards, the 23-year-old Ukrainian has started the past three games for the Wolves, highlighted by a 24-point, 8-rebound performance against the Celtics on Nov. 4. Consider Pecherov, who is essentially unowned in ESPN.com leagues, a Ryan Anderson-type fill-in. That's because Kevin Love could be back playing for the Wolves inside of two weeks. In the meantime, though, Pecherov could accumulate some decent numbers in Week 3 when the Wolves face the Warriors, Trail Blazers, Mavericks and Grizzlies (who are allowing a league-high 115.2 points).
The Forecast: It's Their Week
Jamal Crawford, PG/SG, Atlanta Hawks (@NY, @BOS, NOR): After a disappointing Hawks debut, Crawford seems to have adjusted to his reserve role, averaging 33 minutes, 23.3 points and 1.7 3s in his past three games. Even with the Celtics ahead, this schedule leans favorable, with Hornets opponents currently in the league's top third in field-goal shooting (46.8 percent) and 3s (8.0). I can also imagine Crawford being a bit extra motivated to lace them up at MSG against his former team.
[+] Enlarge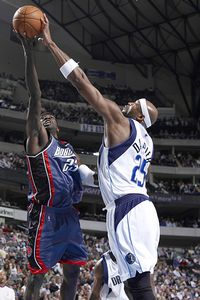 Glenn James/NBAE/Getty ImagesErick Dampier has 12 blocks in his past three games.
Erick Dampier, C, Dallas Mavericks (HOU, @SA, @MIN, @DET): Centers Chris Kaman and Marc Gasol stand as two of this season's biggest draft-day steals, and Jermaine O'Neal and Roy Hibbert look like solid bargains at the position. But what about Dampier? The perennial fantasy nonfactor has double-digit rebounds in four straight and, more impressively, 12 blocks in his past three games. Whether it's his contract season or the presence of Drew Gooden that's sparking him, this is a great week to ride the hot hand. Rockets opponents are second in the league with a whopping 7.8 blocks a night, while Timberwolves opponents are sixth with 7.2 rejections. Dampier ownership is starting to climb, but he remains available in more than 90 percent of leagues.
Channing Frye, PF/C, Phoenix Suns (@PHI, NOR, @LAL, TOR): Frye remains one of the most-added players on ESPN.com, but the frenzy has dissipated since back-to-back clinkers against the Heat and Magic. This is actually why I haven't been that excited about Frye; when he's not hitting his 3s, you're not getting much of anything. Still, with a schedule like this, you have to play him. Sixers opponents are swishing an insane 12.3 triples per game so far. I shouldn't have to tell you that's a league-high. Raptors opponents are a "distant" second with a still-incredible 9.3 3s. Even scarier is that Sixers and Raptors opponents are both better than 45 percent from beyond the arc. Hornets opponents, as mentioned, are also making hay from downtown, averaging 8.0 3s per game.
Larry Hughes, SG, New York Knicks (UTA, ATL, GS): Like Frye, Hughes has the potential to deflate your field goal percentage on any given night. But you'll also want to stick with Hughes this week. Warriors opponents are hitting almost 50 percent from the field, and Hawks opponents are posting an also-high 46.7 field goal percentage. Surprisingly, of these three opponents, the Jazz are yielding the most 3s, nearly seven per game.
The Forecast: They're Weak
D.J. Augustin, PG, Charlotte Bobcats (ORL, @DET, POR): Augustin had his best game of the early going when he posted 21 points and three steals versus the Nets on Nov. 2, but he's just 2-of-11 from downtown through his first four. This schedule offers little, as Pistons opponents are shooting a league-low 40.2 percent, while Blazers opponents are seventh-worst at 42.9 percent. Magic and Pistons opponents are both in the bottom third in steals.
Quentin Richardson, SG/SF, Miami Heat (WAS, CLE, NJ): In leagues of at least 12 teams, Richardson looks like a decent add, as he's replaced Udonis Haslem as the Heat's starting small forward. This schedule is actually OK, but it's not as quite as good as it looks. Cavs and Wizards opponents are in the bottom third in field-goal percentage, while Nets opponents are getting the eighth-fewest 3s. Of course, Richardson just had a big night against the Wizards (19 points, nine boards, five 3s) on Nov. 4. Small sample sizes, all. So while this schedule is lukewarm to Q, with Richardson available in about 95 percent of leagues, there's potential here.
J.R. Smith, SG, Denver Nuggets (@CHI, @MIL, LAL): Smith is actually available in 10 percent of leagues, so here's a reminder that he's finishing out his seven-game suspension and will return next week. (He's eligible to play Nov. 10 at Chicago.) J.R. Swish should be owned in all leagues, but don't expect much right away. George Karl is saying that Smith won't start for the time being. It's also worth noting that Bucks and Bulls opponents are 28th and 23rd, respectively, in scoring, while Bucks and Lakers opponents are shooting just 42.8 and 44.0 percent, respectively.
Neil Tardy is a fantasy basketball analyst for ESPN.com.
Fantasy Basketball
Neil Tardy is a fantasy basketball analyst for ESPN.com
MOST SENT STORIES ON ESPN.COM