Commentary
If You're Hardcore: Players worthy of a second chance
Updated:
January 8, 2009, 2:32 PM ET
By
Adam Madison
| Special to ESPN.com
At this point in the season, few owners have underachieving players on their roster. People don't hold onto sleepers very long, at least not if they're really struggling. It's understandable: It's risky to keep low-performance players when much better and safer options are around. Even the shrewdest owner can't always afford to hold on to Paul Millsap just because of the monster upside he is now displaying; stuck on the bench, he looked a lot less appealing.
But the season is long, and players get second opportunities. Rodney Stuckey is a good example; he struggled long enough at the beginning of the season to force most owners to bail on him. Now that he's entrenched as a starter, though, he could end up a top-50 player. Don't be shy about giving a player a second opportunity, as four months is a long time to gain value. Here are my thoughts on some players with more talent than production who are available in most leagues, and whether their upside makes them worth it:
Lou Williams, PG, 76ers: Sooner or later, you have to figure the Sixers must shake up their lineup. They're currently 15-20 and out of the playoffs, and if they don't give pure talents like Williams more minutes commensurate with their production, they'll sustain mediocrity and enter a situation where there's more incentive to play the young guys anyway just because there's nothing to lose. Williams saw his minutes go from 16 per game in November to 25 in December, as his performance demanded more playing time. He averaged 16 points and 46.3 percent from the field and got to the line 6.2 times per game, adding 0.8 3-pointers and 1.2 steals as well -- stats good enough for consideration in most leagues. All the Sixers need to do is give more of Willie Green's ineffective minutes to Williams, getting one of their best players on the floor more. Talent normally wins out, and I want it on my roster when it does.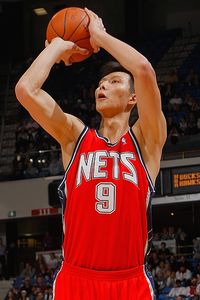 Rocky Widner/NBAE/Getty ImagesYi Jianlian is coming off back-to-back 20-point games for the first time in his career.
Yi Jianlian, SF/PF, Nets: On the other hand, I'm not the biggest Yi fan. There are always owners ready to gamble on him, as his potential combination of 3-pointers, steals and blocks is rare. He's been much better early this month, too, with his minutes, rebounds, assists and free throw percentage all near the positional average or better. But he's still shooting less than 40 percent from the field, and there are rumors he's really 24 and not 21, making it easier to believe he's just not going to be as good as people hope he will be. He also fouls a lot -- averaging 4.3 his past three games -- making you wonder if he can sustain 30-plus minutes for more than a week or two at a time. I'll need a decent sample size of good games before I trust him again, but with so many owners ready to buy into him at the first sign of success, it might be too late when he actually is for real.
Trevor Ariza, SF, Lakers: Ariza's situation is cloudier, as both Williams and Yi have clearer opportunities for playing time if their production demands it. But Phil Jackson has been reluctant to give Ariza the minutes he's earned, preferring the 3-point shooting of Vladimir Radmanovic or the passing of Luke Walton to balance the starting lineup. There may be something to the idea that Ariza is better served coming off the bench, as it's easy to see him getting lost in the shuffle with the talent around him. Walton's going to be out a couple of weeks, though, so Ariza is going to see more playing time either way, and he's played so well in limited minutes that he doesn't need much more playing time to become a must-grab. He's averaging almost two steals per game on the season, which is reason enough to add him. If he ever does get 30-plus minutes per game, he becomes immensely valuable.
Comings and goings
It's hard to believe Rafer Alston has shot a woeful 26.2 percent from the field his past eight games, and it's even harder to believe he won't lose his job if that doesn't change soon. Backup point guard Aaron Brooks isn't much better, shooting 41 percent on the season, but at least he has some semblance of upside; Alston looks about done. In other words, keep a close eye on Brooks in the coming weeks. … Eddy Curry is expected to make his season debut in the next game, which could impinge on the playing time of Jared Jeffries. Jeffries has done nothing at all to warrant even 20 minutes per game, so even though Curry is out of shape and limited in many categories, there's still a shot he could surprise and produce. With the D'Antoni Knicks averaging 98.1 possessions per game, it wouldn't be too shocking. … The news of Monta Ellis' nearing a return to practice puts a damper on the outlooks of Marco Belinelli and Kelenna Azubuike, Belinelli especially. Azubuike's ability to play two positions means he should keep garnering enough playing time to remain serviceable, especially with Stephen Jackson out a couple of weeks. But the Warriors might not be too far away from having a fully healthy lineup for the first team all season. … Mike Dunleavy's back and saw 21 minutes in his season debut, so it's time for everyone to hop off the Marquis Daniels bandwagon.
Pickups
Linas Kleiza, SF/PF, Nuggets (2.7 percent owned): Last season, in 11 starts at forward, Kleiza averaged 18.6 points, 1.6 3-pointers, and 1.5 steals per game while shooting 47 percent. He's putting together a similar season this year, and gets an extended run as a starter while Carmelo Anthony is out three weeks. He's going to be an obvious pickup soon, so get him before everyone else does.
Matt Bonner, PF/C, Spurs (1.9 percent owned): I have been flip-flopping on Bonner in recent weeks as he struggled a bit, failing to score in double digits in five consecutive games. It's tough to trust him too much, since he's never done this before, and he's walking a fine line between productive and worthless. After a brief struggle, he's regained productivity in January, and he has such proficiency in 3-pointers for a center that he doesn't have to do much else in other categories to be worth a look. Eighty percent of his shot attempts are jump shots, so you basically have to like Bonner enough to believe he can keep his current percentages up (52.5 from the field, 48 percent from long range) while shooting what amounts to mostly open jumpers. I'm going to go with yes and write off that struggle as a bump in the road; fortunately, so few people want to believe in Bonner that he's available in more leagues than his production dictates he should be.
Sebastian Telfair, PG, Timberwolves (1.8 percent owned): Randy Foye has blossomed at shooting guard and Kevin Ollie is out indefinitely, so that leaves no one but Telfair to play the point. He's averaging 1.8 steals and 4.7 assists his past nine games, and with more minutes -- he's logging 35 in his past three games -- that's some decent production in rare categories, which can make you overlook even the worst shooting percentage.
Adam Madison is a fantasy basketball analyst for ESPN.com.
SPONSORED HEADLINES
FANTASY TOP HEADLINES
MOST SENT STORIES ON ESPN.COM