Commentary
Looking ahead to next season
Updated:
April 2, 2009, 5:31 PM ET
By
Adam Madison
| Special to ESPN.com
At this stage of the season, the standings are pretty much set. If you're still competing in your respective league, congratulations. You were aware, shrewd, a little lucky and, most importantly, active.
But for everyone else, it's time to look forward to next season. Many people are transitioning to fantasy baseball, but you will want to read the next few columns before you delete basketball from the forefront of your brain for the next six months. This week, we look at targets to prioritize in drafts and keeper leagues while resuming the discussion next week for the other side of the ledger.
A useful tool I use to get a head start on my opponents for next year is splitting the season into pre-All-Star break and post-All-Star break halves. I'm a fan of the post-All-Star break for a few simple reasons. One: The stats are convenient. Figuring out the splits is easy to do and doesn't involve a lot of number crunching. Secondly, they display improvement, but their sample size is small enough so as to not blow the cover of the prospective sleeper.
A great second half boosts players' season averages, but not enough to the point where it's obvious to the average Joe. We're also at the phase of the season when owners begin to drop out and pay less attention. People often don't pay attention to the stats or news, so they aren't on top of what's going on. If you were active the whole season, you would know the "real" story and could remind your future self that yes, the second-half numbers could equal a sleeper. Here are a number of players whose values should be depressed next season relative to what their actual potential might be because of this phenomenon: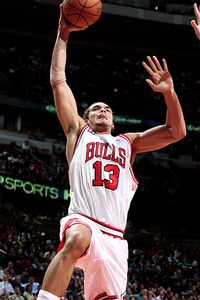 Gary Dineen/NBAE/Getty ImagesNoah is starting to live up to some of his potential for the Bulls.
Joakim Noah, PF/C, Bulls: One look at his splits shows you Noah has improved a lot during the second half of the season, especially in the fouls department. He has averaged just 2.7 fouls in 29 minutes since the All-Star break, compared with 3.1 in 21 minutes before. That, more than anything, makes me a believer. He also has turned into a decent free-throw shooter, going from 55 to 78 percent. Brad Miller is under contract for big money for another year, so he will get in the way a bit, but as a midtier center for rebounding and blocks, Noah will be a sneaky, efficient value pick.
Randy Foye, PG/SG, Timberwolves: This season is proving once and for all that the star-level upside is just not there, but he still should turn into an above-average fantasy performer. Foye looked to be on the cusp of greatness in late December and January, combining efficient scoring with few turnovers and just enough assists and steals to be a multicategory threat, but the injury to Al Jefferson ruined his season. Foye has been unable to deal with the extra defensive attention, and his field goal percentage has plummeted to worse than 40 percent the past two months. As a second option, though, Foye turned into a legit threat while gaining confidence in the development of his 3-pointer (2.0 per game on 40.4 percent shooting since the break), and Jefferson's return will boost his field goal percentage back to the mid-40s.
Jameer Nelson, PG, Magic: He doesn't fit snugly into the theme, but you're already reading this far, right? Anyway, I assume most people won't believe his dream season will reflect his future, but if you look at his numbers, the only thing he has really done this season is attempting many more 3-pointers. That makes sense. The Magic's philosophy is to surround Dwight Howard with a bunch of shooters and let it rain. That won't change. Nelson's percentages will regress, but he already has established a career baseline of good percentages, so there's no need to worry about a collapse. Don't sell high on him in a keeper league and, for once, believe the hype.
Mike Conley, PG, Grizzlies: Conley is sure to be hyped to some extent, but whatever you have to pay will be worth it. He has improved tremendously across the board in the second half of this season, and will be only 22 years old next season. Both Rudy Gay and O.J. Mayo should be more consistent next season, so Conley's assists can only rise. Most importantly, he has worked and added the outside shot to his arsenal. He shot 30.4 percent from long range in college and 33.0 percent in his rookie season, but since starting this season 1-for-15 from beyond the arc, he since has shot 42.9 percent. That shows work ethic, and you already knew he had talent.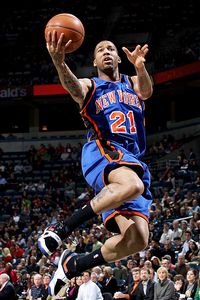 Gary Dineen/NBAE/Getty ImagesChandler is finding a home in the Knicks' rotation.
Wilson Chandler, SF, Knicks: I wasn't a fan of Chandler's potential this season for one reason: fouls. That is the same reason I will be high on him entering next season, though, as his in-season improvement has been remarkable. Since averaging 5.3 fouls per 48 minutes in November, he has averaged no more than 4.5 since, a major reason he was able to average 37 minutes per game in March en route to his best month as a professional. He's only 22, and if he can improve his 3-point percentage, the sky is the limit. (If nothing else, Isiah Thomas sure nailed the NBA draft.) The main worry is that his fantasy buzz could take off in the meantime; New York is not the place to stay a secret.
Comings and goings
Mike James' broken pinkie creates an opportunity for Javaris Crittenton, who has seen an eye-popping 43 minutes in each of his past two games. It's nearly impossible not to produce given that much playing time, but you'd like to see more out of him than the modest 16.0 points, 7.5 rebounds and 2.5 assists he has averaged in his opportunity, especially the assists. Gilbert Arenas also throws a wrench into the plans because he'll play in four of the Wizards' last six games, and he started in place of Crittenton on Saturday in his season debut. If you really want to play matchups, though, Crittenton probably will see huge minutes in the games Arenas sits out, because the Wizards don't really have another healthy point guard. … Addressing Arenas specifically, you have to feel emboldened by an impressive debut, all things considered: 15 points and 10 assists, along with eight free-throw attempts and just one turnover. But limit your expectations. Although Arenas felt healthy enough to think about suiting up Wednesday against the Grizzlies, two of the games in which he will play will be against the Cavaliers. It's fine and dandy that Arenas is especially motivated for those games, but the Cavs are good bets to exacerbate his poor shooting (3-for-12 in his debut) and could just blow out the Wiz, making Arenas' minutes unpredictable. … Chris Kaman became a much safer play in the wake of Marcus Camby's sprained ankle. According to the Los Angeles Daily News, Camby needs to reach 65 games played to attain contract incentives. If he doesn't return by Saturday, he won't have much reason to push for an early return. … Thankfully, the Nets have seemed to put Yi Jianlian out to pasture, benching him for Ryan Anderson to end his run as the most unproductive starter in the league. Jianlian shot a woeful 35.7 percent since returning from injury in February, and Anderson should do a lot more with the gig. He's inconsistent but has 3-point potential and could have value if he gets hot. … Francisco Garcia hasn't lost a beat since being demoted to the bench in favor of Andres Nocioni, averaging 20 points in three games and totaling seven steals and five blocks. But if Nocioni sticks in the starting lineup, Garcia will inevitably suffer; he won't continue to shoot better than 58 percent, and Nocioni won't often foul out within 25 minutes, as he did Wednesday. Every game counts, so don't be afraid to yank Garcia at the first sign of trouble or drop him for a hot alternative. … Brandan Wright's injured shoulder puts to bed the annoying time share that was limiting Anthony Randolph's value, and combined with the news of Andris Biedrins' ankle keeping him out at least another week, Randolph should be free to produce big lines.
Pickups
Julian Wright, SF, Hornets (0.6 percent owned): While Tyson Chandler has been nursing an ankle injury, Wright has been flourishing with his increased opportunity. The Hornets have to be ecstatic about this development because Wright is a former lottery pick and because depth has been a tremendous problem for the team all season. With Chandler out for an additional one to two weeks, Wright looks here to stay. He doesn't foul as much as Hilton Armstrong and has some semblance of offensive potential. He has averaged a respectable 13.0 points and 7.5 rebounds on 54.5 percent shooting in his past four games while playing 32.7 minutes per game. He contributes about a steal and block per game as well. That's serviceable all-around production, which makes his team happy and thus should cement his playing time.
Adam Madison is a fantasy basketball analyst for ESPN.com.
SPONSORED HEADLINES
FANTASY TOP HEADLINES
MOST SENT STORIES ON ESPN.COM