Commentary
Are You For Real?: Jermaine O'Neal, Przybilla, Quinn
While this is not the last week of "Are You For Real?," it is the last week Mac and I will review players with question marks for this season. We are down to the wire, and next week begins championship week in head-to-head leagues. There won't be too many more opportunities to add potential impact players, and you head-to-head leaguers will be knee-deep in the final round by next Wednesday. Hopefully your roster decisions will be settled by then.
Next week and the following week, we will sculpt the "Are You For Real?" format with an eye toward next year. Keeper-league owners and anyone interested in potential breakout players should be sure to tune in.
This week we take a look Jermaine O'Neal, whom you might have heard is playing in the NBA again, as well as Joel Przybilla (years ago Mac had a huge man-crush on the Vanilla Gorilla, and we'll see if the love is still there) and Chris Quinn, whom we dismissed two weeks ago only to watch Jason Williams go down with a sprained thumb to give the Mighty Quinn a huge boost in playing time. Let's get to it.
Jermaine O'Neal, PF/C, Pacers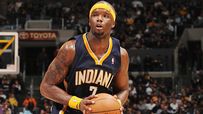 Noah Graham/Getty ImagesWill Jermaine O'Neal score like we expect him to?
Guy: Not Real.
Let me be clear here, if you have been holding him for the duration of his recovery from a bone bruise to his patella, do not drop him now. When I say "not real," I am comparing O'Neal to both his career norms (which he won't even sniff) and his numbers earlier this season (this, too, I fear is out of reach). O'Neal is being brought back primarily for his defense. The Pacers are the "Warriors East" with their turnstile defense. Teams have averaged 106.1 points per game against the Pacers. Ouch. O'Neal will help here. In fact, I expect blocks to be his most noteworthy contribution going forward. In his first game back, O'Neal did not start and played just under 18 minutes. This is going to be the norm for the next few games. By the beginning of next week, however, we should see some 25-minute games, 30-minute tops, during the last week of the season. Keep in mind that next week and the following one are treated as one scoring period in most head-to-head formats. Essentially, the best chance O'Neal has to "be real" will be the last 2-3 games of the season and even then I don't see a return to his career norms.
Mac: Not Real. Let's take a look at a couple of facts, shall we? Fact No. 1: Prior to Monday night, O'Neal had missed 33 straight games. Fact No. 2: The Pacers have eight games left this season. Fact No. 3: Players returning from long layoffs, like O'Neal, normally take a week or two to get back up to game speed. Sorry folks, but the facts just aren't adding up here. There's simply not enough time for his conditioning to get back in gear, and we can't expect J.O. to come out firing on all cylinders. Sure, the Pacers are still in the playoff hunt, and they need O'Neal roaming the paint, but to expect anything more than 20-25 minutes the rest of the way would be wishful thinking. Like Elton Brand in Los Angeles, I'm not expecting too much out of O'Neal in the month of April, though it appears that many of you are, as Brand is owned in 60.2 percent of ESPN leagues while O'Neal is owned in 92 percent of ESPN leagues. Strange that these two are owned in so many leagues while a guy like Nick Collison, who is averaging 10.0 points and 12.6 rebounds over his past five games, is owned in just 50.1 percent of ESPN leagues. O'Neal will get you some rebounds and blocks, but I'd much rather go with a big man who is 100 percent healthy, like Collison, or the next guy we'll cover here, Joel Przybilla.
Joel Przybilla, C, Trail Blazers
Guy: For Real, but for rebounds only. Look, when someone pulls down 26, 13, 17, 9 and 18 rebounds, respectively, in consecutive games, people are going to notice. Przybilla has been like slow-rise dough all season. Check his minutes/points/rebounds/blocks by the month:
Joel Przybilla's averages (by month)
Month
Minutes
Points
Rebounds
Blocks
November
18.6 per game
4.8 per game
6.5 per game
1.2 per game
December
23.30
4.20
7.3
1.4
January
20.30
5.10
7.4
1.0
February
25.00
4.10
8.8
1.1
March
29.70
5.40
11.7
1.5
The rebounds have risen each month, and his playing time is getting steadier. He is not getting into foul trouble and he cannot be one of the players that coach Nate McMillan referred to when he suggested some members of the Blazers mailed it in against Charlotte on March 29. Przybilla grabbed 18 rebounds that night.
Mac, I know a few years back you loved Przybilla for his blocked shots. Can you get behind him the past couple weeks knowing that his real contribution will be in a more easily found commodity in rebounds?
Mac: For Real. Somehow I knew Guy would bring up my relentless pimping of Przybilla a few years back. In my defense, Przy was one of the league's best pickups that season (2004-05), when he averaged a studly 8.8 points, 9.7 rebounds and 3.4 blocks per game after the All-Star break. Those days are long gone, but the big man still can get after it under the glass, and he'll even block a few shots for good measure. Not surprisingly, Przybilla's recent surge has coincided with an increase in minutes. Those minutes are likely to remain constant, as McMillan appears to be happy with Przybilla's play especially in the rebounding department. If you need rebounds and/or blocks, Przybilla is a must-add, as he is owned in just 30.6 percent of ESPN leagues and likely will provide double-digit rebounding numbers and 1-2 blocks per game the rest of the way.
Chris Quinn, PG, Heat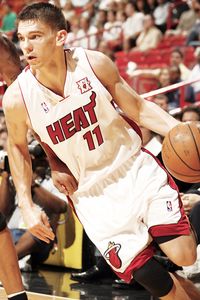 Issac Baldizon/Getty ImagesOnly on the Heat ... can Chris Quinn have fantasy value.
Mac: For Real.
Other than
Ricky Davis
and
Mark Blount
, the Heat are basically running a D-League roster out on the court each and every night. Blount, however, should probably be in the D-League himself, so for all intents and purposes, we're left with Davis and a bunch of scrubs. Let's see, we have
Kasib Powell
,
Earl Barron
,
Joel Anthony
,
Daequan Cook
,
Stephane Lasme
,
Blake Ahearn
,
Alexander Johnson
and of course, Chris Quinn. Recognize any of these guys? I didn't think so. Don't feel too bad, because not many folks do. Cook and Quinn are the most recognizable names, but that's only because they played at high-profile colleges in Ohio State and Notre Dame, respectively. Truthfully, there isn't a reliable option to be found here, as not even Ricky Davis has been able to do much lately.
That said, someone must put up somewhat viable fantasy stats on this roster, right? Enter Quinn, who's averaging 14.6 points, 4.4 rebounds, 6.2 assists, 3.4 steals and 1.3 3-pointers in 36.4 minutes per game his past five games. I'm a big believer in the theory that anyone can have value if there are minutes and opportunity, and Quinn has both right now. The only real threat to Quinn's value would be if Jason Williams can return from his thumb injury. I guess that is possible, but I have a hard time figuring out why J-Will would push himself to get back in the lineup at this point. Marcus Banks could also return, but at this point I'm not expecting much out of him either. Quinn's value seems fairly safe (for a Miami player), and he should have himself a nice little April, with modest contributions in points, assists, steals and 3-pointers.
Guy: For Real. When you are the only game in town, you are going to get some run. Chris Quinn has the point guard spot all to himself. I agree with Mac that it is highly unlikely for Williams to come back to play. Again, why would he want to? It's one thing to run with and dish to the likes of Dwyane Wade and Shawn Marion, but these guys? No disrespect intended -- in fact, I am a fan of some of these guys. As a UMass alum, it is great to see Lasme bringing his all-out hustle to the big game. But for Jason Williams, who has been battling various injuries throughout the season, it probably makes more sense to rest up and work the phones with his agent. Williams is an unrestricted free agent this summer and he is in a no-win situation. If he puts up numbers with the Miami D-Leaguers, skeptics can say he did so because he was the only option. If he plays and injures himself again, he will hurt his value. Sitting isn't a great option, either, but it makes sense given the alternatives. Quinn put up 15 points, 2 3-pointers, 6 dimes and 2 steals in 32-plus minutes Monday night. This is about what I expect from him on average, and the steals could be even higher. In his past five games, he has stolen four, six, two, three and two balls, respectively. He hasn't had a string of thefts like this all season, but then again, he hasn't seen this much PT either. And his best asset is his free-throw shooting. He has been getting to line frequently (6.6 attempts per game over his past five) and is a dead-eye from the line (86.2 percent on the season).
Guy Lake and Brian McKitish are fantasy analysts for ESPN.com. Both were finalists for the FSWA 2007 Fantasy Basketball Writer of the Year. Guy can be reached at GuyLake@TalentedMrRoto.com, while Mac can be found at Littlemac@TalentedMrRoto.com.
Fantasy Basketball
Brian McKitish is a fantasy basketball analyst for ESPN.com and is a two-time Fantasy Basketball Writer of the Year, as named by the Fantasy Sports Writers Association.
SPONSORED HEADLINES
FANTASY TOP HEADLINES
MOST SENT STORIES ON ESPN.COM