Commentary
Grand Theft Roto: Howard still overvalued despite huge numbers
Updated:
February 18, 2009, 3:17 PM ET
By
Josh Whitling
| Special to ESPN.com
Last week I began my "Which players have the most fantasy trade value?" list with Nos. 1-10. This week, I give you 11 through 25.
11. Dwight Howard, C, Magic: Even though fantasy owners are well aware of his negative impact in free-throw percentage, his gaudy stats (14.2 boards, 3.0 blocks and 56.9 field goal percentage), boyish charm and superstar status make him overvalued. Nights like Tuesday's 45 points, 19 rebounds and eight blocks make it too easy to overlook the fact that that the words I'd prefer to use in describing what he does to a team's free-throw percentage are completely inappropriate. Howard's negative impact in free throws (-6.3 standard deviation from the average player) is by far the worst on the Player Rater, and he hurts you more than three times as much in free throws as Stephen Jackson does in field goals. He can do wonders for a team if you build around him. He can also make it impossible to win leagues, especially in rotisserie formats. Plus, he needs a new dance; "Soulja Boy" is way 2007.
12. Chris Bosh, PF/C, Raptors: Despite some injury-proneness, Bosh has the potential to be a perennial first-round fantasy pick. He needs to take a step forward and fill in the gaps in his game (his rebounds and blocks have decreased in each of the past two seasons, and his points seem to have reached a plateau). He's just 24, and seemingly plays for a team that doesn't inspire him to take his game to the next level. For now, enjoy the 22.8 points, 9.5 rebounds, 0.8 steals, 0.9 blocks, 49.6 percent on field goals and 80.8 on free throws, and keep in mind that it could someday be 25, 12, 1.5 and 1.5 with the same delightful percentages. I'd rather have him than Howard because it's much easier to build around a player with fantastic percentages than be constantly compensating for shortcomings.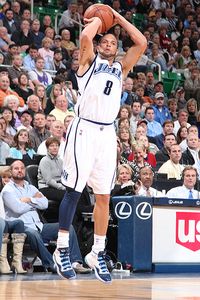 Melissa Majchrzak/NBAE/Getty ImagesDeron Williams' value is sky-high, thanks to his play since the calendar flipped to 2009.
13. Deron Williams, PG, Jazz
: Missing the first month of the season allowed his value to slowly build, and now Williams is the best point guard in fantasy during the past month, and ranked eighth on the Player Rater in that span. His February statistics are absurd -- 30.0 points, 10.4 assists, 1.2 3-pointers, 1.0 steals, 54.6 percent from the field, 86.4 percent from the line (on 8.8 attempts per game) -- and driving his stock up considerably, especially since assists are always in high demand. If I own Williams, I'd do everything possible to ride his streak and attempt to parlay him into a top-five player, since he's playing that way this month.
14. Tim Duncan, PF/C Spurs: The Big Fundamental was the former No. 1 overall fantasy pick before LeBron James and Chris Paul entered the league, and now he's consistently a top-20 player and a sturdy big man to build your team around.
15. Steve Nash, PG, Suns: His season started slowly, but Nash led the league in assists in January and should challenge Chris Paul and Deron Williams for the league lead in dimes from this point forward now that Alvin Gentry (the only holdover from the Mike D'Antoni era) has replaced Terry Porter. Nash has already picked his game up as the season has progressed, and if the Suns revert to the "seven-seconds-or-less" offense, Nash could be a top-10 player for the rest of the season.
16. Jason Kidd, PG, Mavericks: Kidd is an often-traded fantasy player because his strengths and weaknesses are so clear. Those looking for assists and steals often break the bank for him, and he's often tradeable for those hurting in points and field goal percentage. Either way, he's the ninth-ranked player by averages on the Player Rater for the season, even though I'd rather have the guy below him on this list, much like I'd rather have Bosh over Howard. His deficiencies are difficult to build around, although his assets are enticing enough that he'll fetch top value.
17. Chauncey Billups, PG, Nuggets: Billups wins fantasy championships. I waver between him, Nash and Deron Williams as my No. 2 point guard behind Paul and target him in every league, every year.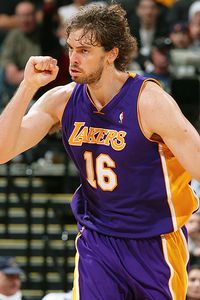 Rocky Widner/NBAE/Getty ImagesAs expected, Pau Gasol has stuffed the stat sheet since Andrew Bynum went down.
18. Pau Gasol, PF/C, Lakers
: Pau's shooting 56.1 percent from the field on the season, dropped a 12-point, 13-rebound, 10-assist triple-double Tuesday night and is dominating with
Andrew Bynum
sidelined, averaging nearly 24 points, 12 rebounds, four assists and more than a block, along with 61.2 percent shooting in February. It's a shame his blocks and free throws have diminished this season, or else he'd be having the best season of his career; regardless, he's cemented himself as a top-20 player and should remain scorching while Bynum is still out.
19. Paul Pierce, SG/SF, Celtics: Much like Duncan, Pierce is consistently in this pack of players, year in and year out. He contributes across-the-board numbers, including 85.3 percent free-throw shooting on 7.1 attempts per game, a stat that lies hidden amid his points, 3s and assists.
20. Rashard Lewis, SF, Magic: Even though his game has suffered without Jameer Nelson in the lineup, he's still the best source of 3s in the league.
21. Brandon Roy, SG, Trail Blazers: Here in Seattle, B-Roy and Nate Robinson are about all we have to be proud of nowadays, and my boys are getting the job done. Roy keeps improving with each season in the league, and the only real hole in his game is that he's not a hefty contributor in 3s and steals (yet). He's already a borderline top-20 player, and I see nothing but improvement in Roy's future, indicating that he could be a top-10 guy someday if he becomes deadlier from behind the arc.
22. Ray Allen, SG, Celtics: Here's a case of a player potentially being undervalued because everybody sees him as overvalued, as many a fantasy expert has warned that his No. 10 ranking on the Player Rater will plummet (it'll fall, but plummet's a strong word). Ray-Ray's venture as a role player has done wonders for his fantasy value, allowing his shooting to skyrocket to a career-high 49.1 percent. He's one of the most efficient players in the game, and the advantage he provides in 3-pointers coupled with the fact that he doesn't hurt you anywhere makes him legit. Since everybody's predicting a dropoff, he's likely attainable for less than what his actual value is.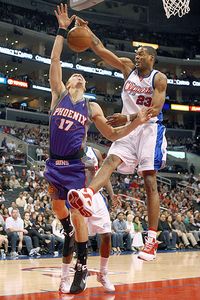 Stephen Dunn/Getty ImagesMarcus Camby could provide a big boost the rest of the way, as long as he can stay healthy.
23. Marcus Camby, PF/C, Clippers
: He's missed some stints, and is always an injury risk, but when Camby is on the court, few fantasy players have more impact. He practically provides the rebounds and blocks that Dwight Howard does, minus the millions of free-throw attempts. With Chris Kaman's name thrown around in trade rumors and Zach Randolph's reputation even further marred by his sucker-punching of
Louis Amundson
on Tuesday night, Camby is the Clippers' key man in the middle. He should get as many minutes as his body can handle, which translates into insane blocks and boards with excellent field goal percentage (51.9) and steals (0.8) for a big man.
24. Caron Butler, SF/SG, Wizards: Being the primary option on the lowly Wizards has been challenging for Butler, who has failed to match last season's marks in assists, rebounds and 3s due to the constant attention he receives from opposing defenses. February has been kinder, as he's averaging 24.2 points, 7.2 rebounds, 1.6 steals and 1.4 3s this month. Despite his failure to take a significant step forward this season, Butler is ranked 21st on the Player Rater and would be in the top 20 if he had any help surrounding him.
25. Andre Iguodala, SG/SF, 76ers: His stats have consistently been better without Elton Brand in the lineup, and with Brand out for the season, AI2's value is on the rise.
Josh Whitling is a fantasy basketball analyst for ESPN.com.
Fantasy Basketball
Josh Whitling is a fantasy basketball analyst for ESPN.com.
SPONSORED HEADLINES
FANTASY TOP HEADLINES
MOST SENT STORIES ON ESPN.COM