Commentary
Grand Theft Roto: Buy low on Martin, Millsap, Horford
Updated:
February 25, 2009, 1:16 PM ET
By
Josh Whitling
| Special to ESPN.com
Time is waning. In mere weeks, the trading deadline in most fantasy leagues will have passed, if it hasn't already, and the time to pull off a Grand Theft Roto will have been eclipsed. We're like Mickey Rourke in "The Wrestler" (or insert local former professional player who now owns/works at the local video store), working on borrowed time, and it's pretty much now or never if we're going to change our destinies. And by "destinies" I mean "fantasy basketball teams." So, this week I'm rolling with a good ol' buy-low/sell-high column with a few twists, leading up to many leagues' trading deadlines.
Buy low
Kevin Martin, SG, Kings: He was already undervalued before the trade that sent John Salmons to Chicago, and now he must shoulder an even larger majority of the scoring load in the back court. He's been ranked No. 21 on the Player Rater for the past month, although he doesn't seem to fetch that type of value on the trade market. Martin makes an excellent trade target because he could easily play like a top-15 guy for the final couple of months (with extra value in the free-throw category, as he boasts both accuracy and frequency from the stripe), as evidenced by his 32 points, four 3s and five assists Monday night. But you should be able to get him at the value of a top-40 player, and since he has very specific strengths (points, 3s, free throws), if you're in need of those stats, target Martin.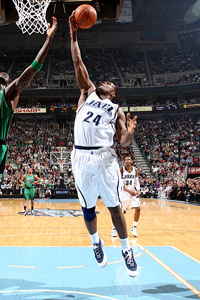 Melissa Majchrzak/NBAE/Getty ImagesNow may be the best time to land Paul Millsap, especially if you're concerned about Carlos Boozer holding up.
Paul Millsap, PF, Jazz
: Millsap's 2008-09 season has been a roller coaster. He went from an unexpected double-double machine, to the front-court player around whom opposing defenses made their game plans, to a slumping power forward (11.3 points, 8.4 rebounds, 41 percent on field goals in February) with incumbent
Carlos Boozer
back in the picture. Here's the thing: even though Boozer is back, Millsap is still start-worthy off the bench. He's still averaging 1.1 steals and 1.1 blocks in February, and his points will trend closer to his season average of 14.6 per game as his atypical field goal percentage in February trends closer to his .539 season percentage. Don't underestimate Millsap: He'll continue to be solid and has many owners looking to dump him for cheap given his recent struggles, so see if you can buy him at a bargain-basement price.
Jose Calderon, PG, Raptors: I love Calderon, even though his season has been up and down because of injuries, a coaching change and a carousel of a starting lineup. But now that Shawn Marion, Chris Bosh and Andrea Bargnani are all at his disposal, he's likely to regain his status as a top-5 fantasy point guard from this point forward, and the assists should start rolling in. Based on his No. 74 ranking on the Player Rater during the past 30 days, he's likely frustrating owners to the point that they'll overpay to address needs. Now is an excellent time to target Calderon, who was a consensus top-30 player before the season and could play that way from now on.
Marcus Camby, PF/C, Clippers: Camby is back from his ear infection and ready to wreak havoc on the league's blocks and rebound leaders. He's been in and out of the lineup enough recently to frustrate owners, although his major injuries seem to be healed, and with Chris Kaman out indefinitely, Camby has a chance to lead the league (or at least place second behind Superman) in rebounds and blocks.
Al Horford, PF/C, Hawks: Last season, Horford was lauded and considered by many a Rookie of the Year snub, but this season has been statistically disappointing and marred by an injury that kept him out for most of January. But he's healthy and has the talent to turn things around and post a nice finish to the season. He's an inexpensive player with upside, and I have a feeling he's in for a much-improved March. He hasn't taken the step forward many expected this season, but has far from reached his potential and will once again be a significant blip on the fantasy radar once he breaks his sophomore slump.
Buy-low throw-ins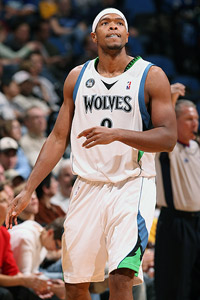 David Sherman/NBAE/Getty ImagesRyan Gomes has recorded four straight 20-point games.
Ryan Gomes, Joakim Noah, Grant Hill, Tyrus Thomas
: This time of the season, it's often the throw-in players in trades who make or break teams. The typical trade centers around two players, one that addresses needs for each side, and then throw-in players to balance out the value and rosters. These four are all examples of players who have been playing well, could continue to play even better and make for ideal throw-ins. You often know what to expect from big-name players you're targeting, but it's with strategically chosen throw-in players that you can ensure that a trade inevitably falls in your favor.
Buy really low
Sean Williams, PF/C, Nets: By "buy" I mean "pick up off free agency." I just wanted to highlight someone for deep leaguers, since I don't get to address fringe players often. Williams played 19 minutes Monday night, which was the most playing time for him since November, and he responded with three blocks, which is what he would likely average if he played 30 minutes per game. If he could somehow average 15 minutes per game for the rest of the season, he's a lock for at least a block per game, and he has the potential to put up Ronny Turiaf-type block totals.
Sell high
Mo Williams, PG, Cavaliers: I love me some Mo, but Delonte West's return undoubtedly harms his value. It's still early enough to lull unsuspecting owners with his No. 12 ranking on the Player Rater for the past month and No. 24 ranking for the season, and if you can get a player in the top 30 or 40 in exchange for Williams, it'll surely pay off unless West's injury concerns continue.
O.J. Mayo/Brook Lopez/Eric Gordon: I love all three of these rooks, but they're ranked 18th, 19th and 20th on the Player Rater during the past month, just in time for the rookie wall. I'm in no way downplaying their overall talent or long-term potential, but I don't see any of them being top-25 players from this point forward, so if you can get somebody who views their current value as an indication of what to expect in March and April, then shop the rookies.
Don't sell high
Charlie Villanueva, SF/PF, Bucks: People look at Villanueva, whose career has been plagued by inconsistency and the unpredictable Bucks roster, and deem him an overperformer based on his top-20 ranking on the Player Rater during the past month. But he has a skill set that was created for the fantasy game, and with his combination of his 3s, steals and blocks; increased playing time; and role with the team, I don't see a drop-off this season. Where to select Villanueva in next season's draft will be a hotly debated topic, though, as it's hard to say he'd be putting up these numbers with a healthy, fully stocked team. But that's next season; for this season, Cholly is gold.
Josh Whitling is a fantasy basketball analyst for ESPN.com.
Fantasy Basketball
Josh Whitling is a fantasy basketball analyst for ESPN.com.