Commentary
Chris Paul a shrewd trade target
Does he come with risk? Yes. But could he help you win your league? Absolutely
Updated:
February 16, 2010, 5:46 PM ET
By
Adam Madison
| Special to ESPN.com
With the trade deadline in most fantasy leagues approaching, there is one player I would do everything in my power to acquire immediately. He has all the features that go into a Grand Theft Roto: He comes attached with a lot of uncertainty, he's a prime example of a market inefficiency, and he contributes in rare categories. He makes a peculiar target, however, because he's also one of the very best players in fantasy. His name: Chris Paul.
Injured players are great targets in a trade because you can acquire them at their lowest perceived value; many people underestimate a player's true value when that guy is currently unavailable. Paul makes an especially tantalizing case because not only can he definitively put your team over the top in time for the fantasy playoffs, but also because we're right in the middle of an uncertain timeline in regards to his injury.
Paul had surgery on his knee Feb. 4, and the timeline for his return was placed between four and six weeks, putting much of the remainder of his season at risk. Considering how valuable a player Paul is -- in terms of his Player Rater averages, only LeBron James is more valuable than Paul, with no other player being all that close -- that puts a lot of pressure on his owner. Unless the owner is right at or very near the top of his league standings, it becomes that much more difficult to make the playoffs of a head-to-head league or mount a charge in a roto league. Making a trade, Paul's owner might reason, could be the only option, especially if his owner wasn't lucky enough to grab Darren Collison off the waiver wire.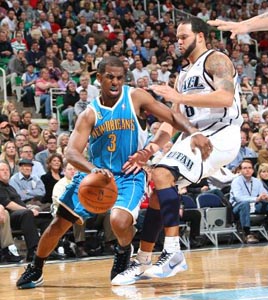 Melissa Majchrzak/NBAE/Getty ImagesLet's not forget what kind of multi-category force Chris Paul is when he is healthy.
Trading for Paul now makes sense because it's still early enough in his recovery that you're still taking three or four weeks of inactivity off the table from his owner. You want to trade for an injured player before he's too close to returning, so his owner won't have heaps of positive reports on his rehabilitation to draw from. Not only is Paul's current owner unaware of just how much time he will miss, but he's also unsure of how much that changes Paul's value. Paul obviously won't be the second-best player from this point on, but how far does he drop? Is he still a top-10? Top-20? Should that owner accept Joe Johnson for him or hold out for more?
There's reason to believe that Paul can return quicker than expected from his injury. It has already been 12 days since Paul underwent surgery, so if the original timetable is still accurate, he's out maybe another 30 days. That would put him on track to return the week of March 15-21, giving him 15 more games before the end of the season -- and just in time for the start of fantasy head-to-head playoffs. But Paul isn't just your average professional athlete recovering from injury; he's an overachiever, and that might apply to his rehab as well. So maybe he makes it back quicker than expected? There are already reports out there about how hard he's pushing himself during his rehabilitation and vowing to return earlier than expected.
Paul has incentive, too: The Hornets are 2.5 games back of the eighth and final playoff spot in the conference. If Paul can come back on the short end of that timetable, he gains another 5-7 games, a big deal when we're discussing a guy who has provided per-game production equivalent to two Stephen Jacksons.
The trick, then, is deciding just how much to give up for Paul. It's difficult to overstate just how much production Paul provides, with his overall production being 15.52 standard deviations over average on a per-game basis. If you take these numbers at face value, that makes him more than 33 percent more valuable than Danny Granger, who ranks ninth on a per-game basis. He's going to have about half as many games played as any other player from this point, but 15 games of Paul still gives you about equivalent production to 31 games from Joe Johnson. That's not even including whatever production you get from the 16 games of whomever you choose to replace Paul with, or the added value of having Paul play in the most important 15 games of the season.
That's not to say there's not definite risk in acquiring Paul. After all, there's always the chance, albeit slight, that the Hornets could choose to shut Paul down for the rest of the season. The Hornets' point differential suggests a team with little shot at the playoffs with or without Paul, and it wouldn't be surprising to see the team enter a freefall without him, giving Paul less incentive to rush his return. While Paul's youth and competitive drive are big points in his favor, the fact is that estimating 15 games for the point guard at 100 percent effectiveness is still just an educated guess.
Many things factor into the quality of player you should give up for Paul, from how much depth you have to your place in the standings. A team in a roto league that is currently winning its league but is on pace for too many games played can give up a lot to get Paul, while a team barely staying afloat in fourth or fifth place in a head-to-head league likely can't afford to acquire him without missing the playoffs entirely. But in general, if you can give up a player ranked outside the top 35 or so, like an Andrea Bargnani or Aaron Brooks, it likely will end up as a slam dunk of a deal.
Strategy talk
Last week's Grand Theft Roto evoked a particularly inspired response from reader Tyler Duncan, who plays in a nine-category H2H league with $150 going to first place. In an attempt to win every single week, he turned over his entire roster throughout the course of the year, completing a whopping 13 trades to get him a roster of players that would win 3-pointers, assists, rebounds, blocks and turnovers week in and week out. It's not a strategy for the faint of heart, but Tyler pulled off a number of shrewd trades, including trading Michael Redd and Rasheed Wallace for Baron Davis and Andrei Kirilenko and dealing Rashard Lewis for Brendan Haywood. Tyler tailored his team for playoff time, too: "I actually anticipated losses to weak teams, but I knew when it came to playoff time I'd be able to take out the big guns." That's because the weaker teams in the league wouldn't accumulate as many turnovers, but the top teams would all have elite players who ensured them a loss in the category. A brilliant strategy, you must admit.
There are many ways to win your league, but there might not be a more enjoyable way to one-up your rival owners than to use their own strengths against them.
Adam Madison is a fantasy basketball analyst for ESPN.com. Feel free to hit him up about any potential deals in your league at mr.adam.madison@gmail.com.
SPONSORED HEADLINES
FANTASY TOP HEADLINES
MOST SENT STORIES ON ESPN.COM