Commentary
Recapping the best of the season
Updated:
March 3, 2010, 12:30 PM ET
By
Adam Madison
| Special to ESPN.com
Most fantasy leagues have their trade deadlines a week or two after the NBA's deadline, so alas we have come to the end of trading season. Aside from a few keeper leagues that keep the lines of discussion open all season, your team is essentially set in stone. Instead of looking forward, it is time to look back and reflect on what has been.
I haven't been playing fantasy sports for an obscenely long time -- about six or seven years -- but every season I learn something new, or at least have a couple of beliefs reinforced. We tend to learn things best when we learn them the hard way, but you can do yourself a favor and learn from my mistakes to prevent your own. So what should you keep in mind the next time you're bartering with a rival owner? I'm glad you asked:
Percentages are undervalued
Unless they are dominant names who go by the name of "Howard" or "Nash," many of the times guys who offer major contributions in field goal and free throw percentage are underrated. Just think of how you could get Kevin Garnett for a song all year long, or how underrated Nene (and his sterling field goal percentage) still is. Gaudy counting categories tend to float to the top of people's consciousness, but great percentages are subtle; you have to really be paying attention to the game to notice how valuable David West's efficiency really is. There may be no clearer example than in the case of Ray Allen, who with a recent surge is on track for another top-50 season. Yet coming into the year, he was undoubtedly ranked around or even outside of the top 75 despite finishing 14th on the Player Rater last season. And grabbing a few high-percentage guys also allows you to spend a roster spot on a percentage-killer like Baron Davis or Brandon Jennings, guys who are otherwise immensely valuable but may be acquired at a discount because their one deficiency is killing their owner. Funny how that works.
Gamble on talent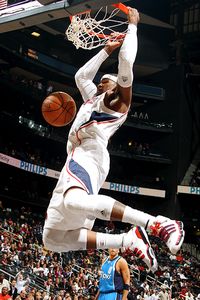 Scott Cunningham/NBAE/Getty ImagesJosh Smith's down season in 2008-09 proved to be but a minor setback for a promising player.
Who were some of the best values of the season? Let's run through some names:
David Lee
,
Gerald Wallace
,
Stephen Curry
,
Carlos Boozer
,
Josh Smith
,
Aaron Brooks
,
Andrew Bogut
,
Andrea Bargnani
and
Tyreke Evans
. What they have in common is that they are all young and therefore near or at their primes, and all do at least one thing extremely well. The preseason concerns about Boozer and Smith, in particular, look asinine because in years prior they already proved they were building blocks. Even the relative failures and inconsistent head cases like
Michael Beasley
,
Anthony Randolph
and
Roy Hibbert
weren't wholly useless; Beasley and Hibbert turned out to be solid values and Randolph was really coming on before he got injured. Or think about questionable in-season cases like
Andrei Kirilenko
and
Andre Miller
-- it didn't take much longer than half a season for them to show their true colors, proving good things really do come to those who wait. Makes you wish you bought low on
Lou Williams
and
Jameer Nelson
when you had a chance.

Bail on swingmen in their 30s
A recent preview of the summer of 2010 free-agent class from Basketball Prospectus' Web site highlighted a fanpost from Blog-A-Bull cautioning the future prospects of Joe Johnson. The gist of it is that quality swingmen tend to fall off fast after they hit 31 years of age -- think Michael Finley or Jalen Rose. There are a few exceptions -- the aforementioned Ray Allen, for one, although we know elite shooting is a skill that tends to age gracefully -- but this has major applications toward fantasy basketball, too. Is it merely coincidence that disappointments like Paul Pierce, Rashard Lewis, John Salmons, Vince Carter and Al Harrington are all 30 years old or older? So next time yours truly will think twice before recommending Carter as an optimal opportunity to buy low. While Stephen Jackson has scoffed in the face of Father Time for the second consecutive year, his peers have all sputtered, something that should definitely make you think twice on draft day next year.
Best of the best
Since this is the final GTR of the season, we definitely have to highlight some of the best steals from you, the readers:
"I happen to own [Brandon] Jennings and was offered to trade him for Marc Gasol. What do you think?" -- Larry H.
"I traded Jennings for Pau Gasol this weekend. I was afraid after Jennings' recent performances that I'd waited too long to trade him." -- Matt W.
"I might have pulled the Jennings deal of the year: Jennings and Amar'e [Stoudemire] for [Dwyane] Wade, Tyreke [Evans] and [Chris] Kaman, right after Jennings' last big game. Booyah." -- Benji R.
At this point in the season, it's tough to remember when you could ask for, and receive, the moon for Brandon Jennings.
"Hey, I think this was a steal. I gave up [Tim] Duncan, Tyreke Evans and Channing Frye for Dirk [Nowitzki], Baron Davis, and Kevin Martin." -- Max F.
"Wow, I'm glad I traded the day before your column came out calling out Elton Brand. Just before that, I managed to trade Danny Granger and Elton Brand for Al Jefferson, Andrea Bargnani and Boris Diaw. Best part was that I turned around and packaged Bargnani and Joakim Noah for Tim Duncan and Rudy Gay." -- Si F.
And in the "somebody must've been drinking" category ...
"I got: Dwyane Wade. I gave: Ben Gordon and Caron Butler." -- Calvin W.
"I have to brag about my recent trade. I went to the guy who picked third and asked if he would have drafted [Chris] Paul third, since he would have been there if there was no computer issue. He said he would. So he offered me Kevin Durant and Steve Nash for Chris Paul and Jason Richardson." -- Chris S.
"Last week, I executed a trade for Chris Paul and Pau Gasol. I dealt Kobe [Bryant], [Vince] Carter and [Lamar] Odom ... and this was in a H2H prize league!" -- Anand H.
"Last week, when DeJuan Blair put up the double-double against New Orleans, I immediately snagged him off the wire only to be offered Tyreke Evans for him minutes later. Needless to say, I pulled the trigger." -- Adam Y.
The Blair one is my favorite for the sheer absurdity of it. It's like one of those offers that is so tremendously in your favor that you have to click refresh just to believe your eyes.
Incidentally, to take a page out of the previous GTR columnist, Shawn Peters, I've decided to create a fantasy baseball league for the increasing number of readers who ask if there's any chance they could find an "experts" league to join. Well, why not just create our own? You can e-mail me if interested on a first-come, first-serve basis. Until next season, good luck in your fantasy playoffs!
Adam Madison is a fantasy basketball analyst for ESPN.com. Have any last-second trade proposals to weigh? Send him an e-mail at mr.adam.madison@gmail.com.