Commentary
Mike Conley among ADP All-Stars
Updated:
February 17, 2011, 3:56 PM ET
By
John Cregan
| Special to ESPN.com
As a rule, I tend to shy away from All-Star columns. I mean, if you're reading this (thanks, by the way), I don't have to tell you who's been a fantasy All-Star. Taking up my precious word count -- and your precious time -- to tell you that Dwight Howard's having a pretty good season seems somewhat antithetical to the "Hardcore" ethos.
However, I do realize that All-Star columns are a fantasy tradition, almost as old a fantasy itself. So, being the consummate team player, I'm dedicating this week's Hardcore to the little guys ... the unsung heroes of the fantasy season to date.
It might be easy, with hindsight being 20-20, to say that many these guys were going to be out-of-the-box contributors. But anyone with the urge and the time can turn the page back to draft night and see what most of us really thought of these guys.
All you have to do is go back and look at their average draft position (ADP). I don't want to cause any negative flashbacks, but Brook Lopez's ADP was 16. Kobe? 4. Brandon Roy? 21. Aaron Brooks? 35.
You get the picture. Hey, we can't win them all. But we've won some of them, with some waiver-wire adds that have proven to be fantasy forces in 2010-11.
So, without further interruption, let's start handing out the hardware.
The ADP All-Stars
Criterion: All players must possess an ADP of 100 or more. No exceptions. Except for one, for reasons I'll get into in a moment. (By the way, ESPN stops tracking ADP after the 150 mark, so any player with an ADP above 150 will be referred to as "Undrafted.")
Point guards
[+] Enlarge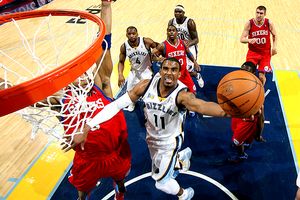 Joe Murphy/NBAE via Getty ImagesMike Conley is on pace for career highs in points, assists and field goal percentage.
Mike Conley, Memphis Grizzlies (ADP - 103)
Kyle Lowry, Houston Rockets (Undrafted)
Lou Williams, Philadelphia 76ers (ADP - 148)
Luke Ridnour, Minnesota Timberwolves (Undrafted)
You know who my favorite NBA team is for fantasy this year? Try the Memphis Grizzlies. Other than O.J. Mayo (and now, Rudy Gay's unfortunate subluxation), the Grizzlies have been a smorgasbord of underratedness. They've landed eight players on the fantasy radar this season, a list that could expand if the Grizzlies trade Zach Randolph at the deadline.
And for a top-10 point guard (as he's been for the past six weeks), Conley has flown way under the fantasy radar. With Rudy Gay out for a month, look for Conley to step up his scoring, probably staying in the 18-ppg range for the next few weeks.
My single greatest fantasy regret of the 2010-11 season to date has been dropping Kyle Lowry. I naturally assumed that his run was over when Aaron Brooks returned from his early-season injury. Little did I realize that Lowry would win out in the time-share battle with the slumping Brooks. He's streaky, but when he puts it all together as he did Wednesday night (36 points), he's a surefire ADP All-Star.
Shooting guards
Aaron Afflalo, Denver Nuggets (Undrafted)
Nick Young, Washington Wizards (Undrafted)
Tracy McGrady, Detroit Pistons (Undrafted)
Wesley Matthews, Portland Trail Blazers (Undrafted)
Afflalo is my kind of bench player; nothing flashy, but a steady 12 points per game with a couple of 3s and an occasional steal. He's a perfect spot-starter in deeper leagues who could ramp up post-MeloDrama, so keep an eye on him.
I'm conflicted about Nick Young. He's got the trait -- a lack of willingness to pass the ball -- which I detest the most in a player. Couple that with his historically low career assist ratio, and flatlined rebounding numbers, and you sort of have the poster child for why I can't stand shooting guards. But he's upped his offensive game while dramatically improving his efficiency (15.42 PER), and he makes my Wizards semi-watchable (in spurts), so he gets a spot here.
McGrady is the feel-good story of this All-Star team. The old pro with diminished (or nonexistent) hops has quietly strung together a nice run of lines while helping anchor a lottery team. He won't blow up a box score, but McGrady will always contribute something to help deep-league owners, especially with his point guard eligibility.
Small forward
[+] Enlarge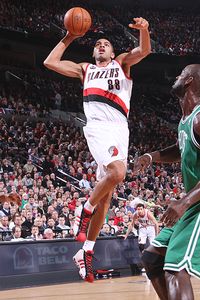 Sam Forencich/NBAE/Getty ImagesNicolas Batum doesn't dazzle in any one area, but contributes across many categories.
Nicolas Batum, Trail Blazers (ADP - 135)
Richard Jefferson, San Antonio Spurs (ADP - 132)
Grant Hill, Phoenix Suns (Undrafted)
Shane Battier, Rockets (Undrafted)
Anyone capable of averaging a steal, a 3 and a block per night is going to be on my All-Star team, and Batum is one of the few players in the NBA that qualifies. Like the case with Wes Matthews, Batum owners need to be wary of Brandon Roy's return, as it could throw what's been a nice little rotation into a state of flux.
Jefferson has cooled off a bit after a hot start, but he's still a key cog in another one of fantasy's most surprising squads. I've been down on the Spurs for fantasy purposes for years, but Gregg Popovich has subtly opened things up in accordance with Duncan's decline. Now San Antonio's become a nice little pipeline for fantasy bench players.
I picked Battier up in a league a couple of weeks ago for old times' sake and was reminded of what an underrated bench player he can be. He's a perfect daily transaction league contributor, a guy you can plug in and always get something back in return. I always secretly hope he gets dealt to a bottom-feeding team like the Cavs or Wizards; imagine what he'd do if called upon to score on a consistent basis (probably around 12-14 ppg).
Power forward
Elton Brand, 76ers (ADP - 107)
DeJuan Blair, Spurs (ADP - 122)
Amir Johnson, Toronto Raptors (Undrafted)
Kris Humphries, New Jersey Nets (Undrafted)
I really didn't want to put Brand on here, but his ADP-versus-Player Rater production ratio was just too darn high to ignore. So I had to bump not one, but two personal favorites in Greg Monroe and Chuck Hayes.
I've had built-in blinders when it comes to DeJuan Blair because I just couldn't believe my beloved Wizards sold their second-rounder two years ago instead of taking Blair. I haven't wanted to look at his numbers ever since for fear of accidentally burning all my Bullets merchandise in the backyard. (By the way, NBA Jam? I'm not letting my son play you until you come up with less-depressing players to pair with John Wall than Andray Blatche, Yi Jianlian and Manute Bol.)
Could Blair owners use a few more blocks? Sure, but he makes up for it with an uncanny knack for the key steal, currently ranking fifth among power forwards in steals per game. Playing on an uber-efficient team like the Spurs, Blair doesn't require a ton of minutes to make a difference for fantasy owners.
Amir Johnson got a lot of sleeper hype in the preseason, but it took until January for him to realize those predictions. Unlike Blair, he's a blocks machine. If I see a cloud hanging over Lake Ontario, it's the gathering storm of Ed Davis. I've been slobbering over Davis since summer league, and if I had to bet who's the heir apparent to Bosh ... I fear a time-share could be in the offing as the season unfolds.
Humphries has been unusually steady for a deep sleeper, but I'm also worried about his prospects for a time-share if Derrick Favors continues to occasionally put it together. I still like Humphries better than Favors for the rest of the season, but there is some reason for his owners to worry. But if Carmelo ends up heading to Jersey after all (in exchange for Favors), look for a sneaky-nice stretch run.
Center
J.J. Hickson, Cleveland Cavaliers (ADP - 99)
Marcin Gortat, Suns (Undrafted)
Tyson Chandler, Dallas Mavericks (Undrafted)
Darko Milicic, Timberwolves (Undrafted)
Hickson is (barely) the exception to my 100-or-above ADP rule. He gets some slack because he was an early-season washout in his initial incarnation as a sleeper power forward. But after some time on the bench (and an Anderson Varejao injury), Hickson stormed back into Cleveland's starting five, reborn as a center. So far this month, he's been averaging a near 20-10 per night, with a block and half thrown in for good measure. Would he be doing this on a better team? No, but that's why bad teams are always such good fodder for fantasy purposes.
I went back in Tyson Chandler's game logs to see if he's ever had a run as good as his owners have enjoyed during the past three weeks, with three 20-plus scoring performances since Jan. 25. Looking back, he's had a couple of similar runs, one in 2007, and one in 2008, but never one as unexpected as the one he's had this season. Remember, this all started with Chandler in a time-share with Brendan Haywood. It's a classic contract-year push, but Chandler's always had the upside, the only question has been the minutes.
John Cregan is a fantasy basketball analyst for ESPN.com.
Fantasy Basketball
John Cregan is a fantasy basketball analyst for ESPN.com.
MOST SENT STORIES ON ESPN.COM