Commentary
Lesser-owned players to consider
Updated:
March 3, 2011, 4:52 PM ET
By
John Cregan
| Special to ESPN.com
I needed a few days to recover from the trade deadline.
Writing about it was sort of like being the hot, young female protagonist in a slasher film; every time I thought the unkillable killer was finally dead, the sucker would reanimate. Over and over and over and over and over again. I'm just ticked off the O.J. Mayo trade didn't go through in time. I had some really pithy and insightful thoughts regarding how he'd perform as a Pacer.
Anyway, the smoke has cleared, and we're left with the post-trade deadline landscape. By that, I mean the trade deadlines in your fantasy leagues. From here on out, it's Waiver Wire City or bust.
I'm sure you've been following our coverage of the fantasy ramifications of the deadline deals, so I won't rehash them here. Instead, I want to look at other areas of waiver-wire interest, so as to help you get ready for your stretch drive of the season … and hopefully for most of you, your playoffs.
(By the way, if any of you on the East Coast want some in-person advice for your fantasy teams, I'll be doing a tour next week in several cities. It's supposed to be for Q&A's about my new movie, but I really prefer talking about fantasy basketball. Come on down and let's rave about Samardo Samuels.)
Since you've probably already made some wire grabs based on all the recent player movement, I want to focus you on another set of players who could emerge as the season unfolds. Or -- more accurately for these players -- as some teams prepare for their early vacations.
I am, of course, referring to our tanking teams.
Oh, I would never, ever say a team is intentionally dogging it in the pursuit of more pingpong balls … especially with this draft class. But as the season winds down, more and more squads will begin looking toward the future (some teams actually started back around Halloween). And these teams will begin resting and shutting down older, more established veterans to give playing time to their younger, more inexperienced players.
The key here is to try to divine which players might start garnering enough playing time to actually land on the fantasy radar. With so many teams still in the hunt for a playoff spot (thanks, Eastern Conference!), we need to focus on only eight lineups: New Jersey, Toronto, Washington, Cleveland, Golden State, L.A. Clippers, Sacramento and Minnesota.
Samardo Samuels, PF, Cleveland Cavaliers (1.1 percent owned): I wanted to start off with a bang. Also known as "the last Cavaliers power forward standing" (because J.J. Hickson is "the last Cavaliers center standing"), Samuels made a large amount of noise in his first start Wednesday night (23 points, 10 rebounds). If you currently need help at power forward, take a break from reading this, go pick him up, then come back. I can wait.
Alonzo Gee, SG/SF, Cavaliers (0.0 percent owned): Gee has flashed upside in the past at some of his other NBA stops. The Cavaliers have needed stability at small forward since about … July. (I still don't know why.) Nothing special, just solid production given the time, and he can hit 3s with some reliability.
[+] Enlarge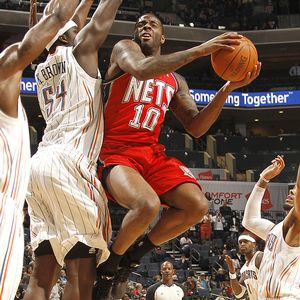 Kent Smith/NBAE/Getty ImagesIn starting the past three games, Damion James has averaged a modest 7.3 points, 5.0 rebounds, 1.3 steals and 1.0 blocks.
Damion James, SF/PF, New Jersey Nets (0.1 percent owned): James just got the starting nod over Travis Outlaw, and responded with a diverse little line (6 points, 8 rebounds, 3 steals and a block). At this point in the season, it makes more sense for the Nets to give playing time to the player with upside (James) as opposed to the free-agent bust (Outlaw). James is one of those "a little bit of everything" contributors, and could be a difference-maker in the defensive categories down the stretch.
James Johnson, SF/PF, Toronto Raptors (0.8 percent owned): Johnson was one of the more under-the-radar deadline acquisitions, moving over from the Bulls for a late-first-round draft pick. The expenditure of a first-rounder must mean someone in the Raptors' organization is pretty high on him. This was evidenced by the fact that he was immediately plugged into their starting lineup. He had a great line on Tuesday (13 points, 5 rebounds, 3 assists, 2 blocks and a steal) in only 21 minutes.
Josh Howard, SG/SF, Washington Wizards (10.2 percent owned): Yeah, he's not exactly an unknown, but I'm putting him here for three reasons: He's unowned in 90 percent of leagues, he's the Wizards' only semi-ambulatory veteran, and he's playing for a new contract. His minutes are building, so keep an eye on him if you need some scoring punch.
Jonny Flynn, PG, Minnesota Timberwolves (11.0 percent owned): Flynn rates this high on the list due to his being one of the few potential impact point guards still on the wire. Luke Ridnour has had some injury problems as of late, and if David Kahn really believes Ricky Rubio could be coming, he needs to showcase Flynn as much as possible. Flynn has 28 assists in his past three games, including a 14-dime bonanza Wednesday night in only 30 minutes.
Omri Casspi, SF/PF, Sacramento Kings (2.3 percent owned): Casspi's been the recipient of a most precious commodity in Sacramento: a steady diet of minutes. It hasn't translated to great production, but Casspi could catch fire, and he's proved in the past he can be a dynamic producer in 3s and steals, not to mention that he's a sneakily effective rebounder.
Sasha Vujacic, SG, Nets (0.3 percent owned): So he's not particularly young, or particularly inexperienced. But he is paired with some newly acquired point guard, who I hear might be pretty good. When Vujacic stays above the 25-minute mark, he can make for a nice source of cheap steals and 3s.
[+] Enlarge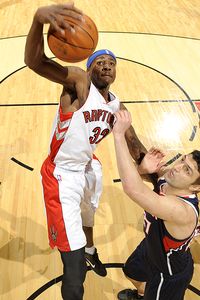 Ron Turenne/NBAE/Getty ImagesEd Davis is averaging 8.8 rebounds in his past eight games and shooting nearly 67 percent from the field.
Ed Davis, PF, Raptors (0.8 percent owned): Davis oozes shot-blocking and rebounding potential, but is unfortunately buried behind Amir Johnson, another promising big man who oozes shot-blocking and rebounding potential. However, Davis is a lottery pick, which means there's more subliminal impetus to play him, as general managers generally like to look like they know what they're doing. Davis could also make for a speculative late pickup for those of you in keeper leagues.
Ekpe Udoh, PF, Golden State Warriors (0.1 percent owned): Another high lottery pick, Udoh made his first NBA start Wednesday night and blocked three shots in the process. Udoh's in possession of some heavy athleticism, and should see his role grow during the final month of the season. He's averaged more than two blocks per game in his past five games.
Al-Farouq Aminu, SF, Los Angeles Clippers (0.3 percent owned): Aminu's production still seems to hover around the accuracy of his outside shot. When he's hitting his 3s, minutes, rebounds and steals seem to follow. When his shot is off, as it's been for the past couple weeks, he's a nonfactor. But again, he's another high lottery pick.
Jordan Crawford, SG, Wizards (0.4 percent owned): Nick Young has been battling ankle issues all season and could be shut down a week or two early. If that happens, Crawford could be an endgame factor in deeper leagues.
John Cregan is a fantasy basketball analyst for ESPN.com and a filmmaker. His film "Devolved" opens in selected cities on March 4.
Fantasy Basketball
John Cregan is a fantasy basketball analyst for ESPN.com.
SPONSORED HEADLINES
FANTASY TOP HEADLINES
MOST SENT STORIES ON ESPN.COM