Commentary
Griffin fantasy-relevant right away
Updated:
May 20, 2009, 12:32 AM ET
By
Brian McKitish
| Special to ESPN.com
With 12 rookies finishing the season in the top 150 on our Player Rater in 2008-09, one can see why fantasy owners would have a rooting interest in the NBA draft lottery Tuesday night. Although rookies historically haven't fared well in the fantasy realm, the 2008 NBA draft class did its best to debunk the long-standing philosophy that rookies are vastly overrated in fantasy hoops leagues. And although one draft class should not cause us to change our strategies drastically, it should make us pause and examine why so many rookies were successful in the 2008-09 fantasy season.
Last year's rookie crop was certainly talented, but was it any more talented than those in years past? That might be an argument for a different column, but at first glance it doesn't appear to be any more or less physically gifted than any of the other draft classes in recent memory. So why, then, were so many rookies able to contribute so heavily in the fantasy game? It's simple: opportunity. That's right, folks, it's all about minutes and opportunity. Of those 12 rookies who finished the season in the top 150 on our Player Rater, 10 landed in cities that desperately needed them to contribute right away. Take a look at the top rookies of 2008-09 (Player Rater rank and minutes per game in parentheses):
Brook Lopez, Nets (26th, 30.5 minutes)
O.J. Mayo, Grizzlies (38th, 38.0)
Eric Gordon, Clippers (43rd, 34.3)
Mario Chalmers, Heat (57th, 32.0)
Derrick Rose, Bulls (59th, 37.0)
Marc Gasol, Grizzlies (65th, 30.7)
Russell Westbrook, Thunder (82nd, 32.5)
Rudy Fernandez, Trail Blazers (115th, 25.6)
Kevin Love, Timberwolves (122nd, 25.3)
D.J. Augustin, Bobcats (129th, 26.5)
Michael Beasley, Heat (137th, 24.8)
Jason Thompson, Kings (140th, 28.1)
It's not too hard to spot the trend. The top seven rookies in 2008-09 saw at least 30 minutes of action per game. The rest (aside from Beasley, and he was close) earned at least 25 minutes per game for their respective teams. Now, I don't want to take anything away from these players and their talents, but many of these rookies landed in situations where it was hard for their teams not to give them ample playing time.
Take Lopez, for instance. He's a terrific player and turned a lot of heads (including mine) with his solid play this past season, but he also didn't have much competition for playing time, with only Josh Boone and Sean Williams pushing him for minutes at center in the Nets' frontcourt. The same can be said for Mayo and Gordon. Both are dynamic offensive stars, but there's no way they would have been as productive if they hadn't been playing for teams that had such limited offensive options as the Grizzlies and Clippers.
With that said, don't get too sucked into the hype and speculation that undoubtedly is headed our way leading up to the NBA draft. Of course, we'll be inundated with keywords and phrases such as "upside," "length," "NBA-ready," "basketball IQ" and "wingspan," but we, as fantasy owners, need to measure both talent and opportunity to gain a realistic outlook on a rookie's fantasy prospects. With that said, let's take a quick look at the fantasy prospects in the 2009 NBA draft class:
Blake Griffin, PF: Griffin is as close to a can't-miss prospect as there is in this draft. He has the body and athleticism to step in and contribute right away, and he undoubtedly will earn ample playing time for the Clippers (that's assuming they do the right thing and draft him with the first overall pick) despite the presence of Zach Randolph at his position. As a fantasy player, Griffin figures to be a double-double threat right from the start, and a realistic projection could see him averaging 14-15 points and 8-10 rebounds per game as a rookie. Griffin, however, really needs to commit himself on the defensive end if he's going to become the fantasy star we all hope he can be. He averaged only 1.1 steals and 1.2 blocks per game at Oklahoma last season, and it remains to be seen whether he can carry those averages over to the NBA. Don't expect too much on the defensive side as a rookie, but be sure to watch his defensive progression closely as we lead into the season. He also shot less than 60 percent from the free throw line in both his seasons in Norman.
Ricky Rubio, PG: What Rubio lacks in physical gifts, he more than makes up for with his high basketball IQ and crafty style of play. Seeing him in Beijing this past summer, it was hard not to come away impressed with his maturity and leadership at such a young age. There is no doubt that he has all the skills needed to become a great NBA point, but how will those skills translate to the fantasy game? In the future, he figures to be a big-time assist man with the ability to create plenty of steals (thanks to his knack for getting in the passing lanes). But rookie point guards tend to struggle with the speed and pace of the NBA, and Rubio undoubtedly will go through some growing pains in his first season. In a best-case fantasy scenario, Rubio will fall to the Sacramento Kings at No. 4 and be able to earn ample minutes at the point in his first season as a pro. But most are expecting that he'll be gone by then, and he might not have the same opportunities for immediate minutes if he's selected by the Memphis Grizzlies or Oklahoma City Thunder. Rubio could find some decent playing time in Oklahoma City if the Thunder decide to move Russell Westbrook to the 2-guard, but fantasy owners should proceed with caution depending on where he lands in June.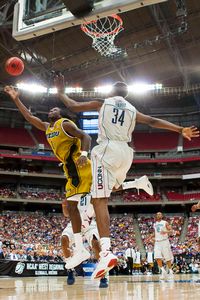 Chris Morrison/US PresswireHasheem Thabeet's greatest value as a rookie will be in blocks and on the glass.
Hasheem Thabeet, C: From the moment he's drafted, Thabeet will immediately become one of the league's most dynamic shot-blockers. There is no doubt that he is ready to step into the NBA and dominate the paint on the defensive end, but he'll have a lot of work to do on the offensive side before he can become a complete fantasy player. Still, Thabeet is in a good spot here. He'll be drafted either by the Grizzlies at No. 2 or the Thunder at the No. 3 spot, and he should be able to earn quality minutes right from the start if either scenario plays out. That means we should be able to rely on him for solid rebounding numbers and about 2-3 blocks per game as a rookie.
James Harden, SG: Although he doesn't possess the physical gifts some of his counterparts in this draft do, Harden is a natural scorer who finds ways to get himself to the basket and the free throw line. I'm willing to overlook his athletic misgivings and forgive his poor play in the NCAA tournament simply because this kid is a smart player and an NBA-ready talent. As a fantasy player, Harden has plenty of potential. He'll be mostly a scorer with 3-point range, but should also help in steals and post above-average numbers in rebounds and assists for a shooting guard. And the best part is that he should be able to contribute right away if he lands in a favorable situation.
Jordan Hill, PF: Hill gets high marks for his athleticism and energy on the court, but his ability is still fairly raw and he might need a year or two to realize his full potential. If Hill has any fantasy value this season, it will be mostly on the defensive end, on the boards and in the shot-blocking department. His offensive game needs a lot of work before he'll become a consistent threat, so temper your expectations for the rookie on the offensive side.
DeMar DeRozan, SG: DeRozan already has the scouts drooling about his athleticism and NBA-ready body, but at 19 years old, he has a lot of maturing to do before he'll be ready to contribute in the fantasy game. The future looks bright for DeRozan, particularly as a scorer, but let's not overrate the youngster for the upcoming season based on his future upside.
Tyreke Evans, SG: Evans needs to work on his jumper and shot selection, but there's a lot fantasy owners should like about the 19-year-old thanks to an incredible 6-foot-11 wingspan that will aid in creating steals and even blocking some shots from the guard position. Evans could turn into a nice sleeper if he falls to a team that can use him right away. Just be sure to keep in mind that he could be a drain on the field goal percentage category because of the aforementioned shot selection problems.
Stephen Curry, PG/SG: Curry will be a polarizing player in the fantasy game, as some are convinced that his skills will translate well in the NBA while others are not sold because of his lack of size and strength. Look, we all know Curry can score and hit the 3, but we'll have to see more of him against NBA talent to know whether size will be an issue for him at the next level. That's why we'll be paying close attention to his progression in the summer leagues. Curry could very well end up being one of the more productive rookies in this class if he ends up in New York because he seems like a great fit for Mike D'Antoni's offense.
Eric Maynor, PG: Sleeper alert. Maynor flew under the radar for much of the college season at Virginia Commonwealth, but he has all the tools to step into the NBA and contribute right away. He's known as a big-time scorer, but also has the ability to spread the ball around and hand out assists. Maynor's most redeeming fantasy quality is his ability to create steals at a high rate. With 1.7 steals per game at VCU, Maynor could become one of the league's top ball hawks.
Jonny Flynn, PG: Flynn doesn't get nearly enough love in pre-draft projections, and he could end up being the steal of the draft if he falls out of the top 10 on draft day. His fantasy value will depend largely on where he lands, but Flynn certainly has the potential to be an immediate contributor in the NBA. He will need to work on his long-distance shooting to become a complete fantasy player, but Flynn has the talent to be a major force in points, assists and steals if he can earn consistent minutes in his rookie season.
Others to follow: Ty Lawson, Jrue Holiday, Brandon Jennings, James Johnson, Earl Clark.
Brian McKitish is a fantasy basketball analyst for ESPN.com. He can be reached at bmckitish@yahoo.com.
Fantasy Basketball
Brian McKitish is a fantasy basketball analyst for ESPN.com and is a two-time Fantasy Basketball Writer of the Year, as named by the Fantasy Sports Writers Association.
SPONSORED HEADLINES
FANTASY TOP HEADLINES
MOST SENT STORIES ON ESPN.COM