Commentary
Impact of old faces in new places
Stock up for Villanueva; stock down for Turkoglu
Updated:
September 24, 2009, 2:49 PM ET
By
Josh Whitling
| Special to ESPN.com
The 2009 offseason featured a flurry of movement that impacted the fantasy world, since changing teams often drastically affects a player's statistical output. A player's role, the team's style of play, coaching staff, locker room chemistry, etc. all impact his prospects, even if he's still playing 34 minutes as a starting shooting guard just as he had the previous season. Listed below are players who changed locales in the offseason, lumped into three categories based upon the impact moving to a new team will have on their stats: plus, wash, negative (I came up with cute nicknames for the categories which you'll see below).
It's important to note that a player being lumped into a category doesn't necessarily mean his production will improve, stay the same or get worse. It just indicates whether or not his new soil is fertile, similar or barren. I saw an orchid grow in kitty litter once (not really), so if you deeply believe in the player, don't worry too much about his team. How you think the player will capitalize or react is the true determinant of his value this season, not the change in uniform, although this should let you know what type of ground the player stands upon compared with last season.
Found their happy place
Allen Iverson, PG/SG, Grizzlies: After a dismal season in Detroit, A.I. was only the answer to desperate last-minute questions for a historically mishandled franchise. The Chauncey Billups trade uncovered his flaws and directly killed his actual and fantasy value, and the Pistons' experiment indicates that you can't just add him to a team and expect to get better, you must build the rest of the team around him and then you might be just a bit above average. Iverson will require a fundamental switch in playing style and role on team to mesh in Memphis, and playing in a backcourt with O.J. Mayo on a team with Rudy Gay and Zach Randolph means he might finally put up a respectable field goal percentage. He'll likely see fewer minutes than ever before, but we could see a late-career surge in 3s (1.2 for his career, just 0.5 for the Pistons last season). He'll still provide assists and steals, and could improve upon last season if he accepts a more specialized role.
Vince Carter, SG/SF, Magic: The move from Toronto to Orlando is generally viewed as statistically promising for Carter, as he's leaving an offensively inferior team with a franchise point guard and less help. Stan Van Gundy will ask him to handle the ball regularly and exert his veteran presence, but be less responsible for taking over games and being the man. He could dip below 20 points per game and play around 35 minutes for the first time since his rookie campaign, but will experience better efficiency and peripheral stats surrounded by the talent in Orlando and overall is an upgrade who could have his best fantasy season in years.
Charlie Villanueva, SF/PF, Pistons: (Note: If you're in a fantasy basketball league with Josh Whitling, please skip straight to Shawn Marion.) Just like "Sister Act 2" was better than the original, the Pistons are a delightful upgrade over the woeful Bucks for Villanueva and his 27 minutes per game despite being arguably the most talented player on the team. He was treading water in Milwaukee, and now he has a chance to shine for the Pistons, especially with no Rasheed Wallace or Antonio McDyess around. He's suddenly the only player other than Tayshaun Prince over 6-foot-8 with any offensive game for the Pistons, meaning he'll be in the paint, and on the court, a ton. Also, with the addition of Ben Gordon, they look committed to putting forward a fast-paced, young, dynamic offense without as much of the strategy and plodding nature as the Pistons of yesteryear. His versatility even opens the possibility of him playing some center when they go very small (Rodney Stuckey, Gordon, Richard Hamilton, Prince) and his boards should increase because nobody in that lineup can grab more than five per game. That, combined with increased minutes, improved per-minute production and a superior franchise, spells glory for Villanueva. This is why he's on every one of my keeper lists, as well as a few of my other secret lists as well. Only my journal knows those secrets, though.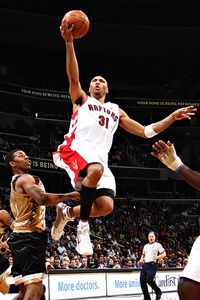 Ned Dishman/Getty ImagesHe's not the fantasy stud he once was, but Shawn Marion's still got something left in the tank.
Shawn Marion, SF/PF, Mavericks
: Unless Marion resurrects his long-lost 3-point shot (he averaged as many as 1.7 per game in past seasons), he'll never be the fantasy dynamo that made him a perennial top selection in leagues which count turnovers. A new team with a recent history of winning and
Jason Kidd
should breathe life into his game, and even though he'll never provide the cornerstone-type numbers he used to, he's now turned into a nice glue player who provides sound production in points, rebounds, blocks, steals and percentages with low turnovers. I see an increase in points, 3s and rebounds, but the crazy steal/block combo is a thing of the past. He could play a ton of minutes at the 4, which is his most fantasy-friendly position. Last season,
Chris Bosh
and
Andrea Bargnani
were on the floor, sliding Marion to the 3. Regardless of starting lineup, Dallas' go-to lineup in the clutch will be Kidd,
Jason Terry
,
Josh Howard
, Marion and
Dirk Nowitzki
. Upgrade Marion, endure the snickers and jokes about it not being 2006 anymore during the draft, and then ride him as he overperforms his draft value all season long. The Matrix has gotten worse with each new team he's joined (much like the "Matrix" movies got worse with each release), but that trend should stop in Dallas.
Trevor Ariza, SF, Rockets: Despite the fact I think he was both overrated and overpaid in the real world this offseason, Ariza undoubtedly finds himself in a situation in Houston much more suited to him taking a statistical leap forward. He was the definition of a key role player in L.A., but the true test will simply be, can he be more than that? If he can't be a top-two guy on the team, the Rockets are screwed. Regardless, the loss of Ron Artest and Yao Ming creates tons of touches, and he'd likely average more points per game this season if he was forced to play with one shoe. With both shoes, 30-plus minutes per game and his insane steal totals, he'll see a huge upgrade in fantasy value, and could average an interesting combo of one 3-pointer, two steals and half a block per game. Despite the relative doughnut in percentages, boards and assists, Ariza's steals coupled with the fact that last season was the first in which he attempted a significant number of 3s are worth getting excited about. And that he's going to have free rein to bomb away makes him an upgrade.
Rasheed Wallace, PF/C, Celtics: He can dominate any game he wants, and if he stays healthy this will be a prime opportunity for him to still flex his fantasy prowess (those 3s and blocks are still there) with better efficiency and lots of open looks with four other stars on the squad. Even if his points and boards are unimpressive, I'm happy in any two-center league when Sheed is one of mine. He was unhappy on his way out of Detroit, and is elated to be amidst superstars. And since Wallace is the type of player whose attitude and motivation significantly affect his productivity, fantasy players should be happy that Sheed is happy.
Randy Foye, PG/SG, Wizards: Foye isn't in line for a significant minutes increase, so he won't explode, but the Wizards' style of play fits him much better. Flip Saunders should run, and leaving the black hole that is Minnesota will help him inch closer to reaching his potential. The true upside here would come if Gilbert Arenas is unable to remain healthy. Then, Foye would run the show and all his stats other than shooting percentage and turnovers would skyrocket (well, turnovers might skyrocket, which would be bad). Foye makes an excellent upside pick who ranked 100th last season on the Player Rater and should finish higher this season.
Mike Miller, SG/SF, Wizards: Miller could start at shooting guard for the Wizards' awkward roster, and he's proved his talent with statistically impressive campaigns in the past. Minnesota completely stifled his value, so anything should be better this season, and with his sneaky dimes, efficient shooting and veteran savvy, he could be in line for a major bounce-back. A deft passer, Miller could steal some hockey-style assists from Caron Butler, but overall the addition of Miller and Foye helps Butler and Antawn Jamison immensely, since they had to carry the team in the past when Arenas was out. Now that the team has strangely sacrificed youth and the future for a win-now mentality, the value of those veteran starters increases.
Courtney Lee, SG, Nets: He won't fill all the holes left by the departure of Vince Carter, but will be a critical cog in the Nets' rotation and should provide steals and 3s in bunches. Expect Lee to improve considerably upon his numbers from last season, both because he'll see much more than 25 minutes per game and the fact he will be more involved in the offense. He needs to start adding new layers to his game, like creating offense off the dribble and getting to the line. Lee would make it off athleticism alone, but his stellar defense and cerebral game will keep him on the floor for big minutes, which gives him the chance to be the breakout player of the season on a silver platter. He likely won't get to that point, but is a shallow sleeper and worth reaching a bit for based upon his average draft position.
They are who we thought they were!
Ben Gordon, SG, Pistons: It's frustrating to own a guard on the same team as Gordon, who is his own offense. He doesn't play off teammates, forces his own shots and turns many possessions into 1-on-5 contests, which actually translates into an impressive fantasy game, one that will remain constant. But coexisting with Rip Hamilton and Rodney Stuckey will be an adventure, as there's no pure point guard on the floor, and they are three players whose styles aren't complementary. Overall, his game is his game, so don't expect much difference from Gordon, although his departure helps the Bulls' backcourt and hurts the Pistons in fantasy. Perhaps the biggest impact here is how he affects Stuckey's promising value, and if he proves he can run the point for stretches (which has been rumored), Gordon will likely hinder Stuckey's development.
Brandon Bass, PF, Magic: Bass has been on the sleeper radar for years, and he'll make some noise during the first 10 games of the season with Rashard Lewis serving his suspension. In addition, when Orlando goes big (Jameer Nelson, Vince Carter, Lewis, Dwight Howard) he'll have some value. He's teased us for years, and it's frustrating he didn't parlay his free agency into a big-minutes starting situation, although Bass provides a nice complement to Howard, and when both are on the floor they'll become one of the strongest front lines in the league . Howard and Marcin Gortat soak up most minutes in the paint, and with Lewis on the floor, often at power forward, and Mickael Pietrus in the mix, Bass is in a crowded rotation. Consider this a slight upgrade from Dallas, but he could have had a breakout season had he signed with a team that would give him more than a supplementary role on a deep roster.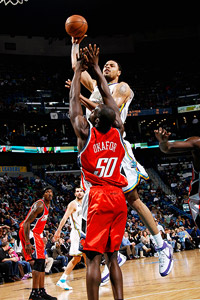 Layne Murdoch/NBAE/Getty ImagesTyson Chandler may be soaring over Emeka Okafor here, but their fantasy values will tell a different story.
Emeka Okafor, C, Hornets, and Tyson Chandler, C, Bobcats
: Unless you believe that either Okafor or Chandler was held back in his previous system, the center-for-center swap won't drastically change their statistics. Playing with
Chris Paul
should help Okafor's offensive game, although he's not the alley-oop target that Chandler is, and won't suddenly be a nightly 20-10 threat. He should be good for about 14 points, 10 boards and 2 blocks, legitimate No. 1 center stats. Slightly upgrade Okafor, and apply a similarly slight downgrade to Chandler. Why the Bobcats traded the face of their franchise for Chandler is a mystery, kind of like why when you type Player X's name into Google does it immediately fill in Player X's girlfriend as the top search? Anyway, Chandler's situation is potentially less fruitful, but he'll still be productive and play big minutes in the middle for Charlotte.
Jamal Crawford, SG/PG, Hawks: Crawford's game is peaks and valleys. He managed to finish 80th on the Player Rater last season -- despite being the most harmful player in the field goal percentage category -- thanks to his points, 3s, steals and assists. His efficiency should improve in a crowded backcourt with fellow vets Mike Bibby and Joe Johnson around, as he'll play both guard roles and most likely be featured as the sixth man. This trio and its shared versatility are nice in the real world, but they all hurt each other's value in the fantasy game, and all three are worth downgrading a bit. Overall, though, don't allow this trade to determine what you think of Crawford; he'll be about the same as usual, it's your choice whether or not you want to build around his flaws.
Ramon Sessions, PG, Timberwolves: After a bevy of offseason speculation which had Sessions rumored to be landing with half the teams in the league, he finally got that decent contract and wound up with the Wolves once it was clear Ricky Rubio wasn't sniffing the States in '09-10. Sad thing is, he landed in an awful situation, with the point guard(s) of the future already banked upon, and even though Sessions got his contract, it reminds me of the victim of the classic prank involving a paper bag, a doorstep, dog waste and fire. He put out the fire that was playing and being underpaid in Milwaukee, but now he has to deal with the stuff on his shoes. Ultimately, he'll share duties with Jonny Flynn this season like he did with Luke Ridnour last season, and inch closer to 30 minutes per game as the featured point guard in the platoon. But he won't have the value he would have had if he'd landed with a team that was going to feature him at the point, so him landing in Minnesota is a buzz kill after the aforementioned media hubbub.
New Home = Kitty Litter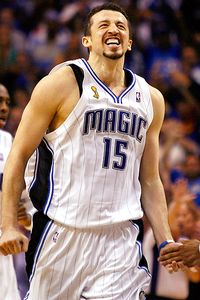 Chris Graythen/Getty ImagesHedo Turkoglu's move to Toronto isn't all that exciting for fantasy leaguers.
Hedo Turkoglu, SG/SF, Raptors
: In Orlando, Hidayet (I call him by his full name when I'm concerned) averaged five assists per game the past two seasons, played point forward and was handed the ball in the clutch. Now he's in Toronto, and it's sweet that his wife likes it there, and he'll be surrounded by fellow Europeans (seriously, start listing players' countries of origin and you're bound to win that game of "Where in the World is Carmen San Diego?"), but it's a worse fantasy atmosphere. His dimes will likely drop into the high 3s per game with pure point guard
Jose Calderon
around, and his shooting percentage will remain low with fewer double-teams on Chris Bosh and Andrea Bargnani, compared with Dwight Howard, Rashard Lewis, Jameer Nelson and the rest of the deep Orlando squad. His efficiency will suffer with a shallower Raps roster, although an increase in scoring, 3s and rebounds, with the softer front line in Toronto, is likely. Turkoglu's overall statistical output won't match that of last season, although everybody is so down on him and loves VC in that trade so much, that you shouldn't let him fall to a ridiculous spot. He should still go in the first eight rounds, just not the first five, as he had the ideal situation in Orlando, and the one in Toronto is simply less desirable.
Anthony Parker, SG, and Jamario Moon, SF, Cavaliers: Both players demonstrate how being traded to a deep championship contender to be a role player destroys value, despite talent and work ethic. Downgrade both, and the players whose value they'll hurt by spelling just enough. These acquisitions were boring, especially in a fantasy sense, but are an example of how small moves have inconspicuous consequences. Moon's departure from the Miami Heat opens the door for even more minutes for Twitter-fiend Michael Beasley, who is surrounded by countless questions but undoubtedly not one about his talent. Beasley is another guy on all of my lists, because his basement is last season's per-minute numbers plus a few more minutes. And when you are 25th in the league in points per 48 minutes as a rookie and have an offensive ceiling topped by only as many players in the league as you can count on one hand, little moves like Moon moving help even more. I acknowledge and insincerely apologize for the fact that this paragraph has been primarily about Beasley even though he didn't switch teams. I'm planning on riding the bad PR and choosing Beasley a couple of rounds before his ADP in drafts.
Andre Miller, PG, Trail Blazers: Moving from the run-and-gun Sixers (more than 18 fast-break points per game last season) to the plodding Blazers, with the methodical Brandon Roy running the show in silky slow motion, isn't a promising switch of fantasy landscapes. He's now on a team with far more offensive weapons, will be playing off the ball more, is in a more crowded backcourt rotation and generally won't be as heavily relied upon as an offensive force in the Northwest. He'll help the Blazers, but won't have one of his statistically better seasons in Portland. Miller won't finish 34th on the Player Rater as he did in 2008-09, and I always drop point guards like Miller who don't shoot 3s down about 10 notches in my personal rankings anyway, because of the compensations necessary elsewhere. His scoring has been a couple of points above his career average the past two seasons, but that won't continue this season, and his assists have dipped in each of the past three, a decline that has likely leveled out, although it's foolish to think they'll increase with Roy around.
Ron Artest, SF, Lakers: Kobe Bryant makes teammates better players. Kobe is also one of the few alpha males in the league who won't submit to Artest and might even be able to convince him to be his beta in the pack. The real question is, does Artest still possess the athleticism to be a game-changer at the defensive end, or is he now just above average? His offense will be more efficient and his 3s will increase with the open looks the Lakers' depth will provide, but overall he won't be a statistical monster, and his minutes and overall production will decline. Since team wins aren't a fantasy stat, Artest's impact will be felt much more in the actual league and not the one we all made up in our minds and play over magic boxes.
Richard Jefferson, SF, Spurs: Jefferson will be great during the times when Manu Ginobili is down and he'll boast improved efficiency, but only because he's suddenly a fourth wheel. This means the rest of his stats will dip even if his percentages climb. Along with the efficiency, he'll see a spike in 3s with the depth on the Spurs' roster and point guard Tony Parker collapsing defenses by attacking the paint. But his lack of defensive stats and the shift in roles will make Jefferson a fantasy afterthought this season.
Shaquille O'Neal, C, Cavaliers: Shaq will again be dominant from the field, terrible from the line, play fewer games than last season's 75 and have inferior overall stats. He won't fall off the table, but his sole role on the team is to help LBJ win a championship when it counts, not put up impressive regular-season stats so his fantasy owners thrive. If that means playing him in the low 20s for minutes most of the season I wouldn't be surprised, especially with the aging but still surprisingly capable Zydrunas Ilgauskas still in the mix. Upgrade for the Cavs, downgrade for Shaq's fantasy value.
Josh Whitling is fantasy basketball analyst for ESPN.com.
Fantasy Basketball
Josh Whitling is a fantasy basketball analyst for ESPN.com.
2009-10 Basketball Draft Kit
ESPN.com's fantasy experts offer all the information you'll need to succeed in your draft this year.
Draft Kit Home
Get in the Game
• Create a league
• Live draft lobby

2009-10 Projections and Profiles
• All players | Sortable
• PG | SG | SF | PF | C
2009-10 Rankings
Video
Strategy and Analysis
Love/Hate for 2009-10
•
McKitish's Draft-Day Manifesto
• Mock drafts:
Sept. 29
|
Oct. 15
• ADP trends:
Oct. 9
|
Oct. 16
•
Offseason movement analysis
•
In-depth look at positional scarcity
•
Rookies to watch in 2009-10
•
One-category wonders, blunders
•
Sleepers and busts for deeper leagues
•
Turnover leagues: Top 100 rankings
•
Draft strategy: Tips for building a winner
•
How to win with Dwight Howard
•
Auction draft strategy
•
Head-to-head versus roto strategy
•
Art of drafting value
•
Impact of coaching changes
•
Eight keys to winning your league
•
Intro to fantasy basketball
One-on-One series
• Amar'e Stoudemire vs. Al Jefferson
• Kevin Durant vs. Dwyane Wade
• Jose Calderon vs. Jason Kidd
• David Lee vs. Elton Brand
• Baron Davis vs. Monta Ellis

Division Previews
• Atlantic | Central | Southeast
• Southwest | Northwest | Pacific
MOST SENT STORIES ON ESPN.COM