Commentary
Rookies worth watching now
Griffin, Curry, Harden should contribute immediately; others may have to wait awhile
Updated:
September 24, 2009, 2:48 PM ET
By
Neil Tardy
| Special to ESPN.com
Many fantasy owners refuse to draft rookies under any circumstance. It's a justifiable position, given that the Derrick Rose types who walk into a starting lineup on day one are rare. Even among productive rookies, it takes time to adapt to the pro game. Consider some of the other standouts from last season's solid rookie class, players like Eric Gordon, Kevin Love and Russell Westbrook. You wanted them on your team -- eventually. However, they didn't become steady fantasy performers until December or January.
So what then are we to make of this year's rookie crop, given that much of the talk before the draft was how weak this incoming class was?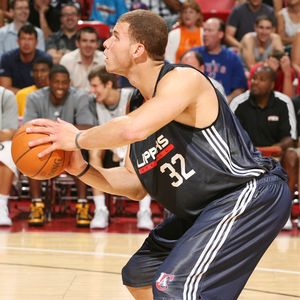 Jack Arent/NBAE/Getty ImagesBlake Griffin looks to be the most valuable fantasy rookie coming into the season, although his free throw percentage could be an issue.
What follows is a quick rundown of some of the rookies most likely to make an impact for fantasy. I attempted to weigh rookies by the opportunities they'll get as well as their ability, so I established three categories: Should Play Right Away, Should Play Eventually and Keeper Potential.
This list isn't meant to be complete, but the rookies listed here (along with a few others) all are likely to be selected in keeper leagues at the very least. But the players listed in Keeper Potential are those whose fantasy value is, I feel, limited to keeper leagues for this season. They're not going to help out a lot this season, but could be something in future years.
For what it's worth, as a fantasy owner I come down more on the side of the rookie-averse. I never say never, but I seldom draft first-year players. I prefer the known commodities. I'm cautious.
And, regardless of how you feel about rookies for your fantasy team, I encourage you to be cautious and maintain perspective. It's easy to make too much of what is said and written in the offseason and during training camp. For instance, I just saw this glowing review about the New Jersey Nets' Terrence Williams. Apparently the 11th overall pick is wowing his teammates in pre-camp workouts. Yeah, I find that interesting, but I'm restraining my enthusiasm. This summer, the Nets brought in Courtney Lee, a pretty good young player himself. Williams will have to show a lot more to leap past Lee and get playing time. He'll have to show even more to become a fantasy factor.
However, I do think the fantasy factors are here. Down year or no, I believe there are rookies who are worthy of selection in standard fantasy drafts. And I mean rookies, plural. Yes, other rookies in addition to Blake Griffin. So let's get to it.
Should Play Right Away
Blake Griffin, PF, Los Angeles Clippers: Griffin led off this year's NBA draft, and he'll be the first rookie taken in most fantasy drafts. This isn't often said about Clippers newcomers, but Griffin finds himself in a good situation. He figures to fit in behind Marcus Camby and Chris Kaman, so he'll get minutes without having to carry the load. A healthy Baron Davis should also ease his transition.
If Griffin's NBA Vegas Summer League showing is an indication -- he averaged 19.2 points and 10.8 rebounds and was named the most outstanding player despite injuring his shoulder -- he should be ready to produce from day one. While he can potentially help fantasy owners in points, rebounds and field goal percentage, keep in mind that Griffin shot just 58.9 percent from the line at Oklahoma. It's also worth wondering how the 6-foot-10 Griffin's hustle stats -- he averaged 1.1 steals and 1.0 blocks per game as a collegian -- will translate to this level.
James Harden, SG, Oklahoma City Thunder: I can see Harden being this season's Eric Gordon. While the Thunder value Thabo Sefolosha's defensive-mindedness, Harden's 3-point shooting fills a glaring need. The third overall pick is polished, and he should get ample minutes early on.
Stephen Curry, G, Golden State Warriors: Can Curry, a scoring phenom at 2-guard in college, transform himself into an NBA point guard? Maybe the summer workouts with Chris Paul will help him. And maybe Don Nelson's system will suit him. But it sure seems like a lot to ask of a young player.
Should Play Eventually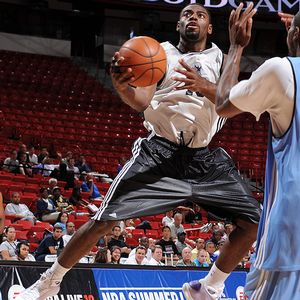 Garrett W. Ellwood/NBAE/Getty ImagesTyreke Evans has plenty of ability, but does he have the mentality to be a top point guard in the league?
Tyreke Evans, PG, Sacramento Kings: The fourth overall pick has the talent, and he just may get the opportunity, but is he ready? The Kings' current starting point guard is Beno Udrih, a confirmed mediocrity who may not be ready for the start of training camp due to a knee injury. As he showed in his one collegiate season at Memphis, Evans can take it to the rack and, unlike a lot of rookies, he should be a valuable defender. That said, Evans is raw when it comes to the point guard position. According to The Sacramento Bee, passing and shooting the jumper aren't strong suits right now. Still, Evans is one player you'll want to follow in camp.
Jonny Flynn, PG, Minnesota Timberwolves: For all of the focus on Ricky Rubio this summer, the Wolves did draft a point guard who will actually suit up for them on opening night. The organization loves Flynn. The Wolves love his game and they love his attitude. However, with the recent additions of Ramon Sessions and Antonio Daniels, don't expect him to run the show right away. In standard leagues, Flynn may not merit a draft pick, but later in the season, he could be a solid source of assists.
Brandon Jennings, PG, Milwaukee Bucks: I had Jennings tabbed as strictly keeper-league material, but the Bucks are making me waver on this. They've worked him hard in the offseason, wanting him to improve his strength and conditioning. And now that I think about it, Luke Ridnour and Roko Ukic aren't exactly pillars at the point. Jennings, who will be 20 by the season opener, has tons of ability. Maybe we will see a bit of it this season.
Keeper Potential
Hasheem Thabeet, C, Memphis Grizzlies: The 7-foot-3 Tanzanian is raw offensively, and he'll share time with Marc Gasol. However, Thabeet does offer tantalizing potential as a shot-blocker, having averaged more than four per game in his final season at UConn.
Ty Lawson, PG, Denver Nuggets: Though Lawson slipped to the 18th pick, there's plenty of love for the kid's slash-and-drive game and championship pedigree. Getting a chance to develop behind Chauncey Billups should only help him for the future.
Sam Young, F, Memphis Grizzlies: Young surprisingly fell to the second round, and he currently sits behind Rudy Gay on the Grizzlies' depth chart. He should get minutes right away, but it's hard to imagine him seeing enough action to be a fantasy factor this season. Still, Young is athletic and hardworking. He should find success as a pro.
DeJuan Blair, F, San Antonio Spurs: Blair went right after Young, and the Spurs believe they got a draft night gift. While others saw a player with two surgically repaired knees, the Spurs feel the 6-foot-7 Blair will get after it on the glass. For this season, Blair should get some minutes behind newcomer Antonio McDyess, who just turned 35. But in a year or two, he should register solid point and rebound numbers in fantasy.
Neil Tardy is a fantasy basketball analyst for ESPN.com.
Fantasy Basketball
Neil Tardy is a fantasy basketball analyst for ESPN.com
SPONSORED HEADLINES
FANTASY TOP HEADLINES
MOST SENT STORIES ON ESPN.COM
2009-10 Basketball Draft Kit
ESPN.com's fantasy experts offer all the information you'll need to succeed in your draft this year.
Draft Kit Home
Get in the Game
• Create a league
• Live draft lobby

2009-10 Projections and Profiles
• All players | Sortable
• PG | SG | SF | PF | C
2009-10 Rankings
Video
Strategy and Analysis
Love/Hate for 2009-10
•
McKitish's Draft-Day Manifesto
• Mock drafts:
Sept. 29
|
Oct. 15
• ADP trends:
Oct. 9
|
Oct. 16
•
Offseason movement analysis
•
In-depth look at positional scarcity
•
Rookies to watch in 2009-10
•
One-category wonders, blunders
•
Sleepers and busts for deeper leagues
•
Turnover leagues: Top 100 rankings
•
Draft strategy: Tips for building a winner
•
How to win with Dwight Howard
•
Auction draft strategy
•
Head-to-head versus roto strategy
•
Art of drafting value
•
Impact of coaching changes
•
Eight keys to winning your league
•
Intro to fantasy basketball
One-on-One series
• Amar'e Stoudemire vs. Al Jefferson
• Kevin Durant vs. Dwyane Wade
• Jose Calderon vs. Jason Kidd
• David Lee vs. Elton Brand
• Baron Davis vs. Monta Ellis

Division Previews
• Atlantic | Central | Southeast
• Southwest | Northwest | Pacific