Commentary
What is Andre Miller's upside?
Updated:
October 21, 2010, 11:53 AM ET
By
Seth Landman
| Special to ESPN.com

Is Andre Miller being undervalued now that Steve Blake is gone?
Portland Trail Blazers point guard Andre Miller is currently being drafted 92nd on average in ESPN live drafts. That puts him 24th among point guards, and considering that he's the starter for one of the league's best teams, it might seem a bit low at first glance. It might seem even lower when you take into consideration that Miller doesn't really have a backup after the departure of Steve Blake, unless you think Jerryd Bayless or rookie Elliot Williams is ready to step into a more prominent role (and those two are both probably better served playing at shooting guard rather than the point).
In our ESPN.com mock drafts, Miller hasn't fared much better; he went 108th in the first one and 90th in the second one. Basically, it's clear that Miller's value is pretty similar no matter where you look.
In looking a bit further into the issue, you have to wonder: Why is Miller being rated this low when he finished 77th on the Player Rater last season, posted a PER that nearly matched the best years of his career, is easily the most durable player in the NBA, and currently has no backup pressuring him for minutes?
The answer is actually pretty simple. Miller is not a very good fantasy player, accumulating value more through durability than through any sort of meaningful statistical production. He'll provide you with assists, and he'll make small contributions in free throw percentage, steals and points, but that's where the fun ends. Many people believe Miller is good for field goal percentage, but he's been tailing off in that category for three seasons, and last season's numbers were downright mediocre. Considering he's turning 35 this season, it's hard to imagine he will improve at this point.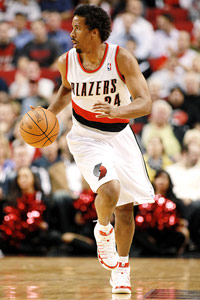 Craig Mitchelldyer/US PresswireAndre Miller can play lots of games and minutes, but will he produce enough to be worth a high pick?
Beyond that, there's a bigger problem looming: Miller simply is a bad fit with Brandon Roy. When Roy was playing great in the first part of last season, Miller struggled, and Miller didn't really manage to pick up his game until Roy was struggling to stay on the court due to injury issues. It's important to remember that this is definitely not Miller's team. The Blazers are going to live and die with Roy, LaMarcus Aldridge and, hopefully, Greg Oden. If Miller is a bad fit, he's going to be a terrible fantasy producer even if he manages to continue logging heavy minutes.
Now, for the sake of argument, let's say Miller does manage to play more minutes and, as such, slightly improve his numbers in the counting stats. Let's say he puts up the numbers we have for him in our current 2010-11 projections: 15.0 points, 5.9 assists, 3.7 rebounds and 1.2 steals. All in all, that's pretty solid production; nothing eye-popping outside of the assists, but certainly numbers you can use. Personally though, even taking those numbers as a given (which, of course, they are absolutely not), I would much rather take a shot on the upside of someone like Rodney Stuckey, Mike Conley, Jose Calderon, Jameer Nelson or a host of other players with games more suited to fantasy basketball. It's not always a question of who is a better bet to produce more; sometimes it's about which player has a better chance of being a major steal. There are no surprises with Miller at this point. In fact, it would be surprising if he was able to maintain his level of play alongside a healthy Roy.
Ultimately, since value is based on what people actually think, it would seem that Miller is being valued quite correctly. No one seems totally willing to take him inside of the top 90 picks in any draft, and he's a pretty safe bet for decent production any time after that. If you've already taken some chances at point guard earlier in your draft (say, John Wall, for example), maybe a guy like Miller (who, at the very least, should stay healthy) is a nice choice and a safe pick. Everything being equal, though, if I'm picking a backup point guard in the top 90 picks, I'm drafting someone with a chance to be better than Andre Miller.
Seth Landman is a fantasy basketball analyst for ESPN.com.
Fantasy Basketball
Seth Landman is a fantasy basketball analyst for ESPN.com.
SPONSORED HEADLINES
FANTASY TOP HEADLINES
MOST SENT STORIES ON ESPN.COM
2011 Basketball Draft Kit
ESPN.com's fantasy experts offer all the information you'll need to succeed in your draft this year.
Draft Kit Home
Get in the Game
• Create a league
• Live draft lobby

2010-11 Projections and Profiles
• All players | Sortable
• PG | SG | SF | PF | C
2010-11 Rankings
• Overall | PG | SG | SF | PF | C
• McKitish's Top 200 | Cheat Sheet (PDF)
Positional Previews
Video
Strategy and Analysis
• Players to target in turnover leagues
• McKitish's Love/Hate for '10-11
• Sleepers/Busts for '10-11
• McKitish's Draft-Day Manifesto
• Mock draft analysis: Oct. 15 | Sept. 23
• Offseason movement analysis
• Rookies to watch in 2010-11
• Potential fluke players revealed
• Risk-taking draft approach
• Auction draft strategy
• Draft strategy: Tips for building a winner
• Head-to-head versus roto strategy
• Intro to fantasy basketball