Commentary
One-category wonders, blunders
Updated:
October 7, 2008, 4:53 PM ET
By
Josh Whitling
| Special to ESPN.com
In fantasy hoops, categories are everything because players have the opportunity to contribute in all of them every night. This not the case in baseball, in which hitters and pitchers are limited to five stats, or football, in which fantasy points are the primary focus and touchdowns are sacred. Fantasy curling, however, is multicategorical madness.
Since hoops is so focused on the categories, it elicits "one-category wonders" (OCWs) -- one-dimensional players who still contribute to fantasy success. Points and 3-pointers are typically the easiest categories to address through the waiver wire because several players tend to specialize in those areas. Each season, multiple sharpshooters surface as 3-point specialists, so it's a category that I feel you can have a bit of leeway with during your draft since there's often an OCW to address the problem for free. Thus, I'm not including OCWs in the scoring categories, and will focus on steals, blocks, rebounds and assists -- the categories in which it can be more difficult to find specialists.
Later in your draft, it's imperative to select specific players to address the needs created by your first few picks. In my opinion, the best strategy is to do research and come prepared to make the right moves early in the draft -- based upon the picks other owners make -- by capitalizing upon high-value opportunities. The second portion of the draft is spent shaping your team around the cornerstones and compensating for areas of need, as well as reaching a bit for your man-crushes (or "sleepers," for those of you less emotionally driven and more analytically minded in your fantasy focus).
OCWs are to be targeted and utilized selectively, and oftentimes will only be on your roster for stints until another is needed. I'm a proponent of drafting more balanced players and one or two specialists, and then targeting more-specific categories through trade or free agency later in the season as true needs materialize.
One-category wonders
Steals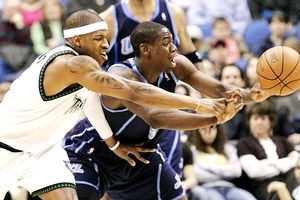 AP Photo/Jim MoneRonnie Brewer's greatest value in fantasy comes from his 1.7 steals per game in '07-08.
Ronnie Brewer, Jazz:
After not bothering to show up for his rookie season, Brewer took steps forward in his sophomore campaign, most notably with 1.7 steals per game, sound perimeter defense and the ability to take high-percentage shots. His free throw percentage also improved from .675 to .759, a good sign in that his shooting has always been the subject of criticism. But he garners no 3-pointers, boards, blocks or assists, and thrives primarily off his athleticism and defense to stay on the court. Brewer has the talent to boast a more well-rounded game, but it will take several years, and I wouldn't look for him to contribute more than points, field goal percentage and lots of steals this season. If he hovers around two steals per game, he'll be a fantasy commodity, since steals can be an especially difficult category to target through free agency.
Brevin Knight, Jazz: Knight bolsters the Jazz's backcourt depth, and even though Deron Williams will gobble up most of the assists and minutes, Knight has averaged at least one steal per game in each of his 11 seasons. Even though he's the oldest player on the team, he has situational upside because if Williams gets injured, Knight will put up big stats as the starting point guard. I think Knight's numbers will improve this season, and that he'll be ahead of Ronnie Price on the depth chart, contributing more than one steal per game yet again. Plus, Knight will benefit from leaving the muddled mess that was the Clippers' backcourt last season.
Larry Hughes, Bulls: Hughes' career has been riddled with inconsistency. But he's consistently been a thief, and he's set to start at shooting guard for the Bulls. Depending upon what happens with Ben Gordon, Hughes is primed for his best season in years if he can avoid injury. This should translate into around two steals per game, and hopefully increased percentages and 3s, as he seemed to lose his shot completely for stretches of last season. Since we've seen what he can do in the right situation, those maladies should be somewhat remedied by a steady role for the Bulls.
Blocks
Darko Milicic, Grizzlies: Long gone are the days when Darko was tagged as a game-changing talent; now he's fighting to stay relevant, which he's managed to do due to his shot-blocking ability. He also doesn't face much competition in the middle in Memphis, with Marc Gasol, Antoine Walker and Darrell Arthur sharing the frontcourt with him. Darko's not a star, but he'll get as many minutes as he can handle in Memphis and should post around two blocks per game.
Andray Blatche, Wizards: Blatche's 1.4 blocks and 0.7 steals in 20 minutes per game in 2007-08 prompt me to tap my fingers together like Mr. Burns when thinking about what he could do with extended minutes. It looks like he'll be the first big man off the bench for the Wizards, and he should back up all frontcourt positions, which should provide increased playing time. He's had off-court issues in the past and will be mired behind Caron Butler and Antawn Jamison for the foreseeable future, but he could average around two blocks and one steal if his opportunities increase, and he's got crazy upside.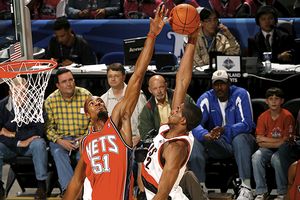 Layne Murdoch/Getty ImagesSean Williams finished in the top 20 in the NBA in blocks per game despite averaging just 17.5 minutes.
Sean Williams, Nets:
Williams had a successful rookie campaign, registering an insane 1.5 blocks in 15 minutes per game as he invited Nets' fans to the Sean Williams Block Party. He will have to expand his game to earn starter's minutes, although he'll surely see more time this season and be an impact player in the block category, while scoring with efficiency (but not frequency) and grabbing a few steals. When and if he does play 30-plus minutes per game, Williams will be among the league leaders in blocks.
Rebounds
Nick Collison, Thunder: Collison has steadily improved in each of his first four seasons in the NBA, and he averaged almost double-digit boards last season with 9.4 per game in 28 minutes. Foul trouble has always limited his minutes, but he's improved in that area as well. Collison can play power forward or center, posts beautiful percentages, a handful of steals and blocks, and high rebound totals. If he continues his trend of improvement, Collison could end the season averaging a double-double.
Jeff Foster, Pacers: Steady Jeff could be the poster boy of this column, as he does one thing with his limited floor time: rebound the basketball. He's been ranked 10th and eighth in rebounds per 48 minutes in the past two seasons, respectively, and is good for 8-plus boards in 25 minutes per game, with stints of increased productivity when he needs to step in due to injuries. This season, Foster is set to start at center with journeyman Rasho Nesterovic and rookie Roy Hibbert competing for minutes. He clearly benefited from the Jermaine O'Neal trade: He's potentially in line for the best season of his career and should flirt with double-digit rebounds as one of the least sexy sleepers in the draft.
Assists
Ramon Sessions, Bucks: After lighting up the D-League to start the season, Sessions turned heads with his 24-assist game and 7.5 assists per game in just 17 outings for the Bucks in the waning days of last season. Now that Mo Williams is out of the picture, Sessions will compete with Luke Ridnour and Damon Jones for point guard minutes in Milwaukee. Sessions has a nice combination of size and speed, and far more upside than any of his competition, so he should get the bulk of the minutes, and will enjoy dishing to Richard Jefferson and Michael Redd. His increased minutes will give us a chance to see if he can contribute elsewhere, as he could emerge as a major fantasy name if he gets a 3 and a steal per game to go along with his assists. Also, he was an above-average rebounder for a point guard in college, averaging 4.7 per game his sophomore season. Sessions is one of the most intriguing players entering the draft, and one I won't mind reaching a few rounds for.
Sebastian Telfair, Timberwolves: In 2007-08, Telfair had his best season as a pro for Minnesota, the highlight of which was his 5.9 assists per game. He, Randy Foye and Rashad McCants will share the backcourt, and although the other two will do most of the scoring, Telfair will continue to distribute the ball. With a year of experience manning the point for the Wolves, Bassy's career has found stability, and he should average more than six assists per game with better all-around numbers. Telfair's finally under the radar and doing his best to establish himself as a regular player.
Jameer Nelson, Magic: Nelson's 2007-08 campaign was his worst overall since his rookie year, apart from his career-high 5.6 assists per game. He also started attempting more 3s later in the season, one that was marred by the loss of his father. With Mickael Pietrus, Hedo Turkoglu, Rashard Lewis and Dwight Howard as offensive options, Nelson should continue to provide assists and have a bounce-back year in other categories after a less-distracting offseason. He'll have little competition from Anthony Johnson.
One-category blunders
For all the help the OCWs can provide, it's also important to identify some one-category blunders: players who are so awful in one area that it dampens their positive contributions elsewhere.
This section focuses on shooting percentages because they have the potential for negative impact. Here are players who are so inept shooting the rock that their value is diminished -- some to the point where you should avoid them altogether.
Field goal percentage be wary: Jamal Crawford, Stephen Jackson, Larry Hughes, Rafer Alston, Jason Kidd, Baron Davis, Tracy McGrady
All of the above are relevant fantasy players who deserve spots on a team. But the most commonly ignored statistic is field goal percentage, because a 41 percent mark doesn't stick out for Crawford the way a 59 percent mark does for Dwight Howard. This is just a disclaimer about these players: They are great, but if you draft them, you must specifically build around their low field goal percentage unless you want to lose that category. Like most attractive options out there, they come with baggage. And as long as you know how to deal with the baggage, the investment should pay off.
Field goal percentage avoid at all costs: Antoine Walker, Quentin Richardson, DeShawn Stevenson, Andrea Bargnani, Jason Williams, Raymond Felton (this one's borderline, but he's burned me too many times and had too many chances for me to be once again enticed by his high assist total)
Free throw percentage be wary: Emeka Okafor, Andrew Bogut, Tyson Chandler, LeBron James, Josh Smith, Rajon Rondo, Andre Iguodala, Al Jefferson, Tony Parker
Free throw percentage avoid at all costs: Reggie Evans, Josh Boone, Ben Wallace, Eddy Curry, Kwame Brown, Renaldo Balkman
Josh Whitling is a fantasy basketball analyst for ESPN.com.
Fantasy Basketball
Josh Whitling is a fantasy basketball analyst for ESPN.com.
MOST SENT STORIES ON ESPN.COM