Commentary
Fantasy Forecaster: Week of Jan. 16
Updated:
January 14, 2012, 7:20 PM ET
By
Neil Tardy
| Special to ESPN.com
If you've managed to get through the first three weeks of the season without a single injury to a key player, here's the best advice I can offer: Don't gloat. Just don't. Don't gloat to the other owners in your league, don't gloat in Conversation, don't gloat to anyone. You're extraordinarily lucky at this point, and it's not likely to last.
All joking aside, this week brought another devastating injury: Al Horford's torn left pectoral muscle. Horford joins Zach Randolph, Manu Ginobili and Brook Lopez as fantasy stars who are down for the long term. And that doesn't include the significant injuries to Stephen Curry and Eric Gordon or the countless other players who have missed at least one game. That list features LeBron James, Dwyane Wade, Derrick Rose, Amare Stoudemire and Ty Lawson and may soon include Carmelo Anthony. At least the indomitable Kobe Bryant, the "wonder of German engineering" that he is, reportedly is feeling better.
While we can't attribute any one injury -- particularly something freakish like Ginobili breaking his hand or something pre-existing like Curry's ankle problems -- to the bare-bones preseason and compressed NBA regular-season schedule, I think it's safe to say that it's having an impact. There was less prep time, more games in fewer days and fewer off days to recover. It just makes sense we're seeing all these injuries, doesn't it?
The good news is that things probably will get better. Why? First, if you haven't seen it, be sure to read John Cregan's excellent piece about the 1998-1999 lockout season and how offensive statistics improved over the course of that schedule. The other cause for optimism is that the 2011-12 NBA schedule is turning more favorable. I never thought I'd say this, but in this unique circumstance, more favorable means fewer games.
Week 4 at a glance
For many teams, the NBA schedule is craziest in the early going. Over these first three weeks of the season (22 days, actually), 12 NBA teams have at least 13 games. By the end of Week 4, about one-third of the season's back-to-back-to-back sets will have been played.
So the schedule is about to normalize to some degree. For instance, in the week ahead, only one team -- the Los Angeles Clippers -- plays five games. Five teams play three times, while everyone else has four games.
Before proceeding, a quick word about the NBA Fantasy Forecaster schedule grid. I've noted before that the Forecaster is geared primarily for owners who set their lineups for an entire week (which is most common in head-to-head formats). But the schedule grid is a tool that serves all constituencies. Owners who make weekly lineups should check the weekly schedule ratings for each NBA team (far right column). The ratings for individual games are intended to assist those owners in roto and H2H leagues that allow daily lineup changes.
These two sets of ratings -- weekly and individual games -- are independently tabulated. That's why you'll see something like the Utah Jazz's upcoming schedule, where the team's individual games against the Clippers, the Dallas Mavericks and the Minnesota Timberwolves receive fairly high ratings (6, 5 and 8, respectively), while the weekly schedule merits only a 3 rating. In weekly lineup leagues, quantity matters. That's reflected in the weekly lineup ratings.
Team

Mon
1/16

Tue
1/17

Wed
1/18

Thu
1/19

Fri
1/20

Sat
1/21

Sun
1/22

Games
T / H

Hawks
TOR
R: 6
OFF
POR
R: 4
OFF
@PHI
R: 5
CLE
R: 4
OFF
4 / 3
R: 6
Celtics
OKC
R: 5
OFF
TOR
R: 6
OFF
PHO
R: 6
OFF
@WAS
R: 5
4 / 3
R: 6
Bobcats
CLE
R: 2
@ORL
R: 2
OFF
OFF
OFF
@CHI
R: 2
@NJ
R: 6
4 / 1
R: 3
Bulls
@MEM
R: 7
PHO
R: 5
OFF
OFF
@CLE
R: 5
CHA
R: 6
OFF
4 / 2
R: 7
Cavaliers
@CHA
R: 8
GS
R: 8
OFF
OFF
CHI
R: 4
@ATL
R: 6
OFF
4 / 2
R: 9
Mavericks
@LAL
R: 3
OFF
@LAC
R: 6
@UTA
R: 5
OFF
@NOR
R: 6
OFF
4 / 0
R: 6
Nuggets
OFF
@MIL
R: 6
@PHI
R: 6
OFF
@WAS
R: 7
@NY
R: 8
OFF
4 / 0
R: 9
Pistons
OFF
@HOU
R: 3
@MIN
R: 4
OFF
MEM
R: 3
POR
R: 1
OFF
4 / 2
R: 2
Warriors
OFF
@CLE
R: 4
@NJ
R: 7
OFF
IND
R: 6
OFF
OFF
3 / 1
R: 3
Rockets
@WAS
R: 5
DET
R: 5
OFF
NOR
R: 4
OFF
SA
R: 4
OFF
4 / 3
R: 5
Pacers
OFF
OFF
@SAC
R: 5
OFF
@GS
R: 6
OFF
@LAL
R: 1
3 / 0
R: 1
Clippers
NJ
R: 6
@UTA
R: 6
DAL
R: 3
OFF
MIN
R: 6
OFF
TOR
R: 4
5 / 4
R: 10
Lakers
DAL
R: 5
OFF
OFF
@MIA
R: 5
@ORL
R: 4
OFF
IND
R: 6
4 / 2
R: 6
Grizzlies
CHI
R: 4
OFF
@NOR
R: 5
OFF
@DET
R: 6
SAC
R: 7
OFF
4 / 2
R: 7
Heat
OFF
SA
R: 6
OFF
LAL
R: 4
OFF
PHI
R: 5
MIL
R: 6
4 / 4
R: 6
Bucks
@PHI
R: 3
DEN
R: 6
OFF
OFF
@NY
R: 5
OFF
@MIA
R: 3
4 / 1
R: 4
Timberwolves
SAC
R: 6
OFF
DET
R: 5
OFF
@LAC
R: 4
@UTA
R: 3
OFF
4 / 2
R: 5
Nets
@LAC
R: 3
OFF
GS
R: 5
OFF
OFF
OKC
R: 1
CHA
R: 2
4 / 3
R: 2
Hornets
POR
R: 2
OFF
MEM
R: 4
@HOU
R: 7
OFF
DAL
R: 2
OFF
4 / 3
R: 4
Knicks
ORL
R: 2
OFF
PHO
R: 4
OFF
MIL
R: 4
DEN
R: 5
OFF
4 / 4
R: 4
Thunder
@BOS
R: 7
OFF
@WAS
R: 8
OFF
OFF
@NJ
R: 10
OFF
3 / 0
R: 7
Magic
@NY
R: 8
CHA
R: 6
SA
R: 5
OFF
LAL
R: 3
OFF
OFF
4 / 3
R: 7
76ers
MIL
R: 5
OFF
DEN
R: 6
OFF
ATL
R: 4
@MIA
R: 6
OFF
4 / 3
R: 6
Suns
OFF
@CHI
R: 5
@NY
R: 8
OFF
@BOS
R: 6
OFF
OFF
3 / 0
R: 4
Trail Blazers
@NOR
R: 4
OFF
@ATL
R: 3
OFF
@TOR
R: 5
@DET
R: 5
OFF
4 / 0
R: 5
Kings
@MIN
R: 6
OFF
IND
R: 5
OFF
@SA
R: 3
@MEM
R: 5
OFF
4 / 1
R: 5
Spurs
OFF
@MIA
R: 5
@ORL
R: 3
OFF
SAC
R: 8
@HOU
R: 6
OFF
4 / 1
R: 7
Raptors
@ATL
R: 4
OFF
@BOS
R: 4
OFF
POR
R: 3
OFF
@LAC
R: 5
4 / 1
R: 4
Jazz
OFF
LAC
R: 6
OFF
DAL
R: 5
OFF
MIN
R: 8
OFF
3 / 3
R: 3
Wizards
HOU
R: 4
OFF
OKC
R: 2
OFF
DEN
R: 3
OFF
BOS
R: 2
4 / 4
R: 2
"R" matchup ratings are based upon a scale from 1 (poor matchup) to 10 (excellent matchup) and are calculated using a formula that evaluates the team's year-to-date and past 10 games statistics, its performance in home/road games depending on where the game is to be played and its opponents' numbers in those categories. The
Games T / H
column lists the team's total number of games played and home games as well as the overall rating from 1-10 for that week.
Players to watch
Matt Barnes, SF, Los Angeles Lakers (DAL, @MIA, @ORL, IND): Barnes has started the past eight games, and in the past four, he has averaged 30.2 minutes, 11.5 points, 7.5 rebounds, 1.0 steal and 65.5 percent shooting. He has made three of his past six attempts from downtown, and you could see Barnes step it up from the outside with this schedule. Miami Heat opponents are second in 3-pointers, while Mavs opponents are sixth. Barnes won't give you good offensive numbers every night, but with starter's minutes, he's well worth putting on your roster in leagues of at least 12 teams.
Josh Howard, SG/SF, Utah Jazz (LAC, DAL, MIN): Now here's someone who's healthy. Seriously, after two injury-plagued seasons, Howard seems poised to revitalize his career in Salt Lake City. Here are Howard's past two games: 17 points against the Cleveland Cavaliers on Tuesday and 18 points with a couple of 3s in a season-high 34 minutes the next night against the Lakers. I shouldn't make too much of this, but I will. Howard was such an efficient fantasy asset at his peak with the Mavs, and the Jazz just aren't getting much from Gordon Hayward or C.J. Miles at the moment. A player of this pedigree available in more than 95 percent of ESPN.com leagues? Roll the dice on Howard, but you might want to buy and hold with this three-game set.
[+] Enlarge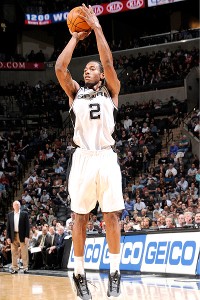 D. Clarke Evans/Getty ImagesKawhi Leonard, the 15th pick in the 2011 draft, is picking up the slack with Manu Ginobili injured.
Kawhi Leonard, PF, San Antonio Spurs (@MIA, @ORL, SAC, @HOU): Fantasy hoops is all about the numbers, but often it's a player's defensive ability that gets him an opportunity to post those numbers. That seems to be the case with Leonard, a rookie who already is being compared to Bruce Bowen. While D will get you in Gregg Popovich's good graces, Leonard is also registering some promising stats for fantasy owners. Playing at least 33 minutes in each of the past three games and making his first start Wednesday versus the Houston Rockets, Leonard is averaging 14.3 points, 7.0 rebounds, 2.0 steals and 1.0 block in that span. That isn't a lot to go on, but let's play along. Heat and Sacramento Kings opponents are second and eighth, respectively in steals. However, Orlando Magic and Rockets opponents are only 28th and 30th, respectively. Leonard is available in more than 95 percent of ESPN.com leagues.
Byron Mullens, C, Charlotte Bobcats (CLE, @ORL, @CHI, @NJ): Last week, I hastily wrote about D.J. White, who since then seems to have slipped further down the Bobcats bench. With that, I offer this poetic statement: The Bobcats are a mess. Heading into Friday's game versus Detroit, they've lost five straight, and in their past two games, they're a minus-38 in rebounds. Yes, minus-38. Mullens' play does seem to be a bright spot, though. Buried on the bench with the Oklahoma City Thunder for two years, the 7-footer was dealt to the Bobcats before this season. Despite averaging only 20 minutes per game, Mullens has scored at least 14 points in five of his past seven outings. In his first start, Mullens scored a career-best 21 points in 33 minutes against the Atlanta Hawks on Thursday. He may not give fantasy owners the boards or blocks they crave, but Mullens is showing he can score at the rim and sink jumpers. I'm not sure what to say about his schedule, other than he'll tangle with Dwight Howard for one night.
Luke Ridnour, PG, Minnesota Timberwolves (SAC, DET, @LAC, @UTA): While Ricky Rubio grabs headlines, some fantasy owners are grabbing Ridnour. It isn't crazy. J.J. Barea is hurt again, and the Wolves are getting nothing from the 2-guard position. Meanwhile, Ridnour has been available and fairly productive. He has played at least 29 minutes in all but two games, and in his past six, the veteran is averaging 14.5 points, 3.7 assists, 1.5 3s and 1.3 steals per game. The Wolves have struggled at the start of games, and Ridnour is still this team's starting point guard. So I'm not sure he's a long-term solution for fantasy. Actually, he may not be that great for the short term either. Clippers opponents are 29th in steals, while Kings and Jazz opponents are in the bottom seven in 3s. On the other hand, Detroit Pistons and Kings opponents are in the top eight in takeaways.
Neil Tardy is a fantasy basketball analyst for ESPN.com. Send him your lineup-related questions at editor_njt64@yahoo.com.
Fantasy Basketball
Neil Tardy is a fantasy basketball analyst for ESPN.com