Commentary
Grand Theft Roto: Six useful deadline strategies
Updated:
March 4, 2008, 5:46 PM ET
By
John Cregan
| Special to ESPN.com
The clock is ticking on the deadline, and some of you are going to have to adjust your expectations if you want to make a trade. Judging by some of these offers, I think some re-evaluations of entire lives may be in order.
Here are some offers I've shot down in the past 48 hours. I'm trying to figure out which one is the most offensive.
5. Rudy Gay and Tyrus Thomas for my Dirk Nowitzki.
4. Chris Bosh (post-knee injury) and Jamaal Tinsley for my Tim Duncan.
3. Steve Nash and Mehmet Okur for my Chris Paul.
2. Andrei Kirilenko (post-hip injury) and Caron Butler (still shelved) for my Hedo Turkoglu.

Wait. I think I just figured it out --
1. Kevin Durant for my Amare Stoudemire.
I'm pained to inform you that some of these offers actually came from my ESPN-based leagues.
It's this type of pork barrel, rip-off mentality that breeds suspicion and leads to a lack of trade activity. (It's the same mentality that leads to people hating Congress, but that's another discussion for a different Web site.)
The trade deadline is only a few days away. You have until Friday to make a move of any real significance. If you're in a league that has playoffs, chances are -- if you're reading this -- that you're still in contention. Just one well-placed deal could make all the difference.
We all know that in a playoff situation, it's not about who had the best regular-season record. The annoying and wonderful aspect about fantasy playoffs is that it's about who is hottest in April. (I'm in the middle of the cabbage soup diet, so I plan on being smoking-hot come playoff time. Seeing your picture online like this is a real motivator.)
Since the deadline is nigh, I'm not going to fill your heads with a bunch of theories and notions. Instead, I'm going to take you on a quick tour of some moves I'm attempting at present. At this time of the year, I tend to gravitate toward the kinds of moves that have worked well for me in the past, even if they're not all that scientific. Sometimes, you have to go with your cabbage-filled gut.
1. Selling high on Marcus Camby.
[+] Enlarge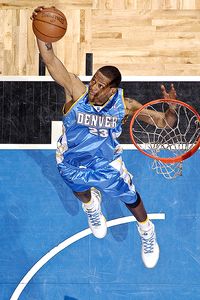 Fernando Medina/NBAE via Getty ImagesMarcus Camby has had an awesome season, but how long can he hold up?
Camby has been one of the great fantasy Cinderella stories of the season. By virtue of simply remaining ambulatory, Camby has carried many a team into the upper echelons of the standings.
I do not have one of those teams. This Camby-led squad is fighting for a wild-card berth. It's also suffered through a rash of injuries, and I know that if I don't make a move, I'll continue to sink.
Camby is at an all-all-all-time high right now. This team is already well stocked in blocks and rebounds. What it needs are 3-pointers and assists.
For whom would I deal Camby? First off, this team needs depth. I'm plugging holes with waiver-wire pickups when I need top-40 producers. Travis Outlaw and Juan Carlos Navarro are nice to have around, but I need studs. I already have Josh Smith and Rasheed Wallace on the squad, so I'm still block-heavy. I have a solid point guard in Chauncey Billups. What I need are 3-pointers, points and assists from the forward spot.
First off, just to satisfy my curiosity, I tried for LeBron James. I offered Camby and spare change for him, and was summarily shot down. It's to be expected, but you have to try.
What next? Well, how about Hedo Turkoglu? Short of James, there's no other forward out there who offers such a tantalizing mix of 3-pointers, scoring and assists. He's actually shifted to the point as of late, which testifies to his passing ability.
Naturally, I'm going to need another player to group with Turkoglu in return. The team that owns Turkoglu in this league also happens to own Brad Miller. Miller has had a very underrated year, and is going nuts (the good kind of nuts) in the post-Bibby era in Sacramento. From 2003 to '05, Miller was one of my best fantasy good-luck charms, and he's at the same level of production at present.
2. Going after members of the Atlanta Hawks.
Again, I'm not basing this on anything overly scientific. I just think that Josh Smith, Al Horford, Joe Johnson and Mike Bibby are going to finish strong, as the Hawks push for a playoff spot.
I drafted Horford in a number of leagues and have been waiting for him to start adding points and consistent blocks to his already gaudy rebounding totals. Since Bibby arrived, Horford's delivered on his promise. I firmly believe that Horford, given his playing a position of need (center), will be the most valuable rookie down the stretch.
3. Going after Danny Granger and Mike Dunleavy.
All hail the Eastern Conference.
The Pacers are in a similar situation as the Hawks. An otherwise mediocre team, they are still contending for the playoffs, thus shortening their rotation. I find it touching that after all the "Mini-Matrix" talk, Granger has actually passed Marion on the 15-Day Player Rater rankings. For the moment, the pupil has surpassed his master.
I own Dunleavy in multiple leagues, and am trying to deal for him in two others. The Pacers are a high-scoring team, rife with fantasy opportunity. The fact that they're flying low on the NBA radar makes their players good trade targets.
4. Taking a chance on Dwyane Wade.
This is more of a desperation move for a struggling fantasy team, but the shutdown talk in recent days has made Wade available in a number of leagues. If you're looking to throw a Hail Mary and can get him cheap, he's worth a shot.
5. Going after steals in Roto leagues.
I've always had the best luck making a late-season move in steals. Again, this is relatively unscientific -- blocks and 3-pointers are also effective -- but historically, steals work out well for me. With thefts in mind, Antawn Jamison, Andre Miller, Rudy Gay, LaMarcus Aldridge and Rafer Alston are all nice players to target.
6. The Postmodern Shaq Strategy.
There used to be a time when if you were struggling and really wanted to shake things up, you'd deal for Shaq just to see what the heck would happen. Well, it's 2008, and Dwight Howard has taken Shaq's place. With Howard riding relatively low on the PR15 meter (at 30) as of late, he's gotten easier to deal for. Yes, you'll be kissing your free-throw percentage goodbye, but there aren't many other players who can single-handedly shake up a lineup's production with Howard's ferocity.
That's all for now. I have to get back to my inbox.
John Cregan is a fantasy basketball analyst for ESPN.com.
Fantasy Basketball
John Cregan is a fantasy basketball analyst for ESPN.com.
MOST SENT STORIES ON ESPN.COM