Commentary
Daily Notes for Monday: How 'bout that Bargnani!
Updated:
February 3, 2008, 5:48 PM ET
By
Adam Madison
| Special to ESPN.com
Matchups for Monday, Feb. 4
Time
Visitors
Opp. PPG
Opp. FGP
RPG Diff.
Home
Opp. PPG
Opp. FGP
RPG Diff.
7:00 p.m.
Philadelphia 76ers
96.1
.460
+2.8

@

Atlanta Hawks
96.0
.450
+0.6
7:00 p.m.
Dallas Mavericks
96.0
.448
+2.5

@

Orlando Magic
100.0
.447
+0.8
7:30 p.m.
Los Angeles Clippers
99.1
.454
-3.5

@

New York Knicks
100.7
.474
+0.9
7:30 p.m.
Toronto Raptors
95.7
.450
-1.5

@

Miami Heat
99.8
.463
-3.4
8:00 p.m.
Houston Rockets
93.8
.438
+3.3

@

Minnesota Timberwolves
101.3
.463
+0.6
9:00 p.m.
New Orleans Hornets
93.4
.451
+2.1

@

Utah Jazz
99.5
.458
+2.2
9:00 p.m.
Charlotte Bobcats
99.6
.465
-3.0

@

Phoenix Suns
103.3
.449
-6.0
10:00 p.m.
Denver Nuggets
103.9
.448
-0.6

@

Portland Trailblazers
95.3
.441
-2.2
10:00 p.m.
Chicago Bulls
96.9
.446
+0.9

@

Seattle SuperSonics
104.3
.450
+0.2
All times Eastern.
Key: Opp. PPG = Points per game allowed to opponents. Opp. FGP = Field goal percentage allowed to opponents. RPG Diff. = The difference between a team's rebounds per game and its opponents' rebounds per game.
Injury Report:
Out:
Luol Deng, SF, Bulls (Achilles)
Devin Harris, PG, Mavericks (ankle)
Udonis Haslem, PF, Heat (ankle)
Gerald Wallace, SF/PF, Bobcats (ankle)

Day-to-day:
Marcus Camby, C, Nuggets (knee)
Eddy Curry, C, Knicks (flu)
Jeff Green, SF, Sonics (ankle)
Chris Kaman, C, Clippers (flu)
Corey Maggette, SG/SF, Clippers (flu)
Jerry Stackhouse, SG/SF, Mavericks (hamstring)
Wally Szczerbiak, SG/SF, Sonics (ankle)
Start 'Em, Sit 'Em
Tim Thomas averaged more than 39 minutes in his past five games. He is inconsistent, but as long as Maggette is out, the playing time will be there, and he has a good matchup, considering the Knicks are dead last in defensive efficiency. … Mehmet Okur is coming off his best month in a disappointing season and really picked it up the past two games, averaging 21 points and 12 rebounds. … Andres Nocioni has not shot better than 42.1 percent in eight straight games now, so make sure the streaky shooter is benched.
Waiver-Wire Pickups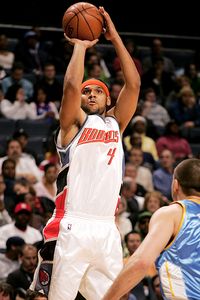 Icon SMIJared Dudley could make for a nice pickup in deep leagues.
Andrea Bargnani
averaged 33.5 minutes and 23.5 points in his past two games. He is consistent only in his inconsistency, but you also can expect good players to have their way with the Heat, especially against the Heat's decimated front line. … Gerald Wallace is out for at least a week, so expect
Jared Dudley
and
Nazr Mohammed
to see extra time. Against the Suns, expect the more versatile Dudley to see the bulk of the playing time, making him a decent utility option. … While he is a risk to lose his starting job at any time,
Boris Diaw
averaged nearly 36 minutes in his past four games. Any Suns option getting that much playing time is worth a pickup.
Adam Madison is a fantasy basketball analyst for ESPN.com
SPONSORED HEADLINES
FANTASY TOP HEADLINES
MOST SENT STORIES ON ESPN.COM