Commentary
Daily Notes for Sunday: Sit Gooden against his former team
Updated:
March 1, 2008, 5:53 PM ET
By
Seth Landman
| Special to ESPN.com
Matchups for Sunday, Mar. 2
Time
Visitors
Opp. PPG
Opp. FGP
RPG Diff.
Home
Opp. PPG
Opp. FGP
RPG Diff.
1 p.m.
Chicago Bulls
98.6
.449
+1.3

@

Cleveland Cavaliers
97.8
.458
+3.3
3:30 p.m.
Dallas Mavericks
95.3
.448
+2.9

@

Los Angeles Lakers
100.6
.443
+1.3
6 p.m.
Atlanta Hawks
97.5
.455
+.9

@

Boston Celtics
90.6
.424
+1.7
6 p.m.
San Antonio Spurs
90.9
.449
+1.6

@

New Jersey Nets
99.3
.452
+1.8
6 p.m.
New Orleans Hornets
95.0
.457
+1.3

@

Washington Wizards
98.2
.458
+.8
6 p.m.
Toronto Raptors
95.8
.451
-1.3

@

Charlotte Bobcats
101.2
.468
-3.3
6 p.m.
Milwaukee Bucks
101.8
.472
+.1

@

Indiana Pacers
105.2
.453
-1.5
6:30 p.m.
Seattle SuperSonics
104.2
.450
+.9

@

Minnesota Timberwolves
100.7
.464
+.1
8 p.m.
Denver Nuggets
104.7
.446
-.9

@

Houston Rockets
92.2
.433
+4.4
9 p.m.
Portland Trail Blazers
95.9
.443
-2.3

@

Golden State Warriors
107.7
.463
-5.4
9 p.m.
Miami Heat
100.3
.466
-4.0

@

Sacramento Kings
103.3
.463
-1.4
All times are ET.
Key: Opp. PPG = Points per game allowed to opponents. Opp. FGP = Field goal percentage allowed to opponents. RPG Diff. = The difference between team's rebounds per game and its opponents' rebounds per game.
Injury Report:
Out
Caron Butler, SF, Wizards (hip)
Yao Ming, C, Rockets (foot)
Gerald Wallace, SG/SF, Bobcats (concussion)

Day-to-day
Tony Allen, SG, Celtics (calf/flu)
LeBron James, SF, Cavaliers (ankle)
James Jones, SF, Trail Blazers (knee)
Acie Law, PG, Hawks (wrist)
Vladimir Radmanovic, SF, Lakers (calf)
Jason Richardson, SG, Bobcats (eye abrasion)
Brandon Roy, SG, Trail Blazers (ankle)
Thabo Sefolosha, SG/SF, Bulls (groin)
Bonzi Wells, SG, Hornets (Achilles)
Marvin Williams, SF/PF, Hawks (flu)

Start 'em, sit 'em
If I owned Drew Gooden, I'd sit him against the Cavs on Sunday. Yes, he's averaging a double-double in three games with his new team, but Cleveland's frontcourt combination of Ben Wallace and Joe Smith should be able to defend him effectively. It's possible he'll respond positively to playing against his old team, but I think it's more likely that he lays an egg. … Look for Rajon Rondo to abuse Mike Bibby in the Celtics' matchup with the Hawks. Rondo will want to make a statement that he can run the team effectively before Sam Cassell arrives in town, and Bibby's defense has been, to put it politely, less than stellar all season. Rondo has the speed to blow by him off the dribble and with Al Horford having to pay attention to Kevin Garnett on the perimeter, the lane should be wide open for Rondo. … Normally, I'd be telling you to start Tony Parker against the Nets, but with Devin Harris now playing point guard, New Jersey's defense at the point of attack should be improved. Harris doesn't have the strength to muscle bigger guards, but he's just as quick as Parker and should be able to neutralize Parker's effectiveness getting into the lane. Since returning from injury, his numbers have been fairly pedestrian, and if you've been waiting for a good game to start him, this is not that game. … T.J. Ford has been playing extremely well in limited minutes off the bench for the Raptors over the past week or so, and he has a favorable matchup against the Bobcats on Sunday. It looks like neither Ford nor Jose Calderon will be quite as effective for fantasy owners as they would be if the other was gone, but both are productive players who are definitely worth owning down the stretch. Ford is still available in more than 20 percent of leagues, so pick him up if you can.
Waiver-Wire pickups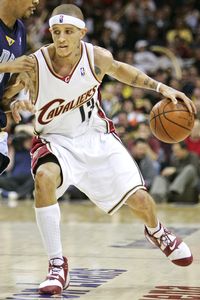 AP Photo/Mark DuncanDelonte West has been money for the Cavs with Daniel Gibson out.
Delonte West
has been a solid fantasy contributor since his arrival in Cleveland, averaging 10.7 points, 5.0 assists and 4.7 rebounds. He's still looking for his shooting touch, but this is a player who is still young and shot 48.7 percent from the floor in his best year as a pro. I'd look for his shooting to improve as he becomes readjusted to playing more than 30 minutes per night. He's a well-rounded fantasy player who doesn't turn the ball over too much for a point guard, and he has a great opportunity in front of him with
Daniel Gibson
sidelined for another few weeks. West is still available in almost half of fantasy leagues, so pick him up and start him against the Bulls and any other team that doesn't have a great defensive point guard. … Now that it looks like Caron Butler won't be healthy enough to return to the Wizards for awhile, it's time to go and pick up
Andray Blatche
. He has been averaging nearly 30 minutes over his past 10 games, and even though he has had a few bad games in that stretch, he's averaging 10.4 points, 7.2 rebounds, 1.1 steals and 1.4 blocks. Those last two numbers in particular make him a player worth owning in most fantasy leagues, especially keeper leagues. If he can get minutes at small forward against the Hornets, he should be able to take serious advantage of his matchup with
Peja Stojakovic
. I'd expect plenty of rebounds and perhaps a decent scoring night as well. …
Travis Diener
has been extremely up and down lately for the Pacers, but he has big-game potential, as we saw when he went for 22 points and nine assists Wednesday against Chicago. Say what you will about Chicago's point guard situation, but
Kirk Hinrich
is a much better defender than the Bucks'
Mo Williams
. The Bucks' entire defense, in fact, is extremely suspect. I'd expect Diener to have another big game on Sunday against them.
Seth Landman is a fantasy basketball analyst for ESPN.com
Fantasy Basketball
Seth Landman is a fantasy basketball analyst for ESPN.com.
SPONSORED HEADLINES
FANTASY TOP HEADLINES
MOST SENT STORIES ON ESPN.COM