Commentary
Daily Notes for Tuesday: Harris' streak supersedes matchup
Updated:
November 17, 2008, 2:33 PM ET
By
Brian McKitish
| Special to ESPN.com
Matchups for Tuesday November 18
Time
Visitors
Opp. PPG
Opp. FGP
RPG Diff.
Home
Opp. PPG
Opp. FGP
RPG Diff.
7:00 p.m.
Atlanta Hawks
97.1
.433
-2.0

@

Indiana Pacers
96.3
.423
+0.7
7:00 p.m.
Toronto Raptors
96.0
.448
-5.8

@

Orlando Magic
94.2
.423
+1.2
7:00 p.m.
Miami Heat
93.1
.438
-1.9

@

Washington Wizards
104.0
.489
-4.1
7:00 p.m.
Dallas Mavericks
99.4
.427
+1.6

@

Charlotte Bobcats
93.4
.465
-1.3
7:30 p.m.
New York Knicks
103.4
.489
-7.4

@

Boston Celtics
89.7
.395
+1.5
7:30 p.m.
Cleveland Cavaliers
93.6
.428
+2.4

@

New Jersey Nets
101.1
.452
+1.6
8:00 p.m.
Sacramento Kings
104.4
.468
+0.5

@

Memphis Grizzlies
98.5
.434
-2.9
9:00 p.m.
Milwaukee Bucks
96.0
.446
+5.7

@

Denver Nuggets
98.4
.428
-0.4
10:30 p.m.
Portland Trail Blazers
96.2
.477
+1.0

@

Golden State Warriors
105.2
.454
-0.5
10:30 p.m.
Chicago Bulls
96.4
.427
+0.2

@

Los Angeles Lakers
89.1
.413
+6.9
All times are ET.
Key: Opp. PPG = Points per game allowed to opponents. Opp. FGP = Field goal percentage allowed to opponents. RPG Diff. = The difference between team's rebounds per game and its opponents' rebounds per game.
Injury report
Out
Gilbert Arenas, PG, Wizards (knee)
Chris Andersen, PF, Nuggets (ribs)
Chucky Atkins, PG, Nuggets (knee)
Mike Dunleavy, SG/SF, Pacers (knee)
Monta Ellis, PG/SG, Warriors (ankle)
Francisco Garcia, SG/SF, Kings (calf)
Al Harrington, PF/C, Warriors (back)
Brendan Haywood, C, Wizards (wrist)
Kirk Hinrich, PG/SG, Bulls (thumb)
Kevin Martin, SG, Kings (ankle)
Josh Smith, SF/PF, Hawks (ankle)
Martell Webster, SF, Trailblazers (foot)

Day-to-day
Josh Boone, C, Nets (ankle)
Jose Calderon, PG, Raptors (hamstring)
Antonio Daniels, PG, Wizards (knee)
Jarvis Hayes, SF, Nets (back)
Kenyon Martin, PF, Nuggets (wrist)
Zaza Pachulia, C, Hawks (shoulder)
Michael Redd, SG, Bucks (ankle)
Jason Richardson, SG, Bobcats (knee)
Charlie Villanueva, SF/PF, Bucks (hamstring)

Start 'em, sit 'em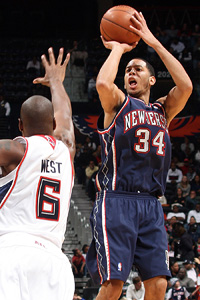 Scott Cunningham/NBAE/Getty ImagesDevin Harris has been "en fuego" of late, and owners can expect it to continue Tuesday versus the Cavs.
Since returning from an ankle injury,
Devin Harris
has absolutely blown up, with averages of 31.5 points, 4.5 rebounds, 9.0 assists, 2.0 steals and 2.0 3-pointers in his past two games. Harris has obviously found his rhythm, making him a must-start even against Cleveland's tough defense. … It's hard to believe
Marquis Daniels
is owned in only 40.5 percent of fantasy leagues. Averaging 15.0 points, 6.3 rebounds and 1.1 steals per game, Daniels shouldn't just be owned in all fantasy formats, he should be starting. … To say the Wizards have struggled defensively would be an understatement. The Wizards rank 29th in opponents' field-goal percentage and 28th in opponents' points per game. Needless to say, we're starting everyone in Miami on Tuesday night, including a borderline starter such as
Mario Chalmers
. …
Jamal Crawford
and
Zach Randolph
are must-starts on a nightly basis, but feel free to bench the rest of your Knicks against Boston if you have better options. The Celtics' defense is simply too stifling, even though the Knicks are leading the league in scoring at 104.8 points per game. …
Greg Oden
is getting only 21.3 minutes per game since his return, but he has been highly productive in those minutes, with 9.0 points, 7.0 rebounds, 0.7 steals and 3.0 blocks. Start him for the defensive stats despite the playing time concerns, particularly against a Warriors club that is giving up 45.9 rebounds per game and is allowing 5.9 blocks per game. …
Beno Udrih
is averaging 17.8 points, 4.0 rebounds, 3.8 assists, 1.2 steals and a 3-pointer over his past five games. He's starting to turn the corner and should be started while he's hot. … After starting slow,
Andrew Bogut
has come on strong with three consecutive big games in which he has averaged 14.0 points, 13.7 rebounds and 1.5 blocks per game. He should have no trouble continuing the trend against an undersized Denver frontcourt.
Waiver-wire pickups
With Jamario Moon struggling offensively, Raptors head coach Sam Mitchell has decided to insert our old friend Andrea Bargnani into the starting lineup. Bargnani has been inconsistent at best, but he has scored in double figures in three of his past five games and is averaging a 3-pointer and a block during that time. Also making noise in Toronto is backup point guard, Will Solomon. If Jose Calderon is forced to miss more time because of a sore hamstring, Solomon could be a nice short-term fill-in after putting up 15 points and 11 assists in relief Sunday. … In the absence of Josh Smith, Ronald "Flip" Murray has averaged 13.6 points, 1.2 steals and a 3-pointer over his past five games. He makes for an excellent short-term addition until Smith returns. … If you're looking for a big man with upside, JaVale McGee might just be your man. McGee's fantastic per-minute statistics -- 9.3 points, 6.3 rebounds and 1.2 blocks in just 20 minutes -- makes him an attractive speculative addition. Given the lack of depth in the Wizards' frontcourt, McGee should start to make his way into the regular rotation. But McGee isn't the only one in Washington who is impressing with his per-minute stats. Second-year man Nick Young has been brilliant in his instant-offense role off the bench, with 15.1 points per game in just 27.9 minutes. Instrumental in his success has been his aggression on the offensive end. He's getting to the free-throw line 4.6 times per game, and he's shooting 87.5 percent from the charity stripe. Anyone in need of points and free-throw percentage should give Young a look. … Brook Lopez turned some heads with a 25-point, 9-rebound, 4-block performance Friday night, but he did so with starter Josh Boone on the shelf. Lopez has plenty of potential, but Boone's presence will limit his value. Still, Lopez can provide value as long as Boone is limited with an ankle injury. … In his first professional start, Anthony Morrow exploded for 37 points, 11 rebounds and 4 3-pointers. A performance like that will earn him a few more starts, and there is clearly upside here. Just realize that with coach Don Nelson running the show, Morrow could go back to the bench at any moment.
Brian McKitish is a fantasy basketball analyst for ESPN.com.
Fantasy Basketball
Brian McKitish is a fantasy basketball analyst for ESPN.com and is a two-time Fantasy Basketball Writer of the Year, as named by the Fantasy Sports Writers Association.