Commentary
Daily Notes for Sunday: Get Monta Ellis in your lineup
Updated:
January 24, 2009, 4:21 PM ET
By
Josh Whitling
| Special to ESPN.com
Matchups for Sunday, Jan. 25
Time
Visitors
Opp. PPG
Opp. FGP
RPG Diff.
Home
Opp. PPG
Opp. FGP
RPG Diff.
1:00 p.m.
Dallas Mavericks
98.8
.453
+1.2

@

Boston Celtics
91.1
.480
+5.6
3:30 p.m.
San Antonio Spurs
93.6
.464
-0.2

@

Los Angeles Lakers
99.1
.449
+3.2
6:00 p.m.
Phoenix Suns
107.7
.445
-3.7

@

Atlanta Hawks
99.7
.459
-3.1
6:00 p.m.
Sacramento Kings
94.7
.445
+2.4

@

Toronto Raptors
93.1
.453
-0.7
6:30 p.m.
Houston Rockets
93.3
.447
-0.3

@

Detroit Pistons
106.6
.451
-0.3
7:00 p.m.
Charlotte Bobcats
102.6
.444
-1.1

@

Indiana Pacers
101.8
.441
+1.1
7:00 p.m.
Chicago Bulls
99.0
.475
+1.3

@

Minnesota Timberwolves
100.9
.472
+0.4
8:00 p.m.
Utah Jazz
100.3
.451
-2.1

@

Denver Nuggets
107.4
.452
-5.0
9:00 p.m.
Los Angeles Clippers
100.4
.451
-2.4

@

Golden State Warriors
112.1
.467
-5.0
All times are ET.
Key: Opp. PPG = Points per game allowed to opponents. Opp. FGP = Field goal percentage allowed to opponents. RPG Diff. = The difference between team's rebounds per game and its opponents' rebounds per game.
Injury report
Out
Ron Artest, SF, Rockets (ankle)
D.J. Augustin, PG, Bobcats (abdominal)
Baron Davis, PG, Clippers (tailbone)
Jordan Farmar, PG, Lakers (knee)
Chris Kaman, C, Clippers (foot)
Zach Randolph, PF/C, Clippers (knee)
Jerry Stackhouse, SG/SF, Mavericks (foot)
Day-to-day
Marco Belinelli, PG/SG, Warriors (knee)
Marcus Camby, C, Clippers (ankle)
Mardy Collins, PG, Clippers (calf)
Drew Gooden, PF/C, Bulls (groin)
Jason Hart, PG, Clippers (elbow)
Al Horford, C, Hawks (knee)
Andrei Kirilenko, SF/PF, Jazz (ankle)
Tracy McGrady, SG/SF, Rockets (knee)
Yao Ming, C, Rockets (knee))
Jermaine O'Neal, PF/C, Raptors (knee)
C.J. Watson, PG, Warriors (toe)
Start 'em, sit 'em
Monta Ellis made his season debut Friday night, scoring 20 points with three assists, three rebounds, a steal, a block and a 3-pointer. He should immediately be inserted in your starting lineup, although it'll be interesting to see how he'll play alongside Jamal Crawford, Stephen Jackson and Corey Maggette (when they're all magically healthy at the same time). Ellis contributes in four clear categories: points, assists, steals and field goal percentage. His efficiency from the floor coupled with 20 points per game is insane for a guard, although it's important to keep in mind that Ellis doesn't shoot 3s. Obviously it'd be foolish to do anything other than start him for the next month, and although I think he'll be productive, it'll be hard for him to match last season's numbers while surrounded by that many scorers. … The Suns are coming off an embarrassing 98-76 loss to the Bobcats in which Shaquille O'Neal and Amare Stoudemire were the only Suns players to score in double figures. Former Sun Boris Diaw went off in that contest, scoring 26 points with 11 rebounds, four assists, three 3s, two steals and a block. He's been fantastic for the Bobcats and should have another good night against the Pacers, who allow 106.6 points per game. … Jose Calderon returned after missing 10 of the past 11 games with a hamstring injury and scored 23 points with 10 assists on an insane 9-of-10 from the floor and a predictable 4-for-4 from the stripe. This shifts Anthony Parker back to shooting guard, where he'll continue to score and provide 3s and steals, although he won't consistently provide the assists he has the past few games. Calderon's value has taken a hit because of his January absence, and he is a great buy-low candidate based on the fact he can play like a top-three point guard when healthy. … Yao has what the Rockets' training staff is deeming a bruised knee, and even though he'll likely play through it, this could be this season's first indication of the recurring nightmare that is Yao's injury history. … Jamal Crawford unexpectedly sat with a mystery hamstring injury Friday night, and his status was uncertain at the writing of this article, so you should definitely check on him Sunday morning and bench him if it looks like he'll sit. … The Jazz and Kings are both on the second game of back-to-backs, so it's safe to expect the team's studs should log fewer minutes than in the average game. … Ron Artest has been practicing with the team, although no timetable is set for his return. … Paul Millsap sat out Friday's practice with soreness in his bruised right knee, the same knee that's caused him to miss six games this season. He should definitely still be started, though, as he went on to score 20 points with 12 boards Friday night. Saturday night's contest against the Cavs will act as an apt barometer of what to expect from the typically consistent Millsap.
Waiver-wire pickups
[+] Enlarge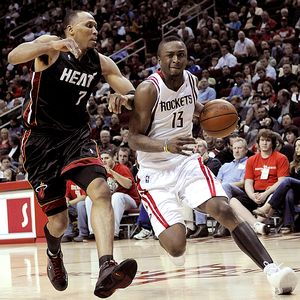 AP Photo/Pat SullivanVon Wafer has excelled with the Rockets' injuries.
With defenses as bad as the Kings' and Pacers' (both allow more than 105 points), starting all Raptors and Bobcats who have a semblance of value is a smart bet. The Wafer/Rafer express has done well together with Tracy McGrady out, and both Von Wafer and Rafer Alston are worth starting, even against the Pistons' solid defense. When McGrady returns, it'll be interesting to see how Wafer is used, but for now you should start him with confidence. … Mardy Collins sustained a calf injury in Friday night's game, opening up minutes for Fred Jones and Steve Novak, who is averaging 2.1 3s per game in January. Novak is a 3s-only option in very deep formats, although Collins is the best of the bunch, and anybody else's value should be short-lived. … The Clippers are starting DeAndre Jordan at center with Marcus Camby gone, and he's notched 12, 10 and seven boards in his past three contests to go along with 11 total blocks. His value will be shot once Camby and Zach Randolph return, although he will provide modest boards and blocks for the short term. … Kirk Hinrich had 17 points, seven assists, four 3s and a steal in nearly 33 minutes off the bench Friday night and should be added in all leagues despite the fact he's coming off the bench. He's talented enough that he'll put up stats in any role and is versatile enough to play alongside Derrick Rose, meaning he should secure significant minutes and could eventually be back in the starting lineup. … Flip Murray has scored in double digits in five of his past six contests, including Friday night's 23 points in less than 23 minutes of play. He can score in bunches and is a deep-league option in that category, although he doesn't put up well-rounded stats and is far from being start-worthy on a nightly basis.
Josh Whitling is a fantasy basketball analyst for ESPN.com.
Fantasy Basketball
Josh Whitling is a fantasy basketball analyst for ESPN.com.
MOST SENT STORIES ON ESPN.COM