Commentary
Daily Notes for Saturday: Lopez, Okur heating up
Updated:
January 30, 2009, 2:54 PM ET
By
Adam Madison
| Special to ESPN.com
Matchups for Saturday, Jan. 31
Time
Visitors
Opp. PPG
Opp. FGP
RPG Diff.
Home
Opp. PPG
Opp. FGP
RPG Diff.
7:00 p.m.
New York Knicks
105.9
.475
-4.0

@

Indiana Pacers
106.7
.459
-0.4
7:00 p.m.
New Jersey Nets
101.3
.467
-0.3

@

Philadelphia 76ers
96.1
.452
+3.4
7:30 p.m.
Dallas Mavericks
99.2
.449
+1.6

@

Miami Heat
95.7
.443
-3.0
8:00 p.m.
Los Angeles Lakers
99.2
.447
+2.9

@

Memphis Grizzlies
99.7
.480
-2.3
8:00 p.m.
Los Angeles Clippers
100.7
.454
-2.9

@

Washington Wizards
101.2
.473
-2.3
8:30 p.m.
Golden State Warriors
111.8
.466
-5.1

@

Houston Rockets
95.1
.452
+2.2
8:30 p.m.
Atlanta Hawks
96.9
.451
-1.9

@

Milwaukee Bucks
98.2
.455
+1.8
8:30 p.m.
New Orleans Hornets
92.7
.454
-0.5

@

San Antonio Spurs
93.9
.455
-0.3
9:00 p.m.
Chicago Bulls
102.1
.453
-0.5

@

Phoenix Suns
102.7
.451
+1.0
10:00 p.m.
Utah Jazz
99.6
.456
+1.6

@

Portland Trail Blazers
94.4
.463
+4.7
All times are ET.
Key: Opp. PPG = Points per game allowed to opponents. Opp. FGP = Field goal percentage allowed to opponents. RPG Diff. = The difference between team's rebounds per game and its opponents' rebounds per game.
Injury report
Out
Gilbert Arenas, PG, Wizards (knee)
Marco Belinelli, SG, Warriors (ankle)
Carlos Boozer, PF, Jazz (knee)
Andray Blatche, PF/C, Wizards (knee)
Tyson Chandler, C, Hornets (ankle)
Eddy Curry, C, Knicks (knee, personal)
Drew Gooden, PF/C, Bulls (groin)
Al Horford, PF/C, Hawks (knee)
Chris Kaman, C, Clippers (foot)
Andrei Kirilenko, SF/PF, Jazz (ankle)
Darko Milicic, PF/C, Grizzlies (knuckle)
Zach Randolph, PF/C, Clippers (knee)
Day-to-day
Trevor Ariza, SF, Lakers (head)
Steve Blake, PG, Trail Blazers (shoulder)
Andrew Bogut, C, Bucks (back)
Monta Ellis, PG/SG, Warriors (knee)
Danny Granger, SF, Pacers (knee, finger)
Yi Jianlian, PF, Nets (hand)
Shawn Marion, SF/PF, Heat (groin)
Luke Ridnour, PG, Bucks (concussion)
DeShawn Stevenson, SG, Wizards (back)
David West, PF, Hornets (back)
Start 'em, sit 'em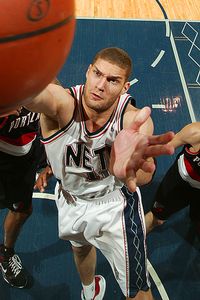 Nathaniel S. Butler/NBAE/Getty ImagesBrook Lopez's game has progressively gotten better as the season has worn on.
The Knicks and Pacers are ranked second and third in possessions per game, so start most players on both clubs, as it will be a high-scoring, up-tempo affair. … David West is raring to get back on the court, and should return in time for Saturday's contest against the Spurs. …
Brook Lopez
has decreased his foul rate each successive month and has improved to the point where he has six games with at least 15 points this month; he had eight in the first two months combined. Even on a pretty full schedule and facing a good defensive team, he's a strong play. … The Rockets are fourth in the league at preventing 3-point attempts and tops in letting their opponents convert them, holding teams to 33 percent from beyond the arc. That means a guy like
Kelenna Azubuike
will probably cool off, and
Jamal Crawford
is liable to be an iron-unkind nominee, in case you're protecting your field goal percentage. Azubuike had five fouls in 22 minutes in their first meeting, with Crawford going 1-for-7 for four points. … If Andrew Bogut doesn't suit up for the Bucks,
Marvin Williams
should have his way with a thinned Milwaukee front line. In the 15 games Bogut has missed, the Bucks have allowed 103.9 points per game; they allow 98.2 on the season. … It's no coincidence that
Tyrus Thomas
and
Joakim Noah
are emerging the same time Drew Gooden is struggling with injuries. Gooden is out until next week at least, so both should have a strong performance Saturday, as the Suns and Bulls are seventh and eighth, respectively, in possessions per game. … The one positive about Andrei Kirilenko's injury: It means
Mehmet Okur
is probably going to see his 3-point attempts rise. He's down to 2.8 per game this season after eclipsing four per game in the past two seasons. Now he'll have an even bigger role in the offense, so both his shot attempts and 3-point attempts should rise. The Trail Blazers don't allow opponents to attempt the 3-pointer often, but when they do, they often convert: Their 39 percent allowed is tied for third-worst in the league.
Waiver-wire pickups
Lou Williams has been a bit inconsistent but has a great matchup on paper versus the Nets, one of the league's worst defenses. Only the Pacers and Bucks allow their opponents to get to the line more, and when Williams gets to the line often, he has productive games. … In the five games Shawn Marion has been out or limited, Daequan Cook is averaging 14.2 points and 2.8 3-pointers, and that's with him bricking everything -- he's shooting below 40 percent in that span. Logic dictates he can't shoot any worse, and the Mavericks allow opponents to shoot 37 percent from beyond the arc. As far as Marion goes, groin strains tend to linger, so there's a good chance he could miss Saturday's game.
Adam Madison is a fantasy basketball analyst for ESPN.com.
SPONSORED HEADLINES
FANTASY TOP HEADLINES
MOST SENT STORIES ON ESPN.COM