Commentary
Daily Notes for Tuesday: Salmons suddenly valuable again
Updated:
March 2, 2009, 12:56 PM ET
By
Brian McKitish
| Special to ESPN.com
Matchups for Tuesday, March 3
Time
Visitors
Opp. PPG
Opp. FGP
RPG Diff.
Home
Opp. PPG
Opp. FGP
RPG Diff.
7:00 p.m.
Phoenix Suns
105.0
.458
+1.2

@

Orlando Magic
95.2
.435
+1.1
7:00 p.m.
Chicago Bulls
102.3
.453
-0.5

@

Charlotte Bobcats
94.7
.454
-0.3
7:30 p.m.
Denver Nuggets
100.4
.439
+0.2

@

Detroit Pistons
94.1
.450
-0.5
8:00 p.m.
New Jersey Nets
100.5
.463
-0.7

@

Milwaukee Bucks
99.7
.458
+0.7
8:00 p.m.
Golden State Warriors
111.6
.469
-5.5

@

Minnesota Timberwolves
103.5
.476
+1.4
8:30 p.m.
Toronto Raptors
100.8
.461
-2.8

@

Houston Rockets
94.7
.447
+2.9
10:00 p.m.
Indiana Pacers
106.6
.459
-0.4

@

Sacramento Kings
108.3
.481
-5.3
10:30 p.m.
Memphis Grizzlies
99.7
.472
-0.9

@

Los Angeles Lakers
100.5
.448
+3.4
All times are ET.
Key: Opp. PPG = Points per game allowed to opponents. Opp. FGP = Field goal percentage allowed to opponents. RPG Diff. = The difference between team's rebounds per game and its opponents' rebounds per game.
Injury report
Out
Andrew Bogut, C, Bucks (back)
Corey Brewer, SF, Timberwolves (knee)
Andrew Bynum, C, Lakers (knee)
Luol Deng, SG/SF, Bulls (leg)
Mike Dunleavy, SG/SF, Pacers (knee)
Danny Granger, SF, Pacers (foot)
Al Jefferson, PF/C, Timberwolves (knee)
Tracy McGrady, SG, Rockets (knee)
Jameer Nelson, PG, Magic (shoulder)
Michael Redd, SG, Bucks (knee)
Day-to-day
Andris Biedrins, C, Warriors (ankle)
Monta Ellis, PG/SG, Warriors (ankle)
Drew Gooden, PF/C, Kings (groin)
Joey Graham, SF, Raptors (hamstring)
Allen Iverson, PG/SG, Pistons (back)
Steve Nash, PG, Suns (ankle)
Emeka Okafor, PF/C, Bobcats (ankle)
Tim Thomas, SF, Bulls (knee)
Beno Udrih, PG, Kings (ankle)
Start 'em, sit 'em
John Salmons took a hit in value when he moved from Sacramento to a crowded situation in Chicago. His minutes have dropped from 37.4 to 30.8 per game and his points and assist totals have suffered as a result. Luol Deng's leg injury could change that. Salmons played 39 minutes off the bench after Deng left Saturday's contest against Houston, and he figures to slide into the starting rotation with Deng out for an indefinite period of time. Look for Salmons to log heavy minutes in Deng's absence and possibly match the versatile numbers he was providing in Sac-Town. … The Bulls' frontcourt situation has been somewhat cloudy since they acquired Brad Miller from the Kings. The breakdown of minutes has favored youngsters Joakim Noah (28.8 minutes per game) and Tyrus Thomas (25.6 mpg) over the veteran Miller (23.0 mpg) so far, but all three have been able to remain fairly valuable in fantasy leagues despite the timeshare. Noah has been the most impressive so far, with 8.8 points, 10.4 rebounds and 1.2 blocks per game since the trade. Continue to use all three, but do not expect any huge nights as the timeshare puts a cap on their upside. … After missing two games because of a bruised knee, Nene returned to action Friday and posted eight points and seven rebounds in 20 minutes. He then followed that up with 12 points, 10 rebounds and four blocks against the Pacers on Sunday. It appears to be safe to put him back in your lineups. … I can't decide what was more impressive, Devin Harris' half-court, game-winning shot this past week, or the fact he has averaged 27.0 points, 7.0 assists, 1.6 steals and 2.1 3-pointers over his past five games. I guess we have to go with the half-court shot, but those numbers are pretty impressive in their own right. Continue to ride Harris as you've done all season. … Amare Stoudemire owners no doubt are lamenting that he's done for the season, but Shaquille O'Neal owners certainly aren't. The Diesel is averaging 25.4 points, 8.2 rebounds and 1.6 blocks over his past five games and is a must-start even in shallow leagues for Tuesday's matchup versus Dwight Howard and the Magic. That's going to be one heck of a battle in the paint and is a much more intriguing story line for pure basketball fans than the played-out "Shaq versus Kobe" matchup that dominated the headlines Sunday. … Shaq isn't the only one in Phoenix who has been on fire lately. Leandro Barbosa has taken advantage of the team's coaching change and an injury to Steve Nash to post 17.2 points, 4.2 assists, 2.2 steals and 0.8 3-pointers over his past five contests. With the Suns now going with an up-tempo offense, Barbosa is a must-start the rest of the way. … Speaking of coaches, good luck trying to figure out Don Nelson's rotation in Golden State. He has expressed interest in going with a youth movement, but it is hard to tell which players the change will affect on a nightly basis. At least we can take solace in knowing that whoever faces the Warriors likely will have a big night offensively. Start all your Wolves (particularly Ryan Gomes, Randy Foye and Kevin Love) on Tuesday; the Warriors are giving up a league-worst 111.6 points per game. … Jarrett Jack and Marquis Daniels have played well with both Mike Dunleavy Jr. and Danny Granger out of action, and both players will remain quality options at least until Granger returns. Jack is averaging 20.2 points, 4.4 assists, 1.8 steals and 1.6 3-pointers per game since the injuries to Dunleavy and Granger, and Daniels is averaging 17.6 points, 5.0 rebounds, 1.4 steals and 0.8 3-pointers over the past week. … After losing eight consecutive contests, the Pistons got back on track with consecutive victories over two of the East's best teams, Orlando and Boston. Key to the slump-breaking victories has been the resurgence of Richard Hamilton, who is back in the starting lineup. Rip put up 31 points against the Magic and 25 against the Celtics, and it's looking like Detroit will have to keep him in the starting lineup for the foreseeable future. Meanwhile, Rodney Stuckey is showing signs of getting back on track as well, with back-to-back solid performances. Both should be started when the Pistons host the Nuggets on Tuesday.
Waiver-wire pickups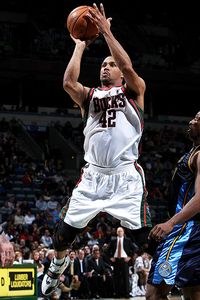 Gary Dineen/NBAE/Getty ImagesCharlie Bell averaged 14.1 points per game and 2.5 3-pointers per game in February.
As
Ramon Sessions
and
Luke Ridnour
continue to alternate good and bad games,
Charlie Bell
has quietly become a solid option for points and 3-point shooting. Bell is averaging 16.0 points, 3.0 3-pointers and a steal over his past five games and figures to continue his solid play for the injury-plagued Bucks. … At age 34,
Antonio McDyess
lacks the upside of most waiver-wire acquisitions, but he is getting the job done in the paint for the Pistons. With 10.8 points and 7.6 rebounds per game over his past five games, McDyess makes for a quality pickup in most deep fantasy formats. … Be sure to check out rookie
Brandon Rush
in Indiana with both Dunleavy and Granger out of action. Rush has scored in double figures in four of his past five contests and has a considerable amount of upside if he can continue to earn quality minutes. … Give
Bobby Jackson
a look if Beno Udrih can't play Tuesday. Jackson scored 18 points, grabbed two steals and hit three 3-pointers on Friday and followed that up with 14 points, two steals and a 3-pointer on Saturday with Beno on the sidelines. …
Rashad McCants
is starting to get more run for the Kings and has posted back-to-back double-digit scoring games. The Kings are going with the youth movement, so McCants might continue to see his minutes rise as the season comes to a close.
Brian McKitish is a fantasy basketball analyst for ESPN.com.
Fantasy Basketball
Brian McKitish is a fantasy basketball analyst for ESPN.com and is a two-time Fantasy Basketball Writer of the Year, as named by the Fantasy Sports Writers Association.
SPONSORED HEADLINES
FANTASY TOP HEADLINES
MOST SENT STORIES ON ESPN.COM