Commentary
Daily Notes for the weekend: Bobcats rough on opposing offenses
Updated:
March 20, 2009, 2:14 PM ET
By
Adam Madison
| Special to ESPN.com
Matchups for Saturday, March 21, and Sunday, March 22
Time
Visitors
Opp. PPG
Opp. FGP
RPG Diff.
Home
Opp. PPG
Opp. FGP
RPG Diff.
1:00 p.m.
Atlanta Hawks
96.4
.452
-1.9

@

Cleveland Cavaliers
91.3
.430
+2.8
7:00 p.m.
Indiana Pacers
106.3
.458
-0.8

@

Charlotte Bobcats
94.5
.453
+0.3
7:00 p.m.
New York Knicks
108.0
.479
-3.9

@

Orlando Magic
94.8
.433
+1.7
8:00 p.m.
Boston Celtics
93.4
.430
+5.4

@

Memphis Grizzlies
99.7
.473
-1.6
8:30 p.m.
Los Angeles Lakers
100.3
.448
+3.1

@

Chicago Bulls
102.3
.454
-0.2
8:30 p.m.
Portland Trail Blazers
95.0
.464
+4.8

@

Milwaukee Bucks
100.1
.458
+0.5
10:00 p.m.
Washington Wizards
102.8
.481
-1.8

@

Phoenix Suns
106.6
.463
+0.8
Time
Visitors
Opp. PPG
Opp. FGP
RPG Diff.
Home
Opp. PPG
Opp. FGP
RPG Diff.
1:00 p.m.
Miami Heat
98.7
.455
-2.8

@

Detroit Pistons
94.5
.450
+0.4
3:30 p.m.
Houston Rockets
94.7
.445
+2.6

@

San Antonio Spurs
93.0
.450
+0.5
3:30 p.m.
Oklahoma City Thunder
103.0
.474
+2.3

@

Minnesota Timberwolves
103.1
.474
+1.2
3:30 p.m.
Los Angeles Clippers
103.9
.470
-4.1

@

Toronto Raptors
101.4
.463
-2.6
6:00 p.m.
Cleveland Cavaliers
91.3
.430
+2.8

@

New Jersey Nets
101.3
.462
-1.8
7:00 p.m.
Golden State Warriors
112.3
.468
-5.1

@

New Orleans Hornets
93.5
.449
+0.4
9:00 p.m.
Philadelphia 76ers
96.4
.459
+2.2

@

Sacramento Kings
108.6
.480
-5.4
All times are ET.
Key: Opp. PPG = Points per game allowed to opponents. Opp. FGP = Field goal percentage allowed to opponents. RPG Diff. = The difference between team's rebounds per game and its opponents' rebounds per game.
Injury report
Out
Leandro Barbosa, PG/SG, Suns (knee)
Andris Biedrins, C, Warriors (ankle)
Andrew Bynum, C, Lakers (knee)
Luol Deng, SF, Bulls (leg)
Manu Ginobili, SG, Spurs (ankle)
Devin Harris, PG, Nets (shoulder)
Allen Iverson, PG/SG, Pistons (back)
Carl Landry, PF, Rockets (leg)
Bobby Jackson, PG/SG, Kings (cheek)
Leon Powe, PF, Celtics (knee)
Ben Wallace, C, Cavaliers (leg)
Marvin Williams, SF, Hawks (back)
Day-to-day LaMarcus Aldridge, PF/C, Trail Blazers (concussion)
Ray Allen, SG, Celtics (elbow)
Nicolas Batum, SF, Trail Blazers (ankle)
Caron Butler, SF, Wizards (hamstring)
Marcus Camby, PF/C, Clippers (hamstring)
Tyson Chandler, C, Hornets (ankle)
Marquis Daniels, SG/SF, Pacers (wrist)
Kevin Garnett, PF, Celtics (knee)
Richard Hamilton, SG, Pistons (groin)
Kevin Martin, SG, Kings (illness)
Rashad McCants, SG, Kings (ankle)
Darko Milicic, PF/C, Grizzlies (knee)
Troy Murphy, PF, Pacers (calf)
Andres Nocioni, SF/PF, Kings (quadriceps)
Peja Stojakovic, SF, Hornets (back)
Anderson Varejao, PF/C, Cavaliers (leg)
Dwyane Wade, SG, Heat (hip)
Gerald Wallace, SF/PF, Bobcats (knee)
Rasheed Wallace, PF/C, Pistons (calf)
Saturday's start 'em, sit 'em
After starting the month hot, scoring 21 or more points in four of his first five games, Jarrett Jack has cooled off, scoring a combined 36 points in his past three games. The Bobcats have one of the league's slowest paces, ranking 27th in possessions per game, and they do a good job of defending opponents' perimeter players, so Jack probably should be benched if you have other decent options. … Wilson Chandler has been logging massive minutes lately -- more than 41 per game over his past four contests -- and has seen his assists rise moderately (3.5 per game) in that time span as Chris Duhon's role has been diminished, further enhancing his value. Despite a tough matchup against the Magic, it would be tough to sit the multi-category threat unless you're in a tough battle for field-goal percentage. … Reading between the lines of Nicolas Batum's ankle injury -- he couldn't even put weight on it after hurting it and missed Thursday's game against the Cavaliers -- suggests he's a good bet to miss Saturday's game, which sets up Travis Outlaw to play heavy minutes. He played 47 minutes Thursday, and he should have a much better performance facing the Bucks instead of the Cavs. … Joel Przybilla has been a beast recently, grabbing 11 or more rebounds in six of his past seven games and keeping Greg Oden from regaining the starting position. Przybilla should have no problem keeping it going against what might be the weakest defensive frontcourt in the league. … Grant Hill is averaging 37 minutes his past six games and should see a bigger role in the offense now that Leandro Barbosa, who was averaging 18.2 points in March before injuring his knee Wednesday, is out for the next 1 to 3 weeks.
Sunday's start 'em, sit 'em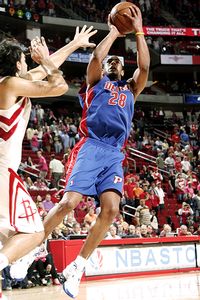 Bill Baptist/NBAE/Getty ImagesArron Afflalo should find room to shoot against the Heat.
While the Heat have an otherwise effective defense, they are flat-out atrocious in defending the 3-point line, allowing opponents to shoot 40 percent from long range on 19 attempts per game. That should guarantee another two or three 3-pointers for
Arron Afflalo
, who has attempted 13 treys in his past two games and made eight of them. … The Spurs and Rockets are separated by just two-tenths of a point in defensive efficiency, with the Spurs ranking fourth and the Rockets fifth, respectively. They also are near the bottom in possessions per game, so it should be an unappealing game for fantasy enthusiasts. Steer clear of fringe starters such as
Roger Mason
and
Aaron Brooks
. Even
Luis Scola
, who is set see his playing time increase significantly while Carl Landry recovers from a gunshot wound to his leg, is a poor option: He's averaging just 8.3 points, 3.7 rebounds and 3.0 fouls in 26 minutes in three games against the Spurs. …
Kevin Love
has been a monster recently, averaging 20.6 points and 12.3 rebounds his past three games, and he's doing it against three top-10 defenses. Consistency has been an issue for the rookie, but if he can sustain that level of play, he should go off against the Thunder, who combine a quick pace (eighth in possessions per game) with a poor defense (20th in defensive efficiency). … With
Chris Kaman
still rounding into basketball shape,
Steve Novak
continues to get enough minutes to impress, and is now averaging 17.7 points and a ridiculous 5.2 3-pointers on 61.7 percent shooting from 3-point range in his past four games. The Raptors allow mere mortal opposition to shoot 37 percent on 3-pointers, so Novak could hit another six or seven long balls and call it a day. … If you recently picked up
Keyon Dooling
, hoping to take advantage of Devin Harris' shoulder injury, you might feel tempted to play him against the Cavaliers, but that's a risky proposition. The Cavs tend to blow out middling opponents, which often skews box scores as starters see their minutes reduced. They're also a plodding team with one of the league's best defenses, so there's not enough upside to gamble with anyway.
Adam Madison is a fantasy basketball analyst for ESPN.com.
SPONSORED HEADLINES
FANTASY TOP HEADLINES
MOST SENT STORIES ON ESPN.COM