Commentary
Randolph a sleeper favorite for 2009-10
Updated:
July 22, 2009, 2:22 PM ET
By
Brian McKitish
| Special to ESPN.com
I normally don't put too much stock into summer league performances, but that won't stop me from touting my favorite sleeper candidate for the 2009-10 season. Although Blake Griffin generated the most buzz during the Vegas Summer League, Golden State second-year forward Anthony Randolph impressed me the most as a fantasy prospect.
Coming off a jaw-dropping second half to his rookie season, during which he averaged 10.7 points, 7.9 rebounds, 0.9 steals and 1.5 blocks in just 24.4 minutes per game, Randolph built on his strong finish and displayed a more refined game in Vegas. With an average of 26.8 points, 8.5 rebounds, 2.3 steals and 3.0 blocks in four summer league contests, Randolph showed why fantasy owners should salivate about his long-term upside.
The numbers aren't even what excite me (although they reinforce my point). What does is that the 20-year-old has shown consistent improvement and confidence in his game. He already has proved that he can produce in steals, blocks and rebounds at the NBA level, and his performance in Vegas only gives more credence to the feeling that he's nearly ready to break out during his sophomore campaign. Given how quickly he is developing, Randolph is looking like a fantastic late-round gamble in fantasy leagues this season.
Around the league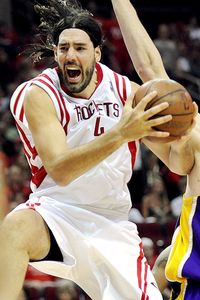 Ronald Martinez/Getty ImagesEven more will be expected from Luis Scola in his third NBA season.
Houston Rockets:
News that
Yao Ming
will miss the entire 2009-10 season has left the Rockets reeling, as if it wasn't bad enough that
Ron Artest
already has found a new home in Los Angeles and
Tracy McGrady
hasn't given any reason to believe that he'll be effective (let alone active) come October. That leaves the Rockets with a potential starting lineup of
Aaron Brooks
,
Trevor Ariza
,
Shane Battier
,
Luis Scola
and
Carl Landry
. Yikes. That's scary, and not in a good way.
This may be bad news for Rockets fans, but it's not necessarily terrible news for fantasy owners (aside from those who protected Yao in keeper formats). Bad teams almost always yield a few productive fantasy players, and the Rockets will be no different. Scola, Ariza and Brooks are poised to have career years, as Houston will rely on them heavily to help compensate for its lost stars.
Memphis Grizzlies: Zach Randolph's arrival undoubtedly will help O.J. Mayo and Rudy Gay get free for open looks on the perimeter, but the addition certainly changes my outlook on Hasheem Thabeet and Marc Gasol. We hate time-shares around here, and that's exactly what we'll be seeing for Thabeet and Gasol. The new starting lineup should look something like this:
PG: Mike Conley
SG: O.J. Mayo
SF: Rudy Gay
PF: Zach Randolph
C: Hasheem Thabeet/Marc Gasol
Aside from the time-share, this actually isn't a bad fantasy roster. Conley should be able to build on his solid second half with more weapons at his disposal, and Z-Bo should still get his typical 20 points and 10 rebounds, or at least 18 and nine for his new squad. Look for Thabeet to provide value as only a shot-blocking specialist, because it will be tough for him or Gasol to win the job outright unless an injury strikes in the frontcourt.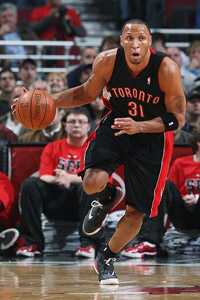 Gary Dineen/NBAE/Getty ImagesShawn Marion's scoring average decreased for the third straight season in 2008-09.
Dallas Mavericks:
The Mavs have had quite the active summer. They were able to re-sign
Jason Kidd
and bring in
Shawn Marion
, but they missed out on
Marcin Gortat
when the
Orlando Magic
unexpectedly matched the Mavs' offer and lost
Brandon Bass
to free agency (Orlando). The arrival of Marion should help lessen the sting of losing out on Gortat, but they'll have to do more if they want to make a serious run in the West. For fantasy purposes, look for Marion to start at small forward (with
Josh Howard
at shooting guard), but their most effective lineup will be when they go small and have Kidd, Howard, Marion,
Jason Terry
and
Dirk Nowitzki
on the floor at the same time. Still, I can't see Marion returning to form in Dallas. He'll still have value, of course, but don't have any illusions of a return to the glory days for the former top-five fantasy pick.
Cleveland Cavaliers: Colleague Josh Whitling already covered the Shaquille O'Neal trade in great detail in his draft night column, but the Cavs also re-signed Anderson Varejao and added the underrated Anthony Parker to the mix. They also signed Jamario Moon to an offer sheet, but we'll have to wait to see whether the Heat match the offer before it becomes official. These are all great moves for the Cavs, but they're terrible for fantasy owners. The Cavs are simply too deep for anyone to offer consistent value other than Mo Williams and LeBron James. Sure, O'Neal, Zydrunas Ilgauskas, Varejao, Parker and Delonte West will have their moments, but the depth of the new-look Cavs will ensure that the minutes (and therefore production) are spread around to keep everyone fresh.
Orlando Magic: In a little game of "anything you can do, I can do better" with the Cavaliers, the Magic managed to keep pace with Cleveland by re-signing Marcin Gortat while adding Brandon Bass and Matt Barnes via free agency, and trading for Vince Carter to help compensate for the loss of Hedo Turkoglu. The revamped lineup is crazy deep, and it's hard to imagine anyone outside the Magic's big four (Jameer Nelson, Carter, Rashard Lewis and Dwight Howard) being able to offer anything more than fleeting fantasy value. Bass intrigues me, especially if he can earn a starting spot at power forward, but there might be too much depth here for him to be a consistent fantasy threat. Mickael Pietrus, who was once a favorite of mine, loses a lot of his fantasy luster now that Barnes is in town. The two likely will split minutes for Stan Van Gundy's squad.
Summer league rundown
As mentioned in the intro, summer league statistics always should be taken with a grain of salt when trying to predict future fantasy value. Far too many players have impressed during summer league play only to disappoint against NBA-level talent. But that doesn't mean we should ignore these games completely, particularly when this is the first chance that we get to see the rookie class in action. Let's take a look at how some highly touted rookies fared during summer league action:
Blake Griffin, PF, Clippers: Griffin earned high praise for his performance in Vegas, and rightfully so, as he averaged 19.2 points, 10.8 rebounds, 3.2 assists and a steal in five games. This kid is clearly the real deal, but I must point out that he shot a dismal 45.9 percent from the free throw line and swatted just 0.4 shots per game. Don't get me wrong, Griffin will have plenty of fantasy value this season (especially now that Zach Randolph is gone), but he will have to work on his shot-blocking and free throw shooting before he becomes a major fantasy star.
Jonny Flynn, PG, Timberwolves: Nobody knows what's going on with Ricky Rubio right now, but Minnesota fans might not care after seeing Flynn go after it for 15.0 points, 7.4 assists and 0.8 steals in five games in Vegas. Flynn still needs to limit his turnovers and work on his long-distance shooting, but there's plenty to like in his game, and he could make a sleeper run at fantasy ROY if Rubio doesn't show this season.
James Harden, SG, Thunder: Harden showed us why he was considered one of the most NBA-ready talents in the draft with an average of 14.7 points and 1.6 steals while shooting 50.6 percent from the floor and 81.1 percent from the line in nine games this summer. He will battle Thabo Sefolosha for minutes at shooting guard in Oklahoma City, but he should be able to earn the lion's share of minutes as the season progresses. I won't expect much from him right away if there's a time-share, but Harden's game is advanced enough that he could become a quality pickup at some point this season.
Tyreke Evans, PG, Kings: I'm not going to lie, I'm more intrigued now than I was on draft day. Evans looks more NBA-ready than I thought he'd be, and he could be a starter from day one in Sacramento. With that said, let's pay close attention to how well he transitions in training camp and consider him a late-round flier if it looks as though he'll earn the starting point guard job.
Brandon Jennings, PG, Bucks: Jennings is already a polarizing figure, thanks to his sound bites and flashy style of play, but there is no denying that the kid has some serious talent. Whether that talent will translate at the NBA level remains to be seen, but Jennings averaged 8.2 assists and 3.6 steals and earned high praise for his "pass-first" mentality. He's likely too raw to be considered a fantasy prospect for the first half of this season but could earn significant minutes later in the season when the Bucks are forced to go into youth-movement mode.
Hasheem Thabeet, C, Grizzlies: In a disappointing showing, Thabeet averaged just 8.2 points, 4.6 rebounds and 0.8 blocks in 25 minutes per game during summer league play. I'm actually much more concerned about the potential time-share with Marc Gasol than I am about his poor numbers here, but it is interesting to note that he wasn't much of a factor against lesser competition in Vegas.
Stephen Curry, PG/SG, Warriors: Many expect Curry to contend for rookie of the year honors this season, and I still think he will despite his poor showing in Vegas. Curry averaged 17.4 points, 4.6 boards, 4.2 assists, 2.4 steals and 2.0 3-pointers, which might look nice, but he struggled mightily from the floor, shooting just 32.5 percent in five games. I'm still expecting an Eric Gordon-like rookie season from Curry, but I will be careful not to pair him with too many field goal percentage killers, as I expect that he will be hot and cold from the floor all season long.
Brian McKitish is a fantasy basketball analyst for ESPN.com. He can be reached at bmckitish@yahoo.com.
Fantasy Basketball
Brian McKitish is a fantasy basketball analyst for ESPN.com and is a two-time Fantasy Basketball Writer of the Year, as named by the Fantasy Sports Writers Association.
SPONSORED HEADLINES
FANTASY TOP HEADLINES
MOST SENT STORIES ON ESPN.COM