Commentary
Plenty of buzz about Arenas
Updated:
August 18, 2009, 10:57 AM ET
By
Brian McKitish
| Special to ESPN.com
Let the Gilbert Arenas hype begin. After missing much of the past two seasons with knee injuries, Arenas has received high praise from multiple sources around the league, including Wizards head coach Flip Saunders. The general consensus has been that Agent Zero is back and ready to return to dominance in 2009-10. At least that's what one would think after hearing all the buzz lately.
Saunders made headlines last week when he raved about Gilbert's summer workouts, even going so far as to say "you wouldn't know he was hurt". And it wasn't just Saunders handing out the praise. Twitter has exploded with tweets from current players stating that Gilbert is "back", and even LeBron James weighed in on the matter. Adding fuel to the fire, Agent Zero then went out and backed up all the talk by dominating a playground-style game at the Barry Farms Recreational Center in D.C. on Friday night. Of course, the competition wasn't anything to write home about, but Gilbert still dropped 35 points and looked explosive while doing it. And he didn't even wear a knee brace (which might be the most encouraging news of all).
Regardless of all the excitement, fantasy owners still won't forget that Arenas has played in just 15 games in the past two seasons. But they also won't forget that Gilbert was a clear-cut top-five fantasy pick who averaged a dominant 28.4 points, 4.5 rebounds, 6.0 assists, 1.9 steals, and 2.8 3-pointers while shooting 84.4 percent from the free-throw line during his most recent full season in 2006-07. That leaves the fantasy crowd in quite a predicament. Arenas can easily ruin a fantasy season if he's taken too early and his knee betrays him, but he can also be a first-round talent at a discount if he can stay relatively healthy during the season.
Now that the word is out, Gilbert's value is already beginning to skyrocket. Currently looking like a third- or fourth-round high-risk/high-reward selection, Arenas could even become a second-rounder if the positive news continues through training camp. That might be a little high, but taking him in the third round is a risk that's probably worth taking if you hedge your bets correctly by surrounding him with safer investments throughout the draft. Just think, he could easily turn into this year's version of Dwyane Wade.
News and notes
• Word on the street is that the Timberwolves will employ an up-tempo offense under new head coach Kurt Rambis. That's obviously great news for Al Jefferson, Kevin Love and Jonny Flynn (with or without Ricky Rubio) and could turn Wayne Ellington and Corey Brewer into deep sleepers at some point this season. Be ready to move all your Wolves up in the rankings if it looks like they will run under Rambis.
• Give James Posey a slight bump in value now that the Hornets have traded Rasual Butler to the Clippers. Posey, who averaged just 8.9 points, 4.8 rebounds, 0.8 steals and 1.5 3-pointers in 28.5 minutes last season, should see his minutes jump up above 30 per game this season. He still won't be as valuable as we might like, but he's definitely worth a selection at the end of drafts as a 3-point specialist and steal artist.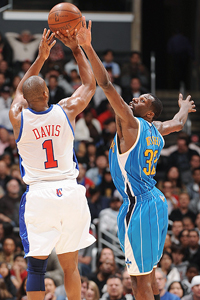 Noah Graham/NBAE/Getty ImagesJulian Wright, right, has teased with his length and athleticism, and is ready to contribute right now in the defensive categories.
• With Butler gone, Hornets fans are hoping for a breakout season from their talented third-year player
Julian Wright
. Wright has been mostly inconsistent in his first two seasons, but has shown plenty of promise despite earning limited minutes. Now in line to earn somewhere between 25-30 minutes per night on the wing, Wright is a fine deep sleeper candidate in fantasy leagues. Already a lock-down defender, Wright's offensive game is still progressing, and at 22 years of age he should continue to improve in that area. He averaged 7.7 points, 5.1 rebounds, 1.1 steals and 0.7 blocks in 19 starts last season, which suggests he'll at least be a useful option for rebounds, steals and blocks in 2009-10.
• While I'm speaking of Butler, any value he might have had as a 3-point specialist in New Orleans is gone now that he'll be behind Eric Gordon on the depth chart in Los Angeles. Feel free to ignore Butler on draft day and only consider him as an option if injuries strike the Clippers. Gordon, on the other hand, is still a fine bet to build off of his impressive rookie campaign. Just be sure not to overrate him based on his ridiculous second half last season. Remember, Gordon saw 37 minutes per game after the All-Star break for the depleted Clippers, and head coach Mike Dunleavy now has some added depth to be able to limit Gordon to about 34-35 minutes per night.
• Traded for the fourth time this offseason, Quentin Richardson might finally stick in his new home in Miami. Expected to back up Michael Beasley at small forward, Q-Rich will have fleeting value as a 3-point specialist but is far too inconsistent a shooter to be relied on in most fantasy formats. While it's hard to imagine Richardson having much value here, the move is significant because his arrival will likely zap any value that James Jones or Daequan Cook might have had in Miami. With three potential sharpshooters all vying for minutes off the bench, I can't realistically see anyone separating from the pack unless injury strikes.
• It's hard to get too excited about Houston's newest addition, David Andersen, but he's still someone to keep an eye on as he is the only "true" center on the Rockets roster. The 29-year-old Australian averaged only 11.1 points and 4.1 rebounds for FC Barcelona in Spain last season, but he might actually earn decent minutes in the Rockets' depleted frontcourt this season.
• Considered a bust in most fantasy circles last season, Rudy Gay has reportedly added 20 pounds of muscle during the summer. The additional strength could be a sign that Gay will bring his game down to the post more often this season, making him even more of a threat on the offensive end. It should also help him on the boards, where he struggled last season. O.J. Mayo's presence will prevent him from having a full bounce-back season, but Gay looks primed to improve on his numbers from a year ago. And just to be clear, Gay wasn't nearly as bad as folks thought he was last season. Think about it: In a down year, he still managed to average a productive 18.9 points, 5.6 rebounds, 1.2 steals and 1.1 3-pointers.
Brian McKitish is a fantasy basketball analyst for ESPN.com. He can be reached at bmckitish@yahoo.com.
Fantasy Basketball
Brian McKitish is a fantasy basketball analyst for ESPN.com and is a two-time Fantasy Basketball Writer of the Year, as named by the Fantasy Sports Writers Association.
SPONSORED HEADLINES
FANTASY TOP HEADLINES
MOST SENT STORIES ON ESPN.COM