Commentary
Player Rater: Post-break breakout candidates
Updated:
February 21, 2008, 3:01 PM ET
By
Josh Whitling
| Special to ESPN.com
For those of us who peruse players' split statistics, the All-Star break is an important benchmark in the season, because a commonly utilized split is pre- and post-All-Star performance. This information provides insight about what to expect from a player from here on out, because some players consistently turn it on down the stretch.
Here are some players whose player rater ranking is lower than their average draft position. Based upon expectations, these guys are underperforming, some to a painful degree. But they could be excellent buy-low candidates; each has the propensity to play better after the All-Star festivities. Included are the player's player rater ranking by averages, followed by his average draft position in this season's ESPN fantasy drafts. If you're looking for late-season heroics from a player whose value is relatively low, here are some options that have had previous success after the All-Star break.
[+] Enlarge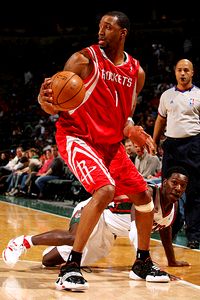 Jonathan Daniel/Getty ImagesA healthy Tracy McGrady is bound to produce big stats.
Tracy McGrady, SG/SF, Rockets:
Player Rater Ranking (avg)/Average Draft Position:
(61/26): T-Mac has started every game in February, and even though his point totals this month are low -- due to terrible field goal percentage (17.5 points on 38 percent), -- his all-around game is there with 5.6 rebounds, 6.6 assists, 1.6 3s and 1.3 steals. The more consecutive contests in which he suits up, the more effective he'll be. Last season, he averaged 25.7 points and 7.0 assists after the break, compared to 23.9 points and 6.1 assists before the break. The fact that he's healthy and averaging 38 minutes per game in February is a sign that after a season hampered by an injury and awful percentages (42.8 percent from the floor, 68.9 from the stripe) McGrady is poised for a late-season resurgence.
Kirk Hinrich, PG/SG, Bulls (81/39): I must sound like a broken record telling y'all Hinrich is underperforming this season and he's about to snap out of it. Well, I've been partially accurate, although his transformation has been less of a "snap" and more gradual; his points per game have gone up each month this season, and he's averaging 18 points per game in just 29 minutes in four February contests. Over the course of his career, Hinrich has averaged two more points per game after the break. Once he's fully healed from a nagging rib injury, he's primed to go on a run. The Bulls have been depleted this season, although it shouldn't be long before Hinrich has both Ben Gordon and Luol Deng at his disposal, which should cause a spike in his value.
Leandro Barbosa, PG/SG, Suns (70/44): The Brazilian sharpshooter went crazy after the break last season (20.1 points, 3.0 3s), and with Shawn Marion gone there's one fewer 3-point shooter in the Suns' lineup, which could provide Barbosa the chance to compensate for his decreased stats across the board this season. One of those stats is minutes played, and the fact he's playing more in February than he did in both January and December is a positive sign. Over his career, he averages more points, steals, 3s, assists and rebounds with a better field goal percentage after the All-Star break. Barbosa will be one of the league leaders in 3s from this point on, although his stellar percentages and ability to score in bunches make him more than a one-dimensional fantasy player.
Pau Gasol, PF/C, Lakers (32/9): Much like this season, Gasol's 2007 campaign was plagued by injuries. But after the break, he averaged 21.4 points and 10.6 rebounds, compared to 20.2 and 9.2 before. In his career, he averages more points with better percentages after the break, and he's off to a promising start with the Lakers, averaging 22 points with 65 percent shooting for his new team. Gasol was drafted ninth overall on average, which means his injury and decreased overall numbers from last season have been especially detrimental to fantasy teams because many drafted him with their first overall pick. He's obviously benefiting from the change of locale, and given his history and this season's circumstances, Gasol should be dominant for the stretch run.
Vince Carter, SG/SF, Nets (48/24): If you've held onto Carter for this long, you shouldn't trade him now. He's poised to assume some of the point guard duties while the Nets wait for Devin Harris to get healthy, and because he's a better ball handler and playmaker than Richard Jefferson, Carter is now the focal point of the Nets' offense. He played better after the break last season (26.3 points, 5.4 assists versus 24.6 and 4.5 prior) and his career numbers are also better after the break. He's averaging 6.2 assists in February, and after a quiet season, Carter is about to go off, whether it's for the Nets or in a new uniform. If there's any way you can buy low on VC, I'd jump at the opportunity. By the way, I'm still a believer that his 2000 Dunk Contest showing was the best ever.
[+] Enlarge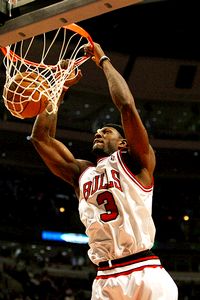 Jonathan Daniel/Getty ImagesBen Wallace has played his best ball this month.
Ben Wallace, C, Bulls (131/70):
Last season was his first truly disappointing campaign (stupid headband!), and he still averaged 11.5 boards after the break, compared to 10.3 before. His career numbers are 11.4 and 10.3 rebounds after and before the break, and even though he's disappointed this season, history tells us he should pick it up the rest of the way. He's averaging 9.3 points and 9.7 rebounds in February, both season bests for a given month, which is a positive indication that he'll end the season strong. March was his best month last season, when he averaged 12.3 rebounds. While he's no longer capable of dominating in rebounds and blocks, he's still a big contributor in those categories and will make a difference for fantasy teams down the stretch.
Kyle Korver, SG/SF, Jazz (146/102): Let's face it: Korver's only good for 3s. His situation in Utah is comparable to that in Philly, and as the Jazz ride into the playoffs, they'll lean heavily upon Korver's shooting touch. His post- and pre-All-Star 3-pointers per game the past two seasons were 2.1/1.7 and 2.4/2.1 respectively. He has averaged 2.1 after and 1.9 before the break over the course of his career. So, if you need 3s, Korver is a cheap option who can make it rain. His 12.4 points and 2.3 3s in February are his best of any month, and even though he won't average 30 minutes per game, few players will have more 3s than Korver for the rest of the season.
Randy Foye, PG/SG, Timberwolves (264/80): During last season's rookie campaign, Foye grew more comfortable as the season progressed, peaking in April, when he averaged 15.4 points, 3.8 assists, 3.5 rebounds, 1.9 3s and 0.9 steals in 28 minutes per game. Clearly this season has been a disappointment for Foye, who looked to be in an ideal situation this summer but didn't play his first game until Jan. 29. He's played in every February contest and started his first game of the season Feb. 19, contributing 13 points and five assists. He's been hoisting 3s at will since returning, and if last season is any indication, the more he plays the better he'll get. Foye is an excellent add with a high ceiling, and given the success Sebastian Telfair had starting at point for the Wolves, Foye could be a difference-maker down the stretch -- he's a much better player. If he's still available, add immediately.
Andrea Bargnani, SF/PF, Raptors (193/73): One season isn't much of a sample size, but last year's first overall pick averaged 14.9 points, 5.6 rebounds and 2.2 3s after the break, compared to 10.6 points, 3.5 rebounds and 1.4 3s before it. He's been terrific this February, averaging 17.7 points, 2.2 3s and a steal while shooting 82 percent from the stripe. Even though he'll likely never justify a first overall pick, he could be a deadly offensive player if he puts it together. Fantasy enthusiasts who entered the season with high expectations have been quick to lampoon him, but it's just his second year playing a different style of basketball in a new country, so have patience with Bargnani and expect improved fantasy numbers as the season winds down, especially from behind the arc.
Josh Whitling is a fantasy basketball analyst for ESPN.com.
Fantasy Basketball
Josh Whitling is a fantasy basketball analyst for ESPN.com.
SPONSORED HEADLINES
FANTASY TOP HEADLINES
MOST SENT STORIES ON ESPN.COM