Commentary
Player Rater: Most and least improved over season
Updated:
February 28, 2008, 4:12 PM ET
By
Josh Whitling
| Special to ESPN.com
This week's edition of Watching the Player Rater comes straight from the former home of the Grizzlies and the current home of Tim Horton's and less-delicious bacon. Yes, I'm writing from an airport hotel in Vancouver, British Columbia, where I'm attending a conference for the job that pays my rent and is slowly helping me build up a kitty that will someday provide alimony payments for my future ex-wife.
This week, I'll compare a player's average draft position to his ranking on the player rater over the course of the season, the past 30 days and the past 15 days, by averages. This will grant perspective about the player's perceived value, as well as his realistic value based upon recent stats, while highlighting players who are outperforming their preseason value. Plus, seeing the progression on the player rater will provide an idea about how his numbers should continue to trend, eh?
Mo Williams, PG, Bucks (Player Rater season ranking: 33rd; 30-day ranking: 24th; 15-day ranking: 14th; Average Draft Position: 53rd ): With or without Michael Redd in the lineup, playing point or shooting guard, distributing or scoring, it doesn't matter. Williams has carried the Bucks this season, and has gotten better every month. Surprisingly, though, his numbers are not a drastic improvement upon last season, he's just a skosh (yes, a skosh) better in nearly every category including his beautiful percentages of 47.6 from the floor and 87.6 from the stripe. This is no fluke. His February averages of 24 points, 5.9 assists, 4 rebounds, 2.1 3-pointers, 50 percent from the floor and 89.2 percent from the stripe indicate he'll be one of the best guards in the league for the rest of the season. Plus, he was drafted behind Sofoklis Schortsianitis, Szymon Szewczyk and a slew of slugs that made him the steal of the 2003 draft.
Stephen Jackson, SG/SF, Warriors (Season PR: 44; 30-day PR: 10; 15-day PR: 98; ADP: 77): The 10th-ranked player over the past 30 days? Aye, aye, Captain!
Mike Dunleavy, SG/SF, Pacers (Season PR: 51; 30-day PR: 81; 15-day PR: 105; ADP: 104): Mike D. blew people away earlier this season with his improvement, but he's failed to keep up the pace over the past month. If you can still get top-50 value out of him, I'd shop him before your league's trading deadline (which is important to check) in order to address a specific need since he's unlikely to match his season totals from this point forward.
[+] Enlarge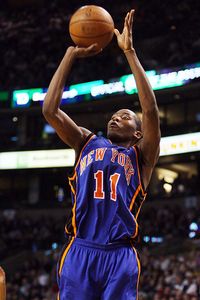 Elsa/Getty ImagesCrawford has started to fill it up for the Knicks.
Jamal Crawford, PG/SG, Knicks (Season PR: 54; 30-day PR: 45; 15-day PR: 17; ADP: 86): Remember the days when the Knicks had too many guards? Now Seattle natives Crawford and Nate Robinson share the bulk of the backcourt minutes and the lack of competition makes them a dynamic fantasy tandem. If your field goal percentage is low and you own Crawford, shop him and address another need, because simply not having him on your team will instantly make your team's field goal percentage better. Otherwise, Crawford contributes excellent points, assists, steals, 3s and free throws, and if your team can handle the inefficient shooting, ride his best season as a pro.
Lamar Odom, SF/PF, Lakers (Season PR: 58; 30-day PR: 29; 15-day PR: 25; ADP: 48): The Lakers are scary with Odom, Pau Gasol and Kobe Bryant on the floor together. Double-digit boards are tough to find, only 14 players are averaging more than 10 per game this season, and Odom is one of them, plus he's averaging a career-high 49.5 field goal percentage, compared to his career mark of 45.6. Throw in the fact he's averaging 14.5 points, 11.6 boards, 4.5 assists, 0.8 steals, 0.7 blocks, 0.5 3s and 60.7 percent from the floor in February, and it's clear that Odom benefits from playing with other top players and is in line for a fantastic finish to the season.
Josh Howard, SF, Mavericks (Season PR: 63; 30-day PR: 150; 15-day PR: 232; ADP: 42): Howard's February averages of 15.9 points, 6.2 rebounds, 0.8 3s and 0.8 steals, 36 percent from floor and 71 percent from the stripe are all well below his season marks. That awful field goal percentage is the primary culprit for his 150 ranking over the past 30 days, as it has a standard deviation of -2.63 on the player rater. If you can still get prime value from Howard in a trade based upon his season averages, feel free to sell, although don't sell as if he's the 150th best player in the game since he's just too good to continue playing this appallingly, especially with the addition of Jason Kidd, who makes everybody on the court better.
Andre Miller, PG, Sixers (Season PR: 66; 30-day PR: 23; 15-day PR: 24; ADP: 57): I've iterated this fact several times this season, and now I shall reiterate: I hate point guards who don't shoot 3s. At the same time, 3s are a fairly easy category to address through free agency, and at this point in the season, assists are a more valuable and scarcer commodity. Miller is averaging 8.7 assists in February, and is a top-25 player over the past month and 15 days. He's also averaging a career high in points and field goal percentage, and if you (a) need assists and don't need 3s, target Miller in a trade, especially if his owner does need 3s, or (b) need 3s and don't need assists and happen to own Miller, trade him and be amazed by how much fantasy owners will pay for assists. If neither of those applies to you, uh, I hope your family is doing well.
Zach Randolph, PF, Knicks (Season PR: 77; 30-day PR: 55; 15-day PR: 60; ADP: 47): Z-Bo was the first or second guy on this list taken in most drafts, although the list is ordered by season ranking on the player rater, and there are seven players whose names come before his. I've always harbored a distaste for Randolph's game, which was recently exacerbated by the fact he threw a cup of water at Nate Robinson, and Nate's just so lovable. The primary reason I'm not a fan, though, is because he averages a double-double (17.2 points, 10.1 rebounds), but doesn't give you anything else, so many think he's better than he actually is. Unless you specifically need points and boards, Randolph isn't the man for you. He does take awesome headshots for his profiles on Web sites, though, which really makes me want to see his yearbook picture from high school. OK, actually that's weird. Moving on …
David Lee, SF/PF, Knicks (Season PR: 102; 30-day PR: 47; 15-day PR: 47; ADP: 91): If the consistency in his recent rankings is any indication, Lee will be the 47th best player in the fantasy game for the rest of the season. Despite starting just one game in February, he's averaging 8.5 boards and 69.6 percent from the floor without missing a free throw this month, and gets consistent enough minutes to provide one of the best combinations of percentages and rebounds available.
[+] Enlarge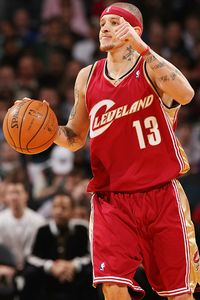 Jonathan Daniel/Getty ImagesWest could be the key acquisition for the Cavs.
Delonte West, PG/SG, Cavaliers (Season PR: 193; 30-day PR: 186; 15-day PR: 141; ADP: 110): I'm a huge fan of Delonte, partially due to the fact that he looks like he'd win a battle of fisticuffs against most of the players in the NBA, despite his relatively diminutive stature. I also love his toughness on the court and versatility, and was baffled why he was so underutilized in Seattle. West now has the privilege to share the court with LeBron James and the new and improved Cavs, which has already proved to be more beneficial of a situation than Seattle, as evidenced by his 20 points, 5 rebounds and 2 3s in 35 minutes on Thursday night. If he continues to start, which he should, West has the opportunity to be a difference maker down the stretch since he was likely snapped up right after the trade and is worth starting in deep leagues immediately. If you were the lucky one to add him, enjoy the ride and know that your fantasy team could now beat up most other teams.
Hakim Warrick, PF, Grizzlies (Season PR: 229; 30-day PR: 125; 15-day PR: 68; ADP: 118): Did any player benefit more from the Pau Gasol trade? Warrick has struggled to capitalize upon his talent since entering the league, but he now has a window for at least the rest of the season with the depleted Grizzlies. The progression of his player rater ranking over the course of the season is promising, and if you haven't noticed he's averaging 20.1 points and 9 rebounds over his past seven games. This includes two games of better than 40 minutes played in his past five contests. Add now, point seekers.
Jamario Moon, SF, Raptors (Season PR: 99; 30-day PR: 84; 15-day PR: 41; ADP: NA) Even though the dunk contest demonstrated that his ability to take off from a designated spot is questionable, Moon has been one of the league's best stories this season. His scrappiness translates into fantasy value that hasn't waned as the season progresses. Considering the only league in which Super Jamario (can I coin that nickname?) was drafted likely included his best friend, a family member or significant other, he's been perhaps the surprise of the season, and his 11.5 points, 7.5 rebounds, 1.0 steals, 1.3 blocks, 1.3 3s, 51.4 percent from the floor and 83.3 from the stripe since that ill-fated dunk attempt make him worth owning in every format, especially since those 3s add a new dimension to his value. Plus, he plays in Canada … that's what I'm talking aboot!
Josh Whitling is a fantasy basketball analyst for ESPN.com.
Fantasy Basketball
Josh Whitling is a fantasy basketball analyst for ESPN.com.
SPONSORED HEADLINES
FANTASY TOP HEADLINES
MOST SENT STORIES ON ESPN.COM