Commentary
Player Rater: CP3 on top, may stay there
Updated:
November 3, 2008, 4:41 PM ET
By
Seth Landman
| Special to ESPN.com
Let's start with the obvious. Players rise and fall on the Player Rater quite a bit, especially in the early weeks of the season. That's because the difference in the number of games played thanks to scheduling is still significant enough to skew the numbers. (Remember, the Player Rater uses totals, not averages.) One big game can give a player a huge but unsustainable boost, and one bad game can drop a player far below what his value should be for future games.
Take a look at the Kings'
Spencer Hawes
, who had six blocks against the Timberwolves to open the season but now is rated equally with
Josh Smith
in the blocks category. So both are good at blocking shots, right? Well, maybe. Hawes followed up that performance with zero blocks against Miami and one block against Orlando.
You must be careful in the early going. The Player Rater is a tool. Use it to fleece your leaguemates. If you have Hawes on your squad, try trading him to a Kings fan while his value is high for an underachiever you expect to return to form soon, such as Mehmet Okur or Al Horford. The Player Rater is your friend. Study it. Know it.
Going up
The following players have been better than advertised and should continue to significantly outperform their average draft position all season long (current overall rank in parentheses):
Chris Paul, PG, Hornets (1): He is the best fantasy basketball player we have, folks. He's tops on the Rater by a comfortable margin, and he's not doing anything that he can't keep doing all season. Would you bet that Paul couldn't average 12 assists, shoot 50 percent and grab 5.3 rebounds for the whole season? All those numbers are slight improvements from last season's averages for CP3, but for him to sustain those averages is not unreasonable. In fact, his steals and 3-pointers-made averages probably will rise from where they are through three games. Offer the entire kingdom for him; it wouldn't be a mistake.
[+] Enlarge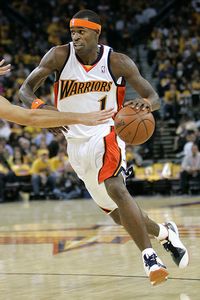 AP Photo/Jeff ChiuStephen Jackson has had to play some point guard for the Warriors in the early going this season.
Stephen Jackson, SG/SF, Warriors (8):
Especially with
Monta Ellis
out, the Warriors are Jackson's team. He's basically the de facto point guard, he's always a willing shooter and he's playing in a system that seems to have been designed specifically for him. Looking back, I think we should have given this guy more credit on draft day. He won't keep making four 3s per game, but he also won't keep killing your free-throw percentage by shooting 67 percent on five attempts per game. I think it's possible that he'll stay in the top 20 on the Player Rater all season, but if he is still this good when Ellis returns, he may be a good sell-high candidate.
Ron Artest, SF, Rockets (14): So far, his averages actually are down almost all the way across the board (except 3s), so this rating was a total surprise to me. I certainly won't tell you that a motivated Artest can't be a top-15 fantasy player. If you drafted him in your league, congrats. I think he'll be here all year.
Derrick Rose, PG, Bulls (36): No one thought he would be this good right away. He has averaged 18.3 points and more than four rebounds and four assists. There is, however, a reason he was the No. 1 pick in the draft. He's big and strong enough to play in the NBA, and there's no reason he shouldn't continue to improve all season. He's an ideal sell-high guy because of the chance he'll run into a big rookie wall at some point, but if I had him, I don't know whether I could part with him.
Thaddeus Young, SF, 76ers (82): He's outperforming his ADP (114) specifically on the strength of one really good game against the Hawks in which he scored 22 points and hit four 3s. What's surprising is that even though he averaged 1.0 steals in just 21 minutes last season, he's yet to earn a steal through three games so far. The 3s are here to stay. The steals will come, and when they do, it will be clear why he'll be such a good fantasy player.
They might be good, but this is impossible
These players have been excellent in fantasy in the early going, but their solid performance won't last:
Dwight Howard, C, Magic (3): Clearly, Howard is a monster. I have no doubt that he can continue to average the 21.7 points and 14.3 rebounds he has averaged so far through three games. But it's telling that even though he's averaging 2.0 steals and 4.3 blocks (both totally unrealistic numbers), he's ranked only third because of his atrocious 17-for-33 showing from the line. I can't believe I'm saying this about someone as good as Howard, but if you can convince someone that he'll average two steals and two blocks throughout this season and get them to pony up two slightly lesser players you like a lot, Howard is worth trading right now.
[+] Enlarge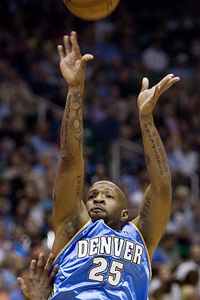 AP Photo/Douglas C. PizacNo one expected Anthony Carter to start so well. And now, he won't even be asked to start in Denver.
Anthony Carter, PG, Nuggets (6):
Carter is not this good, and I have no doubt that
J.R. Smith
was going to cut into his playing time at some point this season -- and that was
before
the Nuggets traded for
Chauncey Billups
. Remember, though, that Carter had marginal value in both assists and steals last season and ended up contributing to many fantasy teams. His ranking here is boosted by the fact that he has missed only eight of the 26 shots he has taken in three games, however, if he's not playing 25 minutes or more, he won't be as useful.
Andrew Bogut, C, Bucks (13): He has played four games; everyone else has played three. Ignore this rating entirely. I still love him this season, but I'm particularly bummed out by the fact that he is 4-for-11 from the charity stripe so far. The lack of attempts isn't a good sign for his game, and the percentage is just gross. Hold on to him, though; he should finish the season well above his ADP of 83.5.
James Posey, SG/SF, Hornets (44): Believe it or not, his minutes haven't increased much with the Hornets, even though Tyson Chandler has missed a few games. So why the boost in rating? Well, he's not missing shots. He's 10-for-16 from behind the 3-point line. If you own him, you should trade him right now. Posey is a classic example of a guy whose value in real basketball drastically inflates his perceived value in fantasy.
Mickael Pietrus, SG/SF, Magic (51): Against the Hawks and the Kings, Pietrus scored 20 points in each game. Against the woeful Grizzlies, he scored three. The truth, as they say, lies somewhere in between. His stock will never be higher than it is now because he won't continue to score 20 points on a regular basis. Also, the perception exists that Pietrus gets a lot of steals, but he doesn't. He has never averaged more than one steal per game and has only two steals in 84 minutes played thus far this season. Sell now.
Seth Landman is a fantasy basketball analyst for ESPN.com.
Fantasy Basketball
Seth Landman is a fantasy basketball analyst for ESPN.com.