Commentary
The power of good health
Can former injury risks like Mo Williams, Kaman stay healthy and retain high value?
Updated:
January 6, 2010, 5:51 PM ET
By
Seth Landman
| Special to ESPN.com
As we are approaching the halfway point of the season, I thought we'd move away from looking at the Player Rater rankings based on per-game averages and instead take a look at which players have been the biggest surprises in terms of total value so far this season.
Of course, in many cases, the players who have worked their way up to surprisingly high rankings on the Rater are players who have just stayed healthy. Many top players -- Chris Paul, Danny Granger, Pau Gasol, to name a few -- have missed significant time with injuries and, as such, have accumulated less total value.
The important thing to consider here is that these rankings are only a picture of what has happened to this point in the season; predicting who will stay healthy for the rest of the season is a major challenge. What we do know is that these things tend to even out a little once the total numbers of games played rises. For example, 36 games of Mo Williams might be more valuable than 24 games of Chris Paul, but 82 games of Mo Williams probably isn't more valuable than 70 games of Chris Paul.
So, for every player here, we need to also evaluate their trade value going forward, so that you can hopefully get something for them before they slide back toward the middle of the pack. (Each player's overall ranking is in parentheses.)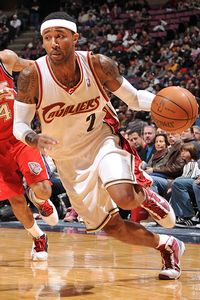 Jesse D. Garrabrant/NBAE/Getty ImagesCan Mo Williams remain both durable and productive for the rest of the season to keep his top-10 ranking?
Mo Williams, PG, Cleveland Cavaliers (6): To see Mo Williams in the top six overall is a pretty major shock, especially considering the way his shot fell apart in the postseason last year. He's moved into the elite in part because his game is tailor-made for fantasy basketball. He takes and makes a lot of 3-pointers, is a good scorer, hits almost all his free throws, and gets a few assists too. The other side of his rise, however, is slight boosts in steals and assists. It doesn't seem like much, but the jump from 0.9 steals and 4.1 assists per game last season to 1.3 steals and 5.0 assists per game this season, coupled with his perfect health so far this season, makes him a supremely valuable asset. It means he's a pretty significant contributor in five out of eight categories, and doesn't really hurt you in the others.
In terms of Williams' trade value, I think it's a bit complicated. His numbers are actually pretty much in line with what he's done in previous years, so it's not out of the realm of possibility that he could be this good all season. He played in 81 games last season, so there's a precedent for his staying healthy for an entire season. However, he didn't play more than 68 games in any of the previous three seasons, so there's reason for skepticism, too. The odds of his staying in the top 10 or even the top 20, especially as the gap in games played shrinks between him and other guards, is pretty low, but he's giving you a ton of 3s without hurting your percentages, so it's important to realize that if you trade him for someone like Baron Davis (more assists and steals), you might be taking a hit in those other categories. As such, even though his value is inflated, I think he's probably worth holding on to unless you really need to make a move in other categories and can afford to lose the 3s.
Al Horford, PF/C, Atlanta Hawks (23): Considering he had an ADP (average draft position) of 66.5, I think it's safe to say no one expected him to be this good in fantasy. Interestingly, his numbers aren't all that different from last season's at first glance. He's bumped his scoring from 11.5 per game to 13.8, and his rebounding from 9.3 to 10.0. Those are nice increases, but nothing to write home about. His blocks and steals are almost exactly the same, and his assists are slightly down. What has changed, it seems, are his percentages. His field goal percentage has jumped from 52.5 to 58.4, and his free throw percentage has jumped from 72.7 to 77.4.
Horford is quite obviously a very good center in fantasy, and he's young enough that it's probably not going to change any time soon. That said, considering how high he's ranked, it makes me a little nervous that so much of that ranking is built on the percentages. I'm not ready to etch it in stone that Horford is going to keep shooting 58 percent from the floor for the rest of the season. Plus, I'm not sure we have enough of a track record with Horford to say that he's durable. He played 81 games his rookie season and 66 games last season. That's it. So, if you can afford to take a little hit in the percentages and you're not in a keeper league, it might make sense to deal Horford for a big man with a more obvious fantasy skill set. Guys like Josh Smith (if you need the blocks and steals) and Amare Stoudemire (if you need the points) are both currently ranked below Horford and have some more upside going forward, at least this season.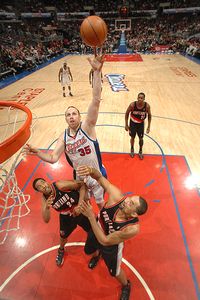 Andrew D. Bernstein/Getty ImagesKeep relying on Chris Kaman while he's still healthy, especially as rookie Blake Griffin continues to recover from injury.
Chris Kaman, C, Los Angeles Clippers (30): With Kaman, as always, it comes down to health. He hasn't played 82 games since his rookie season way back in 2003-04, and the past two seasons he's played in just 87 games total. If you told fantasy players before their drafts that Kaman would play in 75-80 games this season, he would have probably been picked right around 30th, where he's ranked right now. He does all the things you'd want your fantasy center to do. He scores, rebounds, blocks shots, and makes a good percentage of his shots from the floor and the line.
There's a few things to think about in terms of Kaman's value going forward. First, the impending NBA debut of Blake Griffin will mean that there's a bit of a logjam for minutes among Griffin, Kaman and Marcus Camby unless a trade goes down. Second, it's hard to put much faith in Kaman's staying healthy. Last month, I traded Kevin Garnett for Kaman and Andrei Kirilenko in one league, even though Garnett's not exactly a safe bet at this point either. I was happy to make the deal because of Kaman's potential when he plays, but I'm also not going to be surprised if he misses 30 games at some point. Plus, he might get traded and end up on a team that doesn't need him to be the scoring presence that he currently is for the Clippers. There are a ton of reasons to sell high on Kaman, but personally, I'd do it only if I was getting a player who can match Kaman's overall value; injuries are too hard to predict, and Kaman is just too good right now to give up on.
Carl Landry, PF, Houston Rockets (32): Get this: Landry's field goal shooting, which is where he derives the greatest portion of his fantasy value, is actually down from his two previous seasons. Of course, that's probably because the guy is a total offensive force this season and is putting up almost twice as many shots. Exclusively coming off the bench and playing just 26.7 minutes per game, Landry is probably the best option in the league right now (right up there with the amazing Steve Nash) if you need help in both field goal and free throw percentage. He's a scoring machine. However, he doesn't rebound all that much, he never passes, he doesn't record enough steals or blocks to help you much, yet he's ranked 32nd overall on the Player Rater.
In this case, I feel pretty confident in saying he can't be ranked this high forever. Like Kaman, the fact that he's been healthy is inflating his value, and like Horford, he's relying on a huge boost in one of the percentages (in this case, his free throw shooting, which has jumped from 81.3 percent to 86.3 percent on almost twice as many attempts) to inflate his value. Add to that the fact that he's had major injury woes in his two previous seasons, and you'll see why there's definitely reason to sell high. I wouldn't give him up for nothing, but if you can sell him to someone who really needs help in the percentages and helps you in categories you need, I wouldn't hesitate to deal him either.
Seth Landman is a fantasy basketball analyst for ESPN.com.
Fantasy Basketball
Seth Landman is a fantasy basketball analyst for ESPN.com.
SPONSORED HEADLINES
FANTASY TOP HEADLINES
MOST SENT STORIES ON ESPN.COM