Commentary
What type of point guard do you want?
Updated:
December 1, 2010, 4:46 PM ET
By
Seth Landman
| Special to ESPN.com
If you have yet to be convinced that the NBA is becoming a point guard-dominated league, it might behoove you to look at what is happening on the Player Rater these days. In fantasy, we're no strangers to the importance of the point guard position, but things are getting to the point that if you are without an elite point guard, you've most likely made a huge mistake.
To be specific, there are 11 point guards in the top 30 on the Player Rater (based on per-game averages), and that doesn't even include plenty of guys you'd be happy to own (Devin Harris, Jrue Holiday, Andre Miller, Mike Conley or Jason Kidd, anybody?).
All of this prosperity at the point guard position brings up some deeper questions, though. For instance, what is a point guard? Sure, Derrick Rose and Steve Nash play the same position, technically, but how similar are they as players? What skills are we looking for when we look for a point guard? In years past, many on this website have advised you to scour the land for point guards who, in addition to piling up assists, accumulate plenty of steals and 3-pointers, but get this: among the 20 most valuable 3-point shooters in fantasy, the only point guard who is a top-40 overall fantasy commodity is Gilbert Arenas.
With this in mind, I wanted to begin to explore what types of point guards are out there, so that those of us with fantasy basketball on the brain may be better served when we attempt to figure out just what we're looking for in floor generals for our fantasy squads:
[+] Enlarge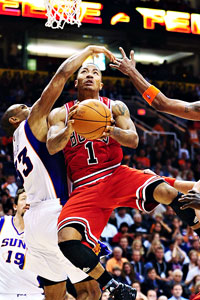 Mark J. Rebilas/US PresswireDerrick Rose has taken his game to another level this season, averaging 26.6 points thus far.
1. The "points" points
Examples: Derrick Rose (Chicago Bulls), Deron Williams (Utah Jazz)
These two accumulate most of their fantasy value by doing two things: scoring points and helping other guys score points. They're nothing special as rebounders, they won't overwhelm you with 3s, they won't help you as much as most point guards where steals are concerned, but they are as good as any players in the game at making the ball go into the hoop.
• Benefits: For the most part, you know what you're getting. Their teams rely on them to rack up large numbers in points and assists, and those are two of the easier categories in which to maintain consistency on a night-to-night basis. When these guys don't go for 20-plus points and 8-plus assists, it's a surprise.
• Drawbacks: While assists can be hard to come by, points are less so. If these guys were as good at grabbing steals and knocking down 3s as they are at scoring, they would certainly be even more valuable as fantasy players.
2. Scorers with quick hands
Examples: Russell Westbrook (Oklahoma City Thunder), Monta Ellis (Golden State Warriors), Stephen Curry (Warriors), John Wall (Washington Wizards)
These four guys (Curry and Wall to a lesser extent) are on a similar level as Rose and Williams as scorers. Westbrook is even on those guys' level as a passer, but where these four guys make their fantasy hay is in the steals category. Because scoring is generally easier to come by than steals, that makes them especially valuable if you can find a way (in the case of Curry and Wall) to make up what they lack as scorers with other players.
• Benefits: These guys can all carry you in steals, and all have the potential to blow up for the occasional five-steal performance that can help you a ton in head-to-head leagues.
• Drawbacks: With the glaring exception of Curry, these guys have little interest in knocking down 3s; in fact, they are better served doing other things.
3. The Purists
Examples: Chris Paul (New Orleans Hornets), Rajon Rondo (Boston Celtics), Mike Conley (Memphis Grizzlies), Jason Kidd (Dallas Mavericks), Jrue Holiday (Philadelphia 76ers)
For these guys, scoring isn't really a goal (obviously, some are more extreme about this than others). Basically, these guys put up big numbers in two categories: assists and steals. In the rest, they tend to make more marginal contributions.
• Benefits: Considering Paul is the currently the best player in fantasy, it's hard to find fault with this as a way of playing.
• Drawbacks: Paul is a perfect point guard, so no one can quite match him. The rest of these guys have major, major flaws. Rondo can't make 3s or free throws; Kidd really doesn't seem to care about scoring at all unless he's shooting a 3; Conley shoots a poor percentage from both the floor and the line; Holiday simply isn't consistent enough yet.
4. Living at the line
Examples: Chauncey Billups (Denver Nuggets), Devin Harris (New Jersey Nets)
If they weren't so good at other things, you'd have Westbrook, Williams and Paul in this category, too. Billups and Harris, however, are among the rare point guards who create most of their fantasy value by getting to the line and knocking down free throws. Both excel at getting to the line, and both make their shots when they get there.
• Benefits: In the new age of the point guard, it's not a given your point guard will be a great shooter from the stripe (see Rondo, Rajon). What's more, these guys are good value picks if you're dragging Dwight Howard or Blake Griffin around in this category.
• Drawbacks: Their best skill is free throw shooting, which is boring and has a somewhat limited value.
5. The secret engines
Examples: Steve Nash (Phoenix Suns), Tony Parker (San Antonio Spurs)
[+] Enlarge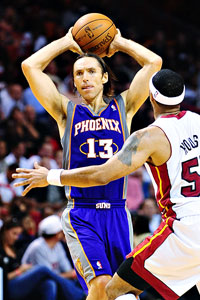 Mark J. Rebilas/US PresswireWithout Amare Stoudemire this season, Steve Nash is averaging a career-high 18.9 points per game.
Obviously both of these players have very different styles. Parker is an efficient scorer and his ability to get to the rim opens up passing lanes. Nash is an elite passer and shooter and ends up looking to score because defenses have to honor his ability to set up teammates. Both use the pick-and-roll extensively and very effectively, and both, it must be said, end up putting up somewhat similar stats. Both shoot a high percentage and score a similar amount of points, and what Nash loses in steals he makes up with a few more assists and his ability to knock down 3s.
• Benefits: Like the elite scorers above, these guys have complete control over their offenses, so you don't have to worry about them being phased out. Also, because Parker is amazing at getting to the rim and Nash is pretty much the best shooter ever, it seems quite rare that either of them has a really bad night.
• Drawbacks: This season, at least, neither of them is blowing away the competition in any single category. Nash still racks up a ton of assists, but that comes at the expense of steals and rebounds, and for the first time in a while, he's in the rear view mirror of a few guys even where assists are concerned.
Summing it all up
Obviously, these categories have some overlaps and are not meant to be perfect descriptions of the players within them. Even so, when we consider how different two similarly ranked point guards can be, it is important (more and more as the season progresses) to try to figure out exactly in which categories you need your point guard to be special. Billups might be a disappointment to you, but if your team needs a boost in free throw percentage, he could be just what you need.
As always, there is value in knowing what you need and what you have. Categorizing seemingly similar players can help you figure out where you might be able to turn a surplus into something that will fill a void elsewhere.
Seth Landman is a fantasy basketball analyst for ESPN.com.
Fantasy Basketball
Seth Landman is a fantasy basketball analyst for ESPN.com.
MOST SENT STORIES ON ESPN.COM