Commentary
Early disappointments to target
Updated:
January 19, 2011, 4:02 PM ET
By
Seth Landman
| Special to ESPN.com
Last week, I looked at some players who were fantasy All-Stars; that is, players who had accumulated their value by vastly outperforming the expectations most of us had of them at the start of the season. That's all well and good (we all need the occasional bit of validation to remind us how smart we are), but this week we'll look at some struggling players who might provide great value during the rest of the season.
Struggling players are always a great place to look for fantasy value. That's because we often make trades based mostly on what players have looked like recently. If a player has been struggling for the past two months, in most cases you'll be pretty unlikely to trade for him. However, if you can acquire a player when his value is at its absolute lowest, it is as good as drafting a player who all of the sudden becomes a stud.
What follows is a list of a few players whose current Player Rater value does not accurately reflect their potential fantasy value for the rest of the season. (Current ranking based on total accumulated stats in parentheses.)
[+] Enlarge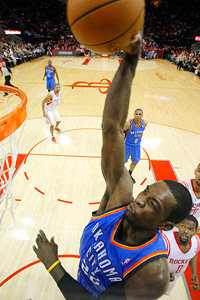 AP Photo/David J. PhillipJeff Green's scoring and field goal percentage have declined each month this season.
Jeff Green, SF/PF, Oklahoma City Thunder (121): Green's average draft position heading into this season was 63.1, so the fact that he's ranked well outside the top 100 is certainly a disappointment. Never a model of efficiency, Green had decent fantasy value because he had decent numbers in steals, blocks and 3-pointers. In fact, it looked like this would be the season he finally averaged better than one in each of those categories, putting him into some elite company. This season, it's not just that Green's shooting has fallen off a cliff; he's also not blocking shots at all (down to just 0.3 per game).
However, there are some good signs. For one, Green is actually making a higher percentage of his long 2-pointers than he ever has, so there's at least a chance that it is just taking some extra time for him to find his 3-point stroke. He's also finishing better at the rim, getting to the line more and making a higher percentage of his free throws when he's there. He's struggled of late against the Lakers and the Magic (teams with the size to bother him) but had nice games against the Rockets, Grizzlies and Mavericks. I like his chances to be a top-75 fantasy player the rest of the way.
Antawn Jamison, PF, Cleveland Cavaliers (113): Perhaps because the Cavaliers have been so putrid the past few weeks, people aren't paying attention, but Jamison has been looking more and more like his old self of late, and he's putting up some pretty fantastic fantasy numbers. Specifically, in his eight games in January, he's averaged 22.4 points, 7.6 rebounds, 2.1 3s and 1.3 steals.
That his game has improved is only part of the equation. The desperate Cavs have simply started playing Jamison more minutes (mostly because Anderson Varejao is out for the rest of the season). The risk with Jamison is that he'll get traded to a contender, but even then, his efficiency will go up and his fantasy numbers will be far better than someone who is ranked as low as he currently is. If you can trade some scraps for him, he'll provide you a legitimate scorer who knocks down a ton of 3s for someone who rebounds as well as he does.
Vince Carter, SG/SF, Phoenix Suns (111): Carter's game was definitely in the midst of a downward spiral before he was traded away from the Magic, but the desert has done him wonders. That tends to happen when you get to play alongside Steve Nash. Remarkably, Carter's game is starting to look a lot like the game of the guy he replaced, Jason Richardson.
Here were J-Rich's numbers this season before he left Phoenix: 19.3 points, 4.4 rebounds, 1.4 assists, 2.5 3s and 47 percent shooting from the field. Here are Carter's numbers in his 10 games as a Sun: 18.9 points, 5.2 rebounds, 1.8 assists, 2.6 3s and 46 percent shooting from the field. Considering the fact that Richardson is ranked almost 70 spots higher than Carter on the Player Rater, it's probably true that Carter is a bit underrated. For all his flaws, it would appear that he still has a bit to offer fantasy owners this season.
[+] Enlarge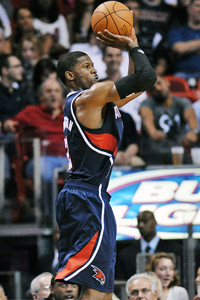 Steve Mitchell/US PresswireJoe Johnson is averaging 27.6 points per game and shooting nearly 50 percent in January.
Joe Johnson, SG/SF, Atlanta Hawks (93): Most years, Johnson starts out extremely hot and then cools down as the season goes on. That's because he always plays a ton of minutes and has to carry the Hawks' backcourt defensively. This season, Johnson started out extremely cold, but the 36.2 minutes per game he's playing are his fewest since his first full season (with the Suns in 2002-03).
It's not a surprise, then, that Johnson is starting to catch fire a little halfway through the season. In his past five games (including Tuesday night's win in Miami), he's averaged 27.0 points, 6.4 assists and 4.2 rebounds -- the sort of well-rounded numbers that have made him such a great player for so long. Also encouraging is the fact that he's getting to the line significantly more often than he did last season, which would seem to mean that he's feeling good physically. Clearly, he's a far better player than his numbers so far this season would suggest, and as his field goal percentage continues to rise, so will his ranking on the Player Rater.
Darren Collison, PG, Indiana Pacers (85): Many of us had extremely high hopes for Collison this season, despite the fact that the Pacers tend to play a system that doesn't help point guards rack up big numbers. The reasons were many, but mainly it was because he had an extremely promising rookie season and was going to a team with no one in front of him in the point guard rotation.
Well, unfortunately for Collison, T.J. Ford was still getting some minutes early on in the season, and Collison has been playing fewer than 30 minutes per game for the season on the whole as a result. Of late, though, that finally seems to be changing, probably because the Pacers' staff is realizing that Ford isn't giving them anything while he's out there. Collison, meanwhile, has averaged 17.9 points, 6.6 assists, 1.7 steals, 0.9 3s and 97 percent shooting from the foul line in 33.1 minutes per game in seven January games. Those are great numbers, people, and it might be a case that you don't have to give up somebody great to get them. For instance, somebody like D.J. Augustin or Luke Ridnour might get somebody to bite, and I would all but guarantee that Collison will be more valuable than either of them the rest of the way this season. Try to get him while there's still the impression that he's underachieving.
Seth Landman is a fantasy basketball analyst for ESPN.com.
Fantasy Basketball
Seth Landman is a fantasy basketball analyst for ESPN.com.
SPONSORED HEADLINES
FANTASY TOP HEADLINES
MOST SENT STORIES ON ESPN.COM