Commentary
Smith, Ariza improved stock for '09-10
Updated:
June 18, 2009, 2:55 PM ET
By
Brian McKitish
| Special to ESPN.com
Two months have passed since the end of the fantasy hoops season, and after a long and (mostly) entertaining playoff stretch, the talking heads have come out to discuss Kobe Bryant's place in history, Stan Van Gundy's coaching deficiencies and a whole host of other topics that are not really relevant to the fantasy game.
Fantasy owners shouldn't care much about LeBron James not shaking hands or attending press conferences, nor should we care if Bryant is one of the top 10 NBA greats. Instead, we should be looking at the playoffs with fantasy hoops in mind. Who improved their stock for next season? Who saw their stock plummet? And perhaps more importantly, what perceptions were changed or altered during postseason play?
The fact of the matter is that most of our perceptions about players are molded by what we see in playoff competition. Why? Well, unless you have NBA League Pass (which, by the way, is highly recommended for any fantasy owner), this is the most that we get to see of these players on the court. Sure you get the nationally televised games and your local market team or teams, but how often does the casual fantasy owner who lives in Chicago get to see Mickael Pietrus, Courtney Lee and Marcin Gortat on the court?
With that in mind, let's take a look back through the 2009 playoffs from a fantasy perspective.
Stock Up
J.R. Smith, Nuggets: We all knew Smith was a streaky shooter with the ability to dominate at times, but who knew he could be such an effective playmaker? The Nuggets were at their best this postseason when Smith was penetrating into the lane and either creating his own shot, or finding the open man as the defense converged. After averaging just 2.8 assists per game during the regular season, Smith posted 3.4 assists in five games against the Mavericks and 3.3 assists in six games against the Lakers. It was really a revelation, and I'm sure the Nuggets' brass took notice of how the team played when Smith was getting to the rim and creating off the dribble. With that said, do not be surprised if Smith adds some assists to his already impressive repertoire of points, 3-pointers and steals next season. Now, if he could only work on that inconsistency thing …
Trevor Ariza, Lakers: Once a well-kept secret in the fantasy world, Ariza has finally hit the big time. One of the key components in the Lakers' championship run, Ariza emerged as a defensive stopper and deadly sharpshooter from behind the 3-point line. Of course, most die-hard fantasy fans already knew Ariza had this type of potential in him, but now the secret is out. After averaging 11.3 points, 4.2 rebounds, 1.6 steals, 0.4 blocks and 1.7 3-pointers during the playoffs, even casual fantasy owners will know his name come draft day. Just be careful not to overrate him based on his fantastic play throughout the playoffs. At his best, Ariza is still mostly a steals and 3-point specialist for fantasy leaguers. And remember, Ariza is an unrestricted free agent so be sure to keep tabs on where he lands during the summer.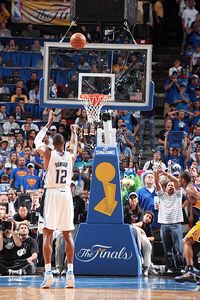 Garrett Ellwood/NBAE/Getty ImagesDwight Howard hasn't shot 60 percent from the charity stripe since his rookie season in 2004-05.
Dwight Howard, Magic
: I have said this in the past, and I'm going to say it again (and possibly live to regret it): Dwight Howard has the potential to become a decent free throw shooter. Did I really just write that? Yes, I did. Now, before you take out your cyber pen and comment about how I'm an idiot and should be fired, realize that my definition of decent means somewhere around 65 percent for the big man. His form from the line is not half bad, folks. He gets solid backspin on the ball, follows through properly and is fairly fluid with his delivery. I'm just saying, he doesn't look completely lost at the line like
Shaquille O'Neal
. And he certainly doesn't have the form that you'd expect from a sub-60 percent free throw shooter. There is some potential for improvement here. Howard made 145 of 228 free throws (63.6 percent) in 23 playoff games during the past two months, and his fantasy value would skyrocket if he can build on that success and work on it a little more during the offseason (which I'm sure he'll do after missing some key free throws in the Finals).
Luis Scola, Rockets: What a show this guy put on in the playoffs, particularly after Yao Ming went down. Averaging 14.4 points and 8.4 rebounds in 13 playoff games, Scola was unstoppable at times and showed he could handle double-teams as the primary offensive weapon in the paint. With that said, for as much as Scola did to pump up his value, we need to realize that he's still fairly limited in the fantasy game due to the fact he won't ever contribute in the shot-blocking category.
Marcin Gortat, Magic: Gortat averaged just 3.3 points, 3.2 rebounds and 0.6 blocks in 24 playoff games, which doesn't look like much until you realize that he did so in just 11.3 minutes per game. Project those numbers to 30 minutes per game and you have yourself a solid defensive player who could average around 8.5 rebounds and 1.5 blocks per game if given the opportunity. Gortat will be a free agent this summer, and I'm sure plenty of teams will come calling after seeing his defensive prowess during postseason play. Depending on where he lands, Gortat could become a solid rebounding and shot-blocking option in fantasy leagues next season.
Joakim Noah, Bulls: Noah had a strong second half with 8.9 points, 9.3 rebounds, 0.7 steals and 1.3 blocks after the All-Star break, so it should not have been a surprise to see him giving the Celtics fits on the glass in the first round of the playoffs. Noah put up 10.1 points, 13.1 rebounds, 0.8 steals and 2.4 blocks in the thrilling seven-game series with the Celtics, and fantasy owners should not sleep on the eccentric center come next season.
Stock Down
Yao Ming, Rockets: He is who we thought he was! After surprising everyone by staying relatively healthy and playing in 77 games during the regular season, Yao reminded us that he is still the same injury-prone center that we all thought he was. Yao is expected to recover from the hairline fracture in his left foot in time for next season, but fantasy owners should tread carefully when selecting the big man in next season's fantasy drafts.
Greg Oden, Trail Blazers: I know we only got to see him for a short series, but Oden did not do much to help shed the bust label that some have been throwing around lately. It's a shame that the most significant stat Oden managed to post in the Blazers' six-game series with the Rockets was his 4.5 fouls in just 16.0 minutes per game. Sure, he has talent, but he'll never be a consistent fantasy option until he learns how to limit the fouls and stay on the court. I doubt people will be reaching too high for him come draft day, but this is just a friendly reminder that Oden has a long way to go before he realizes his potential.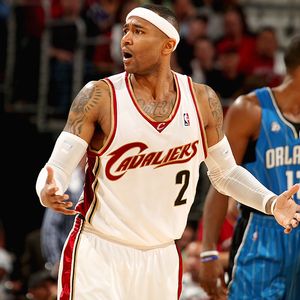 David Liam Kyle/NBAE/Getty ImagesMo Williams was perplexed at how he shot 37 percent in the conference finals versus Orlando.
Mo Williams, Cavaliers
: Williams (along with coach
Mike Brown
) has become somewhat of a scapegoat in the aftermath of Cleveland's surprising loss to the
Orlando Magic
. That's what you get for guaranteeing a victory then not following through, I guess. I mention Williams here not because I think he'll be any worse next season, but because his value may be depressed heading into fantasy drafts. For all his faults, Williams' stats actually weren't terrible in the postseason. He averaged 16.3 points, 4.1 assists, 0.7 steals and 2.5 3-pointers in 14 playoff games, which weren't too far off his regular-season averages. I think he'll be fine next season, but you may be able to get him a round or two later after all the negative press he's been getting.
Andrew Bynum, Lakers: Maybe I'm being a little harsh here because Bynum clearly wasn't fully recovered from the knee injury that caused him to miss 32 games near the end of the season. Even so, Bynum was basically a no-show in postseason play. He looked too slow on the defensive end, and committed too many fouls to keep himself on the court. Thanks to his poor play, Bynum found himself planted on the bench for much of the Lakers' run with just 17.4 minutes in 23 games during the playoffs. I suppose that I might be singing a different tune if Bynum was 100 percent healthy, but his health is something that we'll have to keep a close eye on for the upcoming season. Even if he goes through the summer with no setbacks, Bynum is still going to be a high-risk/high-reward type of gamble in fantasy drafts.
Brian McKitish is a fantasy basketball analyst for ESPN.com. He can be reached at bmckitish@yahoo.com.
Fantasy Basketball
Brian McKitish is a fantasy basketball analyst for ESPN.com and is a two-time Fantasy Basketball Writer of the Year, as named by the Fantasy Sports Writers Association.
SPONSORED HEADLINES
FANTASY TOP HEADLINES
MOST SENT STORIES ON ESPN.COM