Commentary
Sowing the seeds: Picking the upsets
Updated:
March 16, 2009, 6:22 PM ET
By
AJ Mass
| ESPN.com
Which team will be this year's Davidson? How can we tell if the Cinderella slipper will fit?
The most important round in your tournament bracket is the first round. With 32 games, there is sure to be plenty of upsets. If you pick the right ones (the ones nobody else does) and avoid selecting against eventual Final Four teams, you have a huge leg up on the rest of the competition.
As you know, basketball predictions don't always play out according to the numbers; Hampton, Richmond and Santa Clara didn't exactly leap off the page when the brackets were printed in the years of their upsets. Still, there must be a way to red-flag certain teams that are asking for an unexpected thrashing, and those that are anxiously jumping at the chance to give one. And there is … it's all in the seeds.
Simply put, seeding the NCAA tournament is an inexact science. Each year, the selection committee severely underestimates or overestimates certain teams. This is especially true when it needs to wait until the very last minute just to figure out which teams will be in the field, as was the case Sunday when Mississippi State's win of the SEC tournament knocked Creighton out of the mix.
In addition, the committee has a history of favoring teams from the "power conferences" at the expense of those from the mid-majors and below. That's why it takes the Gonzagas of the world a few years of making the tournament before they get assigned anything higher than a 7-seed, even though they probably deserve to be seeded far higher. A team such as Utah State, which was nationally ranked this season, still was given only an 11-seed. If the name on the front of the jerseys reads D-U-K-E for a team with the same résumé, that team probably would be staring at no worse than a 5-seed. But that's OK. It is instances such as these -- when a 13-seed probably deserved to be an 8-seed or a 6-seed looks an awful lot like an 11-seed -- in which upsets occur. Identifying these irregularities in seeding is the key to filling out a successful bracket.
Thus, I have taken the 65 teams in the NCAA tournament and ranked them according to a statistical formula that takes into account the same categories that the committee used to select the at-large teams in the first place. These categories include: strength of overall schedule, record in the last third of the season, record in games played on the road and at neutral sites, strength of the out-of-conference schedule and wins against teams in the RPI top 50. By comparing each team's strength in these areas in relation to the other teams in the tournament, we can assign each school a single value, which I call a team's "Atomic Mass." The larger the number, or the "heavier" a team is, the more it sinks to the bottom of the list, and the closer to 16 we should expect its seed to be.
The teams listed in green below are our "money teams," the teams our evaluation process has determined should have been seeded at least three spots higher than they were by the committee. Conversely, the teams listed in red are the "teams on red alert," the teams that should have received seeds at least three spots lower than they did by the committee. If any upsets happen, they likely will be in the games that involve these teams. This doesn't mean we're actually going to pick all the money teams to win, nor will we necessarily go with all the teams on alert to lose. For instance, East Tennessee State might be more worthy of a 13-seed than a 16-seed, but we're still not picking them to beat Pitt.
Money Teams
The teams you want or don't want, based on expected seed versus actual seed.
| School | Atomic Mass | Expected Seed | Actual Seed | Difference |
| --- | --- | --- | --- | --- |
| Siena | 98 1/2 | 2 | 9 | 7 |
| American | 199 1/2 | 7 | 14 | 7 |
| Utah St | 154 | 5 | 11 | 6 |
| North Dakota St. | 204 | 8 | 14 | 6 |
| Radford | 218 1/2 | 10 | 16 | 6 |
| Butler | 126 1/2 | 4 | 9 | 5 |
| Temple | 161 | 6 | 11 | 5 |
| Western Kentucky | 194 1/2 | 7 | 12 | 5 |
| VCU | 202 | 7 | 11 | 4 |
| Cleveland St. | 217 1/2 | 9 | 13 | 4 |
| Binghamton | 236 1/2 | 11 | 15 | 4 |
| Morgan St. | 239 1/2 | 11 | 15 | 4 |
| BYU | 139 | 5 | 8 | 3 |
| Tennessee | 172 1/2 | 6 | 9 | 3 |
| East Tenn St. | 273 | 13 | 16 | 3 |
| Illinois | 204 | 8 | 5 | -3 |
| Southern California | 251 1/2 | 13 | 10 | -3 |
| Michigan | 253 | 13 | 10 | -3 |
| Portland St. | 297 1/2 | 16 | 13 | -3 |
| Purdue | 210 | 9 | 5 | -4 |
| UCLA | 224 1/2 | 10 | 6 | -4 |
| Ohio State | 244 | 12 | 8 | -4 |
| Wake Forest | 212 1/2 | 9 | 4 | -5 |
| Marquette | 232 1/2 | 11 | 6 | -5 |
| California | 244 | 12 | 7 | -5 |
| Maryland | 279.5 | 15 | 10 | -5 |
| Minnesota | 287 | 15 | 10 | -5 |
| Texas | 274 | 14 | 7 | -7 |
| Boston College | 296.5 | 16 | 7 | -9 |
Last year, this process not only predicted Davidson's upset over Gonzaga, but it also identified Belmont beating Duke as a very real possibility. Although the Bruins didn't actually shock the world, they came as close as a team could come without actually pulling off the upset. This year, after a careful examination of all 32 of the first-round matchups, here's a look at some possible upsets to target:
East Regional
We like Tennessee over Oklahoma State, but a 9-seed over an 8-seed isn't all that bold. We also see the matchup of Texas and Minnesota being a battle of underachievers, but we'll still give Texas the nod there. However, there are still two games ripe for upset selections.
VCU over UCLA: This isn't the same VCU team that upset Duke two years ago, but this team has a fierce defense that just might be able to frustrate UCLA enough to keep it close. If the Bruins' three-point shooting falters, they could be in for a very rude awakening.
American over Villanova: There's no way we're actually going to endorse making this selection with the Wildcats playing in Philadelphia. However, don't be surprised to see this one within reach for American with four minutes left to play.
Midwest Regional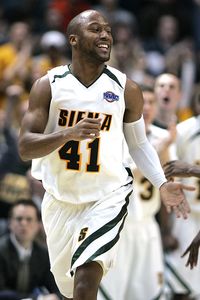 AP Photo/Mike GrollKenny Hasbrouck and his Siena teammates are a sleeper pick to make a good run.
Just like in the East, picking 9-seeded Siena to beat 8-seeded Ohio State isn't that huge of an upset, but we would like to point out that according to the Atomic Mass ratings, the Saints look like a 2-seed. We're in no way suggesting that the committee should have placed them there, but it does make them a very intriguing Sweet 16 surprise pick to upset Louisville in Round 2. Meanwhile, our upset picks in the Midwest Regional in Round 1:
North Dakota State over Kansas: Kansas has a young team with about as much NCAA tournament experience as their opponents, which is essentially none. The Bison come in with nothing to lose and everything to gain, and are a prime candidate to make it into the next round of play.
Cleveland State over Wake Forest: This is a Vikings team that went into the Carrier Dome and shocked Syracuse on a last-second three. They're not going to be intimidated here, and with a hot shooting day, they're primed for a victory over the Deacons.
South Regional
Another region with love for the 9-seed, as we think Butler will squeak out a victory over LSU. Additionally, this region has the highest quality 15- and 16-seeds in Morgan State and Radford, respectively, and while North Carolina might well struggle, especially with Ty Lawson's injury woes, we're not sure either underdog is truly strong enough to run with the big boys for a full 40 minutes. Other than that, though, we do like two lower seeds to have a solid showing.
Temple over Arizona State: It's a complete contrast in styles, but we don't think the Sun Devils will be able to stop Dionte Christmas from supplying enough offense to lead the Owls to a first-round victory.
Western Kentucky over Illinois: Consider us unimpressed with the Big Ten as a whole, and very intrigued by a Hilltoppers team that upset Louisville earlier this season. It's a combination that makes us lean toward the Sun Belt champs.
West Regional
Congrats to BYU, the only 8-seed we're rolling with in the first round. We're not too excited about Purdue, but we still think they'll be able to handle Northern Iowa. Other than that, we have only one game that we think will flip the script on the status quo in this region.
Utah State over Marquette: Without Dominic James, this just isn't the same Marquette squad, and Utah State's 11-seed is the true embarrassment of this bracket. After all, they're ranked No. 25 in the ESPN/USA Today poll, and yet the committee can't give them even an 8- or 9- seed? It makes little sense, and the Aggies should prove they're far better than that.
So there you have it. My first-round upset specials, courtesy of the committee's rushed seeding process. It's time to play the games.
A.J. Mass is a fantasy football, baseball and college basketball analyst for ESPN.com. You can e-mail him here.
SPONSORED HEADLINES
FANTASY TOP HEADLINES
MOST SENT STORIES ON ESPN.COM