Commentary
Numbers to know
Updated:
November 21, 2008, 1:39 PM ET
By
Brian McKitish
| Special to ESPN.com
As fantasy owners we often get too caught up in our daily boxscore scanning that we sometimes forget to stop to take a look at the landscape. As a result, we might end up missing out on some trends that fly under the radar. With that in mind, here are a few early season numbers that might surprise you:
+10.1 -- Wilson Chandler's plus/minus rating on the season. This only confirms what has been noticeable to anyone who watches the Knicks on a regular basis: When Chandler is on the court, the Knicks are completely different club -- in a good way. No other player in New York's regular rotation has a plus/minus rating even close to Chandler's, which tells us just how important he is in Mike D'Antoni's system. It also tells us that Chandler is going to earn more than 29.2 minutes per game as the season progresses. With that said, do not hesitate to "buy high" on Chandler as he is only going to improve from here.
11.0 -- The average number of free throw attempts per game for Devin Harris, which ranks second behind Dwight Howard's 11.6 per game. We expected Harris to be aggressive on the offensive end, but this is far beyond our wildest expectations, especially when considering that he is shooting 88.3 percent from the line on the season.
4.17 -- Steals per 48 minutes for Los Angeles' Trevor Ariza. Ariza has always been a quality thief, and he's thriving defensively in 23 minutes per game for the Lakers. This may come as a shock to some, but Ariza is actually creating more steals per minute than league leader Chris Paul. Grab him as a specialist if you're hurting in the steals department.
[+] Enlarge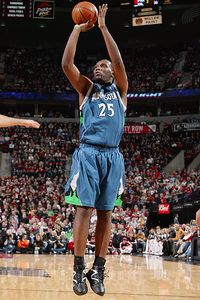 Sam Forencich/NBAE/Getty ImagesJefferson's free throw percentage is rising along with his fantasy value.
76.2 -- Al Jefferson's free throw percentage on the season. Big Al has improved his free throw percentage in each of his first four seasons and is already well on his way in his fifth. If this keeps up, and he very well might, Jefferson will be a sure-fire first rounder in fantasy leagues next season. Big men that hit their free throws are a rare breed, especially big men that also average 22.6 points, 10.3 rebounds, 0.9 steals and 1.8 blocks.
4.16 -- Assist/Turnover ratio for Knicks point guard Chris Duhon. Why this guy is owned in just 41.0 percent of ESPN leagues is beyond me. Not only is he dishing out 7.2 assists, but he's also knocking down 1.4 3-pointers and creating 1.5 steals per game. It just doesn't make sense that a player with these stats is so overlooked in the fantasy game.
3.0 -- Offensive rebounds per game for Kevin Love. Despite playing just 24.3 minutes per game, Love ranks 11th in the league on the offensive glass. And this, my friends, is why Kevin Love is going to have value in fantasy leagues at some point this season.
7.1 -- Stephen Jackson's league leading 3-point field goal attempts per game. Unfortunately, Jackson is connecting on just 25.6 percent of his shots from downtown. S-Jax is a career 33.9 percent shooter from downtown so we can expect his 3s and field goal percentage (37.3 percent) to improve. Even so, with that many shots from behind the arc, Jackson will continue to hurt you from the floor. And with 19.3 shots per game, Jackson is like the Dwight Howard of the field goal percentage category. I guess I'll learn to live with it if he continues to average 21.9 points, 4.3 rebounds, 6.5 assists, 1.3 steals and 1.8 3-pointers per game.
Pickups
Players named last week who remain quality waiver-wire additions: Jeff Green, Beno Udrih, Yi Jianlian, JaVale McGee, Nick Young, Luc Richard Mbah a Moute, Trevor Ariza, George Hill, Chris Quinn, Paul Millsap.
[+] Enlarge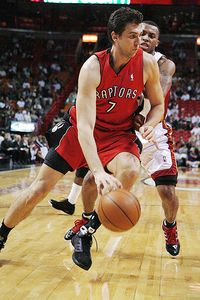 Doug Benc/Getty ImagesBargnani is having a hard time living up to the No. 1 overall pick billing.
Andrea Bargnani, SF/PF/C, Raptors (7.6 percent owned) -- I'm not going to lie, I was partially responsible for the Bargnani hype machine heading into the past season. Boy, was I wrong. After his rookie season I was enamored with his potential versatility as a fantasy player given his ability to knock down the 3-pointer, block some shots and hit his free throws, but Il Mago struggled from the start and did not live up to expectations. Now the expectations are low, and Bargnani just might surprise us. Thanks to Jamario Moon's struggles, Bargnani has been handed a starting gig and 30-plus minutes for the time being. He'll be inconsistent at times, but he has averaged 14.0 points, 1.3 3-pointers and a block in three starts for the Raptors.
Anthony Morrow, SG, Warriors (26.9 percent owned) -- Better late than never. I missed the boat on Morrow this past week, but then again, who knew the kid would blow up for 37 points and four 3-pointers just a few hours after my column was posted? That's Nellie for you, I guess. Morrow will be great as long as he's getting minutes, but don't get too comfortable here. We never really know what is going on inside Don Nelson's head and Morrow could land back on the bench at any moment (Brandan Wright style). Grab him for now to ride the hot streak, but be ready to dump him if Nellie has a change of heart.
Russell Westbrook, PG, Thunder (16.1 percent owned) -- I was going to wait another week to mention Westbrook, but I just can't help myself. This kid is phenomenal and it's only a matter of time before he replaces Earl Watson in the starting lineup in Oklahoma City. Besides, Westbrook is doing enough right now to warrant a pickup in deeper fantasy formats. With 13.8 points, 4.6 rebounds, 4.0 assists and 1.6 steals over his past five games, the rookie out of UCLA is showing some serious promise in limited minutes. Don't wait too much longer to grab him off the wire because he's going to explode when the minutes come along.
Daequan Cook, SG, Heat (1.7 percent owned) -- Cook is a one-category wonder, but if you need 3s, it's hard to ignore a guy who has hit at least one 3-pointer in every game this season. Filling that instant offense role off the bench for the Heat, Cook is slowly starting to make a name for himself with 11.8 points, 0.8 steals and 2.8 3-pointers in 30.6 minutes per contest over his past five games. He ranks third in the league behind Jamal Crawford and Joe Johnson in 3-pointers made with 29 and should be picked up by anyone looking for a 3-point specialist.
Brook Lopez, C, Nets (9.9 percent owned) -- Rookie inconsistency aside, Brook Lopez has filled in admirably for the injured Josh Boone. In three starts, Lopez has impressed with 15.0 points, 9.7 rebounds, 2.3 blocks and a steal in 31.7 minutes per game. A healthy Boone will undoubtedly cut into Lopez's numbers, but he may have played well enough to hold onto the starting gig. Stay tuned, but realize that Lopez is the guy you want in the New Jersey frontcourt.
Ryan Gomes, SF/PF, Timberwolves (4.2 percent owned) -- A sudden increase in minutes has put Ryan Gomes back on the fantasy map. Averaging 12.8 points, 4.0 rebounds, 1.5 steals and 1.3 3-pointers in 31.3 minutes over his past five, Gomes should at least provide short term value while the 'Wolves decide how to straighten out their season. There's a lot of competition at his position in Minnesota, but Gomes has some upside if he can emerge from the pack. Remember, he was one of the best second-half pickups the past season when he averaged 14.2 points, 6.3 rebounds, 0.9 steals and 0.7 3-pointers after the All-Star break.
Others to Consider: Anderson Varejao, D.J. Augustin, Rasho Nesterovic, Kwame Brown, C.J. Miles, Donte Greene (until Kevin Martin returns)
Brian McKitish is a fantasy basketball analyst for ESPN. He can be reached at bmckitish@yahoo.com.
Fantasy Basketball
Brian McKitish is a fantasy basketball analyst for ESPN.com and is a two-time Fantasy Basketball Writer of the Year, as named by the Fantasy Sports Writers Association.