Commentary
Finding help in the percentages
Barnes, Jack among top targets
Updated:
February 5, 2010, 3:44 PM ET
By
Josh Whitling
| Special to ESPN.com
Welcome to the gripping conclusion of the Working the Wire miniseries. For the past month I've focused upon widely available (available in at least two-thirds of ESPN leagues) players to target in two categories per week. This week's dramatic finale highlights perhaps the most difficult categories to master as a fantasy hoops player: the percentages. Before delving into specific players, here are a few tidbits about the nuances of the percentage categories.
Starting a player can hurt you more than starting nobody. This isn't true of the rest of the standard categories; even if a guy like Luis Scola blocks a paltry 0.3 shots per game from your center spot, he doesn't actually hurt you by being a non-factor in a category you expect from a center. But an inaccurate shooter can do damage that can lose you a week in head-to-head (H2H) play, and can become a liability in roto formats, especially if embroiled in a close race. Always consider this when starting a player who is a liability from the floor or stripe.
Percentages are deceiving, ratios are not. Focus on makes and attempts rather than overall percentage. The impact a player has upon your percentages directly correlates with his attempts. Thus, no player mentioned in this column attempted fewer than about eight field goals or two free throws per game in January, to avoid those who appear helpful but don't take enough shots to have much impact.
Specialists -- players who will transform your team's production in the category (like a 2-plus block/steal, 3-plus 3-pointer or 7-plus assist player) -- basically don't exist, especially on the waiver wire. Thus, percentages are a season-long project in roto leagues, and if you find yourself regularly losing in one of those categories in H2H leagues, your team needs a significant makeover there, not just one specialist off the wire.
Percentages are undervalued in the trade market. More to come on this in the future.
Field goal percentage
Players to add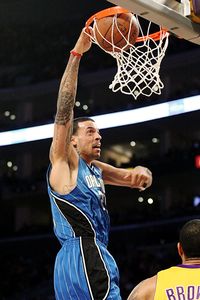 Icon SMIFewer 3-point attempts have made Matt Barnes' field goal percentage more acceptable.
Matt Barnes, SF, Orlando Magic (3.9 percent owned)
: In January, Barnes shot 51 percent from the floor and added a steal and 1.1 3s per game, one of four players to reach those levels in the month. The other three?
Kevin Durant
,
Chris Paul
and
Dwyane Wade
. Barnes' role is clear; he's started every game since Dec. 30, but his minutes are sporadic on a deep team, as he's failed to notch 30 minutes in a game in nearly three weeks. He lacks a specialty, but accrues enough 3s, steals, blocks and rebounds to qualify as a capable glue player, especially in turnover formats (1.6 per game this season, 1.5 in January). He doesn't have to force anything with the Magic this season, so even though his scoring outputs aren't huge, his efficiency has increased (51 percent in January, 49 percent in December and 46 percent this season, his best since 2005-06), making him a player worth adding in any format if you want versatility and don't want to worry about him hurting your field goal percentage.
Hakim Warrick, SF/PF, Milwaukee Bucks (2.0 percent owned): Warrick is an apt example of the aforementioned percentage specialist. He's one of few players to shoot 50 and 77 percent from the floor and stripe, respectively, in January with at least 8.5 and 4.4 attempts. Hate the peripherals, as he provides practically nothing in the defensive categories, but if your team is riddled with inefficient scorers, Warrick's stats are an ideal complement, and he's been trending upward after averaging 12.3 points per game in January versus 8.1 in December.
Arron Afflalo, SG, Denver Nuggets (1.8 percent owned): Those of us on the West Coast know Afflalo well, as he torched college foes at UCLA en route to winning Pac-10 Player of the Year honors over Nick Young in 2008. He's averaged better than 20 minutes every month this season, shot higher than 50 percent from the field in January and November sandwiched around an awful December. February is looking promising, as he's scored 12 points in each of his two contests so far this month, and he's averaging nearly 34 minutes per game in his past five contests. If you need 3-pointers but don't want the typically harmful field goal percentage that accompanies gunners, Afflalo is worth considering.
Craig Smith, PF, Los Angeles Clippers (0.5 percent owned): Smith's game log looks like that of a mini-Nene, and in his past 12 games he's putting up nearly 13 points per game on 60 percent shooting from the field. A player must be pretty efficient to rank 10th on the Player Rater in the past 30 days in field goal percentage, despite averaging fewer than eight field goal attempts in that span. He doesn't play enough to have a huge impact across the board, but he does make enough of his shots at a high enough rate to impact your team's field goal percentage.
Players to avoid
Peja Stojakovic, SF, New Orleans Hornets (20.5 percent owned): Peja is still one of the deadliest gunners in the game, and can average two 3s per game in a bad shooting month. Now that Chris Paul is sidelined for four to six weeks, he should have to shoulder a bit more of the scoring load, so seeing three 3s per game from Peja in February isn't out of the question. But his love for the jumper causes his field goal percentage to suffer, and more shots could make it hard for Peja to shoot better than 40 percent from the floor this season, which would be his second consecutive season failing to top that mark.
Martell Webster, SG, Portland Trail Blazers (15.0 percent owned): There's a battle in the Rose City, as Webster and Nicolas Batum have been trading off productive outings for the Blazers of late, this after Webster exploded for 2.8 3s per game in 35.0 minutes in January. The starting gig is his, but starter's minutes are not, as 42.5 percent shooting from the floor last month on 12.4 attempts per game did damage. Even more unpromising is the fact that the 42.5 percent is his best mark from the floor of any month this season, so even though I think his aggregate production will continue and like him much more than Batum in a fantasy sense, he's a player I'd avoid if wary of field goal percentage.
Others to avoid: Chris Duhon, PG, New York Knicks (29.4 percent owned); Devin Brown, SG, Chicago Bulls (0.6 percent owned); Rafer Alston, PG, Miami Heat (2.8 percent owned)
Free throw percentage
Players to add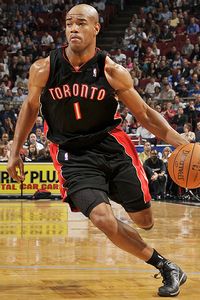 Fernando Medina/NBAE/Getty ImagesIn addition to Jarrett Jack's strong free throw percentage, he's shooting a career-best 48 percent from the field.
Jarrett Jack, PG/SG, Toronto Raptors (19.0 percent owned)
: Beating a dead horse is no fun, so I'll do this with bullet points …
• Jack will maintain the 12 points, five assists, one steal and one 3-pointer he's averaged for the past two months-plus (the stats most of you have noticed)
• Those numbers come with amazing percentages; he's pretty much a lock for close to 50 percent from the floor and 85 percent from the stripe
•
Jose Calderon
, who has 11 DNPs this season from a bum hip, recently sprained his ankle and is day-to-day. His reputation as a defensive player has been marred simply by watching Jack on a nightly basis and comparing Calderon's performance in like surroundings. Jack will keep a tight hold on his playing time.
• If you're in one of the leagues in which he's available, add him now over any player featured in this column, regardless of your team's primary need. Jack is simply a stud.
J.J. Redick, SG, Magic (2.9 percent owned): Perhaps the primary beneficiary of Vince Carter's disappointing season is Redick, who has become a legitimate force in the 3-point and free throw departments due to his impressive shooting touch. He's increased his free throw attempts in each month this season, and in January shot better than 90 percent from the stripe with more than three attempts per game, and he's the 10th-most-helpful player on the Player Rater in free throws during the past 30 days. If you need 3s and free throws, few widely available players feature a better combination than Redick.
Jerryd Bayless, PG/SG, Trail Blazers (2.9 percent owned): This young blur goes to the line. A lot. He's also accurate (87.7 percent this season), so despite the fact that he's not ready to contribute on an overall level, or even start for his team, when he's in the game he attacks the rack. Of the 58 players who averaged at least 4.2 free throws per game in January, Bayless averaged the fewest minutes per game.
Players to avoid
Robin Lopez, C, Phoenix Suns (8.9 percent owned): I love his contributions, and see him as a must-add if you need blocks, but he'll do damage to your free throw percentage, and not with minimal frequency. He shot 67 percent from the stripe on 3.5 attempts per game in January.
Rafer Alston, PG, Heat (2.8 percent owned), Tony Allen, SG, Boston Celtics (0.7 percent owned): I'm a fan of both of these players in deep leagues for certain reasons, but hate the fact they can't hit their free throws from the guard position. Despite the low frequency, if free throw shooting is on your radar as a "watch" category, avoid guards who aren't above 75 percent. Alston's and Allen's career numbers make their ineptitude painful enough to render them avoid-worthy, despite their potential contributions elsewhere.
Others to avoid: DeAndre Jordan, C, Clippers (0.2 percent owned); Ronny Turiaf, PF/C, Golden State Warriors (0.9 percent owned); Nazr Mohammed, C, Charlotte Bobcats (0.7 percent owned)
Josh Whitling is a fantasy basketball analyst for ESPN.com.
Fantasy Basketball
Josh Whitling is a fantasy basketball analyst for ESPN.com.
SPONSORED HEADLINES
FANTASY TOP HEADLINES
MOST SENT STORIES ON ESPN.COM