Commentary
Multidimensional category helpers
Updated:
December 17, 2010, 2:15 PM ET
By
Josh Whitling
| Special to ESPN.com
When making the decision to add a player, fantasy owners typically go one of two routes. The first is targeting the players with the highest overall value. This builds total roster value and adds bench depth, regardless of specific team needs. The other typical motive for waiver-wire additions is to compensate for a team's statistical or positional weaknesses. Analyzing and addressing team needs is a critical strategy in fantasy hoops. Sometimes, the lure of a one-category wonder can be fierce when you're mired in last place in a category in roto formats or a weekly loser in head-to-head play.
But it's hard to reconcile starting players who provide in just one area, which is why it's important to target category helpers who also provide elsewhere. This week, I'll focus on players to add if your team needs a boost in a specific area, but who provide secondary assistance as well. I varied the availability this week a bit more than usual, to appeal to those in shallower leagues along with my typical deep-league focus. Several of these players have run into increased playing time recently due to injuries to starters, and all are worth monitoring if your team needs match their contributions.
Rebounds
[+] Enlarge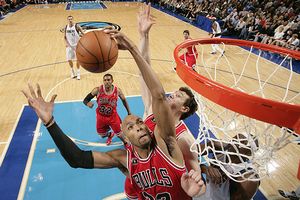 Glenn James/NBAE/Getty ImagesTaj Gibson will be asked to help pick up much of the rebounding slack with Joakim Noah out.
Taj Gibson, PF, Chicago Bulls (29.1 percent owned)
: Those who drafted Gibson expecting a month of glory before
Carlos Boozer
returned were just granted an extension with the news that
Joakim Noah
will miss 8-10 weeks. This leaves a lot of boards to be grabbed in Chicago, and Gibson has shown the ability to do just that already this season plus score, block shots and even grab steals, based on these November averages: 10.9 points, 7.1 rebounds, 1.8 blocks and 0.8 steals in 27.1 minutes per game. To the shrewd (or apathetic) owners who held onto him after Boozer returned, bravo. To all the rest, Gibson is a must-add in all formats.
Other categories: Blocks, points, steals
DeAndre Jordan, C, Los Angeles Clippers (1.9 percent owned): Chris Kaman is set to miss another three weeks with his bum ankle, which should allow Jordan to play about as many minutes as his foul totals will allow. He's averaging 9.0 rebounds and 2.0 blocks per game in his past five contests, and even though he's not much of a scorer, when he does shoot it's with high efficiency (65.3 field goal percentage). He also grabs 0.5 steals per game, and should hover around those averages of nine boards and two blocks as long as he's getting run. Kaman's injury history indicates that even when the three-week window has passed, there could easily still be opportunities for Jordan, who averaged 8.0 rebounds and 1.3 blocks in 12 starts last season. He's start-worthy while Kaman's out, and worth stashing on your bench even upon Kaman's return. Other categories: Blocks, field goal percentage, steals
Greg Monroe, PF/C, Detroit Pistons (0.5 percent owned): He's snagged the starting job for the Pistons, and despite the fact he won't get true starter's numbers with Charlie Villanueva as the sixth man, he should provide immediate help on the glass. Monroe also averages a respectable 0.5 blocks and impressive 0.8 steals per game in just 20 minutes of play. He'll display rookie inconsistency and have trouble contributing much on the offensive end, but based upon his per-48-minute average of 12.7 rebounds, Monroe has a promising future that starts now. Other categories: Steals, blocks
Assists
Jerryd Bayless, PG/SG, Toronto Raptors (20.3 percent owned): Bayless has seen extended run with Jose Calderon sidelined, and has made the most of his opportunity, scoring in double figures in four of his past five contests with averages of 16.2 points, 5.8 assists and 0.8 3-pointers in that span. He's not a pure point guard, although he undoubtedly adds a dynamic twist to the Raptors' offense with his speed and improved ability to find open men. He's averaging 3.5 assists per game this season in 18.7 minutes, which indicates he's capable of around six dimes per game with starter's minutes. He can also slide to the 2, so even if Calderon reclaims his starting role upon his return, Bayless should be able to find usefulness in the Raptors' offense. He's also a force from downtown, averaging 1.3 3s since joining the Raptors. Even though he's currently most valuable in the scarcer category of assists, Bayless can also score and knock down treys. Other categories: Points, 3-pointers
Ty Lawson, PG, Denver Nuggets (12.3 percent owned): Chauncey Billups is clearly on the decline, and now that he's sidelined to rest his sore wrist, it's Lawson's time to shine. But even with Billups in the lineup, Lawson has shown the ability to accrue assists and forge out sixth-man playing time, averaging 4.0 assists per game in 24.1 minutes per game this season. He also provides a bit of 3s and steals, with 0.8 and 0.7 per game, respectively, and is worth starting on most teams for the short term with Billups out. He has long-term upside as well, with Billups' struggles and nagging injury, so don't worry that Lawson is going to be a one-week wonder and look to the fact that he's averaging four assists per game off the bench as a sign of legitimate value. Other categories: 3-pointers, steals
Blocks
[+] Enlarge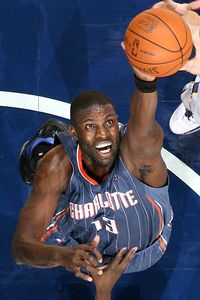 Joe Murphy/NBAE/Getty ImagesNazr Mohammed has averaged 12.3 points, 5.3 rebounds and 2.3 blocks in his past four games, despite just 18.5 minutes.
Nazr Mohammed, C, Charlotte Bobcats (0.9 percent owned): His minutes are limited, but Mohammed does the most with them, averaging 1.2 blocks in just 17.8 minutes per contest. He also gives you a respectable 5.3 rebounds per game, and is a lock to shoot better than 50 percent from the floor with occasional scoring binges, as evidenced by his recent run of 13,14 and 18 points in successive games. Other categories: Rebounds, field goal percentage
Erick Dampier, C, Miami Heat (0.5 percent owned): He's gradually earning more playing time, and is averaging 1.6 blocks per game in his past five contests, with at least one rejection in seven straight. If he's able to get his minutes in the range of 20 per game, he's also remained a solid per-minute rebounder and should be able to contribute 6-7 boards per game. His currently putrid 21.4 percent from the floor should soon skyrocket, as he's shot better than 60 percent from the field in each of his past four seasons with Dallas. It seems like a joke, as the Heat reached way down to the bottom of the barrel to roster him, but if Damp gets minutes, solid stats will follow, and the blocks are already there. Other categories: Rebounds, field goal percentage
Steals
Shawn Marion, SF/PF, Dallas Mavericks (27.3 percent owned): Plain and simple, in most formats Marion used to be the best fantasy basketball player alive. He provided hefty contributions in points, rebounds, 3s, steals, blocks, percentages and incredibly low turnovers. Nowadays, the 3s are gone, and the rest of the numbers have shrunk, but not disappeared. He's averaging 1.6 steals per game this month, and still boasts percentages of 50.7 from the floor and 83.3 from the stripe with 0.6 blocks per game. Nothing too flashy, but there's moderate production across the board, his steals are on the uptick and were always his best stat, with 1.7 per game for his career. Other categories: blocks, field goals, free throw percentage
Mario Chalmers, PG, Heat (0.7 percent owned): He's finally worked his way into respectable minutes, highlighted by his 14-point, 4-assist, 4 3-pointer effort on Wednesday in which he received 35 minutes in Carlos Arroyo's absence. Arroyo is healthy, missing the game for personal reasons, so don't look for those kind of minutes on a nightly basis for Chalmers yet. But he's much more dynamic than Arroyo and an absolute master thief, with 1.5 steals per game in 27.1 minutes for his career. He can also drain the long ball and dish some assists, and his average of 25.4 minutes per game this month is plenty of PT for him to be helpful in steals. Other categories: 3-pointers, assists
Points
Leandro Barbosa, SG, Raptors (42.7 percent owned): His first season with the Raptors has been a disappointment thus far, although he's picked up his scoring recently, averaging 16.7 points, including 2.2 3s, in his past five contests. He was battling wrist and shoulder injuries to start the season, although he undoubtedly has the ability to score in bunches, and is getting between 25-30 minutes per game on a regular basis. This is plenty of time for him to do damage, and now that he's seemingly healthy and growing accustomed to the Raptors' style of play, Barbosa should be owned in far more than 42.7 percent of leagues. With 1.3 3s and 0.9 steals per game this season with historically solid percentages, he's set to help you elsewhere. Other categories: 3s, steals
Brandon Bass, PF, Magic (3.6 percent owned): Bass has scored in double figures in seven of his past eight contests, including three starts with Quentin Richardson sidelined. He's averaging 10.6 points per game in just 22.2 minutes, and is at 13.4 points per game in eight December contests. He has the ability to average 15 per game with more minutes, although the beauty lies in how he does it: with fantastic percentages, including high attempts from the stripe. Other categories: field goal percentage, free throw percentage
Fantasy Basketball
Josh Whitling is a fantasy basketball analyst for ESPN.com.
SPONSORED HEADLINES
FANTASY TOP HEADLINES
MOST SENT STORIES ON ESPN.COM