Commentary
Working the Wire: Evans back
Updated:
March 18, 2011, 11:43 AM ET
By
Josh Whitling
| Special to ESPN.com
It seems as if every autumn when preparing for impending fantasy drafts, we're lauding players who finished the previous year strong and citing their stats over the final month of the season. Well, the final month of the season is upon us, and several widely-available players are making noise and posting numbers that will aid fantasy teams for the stretch run. Let's take a look at these late-season helpers who will benefit those fantasy owners with the diligence to remain active on the waiver wire in the waning days of the regular season.
Reggie Evans, PF, Raptors (10.5 percent owned): Evans returned last week after being out since November, and he picked up right where he left off, rebounding the ball like a maniac. He was averaging 12.1 boards before his injury, and is at 13.0 per game in his four contests since returning. In that span he's also averaging 29.3 minutes and 1.0 steal per game, and even though you're only adding Evans if you need help in rebounds, he always puts up nice steals numbers for a power forward as well. He pairs well in the frontcourt with Andrea Bargnani, who is seemingly allergic to rebounds, and Evans has played more minutes than Ed Davis in each of the past two contests. He's essentially in a timeshare with Davis now, and his return definitely hurts the rookie's value. Evans should continue seeing minutes in the upper 20's and averaging double-digit boards, and is available in most leagues, having missed the bulk of the season.
[+] Enlarge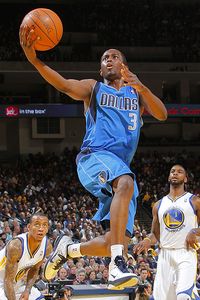 Rocky Widner/NBAE/Getty ImagesFrenchman Rodrigue Beaubois knows how to get the ballon to the panier.
Rodrigue Beaubois, PG/SG, Mavericks (1.9 percent owned): Brimming with potential, Beaubois has been unable to live up to the high expectations many had for him this offseason due to the fact that he missed a huge chunk of the season with a broken foot. Still, he's flashing that talent that made him a popular preseason sleeper, and despite his inconsistency has turned it up recently, averaging 17.0 points, 4.0 assists, 2.5 steals and 2.5 3s per game in his past two contests. In March, he's averaging 11.3 points on 50.0 percent shooting from the floor and 80.0 percent from the stripe, to go along with 1.3 3s and 0.7 steals on just 1.2 turnovers per game. With per minute stats like 10.1 points, 1.2 3s and 0.9 steals in just 18.4 minutes per game it's exciting to think about what he can do with more NBA experience under his belt and 30 minutes per game. For now, he's a nice source of scoring, 3s and steals who should continue to improve as the season progresses and he grows more comfortable with his role.
Jeff Teague, PG, Hawks (1.9 percent owned): Teague had a huge game last Saturday, dropping 24 points, 5 steals, 3 blocks, 4 rebounds, 3 assists and a 3-pointer, and is now sharing the starting backcourt with Kirk Hinrich in Atlanta. This should prove to be incredibly lucrative statistically for Teague, and is a great opportunity for him to develop. Hinrich started alongside John Wall in Washington, so is accustomed to deferring to a developing point guard, a designation Teague is undoubtedly worthy of. He's averaging 0.5 steals per game for his career in just 11.5 minutes per game, and should immediately be a contributor in that category with his increased minutes. Overall he'll contribute with some points, assists, steals and 3s in his new role, and even though he's bound to be inconsistent, Teague is a talented player with a recent increase in responsibility, a combination that bodes well for fantasy value. Look for big-time steals from hereon out, and if you are locked into a tight race in that difficult-to-find category, I'd strongly consider Teague.
Chris Andersen, PF/C, Nuggets (1.7 percent owned): Just a quick shout out for the Birdman; if you need blocks, he's been as steady as they come recently, with at least one swat in 15 of the past 16 contests. He's averaging 1.3 blocks per game this month, and if your team is locked in a tight blocks race, Andersen is a surefire way to bolster your rejection totals.
Paul George, SG/SF, Pacers (0.8 percent owned): I'm pretty sure every fantasy analyst has George's name doodled on their notepads with hearts around it, as he's showing some of the most promising fantasy value from a rookie we've seen in awhile. He's exhibiting a skill set that indicates he could average a 3, steal and block per game next year, although right now the primary category he's helping teams in on a regular basis is steals. He's averaging 2.2 steals with 0.5 blocks and 0.5 3s per game this month, and 2.2 steals with 0.8 3s and 0.4 blocks per game in his past 5 contests. Perhaps the most exciting part is the fact he's getting real run already, with 25.8 minutes per game this month, and as he grows more comfortable on the NBA court, his statistical game should continue to improve. Mike Dunleavy doesn't appear close to returning, so look for George to continue to improve his across-the-board contributions, and he's a legit source of steals right now.
[+] Enlarge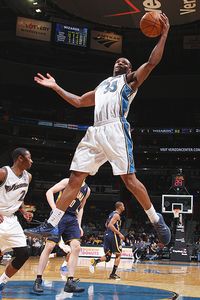 Ned Dishman/NBAE/Getty ImagesTrevor Booker will attempt to fill the rebounding void left by the injured Andray Blatche.
Trevor Booker, PF, Wizards (0.6 percent owned): Andray Blatche's injury sounds painful and relatively serious, as he can't raise his arm and there is no clear timetable for his return. This is a blessing in disguise for the Wizards, who are focused on developing their players for the future and provides them with the opportunity to start Booker, who is averaging 7.6 rebounds per game in nine starts this season. He's averaging 30 minutes per game over his past five contests, with 9.4 points, 6.8 rebounds, 1.4 blocks and 0.4 steals per game in that span. He's also averaging 7.4 rebounds and 1.3 blocks per game this month, and should continue seeing big minutes and statistical advancements with Blatche sidelined. Booker is a valid source of rebounds and blocks that is available in basically every format, and should help teams in deep leagues looking for big-man stats.
Patrick Patterson, PF, Rockets (0.2 percent owned): I love Patterson's balanced game; in the past five contests he's averaging 9.2 points, 5.4 rebounds, 1.0 block, 1.4 steals and 51.2 percent shooting from the floor in 26.8 minutes per game. His playing time has increased recently, allowing him to put up nice aggregate numbers after flashing potential on a per-minute basis all season (0.6 blocks, 0.4 steals per game in just 14.7 minutes). His college stats over three years at Kentucky indicate what kind of balanced contributor he can be with minutes and opportunity, as he averaged 16.1 points, 8.2 rebounds, 1.6 blocks, 0.7 steals and 58.5 percent from the floor. He's composed, his game is polished, and he has the ability to put up across-the-board stats that will be very helpful in deep formats now that his minutes have increased.
Daequan Cook, SG, Thunder (0.1 percent owned): Cook does one thing, and he does it well. That's shoot 3s, as he demonstrated with his 3-point contest win back at the 2009 All-Star weekend, as well as when he dropped six 3s on Monday. I could've featured Kyle Korver here too, but Cook is much more under-the-radar as a 3-point specialist, and he's really contributing since the Thunder's roster shakeup at the trade deadline. He's averaging 3.0 3s per game over his past four contests, 2.1 3s per game this month, and 39.1 percent shooting from downtown on the season. His team needs his 3-point touch, as they rank 19th in the league in 3s made, and are shooting just 35 percent from behind the arc on the season. Jeff Green provided a healthy chunk of the team's perimeter offense, and now that he's gone, Cook has a clear role, and that's gun from downtown when he's on the court and gets anything that resembles an open look. That role should allow him to flirt with two 3s per game for the rest of the season, and even though he doesn't contribute elsewhere, that's noteworthy in deeper leagues.
Vladimir Radmanovic, PF, Warriors (0.1 percent owned): Radmanovic doesn't see enough minutes to be worth consideration in standard leagues, although he puts up impressive fantasy numbers when he is on the court, and boasts an impressive combination of 3s, steals and blocks. In his past four contests, he's averaging 2.0 3s, 0.5 blocks and 0.8 steals per game, and is averaging 1.3 3s, 1.0 blocks and 0.5 steals per game in 10 March contests. He's really upped his block totals recently, with 1.2 swats per game since the All-Star break, and is playing well enough in his limited minutes to be owned in more than one of every 1000 leagues.
Josh Whitling is a contributing fantasy hoops analyst for ESPN.com
Fantasy Basketball
Josh Whitling is a fantasy basketball analyst for ESPN.com.
MOST SENT STORIES ON ESPN.COM