Commentary
Delhomme, Stewart recoveries progressing well
Panthers camp is hot! And I'm not talking about the balmy, 100-plus-degree temperature Wednesday in Spartanburg, S.C. I'm referring to the palpable excitement and the pervasive optimism on the practice fields at Wofford College, home of the Carolina Panthers' training camp. But amidst all the buzz, my eyes were trained on the two big recovery stories in Carolina: one a veteran in a unique situation, the other a prized rookie whose potential to contribute immediately is becoming more apparent every day.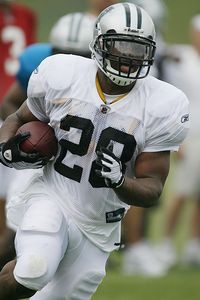 Bob Leverone/Icon SMIThe Panthers are being somewhat cautious with Jonathan Stewart after he had toe surgery before the draft.
Rookie running back
Jonathan Stewart
is coming off surgery to address a turf toe injury he suffered while he was at Oregon. He unsuccessfully tried to work through the problem but continued to be aware of discomfort while he was at the NFL combine. Stewart decided to undergo surgery and chose Dr. Robert Anderson, who has emerged as the preeminent foot and ankle specialist for NFL players. Anderson's clientele includes
Kevin Jones
, who returned from a Lisfranc injury to play for the
Detroit Lions
in 2007, and
San Diego Chargers
tight end
Antonio Gates
, who is working to return from a dislocated toe and torn plantar plate (fibrous tissue that reinforces the joint of the big toe near the ball of the foot). Anderson, who also happens to be a Panthers team physician, performed Stewart's surgery
before
the team drafted him with the 13th overall pick, which signaled to me that Anderson had every reason to be optimistic about Stewart's NFL future.
So far, that appears to be holding true. Stewart is recovering nicely from his surgery, although his practice activity is still being controlled to some degree. It is mostly precautionary, though, so that Stewart does not experience a setback that would affect his availability for the season.
Panthers head athletic trainer Ryan Vermillion, who also is a physical therapist, told me Stewart has been diligent in his rehab. Vermillion said Stewart still has some soreness in the toe that can linger to the next day, depending on the vigor of a workout, but emphasized that this latent soreness is to be expected at this stage. The soreness serves as a gauge for how much Stewart can participate in practice.
I watched Stewart run some offensive drills and perform some agility tasks. Had I not known he was coming off toe surgery, I would not have been able to make that determination based on my observations. His cuts and pivots were sharp, his running was strong and he did not favor his right foot. Everyone I talked to with the Panthers is excited about Stewart's ability to contribute right away. He is a strong power back who is not afraid to run right through the opposition, and at 5-foot-10 and 235 pounds with a calf muscle girth three times that of the average human, why not run through people head-on? Stewart remains a game-time decision for the Panthers' preseason opener Saturday against the Indianapolis Colts. However, he is expected to be ready to go for the regular-season opener Sept. 7 against the Chargers, who, incidentally, might be without the services of Gates.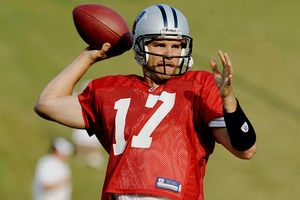 Al Messerschmidt/Getty ImagesJake Delhomme seems to progressing well after undergoing Tommy John surgery last year.
The news on quarterback
Jake Delhomme
, who is coming off Tommy John surgery, couldn't be more positive. I already projected Delhomme would do well this season for several reasons. The time frame for his recovery should be approximately 10 months (shorter compared to the time frame for baseball players' recovery because the mechanics of throwing are less stressful across the elbow in football). Delhomme had October surgery to reconstruct his ulnar collateral ligament, so 10 months is, well, now! And Delhomme will play Saturday, albeit on a very limited basis, in his first contest since the injury. The timing of Delhomme's surgery positioned him to be ready to return at the start of the 2008 season.
The time away from football since his injury in September 2007 allowed Delhomme to rest, rejuvenate and better prepare the rest of his body for the upcoming season. His increased focus on core strength and functional training (for which he credits both Vermillion, with whom he has worked on a structured program since his surgery, and best friend Brian Soignier, who was his backup in college and now is a physical therapist) has improved his trunk, leg and arm strength so much that Delhomme believes he is throwing a tighter spiral in 2008.
Another interesting tidbit working in Delhomme's favor is that he is working with the same person who supervised the rehab of the only other NFL player known to return to action following this type of procedure.
Vermillion worked with the Miami Dolphins when quarterback Craig Erickson recovered from his Tommy John surgery 10 years ago. However, the situation was a bit different, as Erickson was a backup and soon after moved on to the Bears, where he spent most of his time on the sidelines.
That won't be the case for Delhomme, the Panthers' starting quarterback and one of the team leaders. Everyone witnessed what happened to Carolina when it lost its signal-caller last year, and no one wants to repeat that collapse. Enter Vermillion. The fact that Vermillion has witnessed the recovery of a quarterback following this type of injury helped him set expectations and mini-goals for Delhomme throughout the lengthy course of rehabilitation. The value of that experience cannot be underestimated in terms of how it has helped them both during this process. Delhomme's situation was compounded by the fact that he required some additional work; in addition to the ligament injury, he had a torn flexor tendon that needed to be repaired and bony ossicles around the joint that had to be removed. The flexor tendon repair meant Delhomme's mobility at the elbow was limited early on, and it could have presented a delay in Delhomme's progress. But it didn't. In fact, both Delhomme and Vermillion told me there have been no setbacks along the way ("I haven't even iced my arm once since camp started" Delhomme said), which is unique but provides yet another reason for optimism.
Delhomme says he is heading into the season as excited as he's ever been, without hesitation or apprehension about the arm. He told me this is the smoothest training camp he's been a part of in his 12-year NFL career. He believes that being able to throw during spring organized team activities made him more confident heading into this camp. He already had tested the arm and knew he could make the throws; he just needed to work on endurance and the specifics of the game. When I asked him whether he was concerned about the length of time he had been away from the game and whether he thought it would compromise his game readiness, he told me that playing as a backup for six years taught him how to be mentally ready, as if he could play at any moment, even if he wasn't actually seeing playing time. However, he admitted that as much as he tries to duplicate the intensity of the game situation in practice, it is never the same, which is one more reason he is so eager to take the field, if only briefly, on Saturday.
It's not too late! Leagues are forming and drafting until Sep. 20, with scoring retroactive to Week 1.
Sign Up Today!
Delhomme was throwing the ball with sharpness and accuracy all over the field Wednesday (to
Steve Smith
,
Dwayne Jarrett
,
Muhsin Muhammad
and
D.J. Hackett
-- yes, he has more weapons), and he had the look of a quarterback ready to lead his team. His confidence matched his ability, and the control issues that seem to plague so many baseball players when returning from this procedure do not seem to be a factor in Delhomme's case. That has a lot do with differences in the mechanics of throwing a baseball compared to a football and how that affects recovery. But it doesn't take anything away from Delhomme's dedicated efforts to get himself ready for the start of the season.
When I arrived in Carolina, I thought Stewart and Delhomme were likely to be ready to start the season and could be solid contributors. When I left Carolina, I changed my expectations. Stewart and Delhomme will be ready for the start of the season, and I fully anticipate them to explode out of the gate. The question in my mind is no longer whether they will be ready, but whether everyone who faces them will be ready for what they will bring.
Stephania Bell is an injury expert for ESPN Fantasy. She is a physical therapist who is a board-certified orthopedic clinical specialist and a certified strength and conditioning specialist.
Fantasy Sports
Senior writer for ESPN.com
Certified orthopedic clinical specialist and strength and conditioning specialist
Clinician, author and teacher
SPONSORED HEADLINES
FANTASY TOP HEADLINES
MOST SENT STORIES ON ESPN.COM